Updated on November 21, 2021
Point-and-shoot, DSLR, mirrorless, or action? We know that choosing the best camera for travel photography with so many different categories available on the market can be tricky. But depending on the sort of adventure you're embarking on, you should be able to find a camera that suits your needs with ease.
It doesn't matter whether you're a serious photographer looking for the perfect compromise between performance and weight or a backpacker who wants to share stunning travel shots with friends back home. We promise there is a travel camera out there that's right for you.
Mirrorless and DSLR cameras are suitable for people who are willing to learn about aperture, ISO, and shutter speed. Action and point-and-shoot cameras, on the other hand, require little more than a single click of the shutter to produce balanced and realistic images. We've selected the best cameras for travel in each category just for you, keeping in mind the needs of beginners and experienced photographers. Hopefully, with our help, finding the right camera for your next adventure will be the least stressful part of your trip!
For more of our top travel photography camera recommendations, check out these popular articles:
Point and Shoot Cameras for Travel | DSLR Cameras for Travel | Mirrorless Cameras for Travel
Quick Answer

-

The Best Cameras for Travel Photography
Comparison Table

-

Best Cameras for Travel Photography

For the best experience turn your device horizontally
Reviews

-

The Best Travel Cameras
Canon PowerShot SX740
Specs
Type

:

Point-and-Shoot

Dimensions

:

1.6 x 4.3 x 2.5 in

Weight

:

0.61 lbs

Resolution

:

20.3 megapixels

Waterproof?

:

No

Interchangeable Lens

:

No
Features
Great Optical Stabilizer (for sharp images)
Pocket-Friendly And Lightweight
Built-in Wifi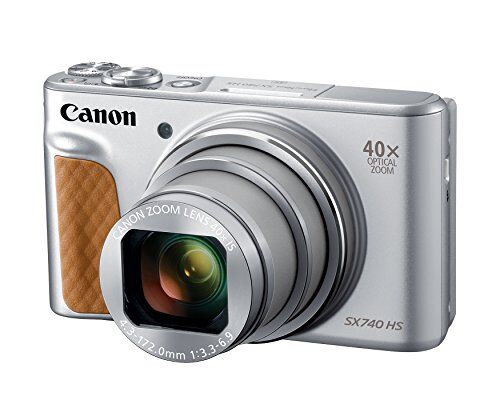 BEST FOR: THE PRAGMATIC MINIMALIST
This lightweight and affordable camera is compact enough to fit into your pocket. It is for those who prefer to travel with minimal gear but want better image quality than most smartphone cameras can provide.
Despite its size, the Canon Powershot SX740 still manages to provide a 4K high-definition video resolution and a great zoom range of 960mm. This allows you to capture high-quality videos and take great photos of distant subjects. Plus, it has a 180-degree-tilting LCD screen that's perfect for selfies.
On top of combining great image quality with small dimensions, the Canon Powershot SX740 has a great additional feature: Hybrid Auto mode. It automatically captures a 2-second video before each photo (similar to an iPhone's Live Photo feature) and creates a compilation at the end of the month. Thus, you get a nice montage of your travel memories to go along with your photos.
Panasonic Lumix G7
Specs
Type

:

Mirrorless

Dimensions

:

4.92 x 3.03 x 3.39 in

Weight

:

0.9 lbs

Resolution

:

16 megapixels

Waterproof?

:

No

Interchangeable Lens

:

No
Features
Fast And Precise Autofocusing
4K Ultra HD Video Pause (enables you to export videos to 4K photos)
Intuitive Controls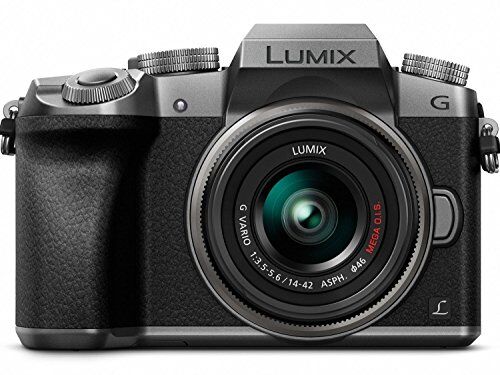 BEST FOR: THE ASPIRING PHOTOGRAPHER
Despite being a mirrorless camera, the Panasonic Lumix G7 looks like a small DSLR. It provides plenty of manual control with its 16 buttons, 4 dials, and 2 switches. This makes it a powerful but affordable introductory camera for those who want to improve their photography skills.
Even better, it has a versatile touchscreen that DSLR cameras do not. In addition to the touchscreen display, it also has an electronic viewfinder (EVF) with an eye sensor that switches the preview display from the screen to the EVF. This allows for more precise framing and shows realistic subtleties of lighting.
This camera has several focus and shooting settings for any situation, but what makes the Panasonic Lumix G7 unique is its 4K Photo mode. This function extracts individual high-quality photos from Ultra HD video recorded at 30 frames per second to capture each split-second moment.
Nikon CoolPix P1000
Specs
Type

:

Point-and-Shoot

Dimensions

:

5.8 x 7.1 x 4.7 in

Weight

:

3.12 lbs

Resolution

:

16.7 megapixels

Waterproof?

:

No

Interchangeable Lens

:

No
Features
Extremely Long Zoom (for capturing small and distant objects)
Rock Steady Stabilization
Tilting LCD Screen (to take photos from any angle, no matter how awkward)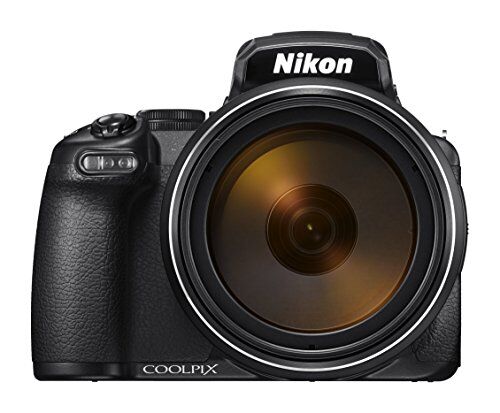 BEST FOR: THE MACRO MANIAC
Have you dreamed of capturing that drop of dew or that ant that's crawling on a leaf, but your phone or camera could never get it right? If your pictures of small objects always come out too blurry or too grainy, the Nikon Coolpix P1000 is for you. Equipped with an impressive 3000mm superzoom comparable to a telescope, it provides the most powerful range available in compact cameras. It also provides a staggering 4K Ultra HD video resolution. Not only can you capture a floating speck of dust, but you can explore the moon and observe wildlife from miles away.
Zooms are usually vulnerable to shakiness and noise, but the P1000 uses a sensitive Dual Detect technology to stabilize images. It is very lightweight, and has a Vari-angle LCD screen, letting you express from any angle, even the most inconvenient.
GoPro HERO 7
Specs
Type

:

Action

Dimensions

:

1.8 x 2.4 x 1.3 in

Weight

:

0.28 lbs

Resolution

:

12 megapixels

Waterproof?

:

Yes

Interchangeable Lens

:

No
Features
Tough And Waterproof
Super-smooth Video Stabilization
Live Streaming To Facebook Live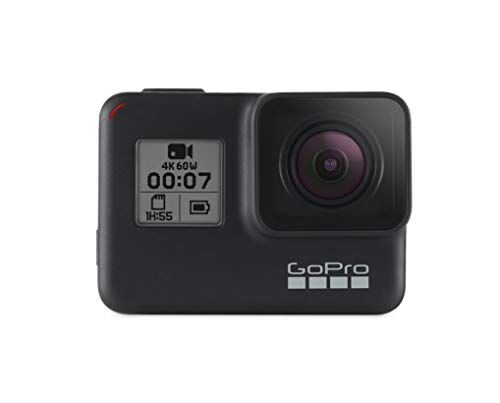 BEST FOR: THE AVID ADVENTURER
This small waterproof camera is great for any feat you can imagine, up to 10 meters underwater. Because it is action-oriented, it harbors HyperSmooth video stabilization smart enough to predict your movements and counteract camera shake.
Another impressive feature of this GoPro is the 16-command voice control. You can take photos and record videos while skydiving or riding a mountain bike without worrying about holding your camera. Simply say, "GoPro, take a photo," and it will follow your command. The camera does everything for you, optimizing its settings for HDR (high-dynamic-range imaging), tone, and noise automatically. Also, it has an intelligent Face Detect feature fit for perfect Instagram travel selfies.
Of course, you can turn your video into an action-packed timelapse to save storage space, or into a dramatic slow-motion for more details. Whether it's surfing, underwater photography, or any other activity, the camera will capture 4K videos at 60 frames per second. This action camera also allows for live streaming directly to Facebook Live, so you can share your experiences just as they happen.
Olympus TG-5
Specs
Type

:

Point-and-Shoot

Dimensions

:

4.4 x 1.3 x 2.6 in

Weight

:

0.55 lbs

Resolution

:

12 megapixels

Waterproof?

:

Yes

Interchangeable Lens

:

No
Features
Rugged, Waterproof, Dustproof
Great Low Light Performance
Rechargeable Via USB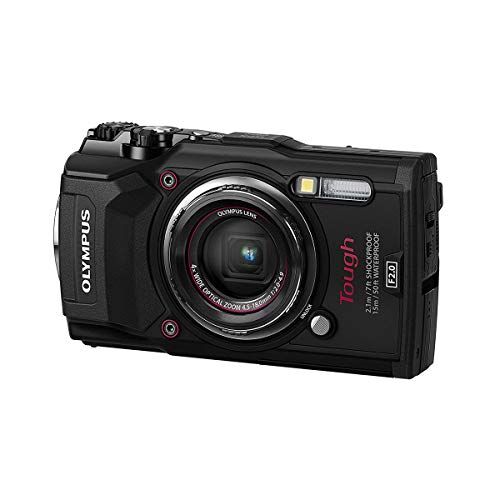 BEST FOR: THE EXTREME SPORTS ENTHUSIAST
With a sturdy casing that can withstand 100 kg of pressure and can be harmlessly dropped from 2 meters, the Olympus Tough TG-5 is virtually unbreakable. You can go on a photography trip in the winter with this camera as well, as it's freezeproof up to -10°C (14°F).
Furthermore, you can easily take it diving, as it also functions flawlessly 15 meters underwater, and can go down to 45 meters with an additional case (sold separately). Even if you accidentally hit your Olympus on a rock, it will hold up to your needs without smashing instantly like most point and shoot cameras. And if you happen to get lost, the camera has a built-in GPS so you can find your way back home with minimal effort.
As this camera is built to be both portable and travel-oriented, it can be charged on-the-go with a micro-USB. This means that it is compatible with a laptop or a phone battery. TG-5 shoots in RAW format, which is great for outdoor photography. Aside from many presets, it offers several advanced focus settings, face detection, and focus-stacking for an increased depth of field.
Nikon D5300
Specs
Type

:

DSLR

Dimensions

:

4.9 x 3 x 3.9 in

Weight

:

1.06 lbs

Resolution

:

24.2 megapixels

Waterproof?

:

No

Interchangeable Lens

:

Yes
Features
Compact And Lightweight
Built-in WiFi
Exceptional Autofocus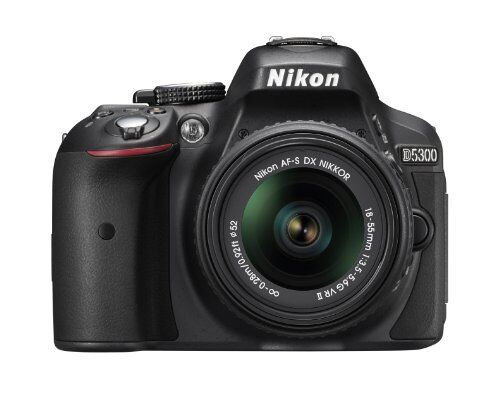 BEST FOR: ENTRY-LEVEL PHOTOGRAPHERS
This camera is a compact DSLR that is perfect for beginners, as it provides all the functions you'd expect from a semi-professional camera while being affordable. The Nikon D3500 will teach you the basics and more while not wrecking your budget. It includes a Guide Mode for entry-level users that breaks down technical terms into everyday descriptive language.
The Nikon D3500 has an impressive battery life, lasting up to 1550 shots. This camera uses an internal motor for quiet and fast autofocus. You can shoot in RAW format, but if you want to shoot in JPEG, the camera will lift dark shadows to automatically produce images with realistic colors and rich contrasts.
Ricoh WG-60
Specs
Type

:

Point-and-Shoot

Dimensions

:

4.8 x 1.2 x 2.4 in

Weight

:

6.72 ounces

Resolution

:

16 megapixels

Waterproof?

:

Yes

Interchangeable Lens

:

No
Features
Tough Design, Great For Harsh Conditions
Creative Shooting Functions
Waterproof Up To 45 feet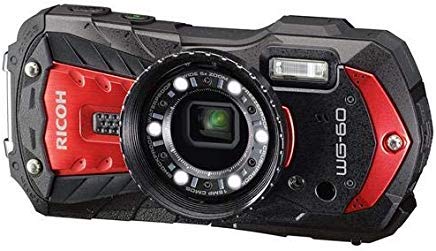 BEST FOR: THE DANGER LOVER
This is a camera for true adventurers that love exploring in extreme conditions. It is built to resist harsh impact, water, cold, and dust. It is crushproof up to 100 kg and able to withstand a fall from 1.6 meters (~5 ft). For your diving feats, it can function up to 45 feet underwater and for your Siberian expeditions, it can withstand temperatures as low as -10°C (14°F). The camera is sturdy enough to accompany you wherever you go, from mountains to oceans.
The camera boasts a number of useful settings to go along with its physical capabilities. In the underwater mode, it adds red tones to make colors look more saturated In dark conditions, it manages to keep noise (image fuzziness) to a minimum thanks to the wide aperture. With its outdoor viewing setting, the screen will adapt to light conditions so you can get the best look at the photos you take on the camera screen itself.
Fujifilm X-T20
Specs
Type

:

Mirrorless

Dimensions

:

3.3 x 4.7 x 1.6 in

Weight

:

3.5 lbs

Resolution

:

24.3 megapixels

Waterproof?

:

Yes

Interchangeable Lens

:

No
Features
Stylish Retro Look
Fast Continuous Shooting Speed To Freeze Moving Objects
Tilting LCD And Touch Screen Monitor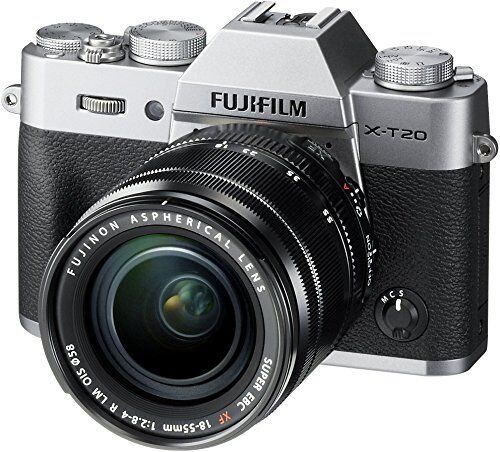 BEST FOR: THE ARTISTICALLY-INCLINED
Made from a magnesium alloy, X-T20 offers a sleek and stylish retro look bound to inspire. True to its history, it has various film simulation modes, such as the elegant Classic Chrome that adds extra effects to your photos. The camera also has a unique randomized pixel array to produce more organic and nuanced colors. Its multiple exposure feature allows you to shoot two consecutive photos, overlaying them. This opens many possibilities to express your creativity.
X-T20 has an impressive continuous shooting rate of 8 frames per second and a high-resolution electronic viewfinder. If a single shot is not enough, the camera offers an Interval Timer shooting mode that records an infinite number of consecutive images with 1 second to 24-hour intervals. Additionally, the X-T20 performs exceptionally in low light conditions — star trails are just waiting to be captured!
Sony a7R III
Specs
Type

:

Mirrorless

Dimensions

:

5 x 3.9 x 3 in

Weight

:

1.45 lbs

Resolution

:

42.4 megapixels

Waterproof?

:

No

Interchangeable Lens

:

Yes
Features
Enhanced Image Processor For Better Image Quality
Silent Shooting Mode
Eye Tracking And Powerful Burst Mode For Capturing Fast Moving Subjects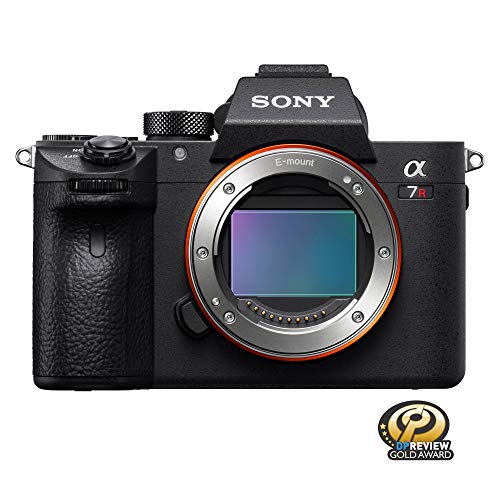 BEST FOR: THE VERSATILITY SEEKER
The Sony A7R III is a semi-professional mirrorless camera engineered for both indoor and outdoor photography. It has an anti-flicker mode, which combats the inconsistencies of indoor artificial lighting by suppressing exposure and employing specific white balance characteristics. For portrait shooting, it offers a handy Eye Focus mode that tracks your subject's eyes tracking movement.
The A7R II is a great choice for wildlife photography. It has a silent shooting mode, so you won't scare away any shy deer or sly predators. Plus, the 425 contrast autofocus points help maintain a clear focus on unpredictably moving subjects like birds. The image stabilization system makes this camera effective for long-distance shooting, macro photography, nighttime frames, and even filming.
With the Sony A7R III long photography sessions are no longer an issue thanks to the large battery and micro-USB charging slots. Additionally, you will have plenty of storage with 2 media slots for SD or MS cards.
Canon EOS 5D Mark IV
Specs
Type

:

DSLR

Dimensions

:

3x 5.9 x 4.6 in

Weight

:

1.76 lbs

Resolution

:

30.4 megapixels

Waterproof?

:

No

Interchangeable Lens

:

Yes
Features
Incredible Low Light Performance
Face Detection System And Intelligent Exposure
4K Video With Frame Grab Feature For Capturing Stills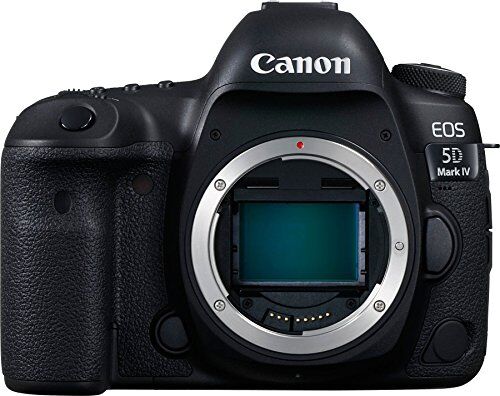 BEST FOR: THE TECH-SAVVY PRO-SHOOTER
Because of its advanced processor, the Canon 5D Mark IV offers a staggering light sensitivity of ISO 50-102,400, resulting in unbeatable low-light performance. Its sensor has face and flicker detection features, resulting in intelligent exposure of each image. With its Dual Pixel autofocus technology, this camera provides a smooth shift of focus on moving objects and fast focus of still images, letting you get pro-level results.
Unsurprisingly, the Canon 5D Mark IV offers 4K high-definition video capabilities. An additional 4K Frame Grab feature is included that lets you pull still images from video footage to capture fleeting moments that burst shooting may miss. The camera is also compatible with 3 satellite navigation systems – GLONASS, GPS, and Michibiki. This, along with a dust and weather-proof design, makes the Canon 5D Mark IV a perfect camera even in harsh outdoor conditions.
THINGS TO CONSIDER WHEN BUYING A TRAVEL CAMERA
CAMERA TYPE
Depending on what you want to achieve, you may opt for a camera that is easier to use or one with more advanced functions.
Point-and-shoot camera are designed to capture balanced pictures with a simple click, requiring little or no knowledge of photography. Different models of point-and-shoot cameras, however, vary greatly in terms of performance. In terms of image quality, some may match a DSLR while others will be just as good as your smartphone. The price is usually a good indicator of how well the camera performs.
DSLR (Digital Single Lens Reflex) cameras are bulkier, but more powerful. They have interchangeable lenses and usually produce better images in low light conditions. DSLR cameras can be entry-level, semi-professional, or professional, depending on the size of the sensor and the functions they provide, but all are best suited for photographers willing to learn technical details.
Mirrorless cameras have taken over the camera market in recent years, as they provide equal (or better) functionality and performance than DSLRs, but in a smaller body. Mirrorless are very similar to DSLR in terms of what they can do, but without the internal mirror they are more compact and lightweight.
Action cameras are tiny compared to other models and virtually unbreakable. The controls are usually limited, as they are built to shoot and record images in those situations where you won't be able to fiddle with buttons and switches, such as when you're swimming underwater or while playing action sports.
RESOLUTION
The resolution, measured in megapixels, determines the size and the amount of detail in the image. A higher resolution is useful when you print your photographs in large format or when you crop them in post-production. However, high resolution isn't essential if you just plan to share your pictures online or view them through a small screen.
WATERPROOFING AND SHOCK PROOFING
Depending on the activities you are planning on doing, you may decide to opt for a camera that offers some degree of protection against the elements.
Weather-sealed cameras can sustain light rain, dust, and humidity, but are not made to go fully underwater. Rugged waterproof and shockproof cameras are designed for divers, kayakers, mountain bikers, and other extreme athletes who need a camera that can take a beating or are able to shoot several feet underwater.
WIFI CONNECTIVITY
Many modern cameras have a built-in WiFi function that allows you to transfer images between devices, store them in the Cloud, or share them directly on social media. If you are looking for a camera that will allow you to document your journey in real time, make sure it has WiFi connectivity.
SIZE AND WEIGHT
Size and weight are always a priority when it comes to travel equipment, and they can vary greatly from compact action cameras to bulky DSLRs. Travel photographers tend to look for the best compromise between dimensions and performance. In this respect, mirrorless cameras are ideal as they can shoot photos with great image quality without occupying much luggage space. If a large sensor or a super fast camera are not necessary for your photography needs, you may opt for a point-and-shoot with a retractable lens that fits in your pocket.
VIDEO
Virtually all photo cameras today offer a video function. Action cameras are built to film for extended periods of time in wet or dry environments, while DSLRs and mirrorless cameras tend to offer better image quality, but can record video for short periods of time. Most cameras today shoot in either 1080p or 4K resolution, which are both considered high-definition.
FEATURES EXPLAINED
ACTION CAMERA
A compact, sealed camera that can shoot images and record film in wet and dry conditions, targeted at outdoor sports enthusiasts.
HDR
Stands for High Dynamic Range imaging. This feature is available on many camera phones nowadays, and is intended to increase the "dynamic range" of your photographs by enhancing details found in the light or dark areas of your photos. This means that your phone will capture a photo that looks more like what you see with your naked eye, rather than what your camera lens sees.
DSLR
A Digital Single Lens Reflex camera that captures the light through an internal mirror and directs it to the sensor. Traditional professional cameras are usually DSLRs.
MIRRORLESS
A camera that is lighter and smaller than a DSLR because of the absence of the internal mirror mechanism. In mirrorless cameras the light enters the lens and reaches the sensor directly.
POINT-AND-SHOOT
A camera that requires little or no photographic knowledge to be used.
WEATHER-SEALED
A camera body resistant to dust and rain.
ISO
The light sensitivity of a camera. The ISO is one of the factors that determine how well a camera performs in low light conditions.
INTERCHANGEABLE LENSES
The option to switch lenses to change framing and zoom capabilities of a camera.