Updated on February 8, 2022
Deciding to get your whole family in on your favorite winter activity is an exciting step for any skier! But before your kids hit the slopes, you need to make sure they're properly equipped. And perhaps the most important piece of ski equipment, especially when it comes to outfitting some of the most important people in your life, is a ski helmet. You want to make sure your little one is as safe and warm as can be, and that's why we at The Adventure Junkies have put together a list of the best kids ski helmets to help you do just that.
There is a lot to consider when it comes to selecting a kids ski helmet. There is even more to think about than there is when selecting a helmet for yourself! Kids are special kinds of skiers who need extra protection, superior comfort, and less weight. You'll find a range of options on this list and once you check it out, we're confident you'll be able to select a helmet that your tyke will be excited about and that you, as a parent, will feel excited about, too.
For more of our top ski gear recommendations, check out the Best Ski Helmets Overall.
Quick Answer

-

The Best Kids Ski Helmets
POC POCito Auric Cut SPIN
Comparison Table

-

Best Kids Ski Helmets

For the best experience turn your device horizontally
Reviews

-

The Best Kids Helmets for Skiing
Smith Zoom Jr.
Specs
Construction

:

In-Mold

Gender

:

Girls' and Boys'

Weight

:

12 oz.

Vents

:

6

Shell Material

:

Polycarbonate

Protection Technology

:

Not Specified
Features
Adjustable Vents Allow For Open Airflow On Warm Days And Closed Airways On Colder Days
Lightweight Design Does Not Sacrifice Safety
Furry Lining Is Comfy-Cozy
BEST FOR SUPERIOR TEMPERATURE CONTROL
Is your tyke a bit finicky when it comes to getting too hot or too cold? Dressing a little one for the outdoors isn't always easy! You want them to be warm enough, but you definitely don't want them to overheat, either. Well, we have a solution for you: the Zoom Jr. helmet from Smith. Most current adult helmets feature adjustability features when it comes to ventilation, but few kids' helmets do.
This one does! It has six adjustable vents that you can open up when it gets a little too toasty inside, or keep them closed for those really cold days. The Zoom Jr. also has a super soft lining and lightweight design to maximize your child's comfort. If you're looking for something with superior comfort and great temperature control, look no further!
Anon Rime 3
Specs
Construction

:

Injection-Molded

Gender

:

Unisex

Weight

:

1 lb. 5 oz.

Vents

:

2

Shell Material

:

ABS

Protection Technology

:

Not Specified
Features
Magnetic Snap Buckle Is Kid Friendly And Easy To Use
Tough Exterior Shell Is Resistant To Accidental Bumps And Dings
Ventilation System Keeps Fresh Air Moving In The Front And Uncomfortable Hot Air Moving Out The Back
BEST FOR HASSLE-FREE FITTING
Is your least favorite part of skiing getting dressed for it? How about dressing your kids for it? If that's the case, you need to keep reading because the getting-ready-to-ski process just got a little bit easier! Enter the Rime 3 helmet from Anon. This little guy has a self-adjusting fit system, so no matter what base layers you put on your child's noggin, this helmet will slide on easily and auto-adjust for maximum safety and comfort — no hassle necessary!
Not only is the Rime 3 one of the easiest helmets to fit, it also features a magnetic snap buckle that is simple to use, even for children. If you're tired of all those little dials and micro adjustments on straps and helmet skeletons, it's time you make a change and swap what you've got for the Anon Rime 3.
Smith Prospect Jr.
Specs
Construction

:

In-Mold

Gender

:

Unisex

Weight

:

1 lb.

Vents

:

14

Shell Material

:

EPS and Polycarbonate

Protection Technology

:

MIPS
Features
Equipped With MIPS, An Industry-Leading Safety Technology
14 Adjustable (And Glove-Friendly) Vents For Ultimate Temperature Control
Removable Ear Pads Allow For Easy Cleaning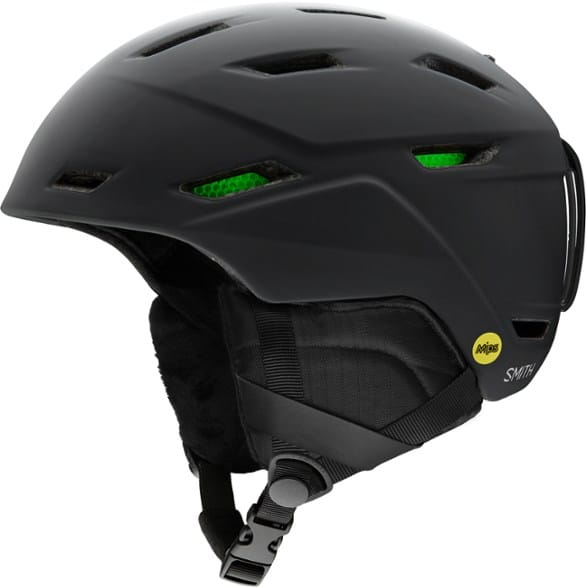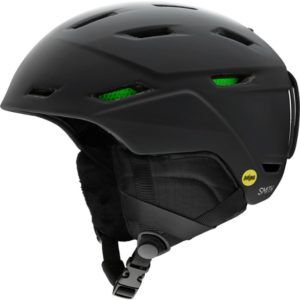 BEST FOR MULTI-SEASON USE
It's no secret, kids grow like vines these days! The Smith Prospect Jr. helmet may have a slightly higher price tag than some of the other helmets on this list, but it's designed specifically to last for multiple seasons, which means you'll get a lot more bang for your buck, even if your child is the type of kid who looks taller every time you turn around!
Its special liner system actually adapts to a growing head, but that's not even the best feature about this helmet. It is also equipped with MIPS technology, Aerocore construction, and Koroyd protective material. Those are fancy terms for elements that work together to create one of the safest and most trusted helmet designs on the market.
Anon Define
Specs
Construction

:

Hybrid

Gender

:

Unisex

Weight

:

1 lb. 3 oz.

Vents

:

4

Shell Material

:

EPS And ABS Plastic

Protection Technology

:

Not Specified
BEST FOR KIDS WITH GLASSES
With built-in goggles and an easy on-the-go adjustment system, the Anon Define helmet is a parent's dream! Your little one will never lose their goggles, even if they fidget with them and take them on and off a lot. Most goggles detach from the helmet, which makes it easy for them to fall completely off or flop around and dangle off the goggles clip.
These will stay on! Plus, this helmet and goggle system is built to fit comfortably over a pair of glasses, which is a tough feature to find! If your kiddo sports specs, this is a great option to keep them protected (without taking away their sight or comfort). This helmet also comes with a super comfy chin strap guard to prevent scratches and chafing, and an exterior dial-fit system that makes on-the-go adjustments a breeze.
Smith Holt Jr.
Specs
Construction

:

Injection Molded

Gender

:

Unisex

Weight

:

1 lb. 3 oz.

Vents

:

14

Shell Material

:

ABS Plastic

Protection Technology

:

Not Specified
Features
Helmet Size Automatically Adjusts For Perfect Fit
Removable Ear Pads Mean This Helmet Can Be Used All Year Round
Budget-Friendly Option From A Trusted Brand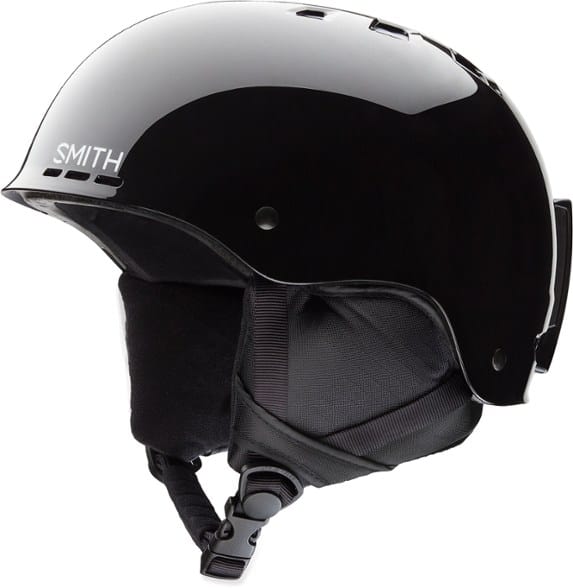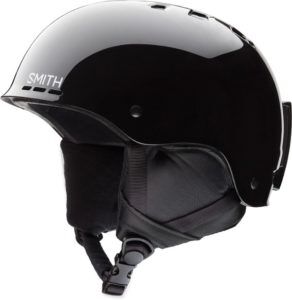 BEST FOR ALL-SEASON USE
This Holt Jr. helmet from Smith has everything you need for a swift changeover from season to season! The earpads can be removed, and its 14 vents are able to be opened and closed so you can tailor temperature control perfectly for the weather and time of year. This helmet has a super easy auto-adjust system, too, so whether you're bundling your child's head or they're going layerless, the helmet will fit comfortably.
It comes in a bright blue color so your child will be easy to find on the slopes or on the trails. And with its modest price tag and high quality, you can't really go wrong. Some reviewers do warn, the helmet is a little bit tricky to adjust for summer use. Don't let that deter you, just be prepared to spend a little time in the changeover getting the helmet ready for the next season because it's totally doable with a little grit and effort.
POC POCito Auric Cut SPIN
Specs
Construction

:

In-Mold (XS,S); Injection-Molded (M,L)

Gender

:

Unisex

Weight

:

1 lb.

Vents

:

12

Shell Material

:

Polycarbonate

Protection Technology

:

SPIN
Features
Features Cutting-Edge SPIN Safety Technology
LED Panel Makes Your Kid Visible In Low Light
Removable Goggles Clip Keeps Goggles Firmly In Place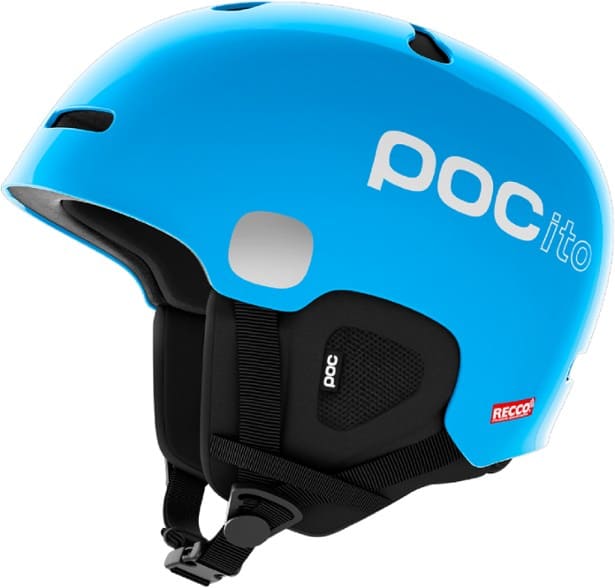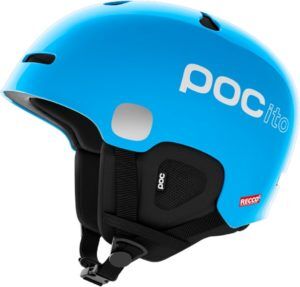 BEST FOR BACKCOUNTRY KIDS
If you plan to take your child on your extreme skiing adventures, this helmet is the answer. In fact, we wouldn't go with any other helmet in that case. The POC POCito Auric Cut comes with several features designed specifically for backcountry safety, including a Recco reflector, which enhances radio signals from search and rescue crews, and an LED panel, which enhances visibility in low light and cloudy conditions.
This helmet is also impeccably made. Every aspect of the design, from the liner to the shell, is of extremely high quality and is built to hold up against multiple impacts. The POCito Auric cut also features cutting edge, patent pending SPIN technology, which allows the helmet to rotate in relation to the impact and protect your child's brain in the rare event of a crash.
Giro Crue
Specs
Construction

:

Hybrid

Gender

:

Unisex

Weight

:

2 lb. 6 oz.

Vents

:

8

Shell Material

:

Not Specified

Protection Technology

:

MIPS
Features
Never Lose Sight Of Your Kid On The Mountain -- This Helmet Comes In Over 20 Bright Colors!
An Update On The Original Kids' Crue Helmet, This Version Features The Latest And Greatest Safety Technology Around
Ventilation System Designed To Keep Goggles From Fogging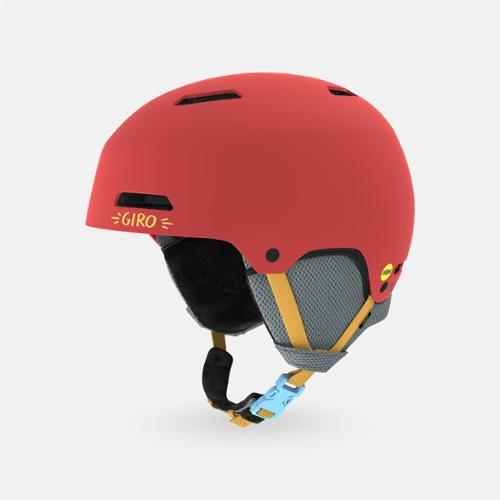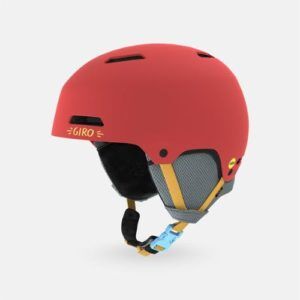 BEST FOR OVERALL VALUE
From one of skiing's most trusted brands comes the kids' Crue snow helmet. This thing is truly packed with value. Easy and on-the-go fit system? Check. High-performance ventilation? Check. Latest safety technology? Check. Tons of color options your kid will love? Check. Reasonable price tag? Check! We're not sure what more you could want, but for us, this helmet has it all.
In addition to the aforementioned features, it also comes with a removable goggle clip and a lot of five star reviews. Can you say ready to shreddy? Your kids won't be able to contain their excitement for the slopes once you outfit them with this thing!
Retrospec Traverse H3
Specs
Construction

:

Not Specified

Gender

:

Unisex

Weight

:

Not Specified

Vents

:

14

Shell Material

:

ABS Plastic

Protection Technology

:

Not Specified
Features
Hard Exterior Shell Combined With Soft, Shock Absorbing Interior Make For A Super Safe Ski Day
One-Handed Dial Adjustment Makes It Easy To Customize Fit
Suitable For Year-Round Use
BEST FOR THE BUDGET SKIER
It may not make sense to buy your kids the most expensive ski equipment when they're growing so fast that it ends up seeing only one season of use. If you're trying to get your kiddos geared up without breaking the bank, this may be the helmet for you!
The mission of the Retrospec Traverse H3 building team was to "design for comfort, engineer to protect," and in doing so, they created a safe, high-caliber helmet that is also warm and affordable! The Traverse H3 features high-quality materials and construction so you can feel good about sending your little shredder down the hill. It also comes in eleven fun colors! There's not much not to love here, and at this price, the budget skier need look no further.
THINGS TO CONSIDER WHEN BUYING KIDS SKI HELMETS
COST
It's no secret that skiing isn't the cheapest hobby you could choose. And costs go up for everything you do when you start including your little ones. But that doesn't mean you have to break the bank to go skiing! Ski helmets come in a wide range of prices. If cost is a major factor for you, check out one of our best kids ski helmets that has one ($) dollar sign, or look for a helmet that is built to last for more than one season.
SAFETY CERTIFICATIONS
When it comes to parenting, we know that you want to keep your children safe, and that's why safety certifications should be a major consideration when searching for a kids ski helmet. All helmets are required to meet certain safety standards. In today's market, most of the highest quality helmets for adults feature MIPS technology, which protects from rotational impacts. MIPS is not 100% necessary for most kids who are just starting out, but if you have a true adventure junkie kiddo, you may want to consider a MIPS-equipped kids helmet. Check out this article from Active.com for more info on how MIPS works.
WARMTH AND VENTILATION
Temperature control is one of the toughest things to nail when it comes to taking a child skiing. It can be made a little bit easier with a warm, properly ventilating helmet. Each of the products on this list of the best kids ski helmets is equipped with a warm liner and proper ventilation. Some offer adjustable ventilation, too. Warmth and ventilation should be a serious consideration for you if you plan to have a ski season that extends from late fall to early spring. For those who tend to take just one or two ski trips a year, temperature control is less of a factor.
SIZE
Children's head sizes can be all over the map! To make sure you are buying the right size, go to the "Sizing and Fit" portion of this article for tips on taking accurate head measurements.
WEIGHT
Weight isn't a huge consideration when it comes to choosing a ski helmet for an adult, but when it comes to kids, we've got a different story! Kids fatigue much faster than adults do on (and off) the mountain, but you can combat this phenomenon by choosing a lightweight helmet for your little one. Weight becomes less of a factor for older children.
FEATURES EXPLAINED
CONSTRUCTION TYPE
Construction type is not just how the helmet is made; it affects how the helmet performs. With In-mold construction and injection mold construction, inner and outer helmet layers are fused together to create a strong, tough-to-smash helmet. Hybrid construction is another way to fuse all the layers together. It combines in-mold and injection mold to do so.
POLYCARBONATE AND ABS PLASTIC
Two industry-leading choices for helmet shells, both are strong and sturdy and hold up in the event of a crash.
EPS
EPS stands for expanded polystyrene. It is a crushable foam that reduces the consequences of an impact.
GOGGLES CLIP
A mechanism on the back of the helmet that holds the strap of the goggles in place.
VENTS
Helmet openings located on the top, back, and front of the helmet that serve to prevent overheating and goggle-fogging.
READ MORE
For more of our top skiing gear recommendations, check out these popular buyer's guides: