Updated on August 26, 2020
Mountain biking is a perfect sport for full-sized people, combining outdoor fun, a friendly community, and all the low-impact exercise benefits of road cycling without the stress of riding near cars! Most areas where cycling is popular offer beginner-friendly trails to get you started, and it's easy to meet other riders at your level. All you'll need to start is a mountain bike that fits you, and we've made that easier by scanning the market and selecting five of the best mountain bikes for big guys, in three popular price ranges.
Don't worry about your bike collapsing under you: many manufacturers build their stock bikes for riders up to 300 pounds, and bike shops can put even larger riders safely on the trail with some modifications. Big riders may experience issues with some components on entry-level or very light bikes, but you can avoid those by choosing the right ride for your size and needs. Let's look at some top options!
For more of our top mountain biking gear recommendations, check out the Best Mountain Bikes. 
Quick Answer

-

The Best Mountain Bikes for Big Guys
Mongoose Dolomite Fat Tire
Comparison Table

-

Best Mountain Bikes for Big Guys

For the best experience turn your device horizontally
Reviews

-

The Best Big Guy Mountain Bikes
Ibis DV9
Specs
Frame Material

:

Carbon Fiber

Wheel Size

:

29"

Brake Type

:

Hydraulic Disc

Number of Gears

:

1x11

Suspension

:

Hardtail (With Front Suspension)
Features
High-End Components
Wide Gear Range
Burly Suspension Fork
High Strength With Low Weight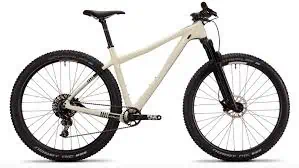 BEST FOR: ALL-AROUND TRAIL RIDING
Ibis builds some of the world's strongest carbon frames, and this is a prime choice for riders looking for a relatively lightweight package that can handle serious loads. This build is loaded with quality components and features a versatile design that will rule anything from smooth cross country to high impact trail riding. The DV9 uses 29" wheels, ideal for long rides over smooth terrain and for rolling over obstacles on rougher trails.
Low to mid-end suspension forks are often a pain point for larger riders, as they tend to flex and perform poorly under heavier loads. The DV9 carries a high quality heavy-duty fork that can stand up to big hits. This bike is ready for high-impact riding and has the strength to carry a full-sized rider.
Marin Pine Mountain
Specs
Frame Material

:

Steel

Wheel Size

:

27.5"+

Brake Type

:

Hydraulic Disc

Number of Gears

:

1x10

Suspension

:

Rigid
Features
Fender And Rack Mounts
Tubeless-Ready Wheels
Plus-Sized Tires (For Extra Shock Absorption)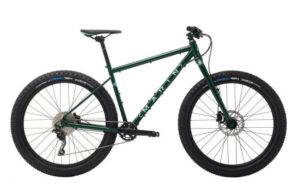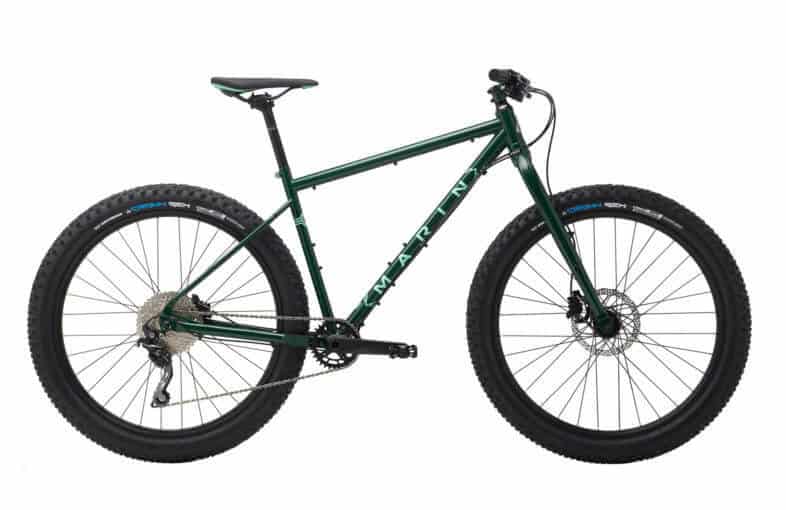 BEST FOR: SMOOTH TRAILS
The Marin Pine Mountain is a classically styled bike mating a rugged steel frame and fork with ride-cushioning plus-sized tires. If you're looking for a basic, simple ride, this is a top contender at a very reasonable price point.
To get the most out of the Pine Mountain, use it as it's made to be used. The big tires and the spring of the steel frame will absorb some shocks, but it's still a rigid bike and if you ride hard over rough terrain, you'll feel bumps and you'll need skills to stay in control. Ride on flowing cross-country trails and you'll have an affordable, sturdy, bike that handles well and looks elegant in any company.
Kona Process 153
Specs
Frame Material

:

Aluminum

Wheel Size

:

27.5"

Brake Type

:

Hydraulic Disc

Number of Gears

:

1x11

Suspension

:

Full Suspension
Features
Full Suspension For A Smooth Ride
Heavy Duty Wheelset
12mm Rear Axle For Added Stiffness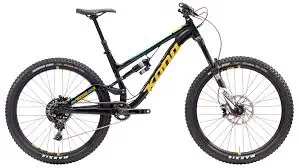 BEST FOR: RIDERS WHO WANT FULL SUSPENSION
Here's some bad news: big riders place big demands on rear suspension, and if you want a full suspension bike you'll need to look at high-quality frames with solid, highly tunable suspension systems. 
Here's some good news: you don't have to sink your budget to get a great full suspension bike! This Kona Process may be the priciest item on this list, but by full-suspension mountain bike standards, it's a fantastic deal for a versatile ride. Kona makes bombproof bikes, and this build features a solid fork and a sturdy wheelset that will stand up to real abuse, important features for larger riders. If you're ordering online, tell the shop what you weigh; most dealers will set the suspension up for you.
Mongoose Dolomite Fat Tire
Specs
Frame Material

:

Steel

Wheel Size

:

26" Fat Bike

Brake Type

:

Mechanical Disc

Number of Gears

:

1x7

Suspension

:

Rigid
Features
Headset Adjusts For Riders Of Different Heights
Most Components Can Be Upgraded (Your Bike Can Grow With You)
Grip Shifters For Easy Shifting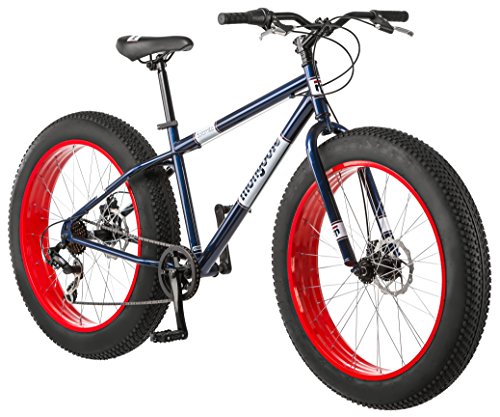 BEST FOR: BIG GUYS ON SMALL BUDGETS
Fat bikes rely on huge tires to soak up bumps. That lets manufacturers cut out expensive suspension, making the fat bike a great way to get on the trail without spending too much. The Mongoose Dolomite packs a lot of value into a low-cost package and gets rave reviews from many riders of 300 pounds and above.
The Dolomite earns a high rating because it provides value for money. It's still an entry-level bike, and you shouldn't expect too much. There are plenty of plastic parts and you won't find high-end components here. The gear range is limited, which can make climbing a challenge. It's a great choice if price is a major issue, but if you want a high-performance ride, you'll need to spend more.
THINGS TO CONSIDER WHEN BUYING A BIG MAN'S MOUNTAIN BIKE
FORKS
A mountain bike's fork connects the frame to the front wheel. Most mountain bikes use a suspension fork to soak up bumps. All of our picks in the low to middle price range have rigid forks, without suspension. That's because entry level suspension forks tend to flex under heavy loads, which wears the fork out and leaves the rider feeling unsteady, and forks with limited adjustments often can't be set up to handle a larger rider. If your budget isn't ready for a fork offering adjustability, high rigidity, and a through-axle, rigid forks are the better choice.
WHEELS
The wheelset is the limiting factor for large riders: if anything's going to break, it's going to be your rear wheel. If you're breaking spokes or your wheels are going out of true (wobbling or twitching when you spin them), invest in a custom wheel build using downhill-specific spokes and rims. They're made to take big hits and can stand up to big riders.
Online bike shops like JensonUSA have bike experts standing by to help customers and can swap out components if needed. Take advantage of this service! Tell them you are above average weight and ask if the wheelset will be strong enough. They will recommend a stronger wheelset if they think it's necessary. Your bike may get a bit heavier but you'll be more secure on the trail.
YOU'RE NOT TOO HEAVY
Most of the bikes on this list are rated for riders up to 300 pounds. Bike makers are conservative and many bikes will carry heavier riders, especially if your riding style is not aggressive. If you're over this weight, don't give up! A good bike shop can build you a bike to fit your weight. If you're at the high end of heavy look to Zize Bikes, which builds bikes for riders up to 550 pounds!
PRO TIP
If your bike arrives partially assembled, have a qualified mechanic finish the assembly and tune the bike. It's worth the cost: your bike will feel better and last longer, and many manufacturers will void your warranty without professional assembly.
LEARN MORE
If any of the terms here are unfamiliar or confusing, try reviewing REI's excellent guide to choosing a mountain bike.
Remember to set aside part of your budget for the gear to go with your bike. Adventure Junkie David Streever reviews some things you'll need and a few you might want in our Ultimate Mountain Biking Gear List.
FEATURES EXPLAINED
WHEEL TYPES
Mountain bike wheels come in multiple sizes and types. For a full explanation of wheel sizes and their uses, see this article from Bike Radar.
FAT BIKES use 26" diameter wheels and very large (3.7 to 5+ inches wide) tires.

PLUS BIKES use 27.5" or 29" diameter wheels and large (2.8 to 3.7 inches wide) tires.

STANDARD BIKES use 27.5" or 29" diameter wheels and 1.9 to 2.8-inch tires.
SUSPENSION
Many mountain bikes use mechanical shock absorbers on the front fork, on the frame, or both. These devices soak up bumps and give you a smoother ride. If rear suspension systems are not made or tuned efficiently, they can "bob", converting your pedaling into up and down movement instead of forward movement. This makes pedaling harder.
RIGID BIKES have no suspension and usually rely on large tires to absorb impact.

HARDTAIL BIKES have a front suspension fork.

FULL SUSPENSION BIKES have front and rear suspension.

THROUGH-AXLE FORKS support the wheel with a rigid axle.
BRAKES
MECHANICAL DISC BRAKES provide reliable stopping power at low cost.

HYDRAULIC DISC BRAKES provide great stopping power with minimal effort.
GEARS
Mountain bike gears are described by the number of front chainrings x the number of rings in the rear cassette. 1×11 means a single chainring in front and an 11-ring cassette in back.
A wider gear range gives you more gear options for easier climbing. Most high-end bikes use 1×11 or 1×12 systems, but multiple front rings were standard for many years and can still do the job!
READ MORE
For more of our top mountain biking gear recommendations, check out these popular buyer's guides: