Updated on December 31, 2020
Shooting stunning photos of wildlife is all about catching the moment. You may spend hours in the outdoors just waiting for an animal to show up, but when it happens, your patience is definitely rewarded. The best point-and-shoot cameras for wildlife photography are designed to help you achieve optimal results in less than ideal situations. They can capture distant subjects in their natural environment without disturbing them. Plus, they are super speedy, so even unexpected movements can be frozen in time.
Whether you are birdwatching, on a safari, or looking for exotic fish underwater, there is a camera for you. Point-and-shoot cameras are simple to use, requiring little or no technical knowledge of photography while delivering high-quality pictures in a variety of situations. We chose the five best point-and-shoot cameras for wildlife photography for you, so you'll be able to document your discoveries without worrying about exposure or shutter speeds.
For more of our top wildlife photography gear recommendations, check out the Best Cameras for Wildlife Photography.
Quick Answer

-

The Best Point and Shoot Cameras for Wildlife Photography
Comparison Table

-

Best Point and Shoot Camera for Wildlife

For the best experience turn your device horizontally
Reviews

-

The Best Wildlife Photography Point and Shoot Cameras
Fujifilm FinePix S1
Specs
Aperture

:

f2.8 - 5.6

Dimensions

:

5.2 x 4.3 x 3.6 in

Focal Length

:

24-1200mm

Weight

:

1.5 lbs.

Resolution

:

16MP

Zoom

:

50x

Weather Sealed

:

Yes
Features
Weather-resistant Camera Provides Protection Against Rain And Dust
Bright 50x Superzoom
"One Touch" Wireless Transfer & Remote Control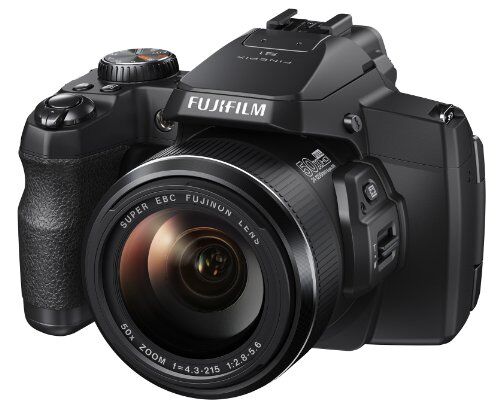 BEST FOR: JUNGLE ADVENTURES
The Fujifilm Finepix S1 is great for the adventurer who isn't afraid to tackle any sort of terrain. Because this is the world's first weather-resistant superzoom camera, you can confidently bring it along on any wilderness trek, no matter how rugged. Water and dust are no match for this weather-sealed point and shoot!
Do you need to set up for a shot, but are afraid of frightening the animals if you get too close? The Fujifilm Finepix S1 comes with One Touch wireless communication software, allowing you to connect the camera to your phone through Bluetooth. You can even use the app as a remote control to fire the shutter, while you hide in the bushes hoping that the lion doesn't spot you!
Nikon Coolpix L820
Specs
Aperture

:

f3.0-5.8

Dimensions

:

3.31 x 4.33 x 2.99 in

Focal Length

:

22.5 - 675mm

Weight

:

1.04 lbs

Resolution

:

16MP

Zoom

:

30x

Weather Sealed

:

No
Features
Powerful 30x Zoom
Ergonomic Design Features A Larger Grip
Vibration Reduction Keeps The Shot Steady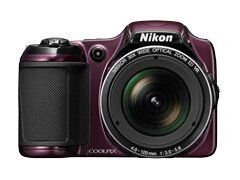 BEST FOR: BIRDWATCHING
The Nikon Coolpix L820 is equipped with a 30x zoom NIKKOR lens that allows you to be versatile in your shots. This means that you can go from taking a group shot of your pets to capturing those baby cuckoos that have just hatched high up in the treetops simply by zooming in. The camera also comes with a 16-megapixel low-light image sensor, providing excellent image quality for those night time safari adventures.
Worried about going on a long trip where you won't have much access to power? The Nikon Coolpix L820 is powered by four AA-size batteries, allowing you to replenish your camera power without having to bring a whole charger with you. Additionally, if you need to capture some fast-moving hummingbirds or a cheetah on the run, this Nikon camera averages a shot-to-shot speed of 1.2 seconds, incredibly fast for a camera that runs on AA batteries.
Canon PowerShot SX740
Specs
Aperture

:

f3.3-6.9

Dimensions

:

1.6 x 4.3 x 2.5 in

Focal Length

:

24-960mm

Weight

:

0.61 lbs

Resolution

:

20.3MP

Zoom

:

40x

Weather Sealed

:

No
Features
4K High-Definition Video
Impressive 40x Optical Zoom
High-speed Continuous Shooting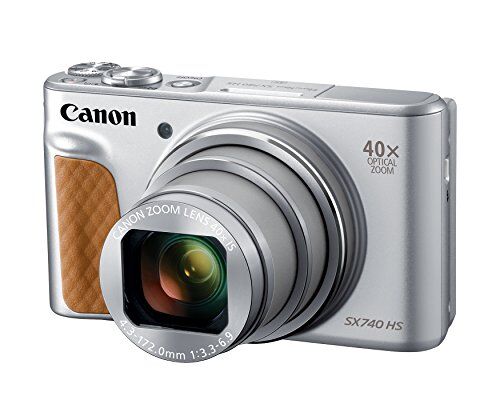 BEST FOR: THE TRAVELING PHOTOGRAPHER
Are you likely to travel to obscure locations to get that fantastic nature shot before the sun goes down? The Canon Powershot SX740 HS might be the right camera for you! This camera offers 40x optical zoom and 4K video recording, all in a camera body that'll fit snugly in the pocket of your cargo pants. The sensor is slightly smaller than some other cameras (a 20.3 megapixel CMOS chip), but it performs exceptionally well in the bright summer sun and in environments where lighting is not optimal.
The screen on the SX740 tilts 180 degrees, allowing you to capture images from the most awkward of angles. It can also be tilted all the way forward, making it perfect for those 'I'm out in the wilderness' selfies.
Nikon Coolpix P1000
Specs
Aperture

:

f2.8-8

Dimensions

:

5.76 x 7.14 x 4.68 in

Focal Length

:

24-3000mm

Weight

:

3.12 lbs.

Resolution

:

16MP

Zoom

:

125x

Weather Sealed

:

No
Features
Rock-steady Dual Detect Image Stabilization
4K Ultra High-Definition Video With Stereo Sound
Time-lapse And Super Lapse Shooting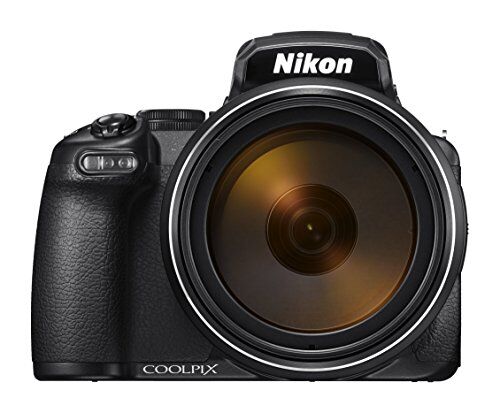 BEST FOR: CLOSE (AND NOT SO CLOSE) ENCOUNTERS WITH NATURE
The Nikon Coolpix P1000 is a beast of a point-and-shoot camera, equipped with a whopping 125x optical zoom, allowing you to capture those lion cubs from a VERY safe distance. Even with this impressive zoom size, and a lens that is equipped with a 77mm filter, the camera only weighs just over 3lbs, making it extremely easy to travel with.
Unlike some other point-and-shoot cameras that only give you the ability to shoot in jpeg format, the Nikon Coolpix P1000 gives you the option to also shoot in RAW format, allowing you a bit more leeway when it comes to under- or overexposure. Even with such a huge zoom range, the image stabilization and sharpness of this camera are not lost.
Olympus TG-5
Specs
Aperture

:

f2-4.9

Dimensions

:

4.4 x 1.3 x 2.6 in

Focal Length

:

25-100mm

Weight

:

0.55 lbs.

Resolution

:

12MP

Zoom

:

7x

Weather Sealed

:

Yes
Features
Waterproof, Dustproof, Crushproof, Shockproof & Freezeproof
Glove-Friendly Controls For When You Are Shooting In Cold Environments
Anti-Fog Dual Pane Lens Glass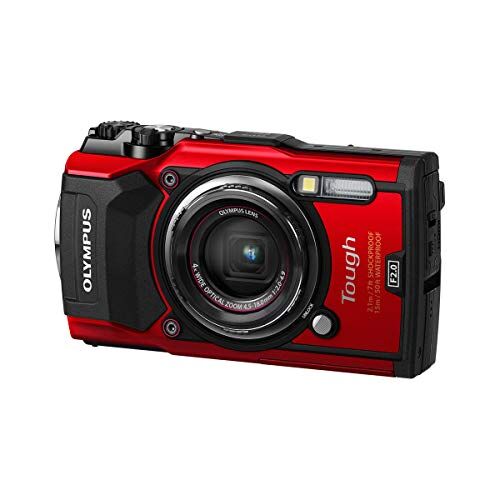 BEST FOR: THE TRUE ADVENTURE JUNKIE
The Olympus TOUGH TG5 point-and-shoot camera is the perfect choice for those rugged adventurers who aren't afraid to get down and dirty to get the perfect shot. This camera is waterproof to a depth of 50 feet, freeze proof down to 14 degrees Fareinheit, and is even crush-proof up to 220 lbs. This is a camera you can throw in your backpack and not have to worry about until you're ready to pull it out and start shooting.
This point and shoot has a decent 4x optical zoom and is equipped with a 12-megapixel sensor that ensures excellent image quality with limited noise. The camera also has a variety of shooting modes for various different situations, including underwater and microscope modes.
If you're worried that water may get into the batteries or the SD card — there's no need. The door to the storage compartment is double-locked, ensuring that nothing will be able to breach the seal.
THINGS TO CONSIDER WHEN BUYING POINT-AND-SHOOT CAMERAS FOR WILDLIFE PHOTOGRAPHY
FOCAL LENGTH
The focal length is the distance between the lens and the sensor of the camera when the subject is in focus. It is measured in millimeters and determines how wide or narrow the framing perspective will be. Wildlife photographers usually prefer long focal lengths that allow for shooting distant subjects without being intrusive. If you are going on a safari or birdwatching, you will need a lens that has a focal length of at least 100mm.
APERTURE
The downside of being able to shoot distant animals is that long lenses often don't perform well in low light. Telephoto lenses tend to have a lower maximum aperture, meaning that they let less light reach the sensor than shorter or fixed lenses.
While this may not affect your shooting experience in the daytime, as the sun goes down it will affect your photographs considerably. Generally speaking, an aperture of f5 or more will not be of great help in low light conditions, unless you are using a tripod. It's good to know which aperture to use when photographing wildlife in low light, so do some research before you head out on your next adventure.
RESOLUTION
The number of megapixels in a camera indicates the size and the amount of detail in the photograph. A higher number of megapixels means a sharper, larger picture. While most modern point-and-shoot cameras offer more than enough resolution for digital viewing and sharing, it can be useful to invest in some extra megapixels if you plan to crop out specific details of an image or print your photos in large format.
SIZE & WEIGHT
Point-and-shoot cameras are both smaller and lighter than bulky DSLRs, but size and weight can vary a lot between different models. Some cameras easily fit in a pocket, while others — especially those with a large lens — occupy significant backpack space. When buying a camera, keep in mind that you'll likely be carrying it around your neck for hours, so make sure you know what you are getting yourself into.
FEATURES EXPLAINED
POINT-AND-SHOOT
An easy-to-use camera that allows for a balanced picture to be taken with the click of a button.
FOCAL LENGTH
The distance between the lens and the image sensor, stated in millimeters, which affects the framing perspective. Short focal lengths produce wider images and are normally used for landscapes. Long focal lengths, on the other hand, allow focussing on distant subjects.
APERTURE
The channel that lets the light reach the sensor through the lens. Wide apertures allow you to shoot clear images even in low light conditions, while narrow apertures may require the use of a tripod to avoid blurry photos.
TELEPHOTO LENS
A long-focus lens designed to photograph small or distant subjects, commonly used in wildlife photography.
AUTOFOCUS
The technology that allows for the camera to automatically focus on a subject as the shutter button is pressed.
FPS (FRAMES PER SECOND)
The highest number of photographs a camera is able to shoot in one second in optimal conditions.