Updated on February 15, 2022
We wouldn't suggest it, but you could go skiing without a jacket. You could go skiing without poles. You could even go skiing without a helmet (we really wouldn't suggest that one). But if you go skiing without ski goggles, you're just plain crazy! Not only do goggles shield your eyes from wind and wetness so you can see, they can also significantly enhance your mountain experience by providing warmth and intensifying visual sharpness. We've compiled a list of the very best ski goggles for women, so you don't have to worry about skiing without goggles ever again!
Goggles are such an important accessory on the slopes, so if you're a chick who rocks the snow sticks (or one who wants to), then you've got to check this list out. We'll answer your burning goggle questions and break down all of the different features that the best pairs have to offer. Without a doubt, you'll be able to select the best women's ski goggles for you by the time you finish reading.
For more of our top ski gear recommendations, check out the Best Ski Goggles.
Quick Answer

-

The Best Ski Goggles for Women
Comparison Table

-

Best Ski Goggles for Women

For the best experience turn your device horizontally
Reviews

-

The Best Women's Ski Goggles
Smith Cascade Classic
Specs
Polarized

:

No

Interchangeable Lens

:

No

Lens Shape

:

Cylindrical

Additional Lenses Included

:

N/A
Features
Hypoallergenic Foam Prevents Skin Irritation
Anti-Fog Lens Design Keeps Your Vision Clear
Clear Tint Option Available For Night Skiers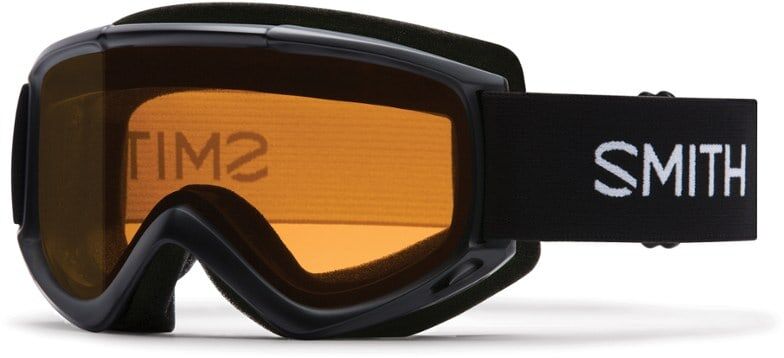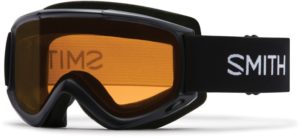 BEST LOW BUDGET GOGGLE
This goggle isn't going to bring you polarization or a flashy lens, but if you're looking to hit the slopes quick and you don't care about all the glitz and glam, this is your best low budget option (even if your budget is like, really low). The Smith Cascades perform the basic job of ski goggles — to protect your eyes from wind and weather — and they perform it well.
These goggles provide one hundred percent UV protection and medium coverage for maximum comfort. If you plan to be a life-long skier, these goggles may not make it all the way through with you, but at a price that can't be beat, they're perfect if you're just getting going or you need a quick fix for a ski trip.
Smith Project
Specs
Polarized

:

No

Interchangeable Lens

:

No

Lens Shape

:

Cylindrical

Additional Lenses Included

:

N/A
Features
Active Ventilation Prevents Fogging Even In Nasty Weather
Smith Lifetime Warranty Lets You Replace Scratched Lenses
Silicone-Backed Strap Keeps Your Goggles In Place
BEST BASIC GOGGLE
From Smith comes the Project: a high-quality, reasonably priced ski goggle. The Project is perfect for you if you're looking for something that is built to last and perform, but you don't want to spend a fortune.
This goggle is a step up from our low-budget pick, the Smith Cascade Classic, but the Project is only slightly more expensive. The upgrade is worth the extra cash if you want a goggle that will last for at least a few seasons. It features a medium frame fit for facial comfort and an adjustable strap that expands to fit your helmet perfectly. It also comes in an array of sweet colors. There's not a whole lot else to these goggles, but while they're not super fancy, they'll definitely get the job done.
Oakley Fall Line
Specs
Polarized

:

No

Interchangeable Lens

:

Yes

Lens Shape

:

Cylindrical
Features
Special Lens Make-Up Protects Against Impacts
Anti-Fog Coating Keeps Your Vision Clear In All Kinds Of Weather
Outside Magazine's 2017 Goggle Of The Year Winner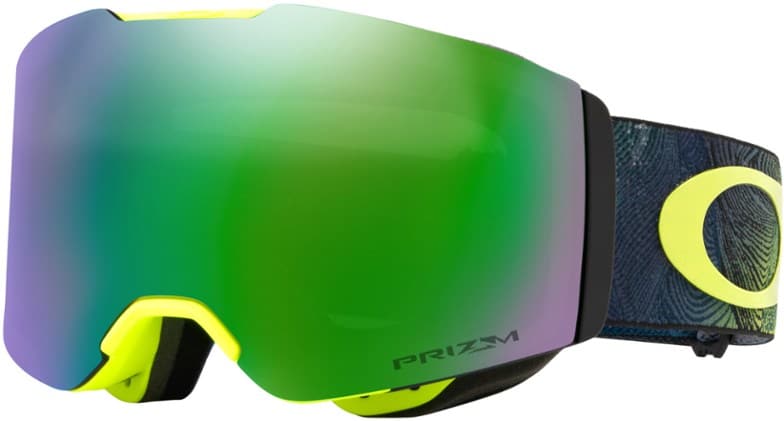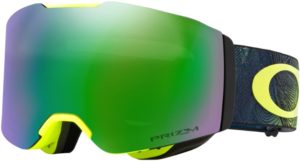 BEST RIMLESS-STYLE GOGGLES
There's a reason these sweet goggles won Outside Magazine's "Gear of the Year" award for best goggles a few year's back, and why that award still rings true in the 2020 season! The Oakley Fall Line goggles feature an anti-fog coating to keep your line of sight clear. They have an easy release and pop system so you can switch out lenses in different light (just beware, you'll have to buy additional lenses separately).
Their lenses are also super strong and impact-resistant, so even if you have a few minor falls each season, you can count on these goggles to last through 'em. The Oakley goggles are moderately priced, and the price tag is totally worth it if you're looking for a super-sleek, durable goggle.
Anon WM1
Specs
Polarized

:

No

Interchangeable Lens

:

Yes

Lens Shape

:

Spherical

Additional Lenses Included

:

1
Features
Magnetic Facemask Integration Allows You To Seamlessly Attach Select Anon Face Masks And Lock In Warmth
Spherical Lens Shape Mimics Your Eye Shape For Superior Quality Of Sight
Super Stylin' Mirror Lenses Will Have You Looking Super Cool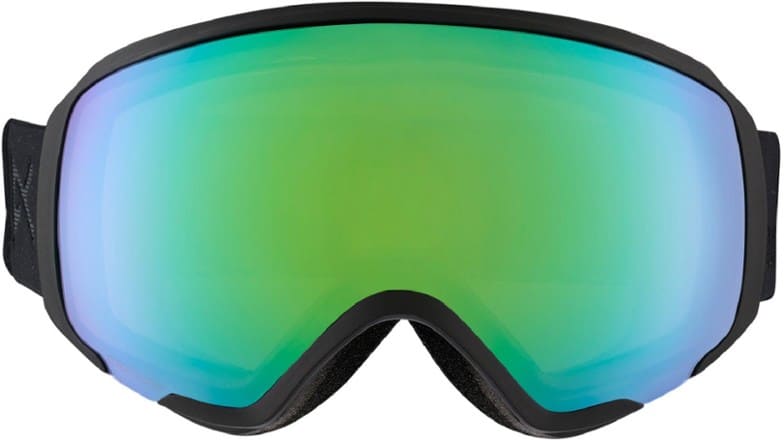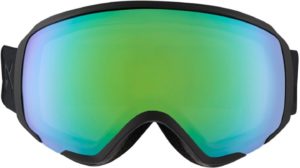 BEST LENS SWAP GOGGLE
Swappable lenses can be a blessing and a curse because they help us see in varied light conditions, but are sometimes a hassle to change. Not with the Anon WM1's! Switching these lenses is a breeze with trademarked Magna-tech swappable technology. These goggles come with two interchangeable lenses: one for bright, sunny conditions and one for darker, cloudy conditions.
They also feature a unique fog-fighting fleece blend that is super soft against skin, and the strong, flexible plastic frames ensure a great fit for every face shape. These goggles aren't cheap, but they are super valuable and worth the cost, especially if easy lens-swaps and overall high quality are important to you.
Spy Legacy
Specs
Polarized

:

No

Interchangeable Lens

:

Yes

Lens Shape

:

Spherical

Additional Lenses Included

:

1
Features
Swap Lenses Easily With The Push Of A Button
Anti-Fog And Anti-Scratch Lenses Keep Vision Clear
Large Frame Size Provides BIG Face Protection And Full Peripheral Vision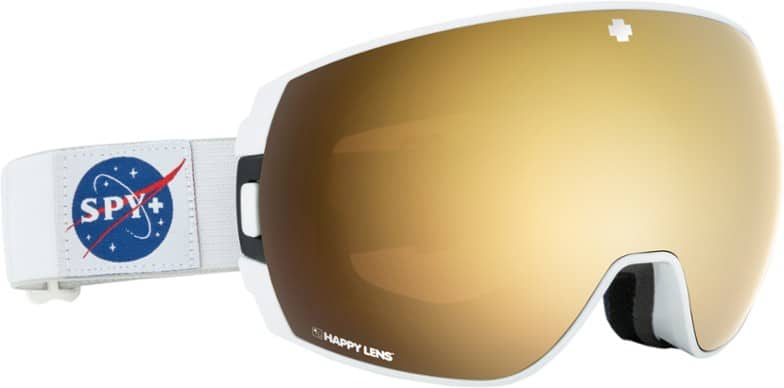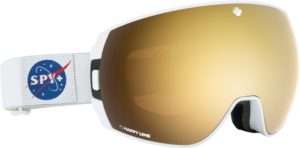 BEST FEEL GOOD GOGGLES
Wait, what? Did you read that right? Yes, you did! The Spy Legacy signature Happy Lens tints your world and is proven to actually boost your mood! If that's not the coolest thing ever, then we don't know what is!
Not only do these goggles have the ability to lift your mood, they also enhance visual color, contrast, and clarity. Their lenses are both anti-scratch and anti-fogging, and they have a unique curvature that mimics the shape of the eye to bring optics to an even higher level. Their frame is large for full coverage and maximum peripheral range. These goggles don't come cheap, but their superior vision quality and sci-fi-like ability to boost your mood are worth the price.
Anon M2
Specs
Polarized

:

No

Interchangeable Lens

:

Yes

Lens Shape

:

Spherical

Additional Lenses Included

:

1
Features
Magnetic Technology Allows You To Swap Lenses Without Taking Your Goggles Off
Lightweight Frames And A Flexible Design Fit A Variety Of Face Shapes
Designed To Fit Flush To Your Cheeks To Lock Out Wind Without Sacrificing Comfort
BEST LARGE AND IN CHARGE GOGGLES
If the Anon WM1's caught your attention for their sweet magnetic lens-switching capabilities, superior optics, and flashy mirror-style finish, then you'll definitely want to check out Anon's sister product, the M2's. At exactly the same price as the WM1's and packing in all of the WM1's best features, the M2's feature a larger frame size for full coverage and protection from the elements, plus a wider range of vision.
The M2's also feature a unique strap design that disperses pressure for superior comfort across your face, and a comprehensive airflow system that keeps air moving and prevents fog. If you were enticed by the WM1's, but you're looking for something bigger (and in our opinion just a little better for the same price), you gotta check these out.
Zeal Portal RLS
Specs
Polarized

:

Yes

Interchangeable Lens

:

Yes

Lens Shape

:

Spherical

Additional Lenses Included

:

1
Features
100% UV Protected And Polarized To Protect Your Eyes
Also Compatible With Snowmobile And Mountain Biking
One Tree Will Be Planted For Each Pair Of Zeal Portal Goggles Purchased Through REI!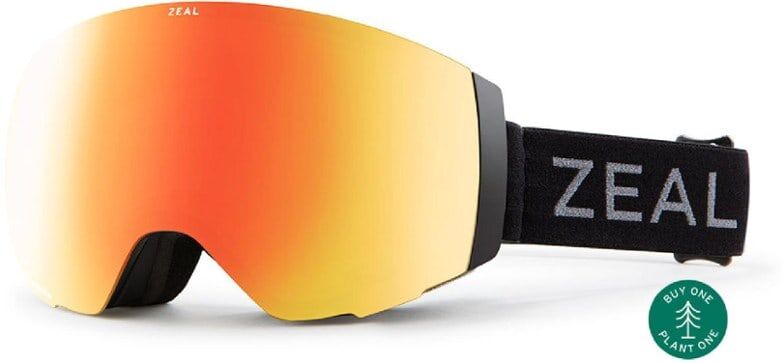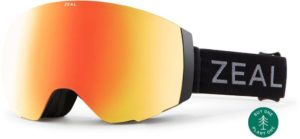 BEST MULTISPORT GOGGLE
Ski goggles are most often designed specifically to fit ski helmets. But what if your winter activities aren't limited to just skiing? What if you want to get some snow-shoeing action in, too? What if you want to go snowmobiling? Do you need to find a new pair of goggles for every winter activity? Nope! At least not if you've got a pair of the Portal goggles from Zeal. These goggles are designed to fit a wide range of winter headwear, from hats to helmets and everything in between, so you don't have to think about which goggles you need for which activity. One size fits all.
Plus, many lens options are fully polarized. These are a great pick if you want a high-quality pair of goggles that can be used for a range of activities! Just beware, the polarized lenses are quite a bit more expensive than the non-polarized options, so you'll need to decide how important that next-level eye protection is before you break out your wallet.
Smith Squad
Specs
Polarized

:

No

Interchangeable Lens

:

Yes

Lens Shape

:

Cylindrical

Additional Lenses Included

:

1
Features
Semi-Frameless Design Is Cute, Comfy, And Minimalist
Trademarked ChromaPop Lens Ensures Visual Clarity
Comes With Microfiber Goggle Bag That Doubles As A Lens Wipe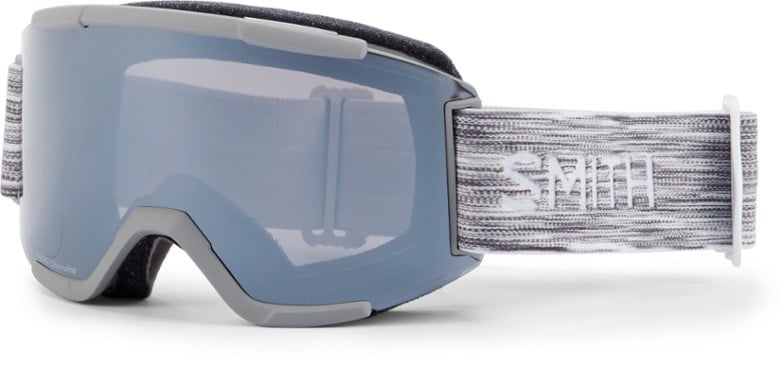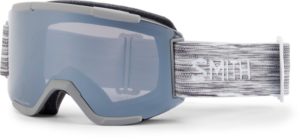 BEST SUPERIOR OPTICS GOGGLE
This goggle features the signature and superior ChromaPop lenses by Smith, and they're also Smith's cheapest ChromaPop option. What is ChromaPop, you ask? Well my friend, let me tell you. It's something you're going to want to hear about! ChromaPop technology filters two specific light wavelengths in order to optimize all aspects of vision, from color to definition to clarity, creating the ultimate mountain view. Smith uses ChromaPop in all its top-of-the-line lens products. If you're looking for a superior optic experience from your goggles, this is a great pair to try, especially because the price is right!
Spy Ace
Specs
Polarized

:

No

Interchangeable Lens

:

Yes

Lens Shape

:

Cylindrical

Additional Lenses Included

:

1
Features
High Definition Lenses Boast Superior Optic Quality
Extra Lens Included So You're Covered In A Range Of Light Conditions
Moisture Wicking Foam And Fleece Combo Keeps Points Of Face-Goggle-Contact Nice And Dry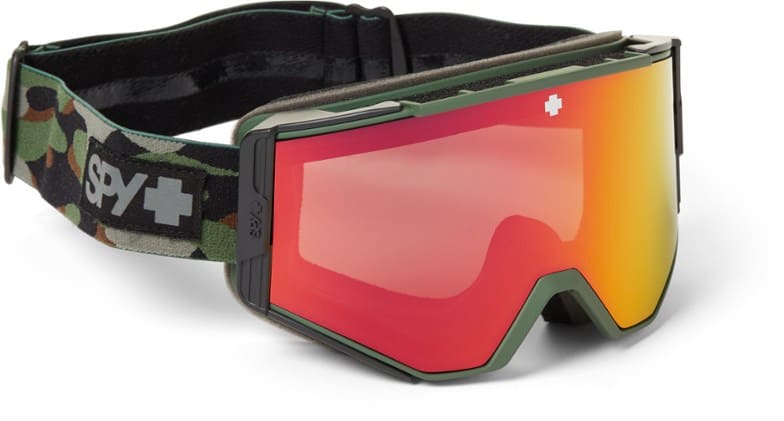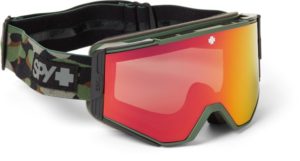 BEST OVERALL VALUE
For their price, these goggles pack a powerful punch. The Ace from Spy features HD vision and anti-fog, anti-scratch lenses. They're also 100% UV protected. These goggles come with the Spy trademarked Happy Lens that is designed not only for superior vision but also to boost your mood through color enhancement technology!
The Quick Draw lens change system is one of the easiest to use of any on the market, making it easy for you to swap out lenses when light conditions change unexpectedly. Plus, a premium airflow system keeps air moving through and offers extra protection against fogging. To top it all off, a triple-layer face foam provides ultimate comfort. With all these premium features, you're sure to "Ace" your ski lesson.
THINGS TO CONSIDER WHEN BUYING SKI GOGGLES FOR WOMEN
COST
You can find women's ski goggles out there for a whole lot of different prices. As is sometimes not the case with other ski equipment, price usually is an indicator of quality when it comes to this product. As price goes up, you'll find better lens features (like polarization and the ability to swap tints) and greater durability. If you're just getting started or if you only need ski goggles for a ski trip that happens once a year, a cheap pair of goggles is sure to serve you well. They'll block wind and keep other weather out of your eyes. But as you get more involved with the sport of skiing, you'll probably want to invest in a high-quality (and therefore higher priced) pair of goggles.
VENTILATION
The number one difference between a good pair of ski goggles and a bad pair of ski goggles comes down to the ventilation system, so this is something you'll really want to take into consideration during your search for the perfect pair! A goggle that doesn't properly ventilate makes for a foggy ride, and a foggy ride means it's tough to see and therefore tough to ski! Look for goggles that boast a great ventilation system in addition to anti-fog lenses.
TINT
Most women's ski goggles come in a variety of tint options. Lighter tints (like yellow, pink, and green) help with visibility on cloudy days, while darker tints (like brown, copper, and gray) help reduce glare on sunny days. And if you plan to do night skiing, a clear tint is the best choice. Some goggles come with interchangeable lenses so you can select the best tint for the day's conditions.
FRAME SIZE
Most women's ski goggles feature medium or large frames. Frame size comes down to personal coverage preference. Click to read more on how to choose the right ski goggles for your face.
FEATURES EXPLAINED
ANTI-FOG
Anti-fog goggles are treated with chemicals that reduce the effects of moisture in and on the lenses.
INTERCHANGEABLE LENSES
Goggles with this feature allow the skier to swap out different colored lenses in order to maximize visibility in changing light conditions.
LENS SHAPE
Cylindrical and spherical are the main goggle lens shapes. Check out this Surfdome article for an in-depth look on different goggle lens shapes.
POLARIZED
A glare reducing lens technology.
READ MORE
For more of our top skiing gear recommendations, check out these popular buyer's guides: