Updated on October 2, 2020
Have you ever found yourself growing tired of the winter season? Do you dread the colder weather? Do you sit inside and bemoan the fact that you've already seen all the good holiday movies three times? Well then, it sounds like you need a new winter hobby, and we think that new hobby might just be skiing! When you first dive into the world of snowsports, it can be a bit overwhelming to figure it all out. But you don't need to fear! We've compiled a list of the best skis for women right here to help you sift through a handful of our very favorite skis.
Just ahead, we'll demystify the makeup and features of the best skis on the market. Spend a little time with this list, and before you know it, you'll be cruising down a mountain, the wind in your hair, and a sweet view of glistening snow-covered trees all around you. We can't think of a better way to spend the winter season. So what are you waiting for? Check it out below!
For more of our top ski gear recommendations, check out the Best Downhill Skis.
Quick Answer

-

The Best Skis for Women
Comparison Table

-

Best Skis for Women

For the best experience turn your device horizontally
Reviews

-

The Best Women's Skis
Line Pandora 84 Skis
Specs
Weight

:

5 lb. 14 oz.

Tail Shape

:

Flat

Terrain

:

Groomed

Waist Width

:

84 Millimeters

Core Material

:

Aspen

Tail Width

:

110 Millimeters

Tip Width

:

122 Millimeters
Features
Lifted Tip And Tail Design Helps With Balance
Softer Tip and Sturdier Tail Aids in Power And Turning
Hella Sweet Ski Art

BEST GROOMER SKI
If you're just getting your feet..er…skis underneath you when it comes to downhill snowsports, you may be sticking to the groomed trails at first. Groomed trails have been altered to ensure a smooth and uniform surface, making them a bit easier for beginners and less hardy skiers. The Line Pandora 84s were made for this type of trail.
Their lifted tip and tail design sends the bulk of your weight to the middle of the ski, which assists in balance and power while turning. The tip of this ski is built to make turn initiation easy, while the tail provides stability and control. It's a great ski for those who just want to get the basics down! Invest in this ski and you'll be surfing groomed terrain like waves on the beach in no time.
Armada Victa 87 Ti
Specs
Weight

:

7 lb. 8 oz.

Tail Shape

:

Partial Twin

Terrain

:

Powder

Waist Width

:

87 Millimeters

Core Material

:

Wood

Tail Width

:

120 Millimeters

Tip Width

:

129 Millimeters
Features
Light Wood Core Is Built For Stability, Power, And Control On The Slopes
Special Heat Treatment Applied For Added Durability
Fastest Armada Ski On The Market
BEST SPEED SKI
Speed Demons, look no further! This ski is built for you. It features a design that is specifically built for stability, control, and power even at high speeds, and the Comp-Series base-Armada's fastest ski base-guarantees you'll get there. Victa's are made for varied terrain, so you'll feel confident ripping it up on any part of the mountain. Their carbon and kevlar combo makeup ensure this ski's longevity. The build also aids in that light, "bouncy" feel that so many skiers desire on the hill. The Armada Victa is sure to please those with a need for speed!
Blizzard Black Pearl 88
Specs
Weight

:

6 lb. 10 oz.

Tail Shape

:

Flat

Terrain

:

Groomed and Powder

Waist Width

:

88 Millimeters

Core Material

:

Carbon Fiber

Tail Width

:

110 Millimeters

Tip Width

:

126 Millimeters

BEST "UP YOUR GAME" SKI
Featuring a lightweight, yet high-performing cut, superior power and control, and premium turning capabilities, the Blizzard Black Pearl Ski is a great choice for someone who is looking to make a lot of growth as a skier on one set of skis. 
They are suitable for those just beginning as they are easy to control, but they'll work well for intermediate and advanced skiers, too, as they are high-performing even at high speeds and varied snow conditions. That means that you can rely on these sweet puppies to be with you for a great number of years as your skills develop! The popularity of Blizzard skis on the mountain increases each year as they produce high-quality, high-value products.
Black Crows Camox Birdie
Specs
Weight

:

7 lb. 10 oz.

Tail Shape

:

Partial Twin

Terrain

:

Groomed and Powder

Waist Width

:

97 Millimeters

Core Material

:

Wood

Tail Width

:

115 Millimeters

Tip Width

:

127 Millimeters
Features
Slightly Flexible In Order To Handle Various Terrain
Longer Than Average Edge Helps You Dig In And Turn
Ski Stays Stable Even At High Speeds

BEST PLAYFUL SKI
For those who like to get creative on the slopes – traversing different terrain and pushing the limits – we're introducing the Camox Birdie's from Black Crow. Inspired by freestyle skiing, these skis strikes a great balance between stiffness and controllability. They remain stable at speeds both slow and fast, have medium flexibility for premium turning capability, and feature specially designed edges that are built to dig in deep when you need it most. You can play with these medium-width skis all over the mountain as they're made for fun!
Faction Prodigy 2.0 X
Specs
Weight

:

6 lb. 13 oz.

Tail Shape

:

Partial Twin

Terrain

:

Groomed and Powder

Waist Width

:

96 Millimeters

Core Material

:

Wood

Tail Width

:

112 Millimeters

Tip Width

:

122 Millimeters
Features
Ski Designed For Downhill Skiing With Playful/Freestyle Flair
Wood Core Designed For Premium Grip And Control
Anti-Chip And High-Resistance Treatment Boost Durability
Two-Year Warranty Included With Purchase

BEST FREESTYLE/DOWNHILL COMBO SKI
The Faction Prodigy 2.0's are everything you've dreamed of in a multi-purpose ski. For those looking to strike a cross between downhill skiing and terrain park action, this is the ski for you! The Prodigy 2.0's feature unbeatable grip and control to give you the power to carve like a maniac as well as conquer jumps and rails like a pro. 
The core of this ski is built to pop you right out of each turn and send you into the next quickly to maintain speed and stability. The outermost layer of this ski is designed to absorb shock so you can have a comfortable landing from jumps of any size. And as a bonus, these skis receive an anti-chip and high-resistance treatment to enhance their durability and keep you going strong year after year.
Volkl Kenja 88
Specs
Weight

:

Unavailable

Tail Shape

:

Flat

Terrain

:

Groomed and Powder

Waist Width

:

88 Millimeters

Core Material

:

Wood

Tail Width

:

111 Millimeters

Tip Width

:

129 Millimeters
Features
Frame Enforcements Add Stiffness In The Tip And Tail Area For Added Longevity
Carbon Tips Combined With Multiple Layers Of Wood Makes For A Controlled Ride
Built For Versatile Terrain

BEST VERSATILE SKI
Want to tackle all kinds of terrain from groomed trails to straight powder? Want to hit the jumps and rails? Want to ski both forwards and backwards? Or maybe you just aren't sure what kind of skier you want to be yet? If you answered yes to any of those questions, then the Volka Kenjas may just be the skis for you. 
The best thing about these versatile skis is that they are made to handle well in all sorts of snow and tailor to the needs of a wide range of skiers. Their multilayer, multimaterial core, carbon-protected tips, and rigid titanium frame work together to ensure stability and control. Take these skis anywhere across the mountain, and they're sure to perform. With this investment, you can buy now and decide what kind of skier you'll be later on.
K2 Mindbender 108 Ti
Specs
Weight

:

4 lb. 8 oz.

Tail Shape

:

Partial Twin

Terrain

:

Groomed and Powder

Waist Width

:

108 Millimeters

Core Material

:

Wood

Tail Width

:

125 Millimeters

Tip Width

:

136 Millimeters
Features
Ski Is Super Flexible To Maneuver Smoothly Through Varied Terrain
Angled Sidewall Increases The Ski's Responsiveness To Your Movements
Stiffness Is Distributed Strategically Throughout Ski For Maximum Ease While Turning
BEST SKI FOR TOUGH CONDITIONS
The K2 Mindbender Ski makes skiing in tough conditions just a little bit easier. These medium-width skis have great flexibility and an angled sidewall, making them super responsive to your every move. Depending on where you plan to ski, ice and tougher conditions can be a significant difficulty factor. Especially if you're just starting out, a super stable, yet flexible and responsive ski can make your experience on the mountain a lot better! These skis are a slick choice for beginners and intermediate skiers alike. If you're just getting started, they'll give you the confidence boost you need to achieve a higher level of skiing.
Nordica Santa Ana 100
Specs
Weight

:

8 lb. 8 oz.

Tail Shape

:

Flat

Terrain

:

Groomed And Powder

Waist Width

:

100 Millimeters

Core Material

:

Wood

Tail Width

:

119 Millimeters

Tip Width

:

131 Millimeters
Features
Raised Tail And Tip Help This Ski "Float" On Top Of Snow
Designed For Superior "Edge Hold" To Maximize Control While Turning
"Sandwich" Core Design Combines Wood, Carbon, And Metal To Enhance Stability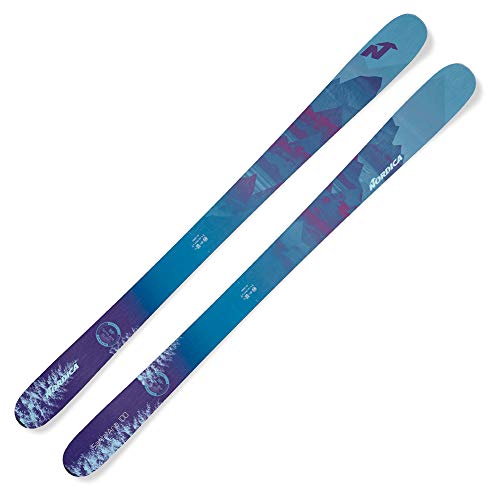 BEST POWER TURNING SKI
The Turn: it's the single most important move in skiing. So wouldn't you want a pair of skis that is designed for premium turning capabilities? We sure would! And that's why we urge you to take a look at the Nordica Santa Ana's. These bad boys will have you surfing down the hill with ease. Their raised tip/tail design places the bulk of your weight directly underfoot to help you balance, and its special core makeup provides added stability. With these stellar skis, you'll zig and zag nimbly down the hill while you confidently float over all kinds of terrain with power and confidence.
THINGS TO CONSIDER WHEN BUYING SKIS FOR WOMEN
WEIGHT
Some skis are heavier than others! Light skis are, well, lighter, and therefore much easier to carry and move around when they aren't on your feet. That's an advantage, but it comes at the cost of being a bit more difficult to cut through heavy snow and rougher conditions.
YEAR MAKE
The most recently released skis will always claim to be the best of the best, but they'll come at a higher cost. Do your research and do not rule out past seasons' models! They will come at a significant price reduction and can be just as good as this year's skis. We've included skis from both last season and this season on this list.
PURPOSE/TERRAIN
Where will you be skiing most? Eastern U.S. ski slopes aren't known for their powder, while on the other hand, Western U.S. ski slopes are. Many skis will work on lots of different terrain, but you should consider where you will be spending most of your time and go with a ski that is made for the kind of skiing you'll be doing most.
FLEX AND STIFFNESS
Flexibility versus stiffness is an important consideration since a ski's rigidity serves as one of the main indicators of the ski's purpose. More flexible skis turn more easily and perform better on varied terrain like moguls or backcountry conditions. Stiff skis, though, tend to go faster and work great on consistent, smoother terrain.
HEIGHT
You should use a number of factors to determine the proper height of your skis, including your height, weight, skiing style, and ability. Here's more information from Backcountry on choosing the proper size ski. 
TAIL TYPE
Tail type is one of the specs you'll find here that helps define a ski's purpose. The two most popular tail types on the market today are partial twin and flat. Partial twin tips are almost identical at the top of the ski and the bottom, and they allow the skier to ride backwards as well as forwards. Partial twin tips are generally a good pick for freestyle/terrain park skiers. Flat tips aren't good for skiing backwards. They are found on what is called a directional ski. Directional skis are made with traditional downhill skiing and carving (turning) in mind.
COST
Like most outdoor equipment, skis are available at many different price points. There are other costs to consider when purchasing skis – such as bindings and boots – and those costs can add up fast. That's why this list gives you a variety of price points for high quality skis! With just a little browsing, you should be able to find a pair of skis that works for your wallet.
FOR MORE INFORMATION
Check out this helpful article from REI expert advice for more information on choosing and buying skis.
FEATURES EXPLAINED
TIPS, TAILS, AND WAIST
Tip refers to the frontmost part of the ski (equivalent to the toes of your ski). Tail refers to the backmost part of the ski (like your heel). Waist refers to the middlemost part. The widths of these three areas are important because together they determine the ski shape, which ultimately defines its purpose. Check out this article to help determine which kind of ski shape is best for you and for information on the meaning of ski width.
SIDEWALL
The outermost layer on the sides of the ski, which can affect the ski's responsiveness, stability, and control.
CORE
The main material the ski is made of.
EDGES
Strips of metal that run along the sides of the ski. Edges are important for controlled turning.
READ MORE
For more of our top skiing gear recommendations, check out these popular buyer's guides: