Updated on October 28, 2020
Whether you're new to the sport of surfing or a wave shredding pro, having the best surfboard traction pad is a nifty way to help you keep grip and enjoy your ride a little more.
Though there aren't a lot difficult choices to make with this relatively straight forward product, there are certainly some key features to keep an eye on that could make the difference between getting what you need vs. buying in to marketing hype. Below we break it down and make your decision as simple as possible!
For more of our top surfing gear recommendations, check out the Best Surf Wax.
Quick Answer

-

The Best Surfboard Traction Pads
Comparison Table

-

Best Surfboard Traction Pad

For the best experience turn your device horizontally
Reviews

-

The Best Traction Pads for Surfboards
Abahub 12 Piece
Specs
Thickness

:

3mm

Tail Kicker

:

Yes
Features
100% Satisfaction Guarantee
Available In 6 Different Colors
Slip-Resistant Diamond Groove Pattern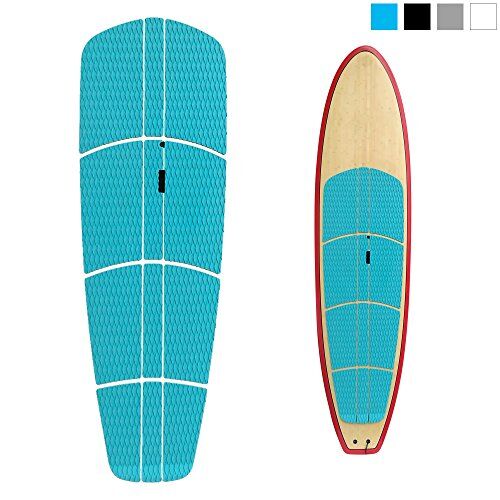 BEST FOR: LONGBOARDS AND LARGE SURFBOARDS
Most beginners are rocking either a longboard or an oversized regular board to help reduce the learning curve. With a surfboard on the larger end of the spectrum, you're going to want a traction pad that can cover all that real estate.
The ABAHUB 12-Piece Traction Pad is your primo choice for big boards. The 12 pieces are sure to be enough to cover your whole board and can be mixed and matched exactly to your liking.
This traction pad is also super cushiony as it's made from a closed cell EVA (Ethylene-Vinyl Acetate) foam that absorbs impact and makes for a comfortable day on the water.
Wave Tribe Cork
Specs
Thickness

:

2mm

Tail Kicker

:

Yes
Features
Cork Construction Is Eco-Conscious
Lighter And More Durable Than EVA
3M Adhesive Ensures A Strong Bond To Your Surfboard
BEST FOR: ECO-CONSCIOUS SURFERS
Eco-conscious surfers who prefer products that are responsibly made and constructed from sustainable materials will be thrilled to have the Wave Tribe Cork Surfboard Traction Pad as an addition to their board. The use of cork (from cork trees) helps reduce our reliance on plastics and synthetically produced products that expand our carbon footprint.
The additional benefits of using cork are that it's longer lasting and much lighter than EVA (Ethylene-Vinyl Acetate) foam, helping improve durability and performance. The Wave Tribe Cork also features a small kicker in the rear for improved steering.
RSPro Hexatraction
Specs
Thickness

:

None

Tail Kicker

:

No
Features
Includes Template For Easy Installation
Don't Add Any Extra Weight To Your Board
6" Inch Clear Hexagons Don't Cover Up Board Graphics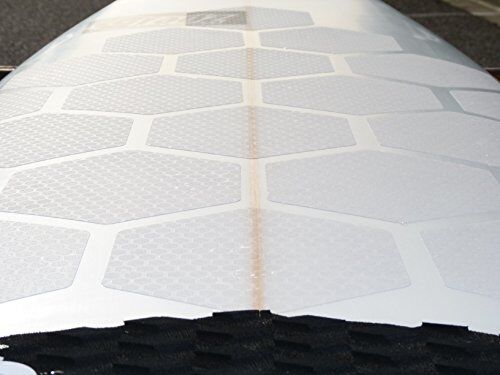 BEST FOR: AN ALTERNATIVE TO WAX
For those who prefer a more natural feel for their board and want as slim and low-profile traction as possible, Hexatraction Clear Surf Grip is your best bet. Its "barely there" low-profile design can actually be used as an alternative to wax.
The best part is that Hexatraction can be used in addition to a traction pad. You can put a small traction pad near the rear of your surfboard and then cover the rest of your board with the Hexatraction hexagons.
The kit includes 18 full-sized and 4 half-sized clear hexagons, which will mostly cover a 6' foot short board. Longboarders will need two kits for full coverage.
Abahub 3 Piece
Specs
Thickness

:

1.5mm

Tail Kicker

:

Yes
Features
Weighs Just 3 Ounces
Available In 4 Different Colors
25mm Tail Kicker Helps You Kick Into Maneuvers
BEST FOR: FISH BOARDS AND SHORTBOARDS
Short board shredders needing some traction in the rear with a tail kicker to kick into maneuvers are in luck – the 9-Piece Surfboard Traction Pad by ABAHUB is the perfect match!
At just 3 ounces in total weight this traction pad won't add any significant weight to your board, letting you rip your board through waves just as you normally would. The diamond grooved pattern lends itself to more traction even when waves are splashing all over your deck.
Designed for turns and cutbacks, you'll feel right at home carving up any wave and may even find a helping hand with the steep tail kicker.
Foammaker Universal DIY
Specs
Thickness

:

2mm

Tail Kicker

:

No
Features
Available In 3 Different Colors
Peel & Stick Design Is Easy To Apply
Diamond Groove Pattern Drains Water Easily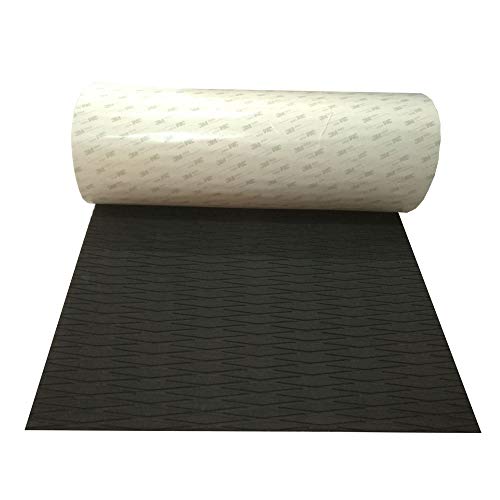 BEST FOR: CUSTOM FITTING
Those who want a truly custom-fitted traction pad should really consider the Foammaker Universal DIY Traction Pad. The 20" x 40" roll is enough to cover the main portion of your surfboard and can be cut to size for the perfect placement and contouring.
This traction pad features a super convenient peel and stick design that is not only easy to apply, but also bonds really well to your board thanks to the 3M adhesive. Available in 3 different colors including silver and black, you'll be sure to match your traction pad to your board with ease.
Specs
Thickness

:

3mm

Tail Kicker

:

Yes
Features
Middle Arch Supports Your Feet
Available In 5 Different Colors/Patterns
Tail Kicker Helps You Lay Down Sweet Maneuvers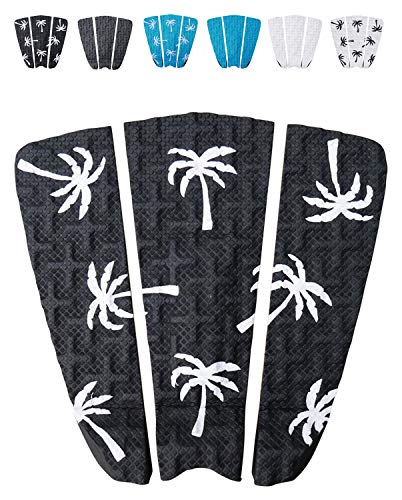 BEST FOR: COOL DESIGN OPTIONS
Sometimes you just need to show some flair on your board and have fun with the additions you make to your surfboard. Now you can show off a little fun flair with the Ho Stevie! Premium Surfboard Traction Pad!
Rocking a 12" inch by 12" inch area, the traction pad is split in 3 so that you have the option of spreading it out to maximize the coverage. You can also buy an extension piece that is split into 4 parts that can be added to the midsection of your surfboard and will match the design you've chosen.
The Ho Stevie! also sports a middle arch to support your feet and features a tail kicker for punching maneuvers.
SYMPL 3-Piece
Specs
Thickness

:

1.5mm

Tail Kicker

:

Yes
Features
Fits All Board Types
Available In 4 Different Colors
Super Low-Profile Design Is Meant To Mimic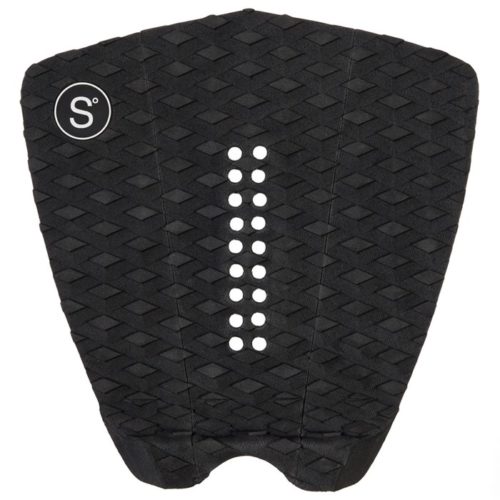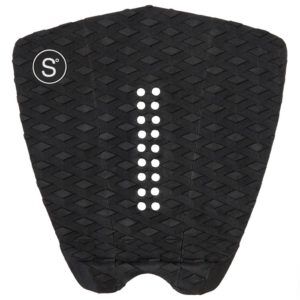 BEST FOR: LOW-PROFILE TRACTION
Surfers who prefer a low-profile feel underfoot and want minimal thickness in their traction pad will love the SYMPL 3-Piece Surfboard Traction Pad.
The traction on this pad is lighter, grippier, and thinner than most other traction pads on the market. It also features beveled corners to reduce drag in the water and can also be pulled apart to cover a wider area.
Unlike other traction pads that have an arch for foot support, the SYMPL traction pad has no arch for those who prefer a natural feel underfoot.
FCS Filipe Toledo
Specs
Thickness

:

3mm

Tail Kicker

:

Yes
Features
Available In 3 Different Color Combos
Tail Kicker Delivers Extra Drive When Pressed Down
Diamond Grooved Traction Pattern Keeps Grip While Draining Excess Water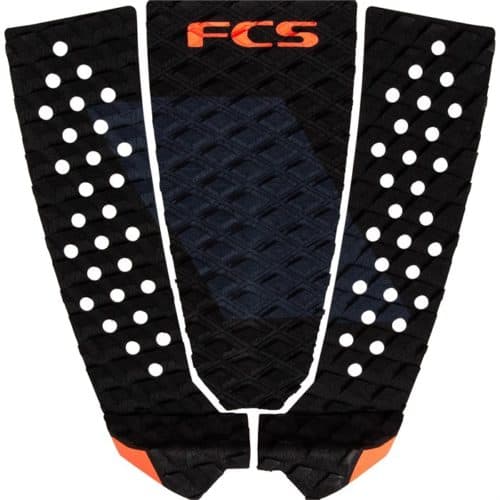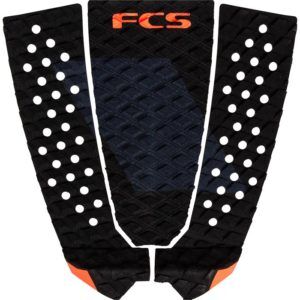 BEST FOR: TAIL KICKER
If you're looking to get the most performance out of the tail kicker on a traction pad then get ready for some sick maneuvers after adding the FCS Filipe Toledo Signature Surfboard Traction Pad to your board!
Sporting a 3-piece design that can be separated for maximal coverage, this traction pad has all the customization you could possibly need. The tail kicker splits in two and can be placed on the outside portion of your board for more help with advanced maneuvers or kept together for a more traditional kicker.
PUNT SURF
Specs
Thickness

:

3mm

Tail Kicker

:

No
Features
Available In 3 Different Colors
Uses 3M Adhesive - A Very Strong Bond That Adheres To Your Board
1% For The Planet Company - Donates 1% Of All Sales To Environmental Non-Profits
BEST FOR: DIY FITTING
Sometimes it's not enough to just buy a thing, peel the sticker off, and slap it on your board. For those who crave the opportunity to DIY their surfboard to the max, check out the PUNT SURF Traction Non-Slip Grip Mat. Just roll it out and cut it up to your liking! Some surfers don't want blanket coverage but instead prefer alternating strips of grip or only need grip in key areas such as the tail and the middle of the board.
This traction mat also has a cross diamond cut pattern for increased traction which also allows excess water to drain off your board for maximal performance.
Abahub 3 Piece
Specs
Thickness

:

3mm

Tail Kicker

:

Yes
Features
Available In 4 Different Colors
25mm Tail Kicker Helps Improve Performance
Arch Underfoot Gives You A Better Feel For Your Board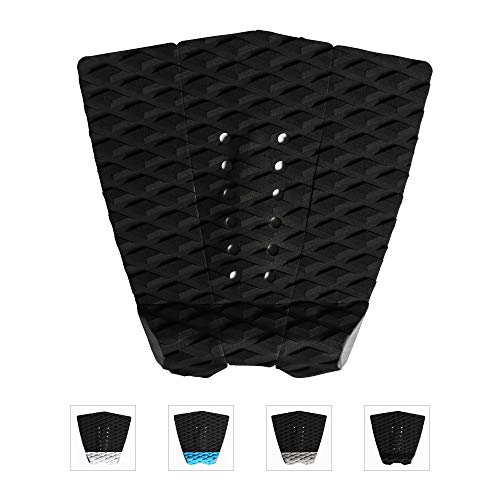 BEST FOR: BUDGET-CONSCIOUS SURFERS
Surfers who are always looking for a bargain ought to look no further than ABAHUB's 3-Piece Surfboard Traction Pad. Ring up just under $16, you'll be hard pressed to find a better deal, which ABAHUB is known for! The ABAHUB name is actually an acronym that stands for "Always Brings A Highly Unique Bargain."
Rocking 4 different colors that you can match to your surfboard's graphics and featuring a tail kicker with arch beneath your foot for improved feel, this bargain traction pad is truly a diamond in the rough.
THINGS TO CONSIDER WHEN BUYING SURFBOARD TRACTION PADS
THICKNESS
Thickness for traction pads are measured in millimeters (mm) since they're meant to be as thin/low-profile as possible. They can range anywhere between 1 – 3mm in thickness.
TAIL KICKER
Tail kicker is a raised portion of a traction pad (like a wedge) that gives you the ability to press it down for increased traction in the water and can be manipulated for technical maneuvers on your surfboard.
FEATURES EXPLAINED
DIAMOND GROOVE
A diamond groove pattern is designed to maintain textured traction for your feet while draining any excess water from the board.
READ MORE
For more of our top surfing gear recommendations, check out these popular buyer's guides: