Updated on December 10, 2020
As you're winding down a long day of practicing your skills at the beach, you might be noticing that those old swim trunks you're wearing just aren't getting the job done. The netting is riding up in places we can't name here and your skin is probably chafing in more spots than you'd like. Perhaps it's time to upgrade your wardrobe and snag the best surf shorts available to keep you comfortable and cool in the waves all day long.
With designs that range from minimal to durable, and multifunctional to sustainably made, our research has uncovered a wide variety of shorts that each have a practical application. Whatever your needs may be, we've got your tushie covered! So, sit tight and read on – below we've shortlisted the top 10 best surf shorts.
For more of our top surfing gear recommendations, check out the Best Rash Guards.
Quick Answer

-

The Best Surf Shorts
Patagonia Stretch Hydropeak

Patagonia Stretch Planing

Quiksilver Waterman Paddler

O'Neill Hyperfreak S-Seam
Comparison Table

-

Best Surf Shorts

For the best experience turn your device horizontally
Reviews

-

The Best Shorts for Surfing
Patagonia Wavefarer
View Women's Version
Specs
UPF

:

50

Moisture Wicking

:

No

Quick Drying

:

Yes

4-Way Stretch

:

No
Features
Comes In Several Different Colors/Patterns
UPF 50 Protects Against Heat Fatigue And Sunburn
Self-Draining Pocket Has Ring Loop To Keep Keys Secure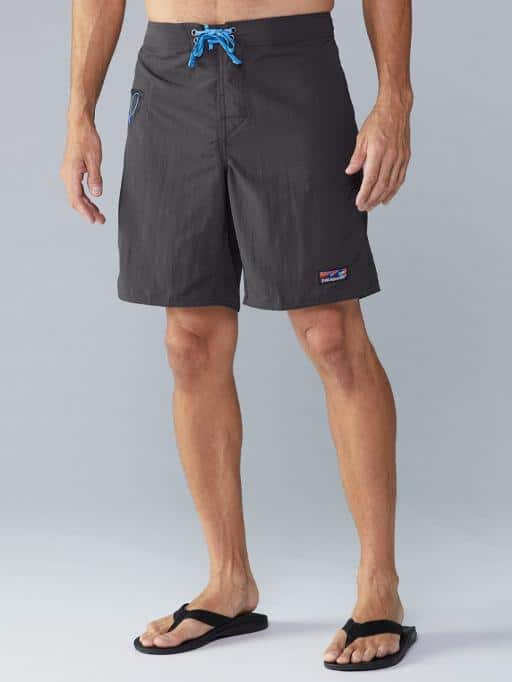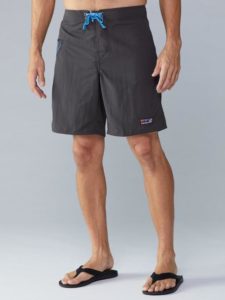 BEST FOR: SUPREME QUALITY FROM A TRUSTED BRAND
Patagonia's track record for creating high-quality, long lasting products is no secret. The nearly 50 year old outdoor retailer has made it their recipe from Day 1, from durable stitching to premium fabrics.
The Wavefarer Board Shorts follow form and sport recycled materials alongside Fair Trade Certified sewing practices. Aside from keeping your conscience clean, these shorts will protect from harmful UV rays, dry quickly, and keep you agile with their lightweight design.
This investment will pay dividends down the road, outlasting cheaply made shorts by a long shot. When they do end up wearing out years down the road, send them in for repair at a small fee and you'll be back on your board in no time!
prAna Metric E-Waist Zip
Specs
UPF

:

50

Moisture Wicking

:

Yes

Quick Drying

:

Yes

4-Way Stretch

:

No
Features
Comes In 3 Colors/Patterns
Drawstring Helps You Dial In The Perfect Fit
Zippered Back Pocket Keeps Keys Secure With Interior Loop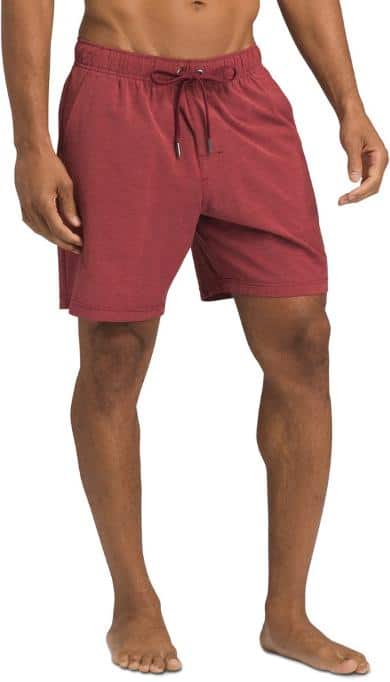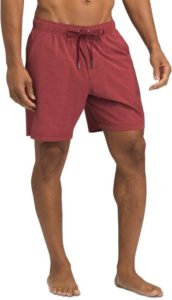 BEST FOR: THE ENVIRONMENTALLY CONSCIOUS SURFER
For many outdoor enthusiasts today, choosing a product that has environmentally ethical considerations is as important as how it performs overall. We at The Adventure Junkies also believe sustainability to be an important consideration when choosing the best apparel and gear.
prAna is a well known manufacturer that holds these values in high regard and their Metric E-Waist surf shorts are no exception! The organically grown cotton used as the base fabric in these shorts helps reduce the amount of toxic chemicals and pesticides that wash into our rivers and streams. The polyester that gives these shorts their flex is also made from recycled sources, reducing emissions and resources used. The blend of these two fabrics creates a high performance short that wicks moisture from your body and protects against harmful UV rays.
Patagonia Stretch Hydropeak
Specs
UPF

:

50

Moisture Wicking

:

No

Quick Drying

:

Yes

4-Way Stretch

:

Yes
Features
Comes In 2 Colors/Patterns
UPF 50 Rating Blocks 98% Of UV Rays
Self-Draining Zippered Pocket Keeps Keys Secure With Interior Loop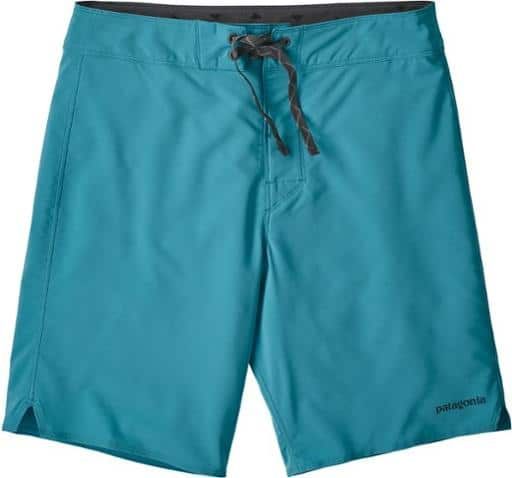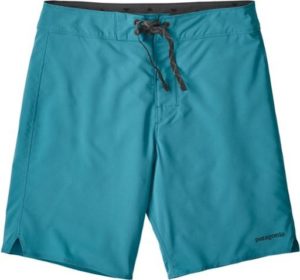 BEST FOR: MINIMAL DESIGN
Super light and streamlined, Patagonia has paired down these surf shorts to perform maximally with minimal design. Notched hems on the outseam give your legs more room to move while the waistband keeps your shorts snug and gives you full range of motion.
Covered in a durable water repellent (DWR) and utilizing a recycled polyester blend, the Stretch Hydropeak surf shorts offer superior mobility and a quick drying time. The UPF 50 rating (Ultraviolet Protection Factor) also keeps your skin protected by blocking out 98% of harmful UV rays.
Patagonia Stretch Planing
View Women's Version
Specs
UPF

:

50

Moisture Wicking

:

No

Quick Drying

:

Yes

4-Way Stretch

:

Yes
Features
Comes In A Variety Of Colors/Patterns
Self-Draining Pocket Provides Low Profile Storage
91% Recycled Fabric Helps Reduce Waste And Carbon Emissions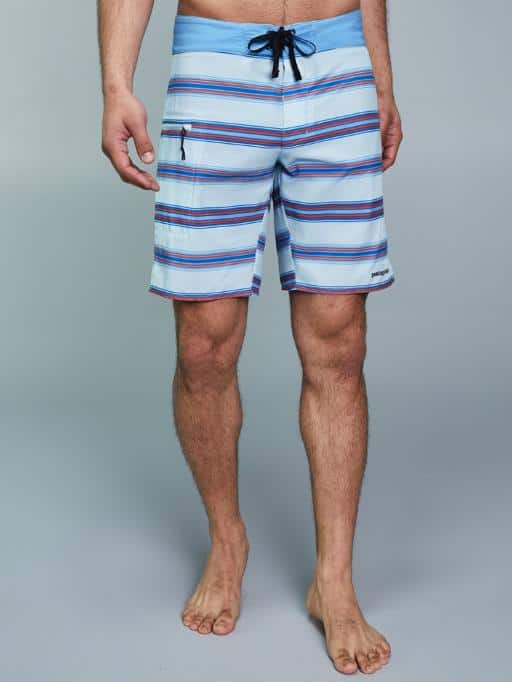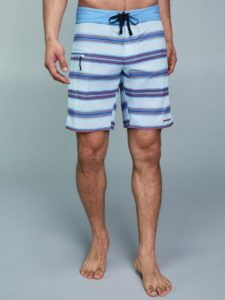 BEST FOR: FLEXIBILITY
Perfect for the nimble navigator needing a surf short that will move with their body, Patagonia's Stretch Planing board shorts lead the way. Its slim profile reduces drag in the water while the durable water repellent (DWR) treated cloth sloughs off water for a quick drying time.
What makes these surf shorts so flexible is their built in 4-way stretch, a technology that provides multidirectional "stretchability" without compromising its original form. So say goodbye to stiff trunks – your movement in these shorts will be so liberating, they may have you speaking French and talking about Revolution!
Vuori Cruise
Specs
UPF

:

None

Moisture Wicking

:

Yes

Quick Drying

:

Yes

4-Way Stretch

:

Yes
Features
Comes In 12 Different Colors/Patterns
Odor Resistant Properties Eliminate Funky Saltwater Smells
50% Made From Recycled Plastic Bottles Reduces Ocean And Landfill Waste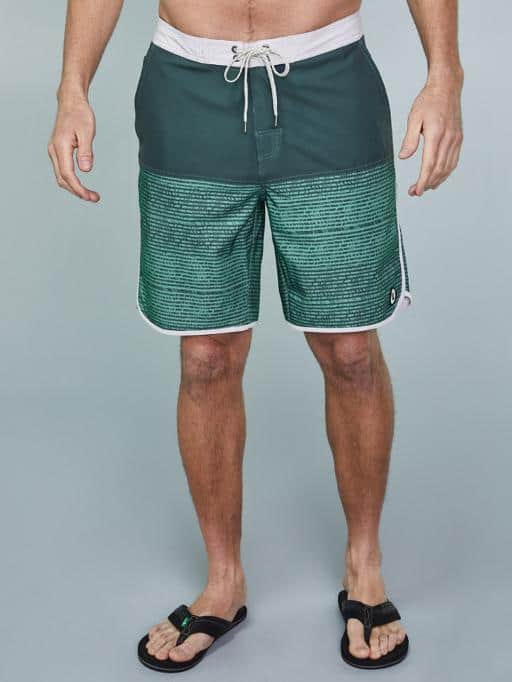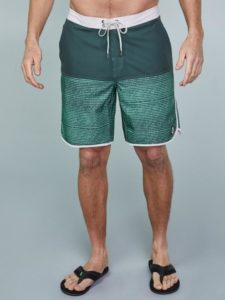 BEST FOR: VERSATILITY
Surf shorts don't always have to be used just for surfing. If you're the jack-of-all-trades type that likes to do it all, the Cruise shorts by Vuori are your perfect match. A modified version of more traditional board shorts, these stylish trunks are made for versatility.
Use them for surfing, jogging, stand up paddleboarding, yoga, kayaking, or even just lounging! These performance shorts wick moisture from your body when sweat would otherwise cause chafing and they dry quickly when fully submerged during watersports.
The Cruise also offers 4-way stretch, a technology that allows the shorts to stretch and snap back in multiple directions. Bonus point: 50% of the shorts' construction is made from recycled plastic bottles. Boo-yah.
prAna High Seas Board
Specs
UPF

:

50

Moisture Wicking

:

No

Quick Drying

:

Yes

4-Way Stretch

:

Yes
Features
Comes In 4 Different Colors/Patterns
UPF 50 Rating Blocks 98% Of UV Rays
Rear Pocket With Zipper Keeps Keys Secure With Interior Loop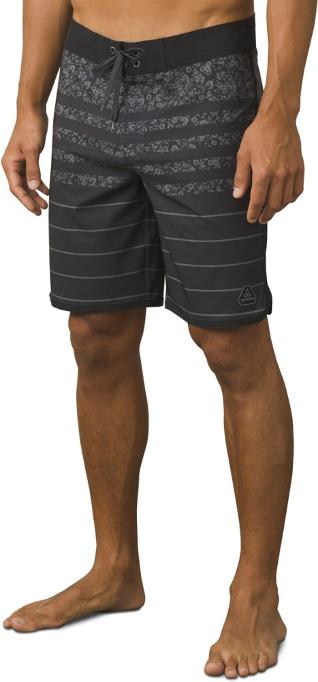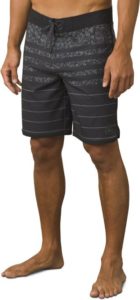 BEST FOR: SUN PROTECTION
Super stretchy and sun protecty, the prAna High Seas surf shorts give you maximum mobility and sun protection. This 1, 2 combo packs a serious punch, giving you a bang for your buck that regular swim trunks just can't match.
Sporting 4-way stretch technology, the High Seas shorts are able to stretch in any direction you move and bounce back, keeping their original form. Its fabric is also treated to provide maximum sun protection for your skin, freeing your mind from worrying over re-applying sunblock every 90 minutes.
The Ultraviolet Protection Factor (UPF) of 50 means that only 1 out of every 50 UV rays reach your skin, providing an effective blockage rate of 98%!
Quiksilver Waterman Paddler
Specs
UPF

:

None

Moisture Wicking

:

No

Quick Drying

:

Yes

4-Way Stretch

:

Yes
Features
4-Way Stretch Offers Superior Mobility
Comfortable Yet Durable Construction
Knee Length Ensures Your Legs Are Fully Covered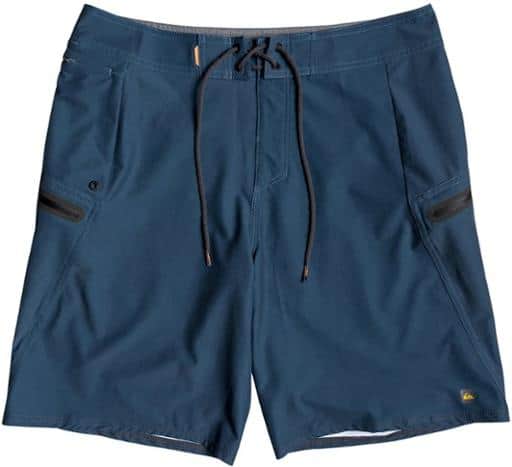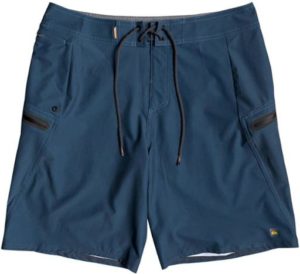 BEST FOR: STASHING YOUR STUFF
Sometimes you need a little extra room to stash your stuff, and while hiding your keys in your vehicle's wheel well seems like a good idea, everyone knows they're hiding there while you're out surfing.
Sporting two zippered pockets on either leg, Quiksilver's Waterman Paddler shorts are sure to keep all your items handy! Best of all, the Waterman Paddler's are quick drying and offer 4-way stretchability, meaning you can use these shorts heavily without worrying if they'll fit the same again tomorrow.
O'Neill Hyperfreak S-Seam
Specs
UPF

:

None

Moisture Wicking

:

No

Quick Drying

:

Yes

4-Way Stretch

:

No
Features
Comes In 2 Different Colors
Side Zippered Pocket Securely Holds Small Items
Anti-Rash Threading Reduces Potential For Chafing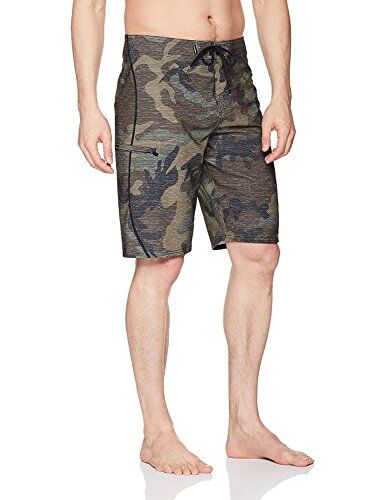 BEST FOR: RUGGED USE
For a truly durable surf short that will stand the test of time, snag a pair of the Hyperfreak S-Seam from O'Neill – or for that matter, snag anything from O'Neill.
As the guy who literally invented the wetsuit, O'Neill has a legacy of crafting rugged-use surf clothing that will perform exactly as intended. What makes these shorts so striking is their ability to contour to your body as you move about. They won't snag or ride up on you, and forget about feeling restricted – with these shorts, you'll be free as a fish in the sea!
The S-Seams are what makes these shorts so durable, able to take more of a beating than most others, and the "Hyperfreak" fabric makes mobility a key feature.
THINGS TO CONSIDER WHEN BUYING SURF SHORTS
UPF RATING
When choosing the best surf shorts, protecting your skin from harmful UV radiation should be a serious consideration. The UPF, or Ultraviolet Protection Factor, of a particular piece of clothing is rated on a scale of 15 – 50. I realize that sounds like an odd rating system, but it'll make sense in a moment.
The way UPF rating is measured is by a ratio of how many UV rays that a piece of clothing will allow to pass through. The higher the number, the better the protection.
For example, a UPF rating of 20 will allow 1 out of 20 (1:20) UV rays to reach your skin. Another way of conceptualizing this is by thinking about the percentage rate of UV rays blocked. So, a UPF rating of 20 will block 95% of damaging UV radiation.
UPF RATINGS:
Excellent: 40-50

Very Good: 25-35

Good: 15-20
So why is 15 the lowest rating? I'm glad you asked! Anything below this number isn't advertised because it doesn't actually provide any substantial protection. To draw a comparison, 100% cotton garments only block 1 out of every 5 rays (UPF 5).
QUICK DRYING
Some of the surf shorts on our list are treated with a durable water repellent (DWR). This allows water to roll off the fabric instead of soaking into it, making dry times much quicker than untreated fabrics. DWR treatment is more of a luxury than a necessity, but it's definitely nice to have your shorts dry by the time you're finished loading your surf gear into your car.
MOISTURE-WICKING FABRICS
Fabrics that wick moisture are able to pull sweat/water away from skin, keeping you drier. This means that you have less of a chance to develop a rash from chafing skin. An added bonus is that moisture-wicking fabrics help you stay cooler as the water being drawn from skin pulls heat away from your body.
If you're going to be surfing in hotter climates or for a prolonged period in warm areas, look for garments that are moisture-wicking to help keep you cool and safe.
4-WAY STRETCH
This is an awesome technology that has been used increasingly in watersports apparel as well as other outdoor/active gear. Essentially, 4-Way Stretch is a fabric's ability to stretch, both width and length wise, and then return to its original shape.
READ MORE
For more of our top surfing gear recommendations, check out these popular buyer's guides: