Updated on April 19, 2022
If you're in need of a sweet surf watch that can help you track tides, navigate to an off-the-beaten-path surfing cove, and get real-time weather forecasts, then we've got the best surf watches for you!
Since each surfer has their own unique needs, we've covered a wide range of possibilities that include Bluetooth compatibility, GPS navigation, and even heart-rate monitoring. Whatever flavor of high (or low) tech you need, read on because we guarantee we've got a watch for you.
For more of our top surfing gear recommendations, check out the Best Surfing Wetsuits.
Quick Answer

-

The Best Surf Watches
Garmin Fenix 5X Plus Sapphire GPS
Comparison Table

-

Best Surf Watches

For the best experience turn your device horizontally
Reviews

-

The Best Watches for Surfing
Casio Pro Trek Prw2500
Specs
Battery Life

:

5 months

Bluetooth

:

No

Water-Resistant Depth

:

200 meters

Smart Device Compatible

:

No
Features
Water-Resistant Down To 200 Meters
Includes A Compass And Thermometer
Atomic Clock Automatically Adjusts No Matter Where You Travel Globally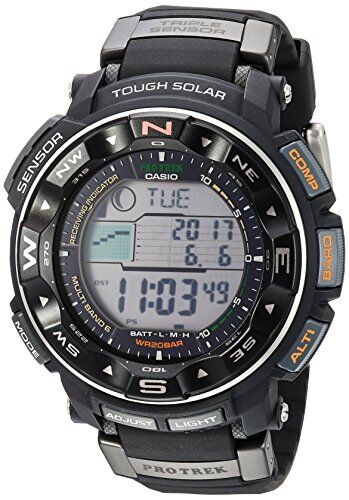 BEST FOR: TIDE TRACKING
Tide tracking can be a difficult task considering it's based upon the moon and changes every single day. What was high tide a week ago may be low tide today. Now you can simplify the process with the Tide Tracking feature on the Casio Pro Trek PRW2500 Multifunction Watch!
Drawing charge from a small solar panel that bucks the need for batteries and featuring an incredibly accurate atomic clock (no winding necessary), the Casio Pro Trek is packed to the brim with incredibly useful features. It also sports a barometer that can give super accurate local weather data that can give you a heads up to ditch the area before bad weather hits.
Suunto Core
Specs
Battery Life

:

1 year

Bluetooth

:

No

Water-Resistant Depth

:

30 meters

Smart Device Compatible

:

No
Features
Storm Alarm Notifies You Of Rapidly Approaching Bad Weather
Digital Compass Helps You Navigate And Can Set A Bearing To Follow
Sunrise/Sunset Times Will Notify You Of How Much Daylight You Have Left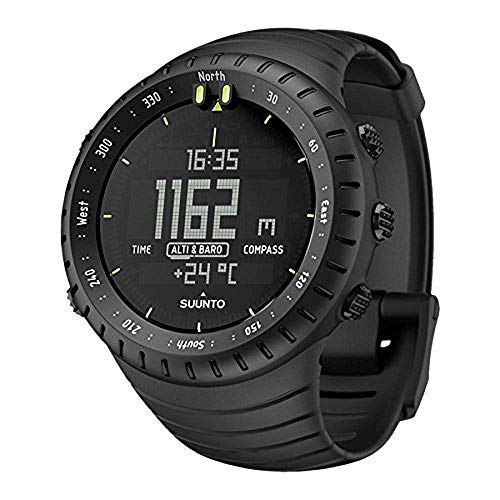 BEST FOR: WEATHER FORECASTS
The weather channel isn't always the most reliable source of weather information and it certainly doesn't give super-localized weather reports for your favorite surfing spot. Now you can have the power of a weather forecaster strapped right on your wrist with the Suunto Core Watch!
Featuring an integrated barometer that measures fluctuating air pressure, the Core Watch can give hyper-localized weather data and predictions. It also records the last 3 – 6 hours of weather data to show you how much the weather has changed in that time frame and uses that data to make logical weather predictions.
Building on the weather data, the Core Watch also features a "Storm Alarm" that can save you from potentially catastrophic inclement weather incident. If the barometric pressure drops too much or too fast over a 3 hour period, the alarm will notify you to leave the area.
Garmin Fenix 5X Plus Sapphire GPS
Specs
Battery Life

:

20 days

Bluetooth

:

Yes

Water-Resistant Depth

:

100 meters

Smart Device Compatible

:

Yes
Features
Sleep Tracking And Heart Rate Monitor Help You Dial In Your Health Stats
Includes Programmable GPS Routes That Can Save Up To 1,000 Waypoints
Tracks Laps For Swimmers And Paddle Strokes For Kayakers And SUP Paddlers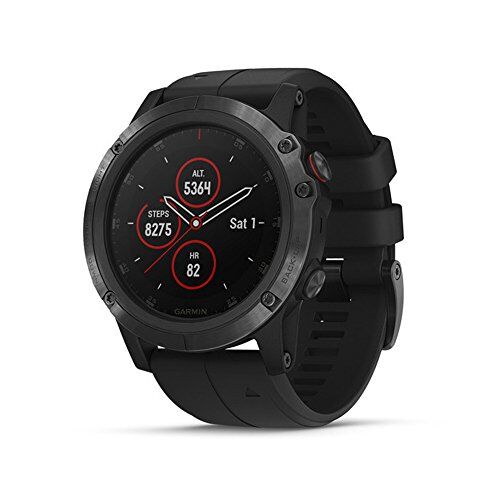 BEST FOR: MULTISPORT ACTIVITIES
Are you someone who does more than just surf? Are you needing a watch that can be used for surfing, hiking, paddling, backpacking, and your daily exercise routine? The Fenix 5X Plus Sapphire GPS Watch by Garmin is a legendary game changer for adventure junkies from all walks of life!
Water-resistant down to 100 meters, you'll be in good hands when going tubular through a wave or washing out after a wipeout. Built in navigation helps you make your way to brand new off-the-map surf spots and the Bluetooth/music storage combo lets you preload up to 500 songs and then listen to them with your favorite Bluetooth headphones!
Need to train for an upcoming Iron Man competition? The built in Heart Rate Monitor helps you find your best training zones while the "Pulse Ox Acclimation" sensor gives you a read on blood oxygen saturation levels when hiking and climbing to new heights and adjusting to higher altitudes. Whatever your game, the Fenix 5X Plus Sapphire has it all.
Garmin Instinct GPS
Specs
Battery Life

:

14 days

Bluetooth

:

Yes

Water-Resistant Depth

:

100 meters

Smart Device Compatible

:

Yes
Features
Available In 4 Different Colors
Includes Programmable GPS Routes That Can Save Up To 500 Waypoints
Built To U.S. Military Standards For Thermal, Shock, And Water-Resistance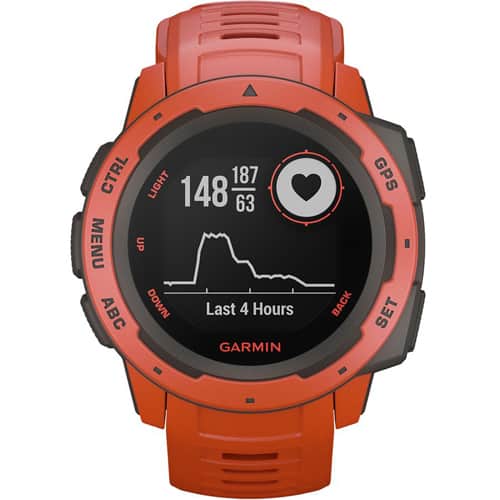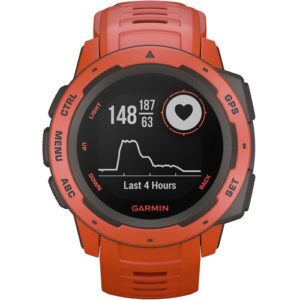 BEST FOR: NAVIGATING TO REMOTE SURFING COVES
Heard about a sweet spot that's virtually untouched and pristine but no clue have to navigate to it without your smartphone? Now you can bring the power of a GPS packed into a wristwatch and find your new favorite spot with Garmin's Instinct GPS Watch.
Relying on a 3-axis compass, the Instinct GPS Watch can connect to GPS (Global Positioning Satellite – Americas), GLONASS (Global Navigation Satellite System – Russia), and Galileo (another "global navigation satellite system" commissioned by the EU that works worldwide) for a wide range of coverage. In short, there's no way you can get lost with this thing!
It also has an incredibly impressive battery life, delivering up to 14 days of use in smartwatch mode, up to 16 hours in GPS mode, and up to 40 hours in UltraTrac battery saver mode that still lets you navigate.
Garmin Forerunner 45 GPS
Specs
Battery Life

:

7 days

Bluetooth

:

Yes

Water-Resistant Depth

:

50 meters

Smart Device Compatible

:

Yes
Features
Available In 2 Different Colors
Can Fully Customize The Digital Watch Faces
45S Model Has Smaller Watch Face Option For Smaller Wrists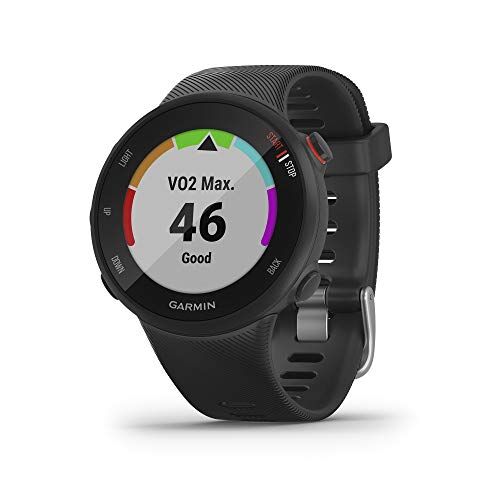 BEST FOR: SAFETY ASSISTANCE
Since surfing is an inherently risky and dangerous sport, it's always nice to have a little extra insurance policy attached to your wrist. With the Garmin Forerunner 45 GPS Watch, you'll have a built-in safety tracking feature that sends your location in real-time to your emergency contacts. Should anything bad should happen to you (such as a crash or collapse), the watch will notice the sudden change in your vitals and then notify your emergency contacts thanks to the Incident Detection feature
It also sports programmable routes (since it is a GPS watch) that can be preloaded before heading off to an adventurous hike after your surf session and includes health monitoring statistics that can be synced with your smartphone.
Polar Vantage M GPS
Specs
Battery Life

:

30 hours

Bluetooth

:

No

Water-Resistant Depth

:

30 meters

Smart Device Compatible

:

No
Features
Connects To Smartphone Via Bluetooth
Compatible With 3rd Party Apps Such As MapMyRun And Nike+ Running
Automatically Detects Different Activities And Records Data Appropriately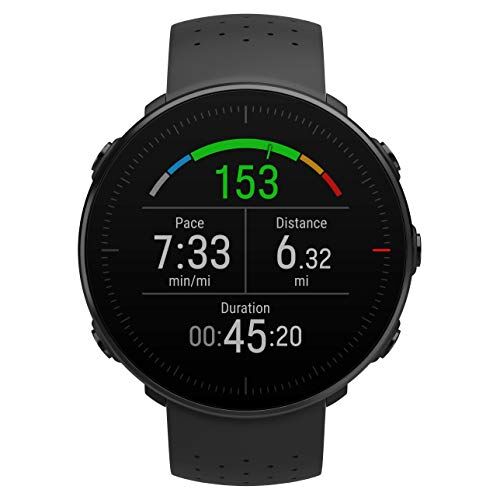 BEST FOR: PERFORMANCE METRICS
Shredders seeking to stay in shape and push their limits to prep for a competition or just stay in really great shape will drool over the options packed into the Polar Vantage M GPS Watch.
Loaded with data tracking performance metrics like optical sensors and heart rate monitoring, the Vantage M will help you stay in tip top shape. It also has a feature called "Polar Training Load Pro" that can discern whether you're doing cardio or lifting weights for the most accurate data records.
It also boasts a 30-hour battery life which is insanely impressive considering everything it keeps track of!
Casio Pro Trek PRG600YB
Specs
Battery Life

:

N/A

Bluetooth

:

No

Water-Resistant Depth

:

100 meters

Smart Device Compatible

:

No
Features
Water-Resistant Down To 100 Meters
Rugged Design Is Extremely Durable
LED & Glow-In-The-Dark Markings Improve Low-Light Visibility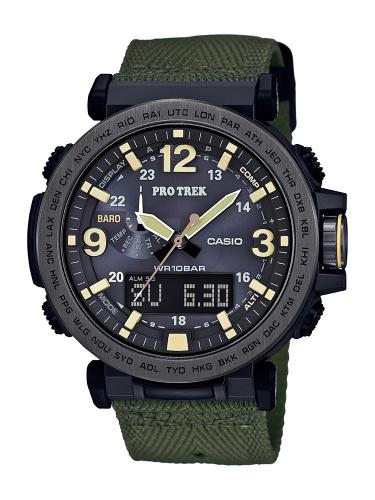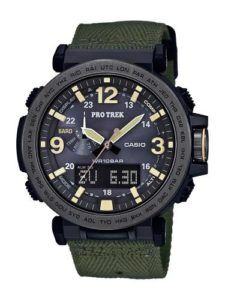 BEST FOR: SOLAR-POWERED FEATURES
Bluetooth, smart device compatibility, and customizable digital watch face aren't always necessary when you're dropping into a wave. For those who prefer the simplicity of an analog watch for surfing, you'll be well equipped with the Casio Pro Trek PRG600YB.
Just because it isn't "fancy" doesn't mean that it doesn't have some amazing features though! Relying on the power of the sun, this surf watch boasts an altimeter (for hiking), a barometer (for real-time weather info), a thermometer, and a compass!
It's also super rugged and will perform well even if you wipe out hard. Like the saying goes, "It'll take a licking and keep on ticking."
Garmin Venu GPS
Specs
Battery Life

:

5 days

Bluetooth

:

No

Water-Resistant Depth

:

50 meters

Smart Device Compatible

:

Yes
Features
NFC Chip Lets You Make Payments While On-The-Go
Pairs With Your Smart Device To Deliver Texts And Emails
Can Personalize With Thousands Of Watch Faces, Apps, And Widgets
BEST FOR: DRESSING UP AFTER SURFING
For shredders always on the go with no time to stop at home before hitting the town, the Garmin Venu GPS Smartwatch is the perfect crossover surf watch that will help you both bomb waves and look good when you're dressed up later!
Active features include a super durable Gorilla Glass 3 display, heart rate monitoring, pre-loaded workout guides, relay safety tracking info to emergency contacts, and water-resistance down to 50 meters. When not surfing (or using the other active features), the Garmin Venu can download your playlists from Spotify and Amazon music, connect to wireless headphones, receive emails and texts, and pay on-the-go letting you leave your wallet at home.
This surf watch truly bridges the gap as the best between both worlds.
Timex Ironman
Specs
Battery Life

:

1 year

Bluetooth

:

No

Water-Resistant Depth

:

100 meters

Smart Device Compatible

:

No
Features
Water-Resistant Down To 100 Meters
Night Mode Improves Low Light Visibility
Streamlined To Include Only Essential Functions Like Timers And Alarms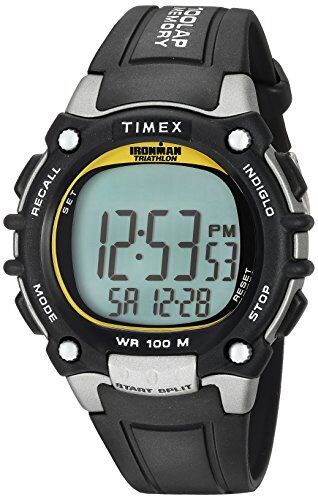 BEST FOR: THE BUDGET-CONSCIOUS SURFER
Looking for a simple watch that can keep time while out on the water and won't cost as much as your surfboard? Budget-conscious surfers will love the Ironman 100-Lap Digital Watch by legendary watchmaker Timex.
This streamlined watch is aimed towards swimmers but works exceptionally well for surfers too. It features water-resistance down to 100 meters, a chronograph that tracks your exercises, interval timers, programmable alarms, a stopwatch, and a countdown timer.
It also sports a night light and an integrated night mode that helps you read the display in low light conditions.
THINGS TO CONSIDER WHEN BUYING SURF WATCHES
BATTERY LIFE
The battery life on your watch depends largely on how much you use the features and to what extent. That being said, smartwatches generally tend to have shorter battery lives (hours to days) as they are running multiple programs. Non-smartwatches typically have much longer battery lives that can last anywhere from a few days (if using GPS) to up to a year or more.
WATER-RESISTANT DEPTH
The deeper a watch is able to resist water, the more pressure it is able to handle. So, watches with a rating of 30 meters will seep water and risk damaging the watch if it goes any deeper than that.
BLUETOOTH AND SMART DEVICE COMPATIBILITY
While the two are not necessarily synonymous, the do typically go hand-in-hand. Bluetooth can be used to send and receive data with devices nearby, such as a heart rate monitor, while some watches don't necessarily need Bluetooth to receive smart device notification.
FEATURES EXPLAINED
NFC Chip
Near-Field Communication (NFC) is a short-range, two-way communication technology whose most practical use has been for cardless/cashless transactions. Many smartphones and smart devices have an NFC chip and, when linked with your debit/credit card, this chip can serve as a replacement for having the physical card. Retailers that accept NFC chip payments will offer the option on a credit/debit swiper, where you tap your device to pay.
Waypoint
A waypoint is a digital flag that can be planted on maps (on a GPS device). By laying down waypoints you can find your way back from where you came (like digital breadcrumbs).
READ MORE
For more of our top surfing gear recommendations, check out these popular buyer's guides: