Updated on October 16, 2020
Modern cameras may have all the stabilization technology you want, but ask any serious photographer and they will tell you how much that extra bit of stability can make a difference. Mirrorless cameras are extremely lightweight compared to bulky DSLRs, and that is why even the smallest vibrations from the hand can result in blurry images.
The best travel tripods for mirrorless cameras help you reduce the risk of blur. While it's true that they are far from fun to carry around on your shoulder, they are especially useful if you are shooting in low light conditions or using long lenses. Our Outdoor Photo experts at The Adventure Junkies compiled a list of their favorite tripods for mirrorless cameras so you can take your pick from the list below and get ready to capture stable shots on-the-go!
For more of our top travel photography gear recommendations, check out the Best Travel Tripods.
Quick Answer

-

The Best Travel Tripods for Mirrorless Cameras
Dolica GX600B200 Proline GX Series

Benro Travel Angel 2 Series
Comparison Table

-

Best Travel Tripod for Mirrorless Cameras

For the best experience turn your device horizontally
Reviews

-

The Best Mirrorless Camera Travel Tripods
Vanguard VEO 235AB
Specs
Material

:

Aluminum Alloy

Weight

:

3.3 lbs

Maximum Height

:

57.1 in

Folded Height

:

14.8 in

Bubble Level

:

Yes
Features
Lightweight
Column Rotates 360 Degrees For Easy Adjustments
Legs Open Wide For Low Angle Shooting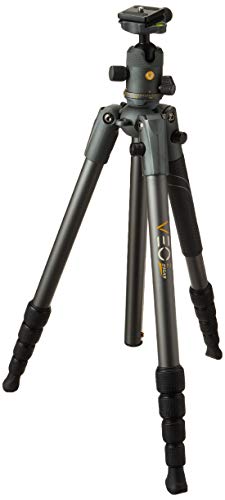 BEST FOR: THE 'ALL IN ONE' TRAVELLER
If you prefer a gadget that has all its featured packed inside, rather than having to buy numerous accessories and add-ons to get what you want, look no further than the Vanguard VEO 235AB tripod. The aluminum legs have 3 different angle options, giving you a lot of range when it comes to getting that perfect shot, and the feet can be changed from rubber to spiked, ensuring extra stability if the terrain isn't ideal.
A low angle adaptor is included with the tripod, allowing you to get extra low angles when needed. The tripod's soft rubber handle provides extreme grip, even if the weather isn't the best and things get a little bit damp. The Vanguard VEO 235AB tripod is able to fold down into an extremely compact state, perfect for traveling and storage, and it comes with its own carry case.
K&F Concept
Specs
Material

:

Aluminum Alloy

Weight

:

2.43 lbs

Maximum Height

:

62 in

Folded Height

:

18.1 in

Bubble Level

:

Yes
Features
High Load Capacity
Quick To Set Up And Take Down
Fast-Locking Legs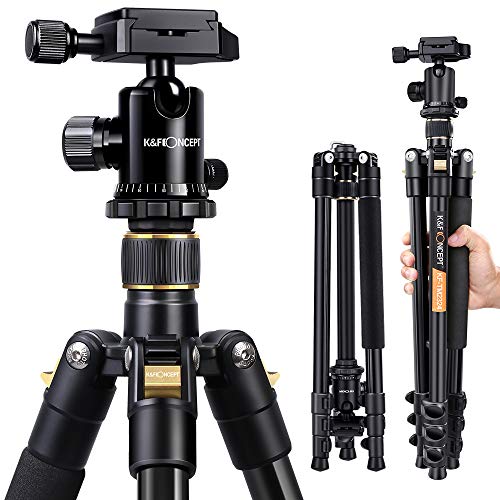 BEST FOR: PROFESSIONAL QUALITY IN A COMPACT PACKAGE
Weighing in at a minimal 2.4lbs, the K&F Concept 63" DSLR Tripod can hold a huge load of up to 22lbs, ensuring that it won't meet a camera kit that it can't handle. The 360 degree ball head allows for ease of movement when positioning the camera, so you can be sure that you won't be limited in what angle you can sit the camera at to get that perfect shot.
The magnesium alloy tubing is extremely light and stable, and the whole tripod can be folded and reversed 180 degrees, which allows you to store it in your backpack or day bag with no problems. The pull button tube lock on the legs provides a quick release action, ensuring that you'll have the tripod set up and ready to shoot without missing a critical moment. The included tripod bag is dust, dirt, and moisture resistant.
Manfrotto BeFree
Specs
Material

:

Aluminum

Weight

:

5.3 lbs

Maximum Height

:

56.7 in

Folded Height

:

15.8 in

Bubble Level

:

No
Features
Super Quick To Mount And Take Down
Can Be Used As A Monopod As Well
Constructed With Durable Materials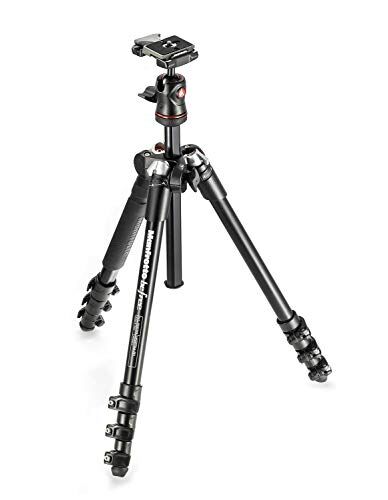 BEST FOR: LIGHTWEIGHT BUT STURDY SHOOTING CONDITIONS
One of the lightest tripods on the list, the Manfrotto BeFree Advanced Travel Aluminum Tripod is designed to fit in your backpack or in your carry on luggage, ensuring that it'll always be there when you need to whip it out and capture a scene. Equipped with a quick release adapter, the legs are able to be folded tightly together rather than left sticking out, making it even more compact.
The included carry case is easy to throw over your shoulder when you're going out on a trek, and the light weight of the tripod itself won't leave you with a shoulder injury after hours of hiking like some other heavy duty Manfrotto tripods might. The ball head ensures that you can secure the camera at any angle you desire, and the system that locks the camera in place is extremely easy to use.
MeFOTO RoadTrip Classic
Specs
Material

:

Aluminum Alloy

Weight

:

3.6 lbs

Maximum Height

:

61.6 in

Folded Height

:

15.4 in

Bubble Level

:

Yes
Features
Legs Can Be Adjusted Separately For Maximum Flexibility
Center Column Hooks To Hang Weight If It's Too Windy
Bubble Level To Ensure Every Picture Is Straight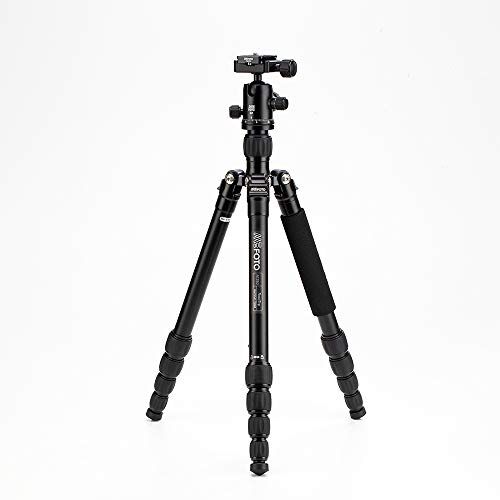 BEST FOR: ROAD TRIPS
When you're on the road, having a piece of equipment in your kit that can cover a whole range of necessities is ideal, which makes the MeFOTO RoadTrip Classic Lightweight tripod an absolute essential. The tripod is able to be folded inward for storage, and this is also how you turn it from a tripod into a monopod, giving you the ability to get perfectly steady shots while holding your camera, which can help to get all the angles you may not be able to get from a static tripod.
This tripod is also panorama compatible, as you are able to turn it 360 degrees and keep it steady, even when the camera is locked in to the mount. The tripod legs are able to be locked at different angles, enabling steady shooting no matter the terrain or how much space you have to shoot with.
Dolica GX600B200 Proline GX Series
Specs
Material

:

Aluminum

Weight

:

5.09 lbs

Maximum Height

:

60 in

Folded Height

:

10.2 in

Bubble Level

:

Yes
Features
Non-Slip Rubber Feet Stick To Most Surfaces And Keep Tripod Stable
Budget-Friendly For Photographers On A Budget
Leg Sleeves To Protect Hands In Cold Weather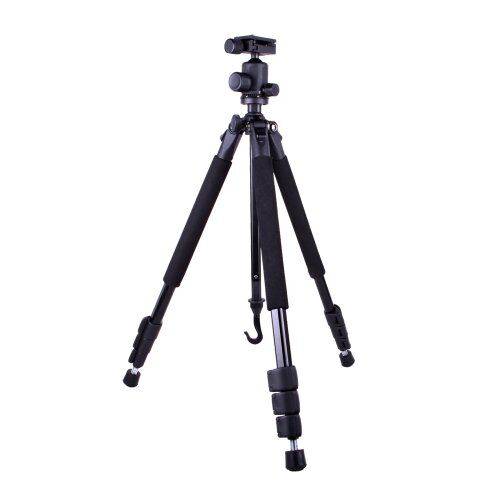 BEST FOR: GETTING DOWN AND DIRTY
We spend a lot of time worrying about whether our cameras are weather resistant and waterproof, but what about our tripods? It would be awful to be stuck out in the rain during a shoot and end up with a rusty tripod. The Dolica GX600B200 Proline GX Series tripod has legs that are scratch, dust, and moisture resistant, ensuring that you don't have to worry if you end up sticking the legs in the mud to capture that perfect scene.
The extra firm snap locking legs give the tripod extra stability that it may need if used in unstable terrain, and the feet are made of non-stick rubber that ensures it won't end up slipping and damaging your camera if it does happen to get a bit wet. The ball head is easily movable, allowing the user to capture panoramic shots if they want to.
SIRUI MT5-C MyTrip
Specs
Material

:

Carbon Fiber

Weight

:

2.2 lbs

Maximum Height

:

53.8 in

Folded Height

:

12.2 in

Bubble Level

:

Yes
Features
Can Support Heavy Gear Kits And Long Lenses
5-Section Leg Construction Packs Down Small
Center Column Can Be Added To Provide Extra Height If Needed Or Removed For Packing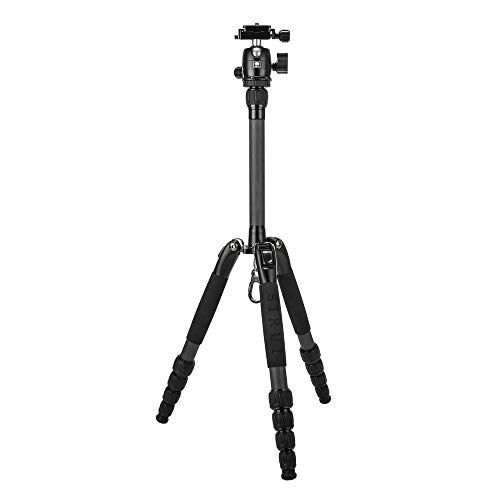 BEST FOR: THROW IT IN YOUR BAG AND HIT THE ROAD
The Sirui T-025SK Carbon Fiber Travel tripod is equipped with sturdy, foldable legs and a removable center column that can help to give you some extra height if you need it to capture the scene in front of you, but when removed makes it easier to fit in your backpack or travel bag.
Even though it is lightweight and portable, this Sirui tripod can hold a load of up to 11lbs, which should be enough to hold most camera kits, even when equipped with heavy zoom lenses. The ball head allows for easy maneuvering of your camera to ensure you aren't limited with the amount of angles you can secure your camera at. The locking system is easy to use and very sturdy, even though the tripod itself is quite lightweight.
Gitzo GK1545T Series 1
Specs
Material

:

Carbon Fiber

Weight

:

2.8 lbs

Maximum Height

:

45.9 in

Folded Height

:

16.73 in

Bubble Level

:

Yes
Features
Lightweight Thanks To Carbon Fiber Construction
Ball Head Is Easy To Maneuver
Sturdy Legs With Quick Locking System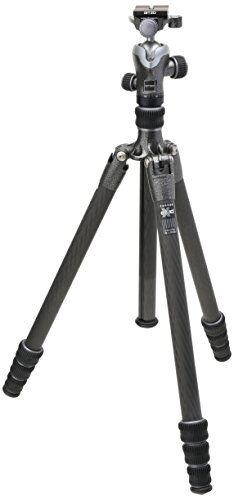 BEST FOR: HEAVY DUTY LOADS
For a travel tripod, the Gitzo GK1545T Series 1 Traveller is an absolute beast. Able to hold a weight of up to 22lbs, you'll be able to equip it with any camera kit under the sun without worrying about whether or not the tripod will be able to handle it.
The carbon fiber legs ensure that the tripod stays extremely light, but helps to give it its huge amount of strength. The G-lock technology on the legs allows for the tripod to fold even more compactly than others, but also allows for quick unlocking so that you aren't left unfolding your tripod when trying to capture a scene in the heat of the moment. The included shoulder strap enables you to throw the Gitzo tripod over your shoulder and hit the road, no need to think twice about it or worry about it fitting in a bag.
Benro Travel Angel 2 Series
Specs
Material

:

Carbon Fiber

Weight

:

4 lbs

Maximum Height

:

66.9 in

Folded Height

:

24.6 in

Bubble Level

:

Yes
Features
Legs Can Be Adjusted Independently To Fit Any Surface
Interchangeable Rubber And Stainless Steel Spiked Feet For Extra Grip On The Ground
Extremely Durable And Lightweight Carbon Fiber Construction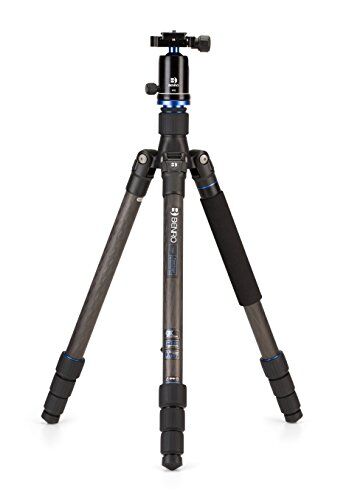 BEST FOR: ULTIMATE PERFORMANCE
A proper tripod, especially one that has all the bells and whistles of a heavy duty one compacted into a small, lightweight and portable package, is something to invest in. The Benro FTA28CV1 Travel Angel Series 2 tripod is the ultimate travel tripod— its reverse folding carbon fiber legs provide extreme strength and stability, with twistable locks and magnesium castings that ensure that this tripod does not skimp on performance.
With this tripod, you'll be able to easily convert one of the tripod legs into a monopod whenever you see fit, to ensure steadiness when filming in hand. It's also fitted with an easy to use ball head, enabling you to rotate and lock the camera into place in any position that you see fit, with individual controls for the pan lock and the ball lock. The twist locks on the tripod's legs are able to be adjusted individually, which makes placing the tripod on uneven terrain extremely easy.
Oben CT-3535
Specs
Material

:

Carbon Fiber

Weight

:

2.5 lbs

Maximum Height

:

51.6 in

Folded Height

:

12 in

Bubble Level

:

Yes
Features
Smooth Ball Head With Dual Lock For Precise Adjustment
Integrated Bubble Level For Accurate Positioning Of The Camera
Each Leg Can Be Positioned Independently At Three Locking Angles For Maximum Flexibility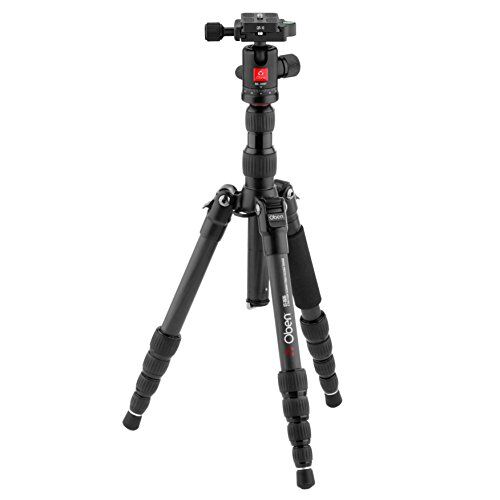 BEST FOR: EXTRA LIGHTWEIGHT
There are often times where you go on a trek or a hike that won't allow you to take a full kit with you, as it will add too much weight to your pack and might leave you injured if you will be traveling for a long time. However, you're stuck with the dilemma of wanting to bring a tripod to ensure that you make the most of your opportunities to shoot, but you need something that can be stored easily and won't add too much weight to your pack— The Oben CT-3535 is your tripod.
This 5-section tripod is fixed with twist locks which allow for easy height adjustment, and each leg can be positioned independently to provide more ease when shooting on rougher terrain. The non-slip rubber feet can be moved away to reveal spiked feet, allowing you to get a proper grip on soft surfaces such as grass or sand.
THINGS TO CONSIDER WHEN BUYING A TRAVEL TRIPOD FOR MIRRORLESS CAMERAS
A tripod is an essential item for anyone wanting to experiment with nighttime photography, timelapse videos, or long exposures. The best tripods for mirrorless cameras are lightweight but sturdy. They allow you to shoot from different perspectives, while keeping your camera steadily in place. Plus they are highly packable, so you can take them with you anywhere you want.
WEIGHT
The average travel tripod weighs about 3 pounds. Heavier tripods are more stable, however they can be inconvenient to carry around if you move often. Mirrorless cameras are usually lightweight, so it may not be necessary to buy a robust tripod unless you are using a long telephoto lens.
Lightweight travel tripods are easy to pack and carry around, but they are more likely to vibrate if you are shooting in windy conditions or if you accidentally hit the legs. A solution to this problem can be to look for tripods with a hook where you can hang a counterweight and increase stability.
Before choosing your tripod, weigh all of your heaviest equipment and find a model that can support slightly more weight than that to be sure your gear is safe. You can also read up on these tips and tricks on how to use your tripod properly to make sure you don't accidentally damage your gear by using the tripod improperly.
PACKABILITY
Many travel tripods are designed to fit into a backpack and some can even squeeze into a water bottle pocket. If you fly often and only carry hand luggage, make sure your tripod is suitable for airline requirements.
Tripod legs have a number of sections that normally goes from three to five. Since sections collapse into each other, the more sections, the smaller the packed size. A 5-section tripod, therefore, will take up less space in your backpack, but the higher number of sections means you may need to compromise on stability.
SIZE WHEN EXTENDED
Before buying make sure the size of the extended tripod suits your height. Ideally, a tripod should extend at least up to your chin, so that the viewfinder of the camera will be at eye level when mounted.
Working for many hours with a tripod that is too short can hurt your back, as you'd have to bend over every time you want to frame a subject. This is why it is super important to check the specs before buying and make sure the product is tall enough for you.
STABILITY
With some exceptions, travel tripods are usually less stable than the heavy ones designed for studio work or cinematography. The benefit of being able to fit a tripod in your backpack comes at a price, and that is stability. Decreased stability can lead to camera shake, an unfortunate thing that happens when your camera body is unstable (or handheld).
Mirrorless cameras are lightweight and may not need the sturdiest tripod on the market, unless you are often working in windy conditions. One factor that affects stability is the number of sections that the legs are made of. More legs means a more compact tripod, however, it also causes the tripod to be less rigid.
One other thing you should consider before buying a tripod is the type of lens you will mount while using it. Large telephoto lenses used for wildlife photography will require a sturdier tripod, as their weight can cause the flimsier models to lose balance.
EASE OF SET UP
Obviously, there is a big difference between shooting with a tripod and snapping on-the-go as you walk on the street. Photographers who set up their camera on a firm support like to take their time and analyze the scene before shooting.
This does not mean that photographing with a tripod always has to be slow. Some tripods are extremely fast to set up, thanks to leg locks that can be opened all at once. Many tripods can also be used as monopods, if you just need that extra bit of stability but are not willing to stop for a full shooting session.
While mounting a camera on a ball head only takes a matter of seconds, three-way heads may save you some time when framing your subjects as they tend to be more precise when it comes to small adjustments.
FEATURES EXPLAINED
FOLDED HEIGHT
The packed size of a tripod.
EXTENDED HEIGHT
The maximum height of a tripod when the center column is fully extended.
BUBBLE LEVEL
An integrated tool to measure whether the tripod is standing on a straight surface.
MONOPOD
A camera support tool with a single leg.