Updated on November 6, 2020
You found a kayak or paddleboard you love and now you need to choose a life vest. When it comes to personal flotation devices (PFDs), you don't want just any throw-over-your-shoulders model. You want one that doesn't slow you down (or look goofy)! To help you narrow your options, we put together a list of the best women's PFDs for kayaking.
You can find standard life vests with ultra-modern updates as well as inflatable versions you can wear discreetly around your waist. Each model on the list below meets Coast Guard standards for kayaking but provides lady-friendly features to keep you comfortable and mobile.
For more of our top kayaking gear recommendations, check out the Best Kayak PFDs.
Quick Answer

-

The Best Women's PFD for Kayaking
Onyx MoveVent Dynamic Paddle Sports
Comparison Table

-

Best Kayak PFDs for Women

For the best experience turn your device horizontally
Reviews

-

Best Women's Kayak PFDs
NRS Zoya
Specs
Type

:

Standard Life Vest

Weight

:

2.18 lbs

Buoyancy Rating

:

16.5 lbs

USCG Rating

:

Type III
Features
Six Adjustment Points (to find the best fit)
3M Reflective Accents (for better visibility in low light)
High Back Design (for extra padding on high-back seats)
Mesh Lower (allows airflow)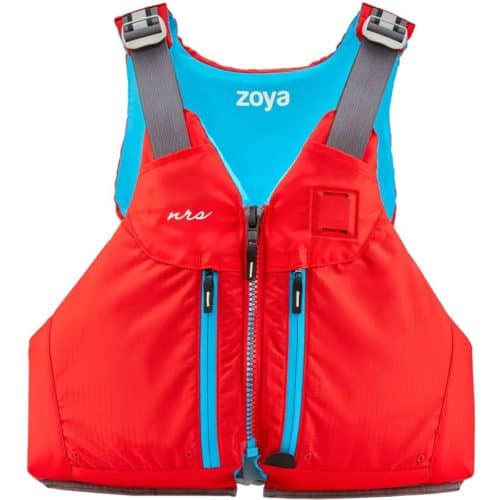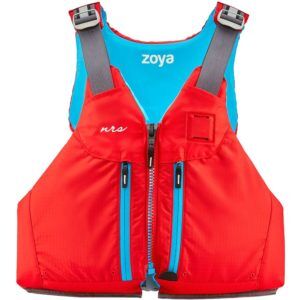 BEST FOR: HOT DAYS ON THE WATERWAYS
The sleek aesthetic of this life vest is probably one of the first features to catch your eye. The contours take a woman's anatomical shape into consideration too (thank the Sirens!). If you have to wear one, you might as well find one you like!
But safety is important too, and the foam inserts keep your head and shoulders above the water should you capsize your kayak. The high back coverage is also more comfortable in high-back 'yak seats.
Astral Airbelt
Specs
Type

:

Inflatable Pillow

Weight

:

12.3 oz

Buoyancy Rating

:

22 lbs

USCG Rating

:

Type V (when secured around the waist)
Features
Lightweight, Self-Inflating Design
Comes With a CO2 Cartridge (for quick inflation)
Includes Backup Mouth Inflation Option (in case it doesn't deploy)
Adjustable Waist Buckle (for a customized fit)
Zippered Mesh Stretch Pocket (for keys or sunglasses)
BEST FOR: CONFIDENT SWIMMERS LOOKING FOR FREEDOM
You won't even remember you're wearing this life preserver after you buckle the Airbelt around your waist and get moving. The ultra-lightweight design makes you feel protected but unencumbered at the same time. Should you accidentally fall in the water and need it, you can pull the tab on the front and it inflates in a quick second. Simply grab the pillow with both arms and lift the strap over your head.
Astral Layla
Specs
Type

:

Life Vest

Weight

:

1 lb 11.8 oz

Buoyancy Rating

:

16.5 lb

USCG Rating

:

Type III
Features
Large Front Zip Pocket With Internal Divider (to stash personal items)
Adjustable Side and Shoulder Straps (for a custom fit)
Hinged Princess Seams (contoured for a ladies' body)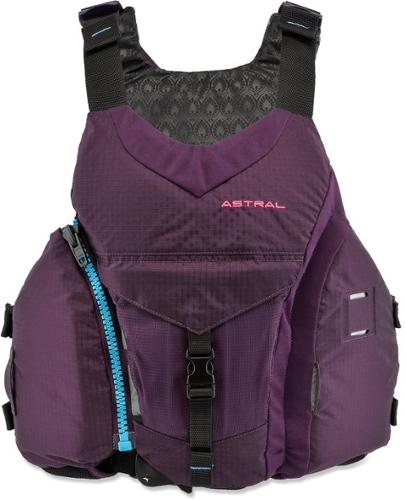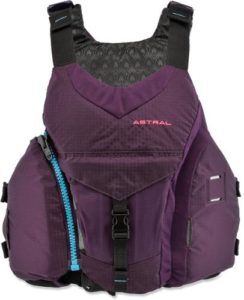 BEST FOR: LONGER, MORE ROBUST RIDES
The women-specific design of this life vest provides excellent coverage that won't interfere with your ability to paddle. It provides superior architecture and flotation capacity for longer SUP tours or whitewater trips. You'll appreciate how the soft, anti-chafe material and internal, sculpted bust cups hold everything in place on your wilderness adventures.
Stohlquist Fisherman
Specs
Type

:

Life Vest

Weight

:

1 lb

Buoyancy Rating

:

16 lb 4 oz

USCG Rating

:

Type III
Features
Front Zippered Closure (easy on-off over clothes)
Padded Shoulders and Lower Back (for all-day comfort)
Adjustable Hip, Chest and Shoulder Straps (for a custom fit)
High-Back Design (for tall seats)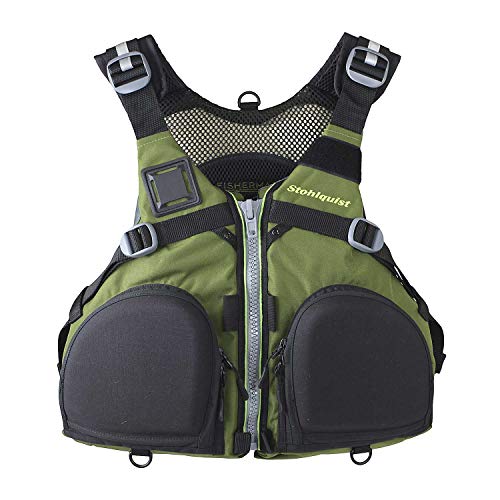 BEST FOR: KAYAK FISHING EXCURSIONS
If you were going to wear a fishing vest anyway, you might as well wear this life vest version in the water. It has all the accessible stash pockets and anchor points for your lures and lines, so you can save space in your kayak by leaving your tackle box at home. The front pockets even fold out to form little work surfaces.
Although this life vest features a unisex design, it has many features that benefit women. The graded sizing fits a wide range of body types. The adjustable straps help you find the right fit and the chest straps, in particular, keep the vest from riding up.
Stohlquist Betsea
Specs
Type

:

Standard Life Vest

Weight

:

1 lb 11.1 oz

Buoyancy Rating

:

18 lbs 4 oz

USCG Rating

:

Type III
Features
Ergonomic Shaping (for comfort and mobility)
Contoured Inner Bust Cups and Graded Sizing (for chest room)
Ventilated Shoulder and Lumbar Pads (for breathability)
Adjustable Chest Harness (to prevent ride-up)
Two Large Zippered Pockets (to stash personal necessities)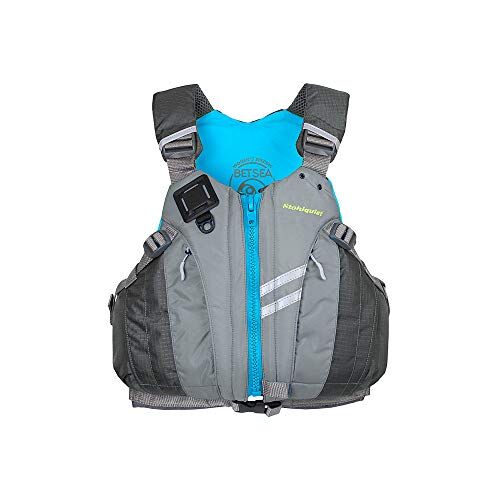 BEST FOR: ALL-DAY WATER EXCURSIONS
If you're on the more voluptuous side and have a hard time finding a life vest that isn't too bulky or squeezy, then this life vest might be just what you need. The life vest comes in graded sizes with molded bust cups to provide ample chest room without getting squished. The ergonomic shaping and ventilated panels give this life vest appeal for all-day adventures. Reflective details and fleece-lined hand-warmer pockets provide thoughtful finishing touches.
Onyx MoveVent Dynamic Paddle Sports
Specs
Type

:

Standard Life Vest

Weight

:

1.62 lbs

Buoyancy Rating

:

N/A

USCG Rating

:

Type III
Features
Reflective Details (for higher visibility in low light)
Expandable Zippered Pocket (for your [waterproof] car keys)
Adjustable Side and Shoulder Straps (to find the best fit)
Lightweight, Conforming Design (for better mobility)
Vented Channels (allows heat to escape)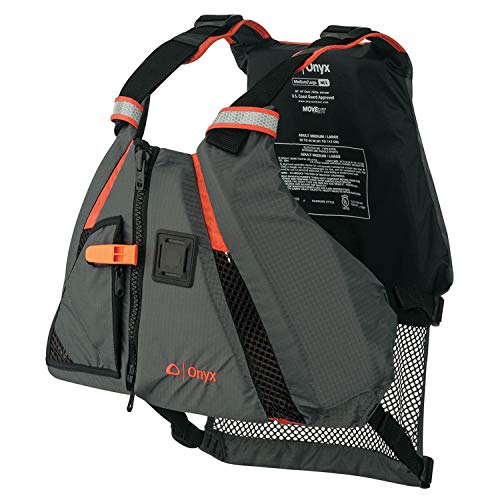 BEST FOR: BUDGET-CONSCIOUS PADDLERS WHO DESIRE RANGE OF MOTION
This sporty vest was made for women who want to move! The sculpted design fits around your body in a way that allows you to easily move around on a kayak, paddleboard, or canoe. Though it fits close, the mesh panels and vents keep you from getting extra sweaty. This vest provides all the great safety and comfort features of a higher-end brand for a low cost.
Astral V-Eight
Specs
Type

:

Standard Life Vest

Weight

:

1.22 lbs

Buoyancy Rating

:

16 lbs

USCG Rating

:

Type III
Features
Front Center Zipper (easy on-off)
Ergonomic Design (for the most comfort)
Breathable Mesh Back and Vents (allows airflow)
Adjustable Side Buckles (to find the best fit)
Front Zip Storage Pockets (for a car key)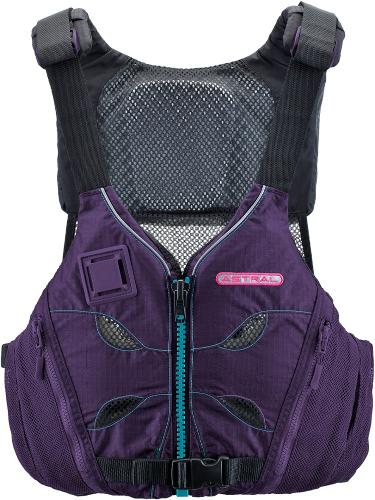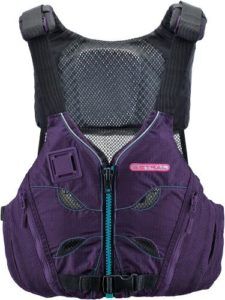 BEST FOR: RECREATIONAL WATER SPORTS
This life vest was designed with women in mind with pre-shaped foam inserts. Even though the sizes are pretty universal, you can customize the fit with the adjustable buckle closures on each side. You don't have to think of your life vest as an extra hot layer: the mesh back and side vents allow extra heat to escape.
THINGS TO CONSIDER WHEN BUYING A WOMEN'S KAYAK PFD
USCG RATING
One of the most important factors to consider when buying a kayaking life vest is its safety rating. US Coast Guard Approval is mandatory for flotation devices, but there are 5 different classifications. Kayakers tend to choose Type III or Type V, which are geared for recreational paddlers on easy waters. Look for the USCG stamp and instructions for use on your PFD.
BUOYANCY RATING
The buoyancy rating refers to the amount of weight required to keep a person's head above the water. Most adults need a 7-12 lb buoyancy rating to paddle on calm waters, and the PFDs here are well above that. Learn more about buoyancy and USCG ratings here.
PRICE
No cost compares to the value of saving your life, but women's PFDs do vary slightly in cost depending on the amount of bells and whistles you want. You should expect to pay between $100 to $150 for a good, USCG-approved life vest.
TYPE
PFDs often come in traditional life vest or inflatable form. Traditional life vests keep you afloat no matter what, while inflatable versions only help you stay above the surface when activated. The advantage of inflatable PFDs is that they're often much less bulky to wear and move around in. However, if you're not confident in your swimming ability or your quick reaction time, then you might want to stick with a standard full-coverage life vest.
SIZING
We recommend women-specific PFDs because they're much more suited for women's bodies for a more comfortable fit. Graded sizing and integrated bust cups make room for your chest size, features you won't find in men's or unisex versions. Sizes also differ in torso length but are usually adjustable for the best fit.
FEATURES
Are pockets – a place for your car keys – important to you? How about ventilation on hot days? Reflective stripes, high-back cuts, and soft fabrics are some other features you might appreciate in a PFD. Determine which features you'd like to have in a life vest, if any, and use those to help make your decision easier. Learn more about what to look for in PFD features here.
FEATURES EXPLAINED
ERGONOMIC DESIGN
Ergonomics refers to a PFD design optimized for comfort and suggested use. Typically, an ergonomic life vest conforms better to your body's natural curves and allows for easier movement.
VENTS
Life vests may have vents, or holes, that allow for airflow. Vents help manage sweat so you don't become too overheated. If you plan on being in the water for a period of time, especially on hot days, then you want to make sure your PFD offers ventilation features such as vents or mesh for breathability.
REFLECTIVE DETAILS
Some life vests come with stripes or taping that reflect back when light hits them for added safety. If you're in the water past sundown or on an overcast day, these details help other boaters see you better.
CO2 INFLATION SYSTEM
Inflatable PFDs usually come with an automatic inflation system using CO2 to fill up the air chamber within moments. Many CO2 cartridges are only for single use and require replacement each time they're deployed. CO2 cartridges factor into the cost of inflatable life vests and can incur an ongoing cost if used regularly.
READ MORE
For more of our top kayaking gear recommendations, check out these popular buyer's guides: