Updated on September 10, 2020
There exists no better feeling than gliding through the water on a sunset or sunrise (or really any time in between) paddle. It's a sport that is ideal for people of all ages and it takes you places you might not otherwise get to see due to limited accessibility. Whether it's skirting the coastline or meandering across an alpine lake, the freedom of kayaking can be intoxicating. You've rented a few times and/or borrowed your friend's kayak and are now ready to take the plunge and purchase your own boat. However, navigating the market for the best sit-in kayaks can be overwhelming.
Don't fret! Here at The Adventure Junkies, we pride ourselves in helping you pick the best gear for your next adventure. In this guide, we'll help you discover the best sit-in kayak for your style and ability and soon have you cruising the waterways with ease.
For more of our top kayaking gear recommendations, check out these popular articles:
Sea Kayaks | Touring Kayaks | Kayaks for Beginners | Lightweight Kayaks
Kayaks for Kids | Kayaks for Dogs | Sit-On-Top Kayaks | River Kayaks
Kayaks for Women | Canoes | Tandem Kayaks | Lake Kayaks | Kayaks Under $500
Quick Answer

-

The Best Sit In Kayaks
Comparison Table

-

Best Sit In Kayak

For the best experience turn your device horizontally
Reviews

-

The Best Sit In Style Kayaks
Oru Kayak Bay ST
Specs
Type

:

Folding

Capacity

:

1

Length

:

12'

Weight

:

28 lbs

Weight Capacity

:

300 lbs

Width

:

25"
Features
Hull Offers Plenty Of Room To Store Gear
Comfortable Foam Seat With Adjustable Backrest
Material Can Be Folded and Unfolded Thousands Of Times
Fits In The Trunk Of Your Car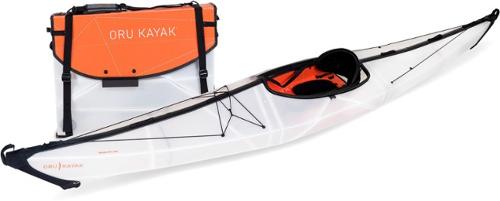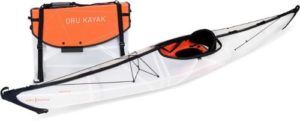 BEST FOR: EASY ACCESS KAYAKING
The overall benefit of the Oru Kayak is its ability to be folded and unfolded. Unlike the other boats listed, once folded, this kayak fits easily inside your car or SUV. The others require a rooftop rack system or a truck for transporting to and from the water. And, once home, it stores away easily until ready for your next outing.
When reaching your paddling destination, the Oru unfolds and takes on its kayak form in just minutes. Did we mention that it's also the lightest boat in this guide? The hull features plenty of gear storage for day trips and perhaps short overnight trips. The double-layered polypropylene (tough plastic) that this kayak is made of is tested and able to be folded and unfolded thousands of times without weakening the integrity of this durable material.
Old Town Dirigo 120
Specs
Type

:

Hardshell

Capacity

:

1

Length

:

12'

Weight

:

50 lbs

Weight Capacity

:

300-350 lbs

Width

:

27.75"
Features
Cushioned And Adjustable Seat
Small Hatch For Storing Cell Phone, Wallet, And Keys
Built-in Cup Holder
Paddle Keeper Holds Paddle Secure When Not Paddling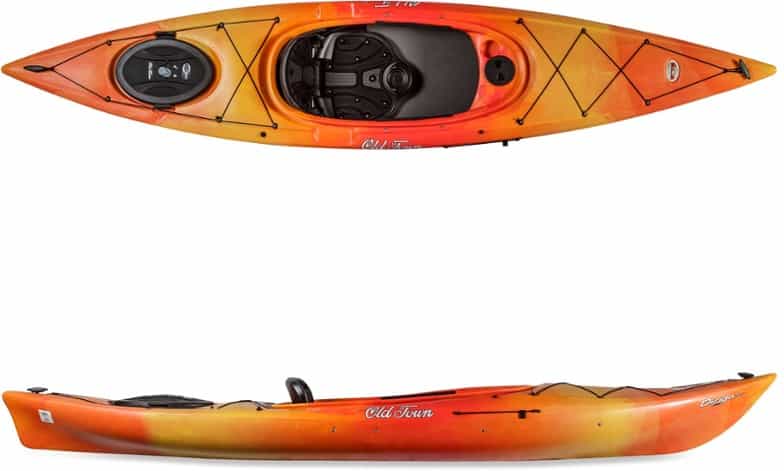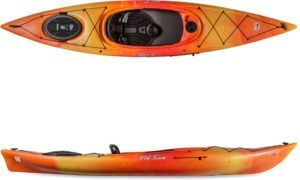 BEST FOR: BEGINNERS
The Dirigo is ideal for beginners. The width helps with stability for even the most novice kayaker. The 3-layer polyethylene ensures a super durable hull (kayak bottom) and easy care. At twelve feet in length, the hull design contributes to the kayak's stability and promotes excellent tracking for a boat this size.
The cushioned and adjustable seat supplies a comfortable ride from start to finish while a cup holder keeps your beverage close at hand. A small hatch provides storage for your phone, keys and other essentials while on the water. The sliding seat is also adjustable. The stern hatch, where you can store all your gear, features an audible click to ensure a proper seal. Bungee decking located at both the stern and the bow provides extra gear storage. The other cool feature is the paddle keeper, which holds the paddle secure for you when you decide to stop to fish or take photos.
Old Town Castine 140
Specs
Type

:

Hardshell

Capacity

:

1

Length

:

14'

Weight

:

53 lbs

Weight Capacity

:

375 lbs

Width

:

24.75"
Features
Bow And Stern Bulkheads (for plenty of storage)
Rudder Ready (Sold Separately)
Bow And Stern Carry Handles
Covered by Old Town Lifetime Warranty
Cradle Keeps Phone Easily Accessible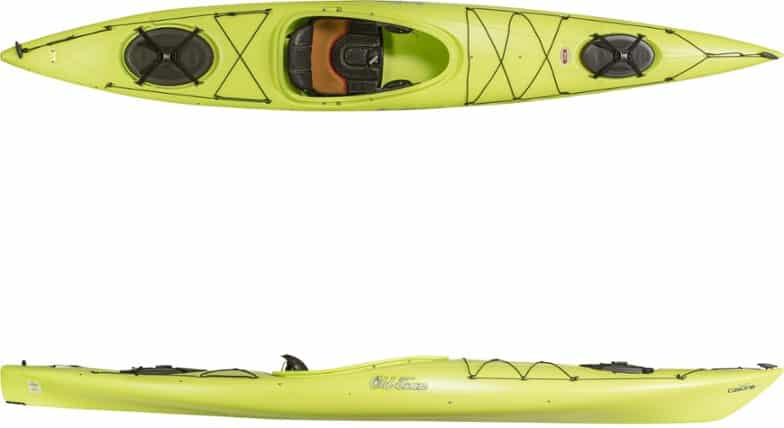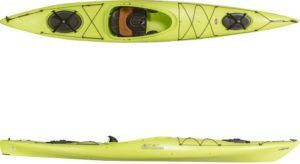 BEST FOR: SEA KAYAKING
This is a great beginner boat for sea kayaking or cruising the intracoastal waterways while meandering through the salt marshes and tidal creeks. The rotomolded polyethylene (plastic) shell is perfect for beginners as it's very forgiving when running aground on oyster beds and rocky shorelines, or when accidentally bumping into docks.
The Castine features a low-profile, padded backrest that will provide all day comfort. The Slide-Away day hatch in the cockpit is perfect for stashing your phone or other necessities for quick access. This kayak features two quick-seal hatches for storing picnic supplies or for camping gear and supplies for overnight trips. The bow and stern carry handles make carrying the boat to and from the water an easy task. And while the Castine doesn't come equipped with a rudder or skeg, it is rudder ready and can be purchased separately and added easily at home.
Eddyline Fathom
Specs
Type

:

Hardshell

Capacity

:

1

Length

:

16'6"

Weight

:

50 lbs

Weight Capacity

:

340 lbs

Width

:

22"
Features
Deployable Skeg (Rudder)
Sliding Seat Is Adjustable
Dry Hatch For Accessibility On The Water
Two Large Watertight Hatches For Gear Storage


BEST FOR: KAYAK TOURING
This elegant boat is ideal for kayak touring. While it is the most pricey boat in this guide, it's features are worth every penny for the experienced paddlers. Made of state-of-the-art materials, the Fathom is designed to glide through the water with precision and ease.
Two large watertight hatches provide access for gear storage for long day trips or multi-day excursions. The bow and stern bulkheads keep your gear dry while also adding positive flotation to this boat. Additional storage options exist along the bow and stern decks via bungee straps. There is also a day hatch and convenient on-water accessibility. The deployable skeg (or rudder) will aide in the steering of the kayak without continual correcting with paddle strokes.
Perception Sound 9.5
Specs
Type

:

Hardshell

Capacity

:

1

Length

:

12'8"

Weight

:

38 lbs

Weight Capacity

:

300 lbs

Width

:

28"
Features
Drain Plug At The Stern (to help drain water from the boat)
Two Molded-in Rod Holders Behind The Cockpit (for easy fishing)
Self Bailing Gear Storage Well (to prevent your stored gear from getting wet)
Padded Adjustable Backrest
Comfortable Bow And Stern Carry Handles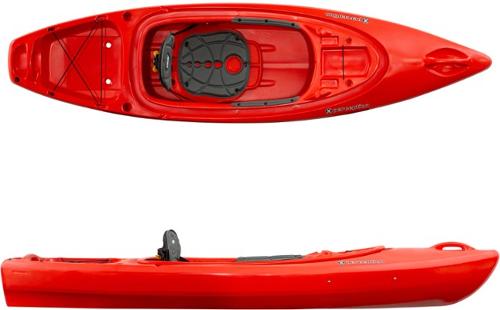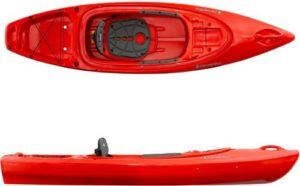 BEST FOR: PADDLING AND FISHING
The Perception Sound is the shortest and the most budget friendly option in this guide. Made from a strong plastic called polyethylene, it ensures a long lasting and durable boat. Its short length makes it ideal for lakes and slow-moving rivers. The tri-keel hull (bottom of the boat) also adds extra stability for beginners and while fishing. A keel is like a fin that extends down further into the water to help keep the boat stabilized. This kayak has 3 such smaller fins molded into the hull.
For the avid angler, there are two molded rod holders within easy reach behind the cockpit. This boat also features a self-bailing stern gear storage with bungee straps for securing a small cooler, fishing gear, or other items. For long days on the water, the cockpit features a padded adjustable backrest. The area in front of the cockpit allows for additional accessories to be mounted (purchased separately). For easy cleaning, a drain plug is found in the stern.
THINGS TO CONSIDER BEFORE BUYING A SIT IN KAYAK
KAYAK STYLE
Sit-inside (or cockpit) kayaks offer the paddler more protection. While sit-on top kayaks are easier to get in and out of, they offer very little protection from the elements. Cockpit kayaks can have large or small openings depending on the intended use. True sea kayaks typically have a smaller cockpit opening, are narrower, and are generally longer. Recreational kayaks with a cockpit are wider, shorter and have a larger opening for the cockpit.
Sit-in kayaks typically have a lip around the cockpit opening. This lip allows for the addition of a spray skirt. The spray skirt allows the paddler to seal off the cockpit around their body, and prevents unwanted water from entering the cockpit. This is particularly important when kayaking offshore as wind and surf can easily swamp a kayak.
SIZE
Kayaks come in a variety of sizes. Sea kayaks are typically long and narrow. Recreational kayaks are generally shorter and wider. The size of the kayak will determine its overall intended use. It's best to consider what type of kayaking you plan to do (see primary use below). Longer kayaks typically move through the water with greater ease and speed while shorter kayaks tend to be bulkier, but do provide more stability and can be great for fishing or general recreational use.
WEIGHT
Aside from the folding version on our list above, most of the kayaks in this guide are heavier than inflatable kayaks. Due to their rigid hulls, most require a rooftop rack system for your car or a pickup truck to transport them to and from the water trailhead. If kayaking alone, weight may be a greater consideration as lugging a bulky and heavy kayak to and from the water can be a chore.
Loading and unloading heavier kayaks onto the roof of a car solo can also be tricky. If kayaking with others, the weight is mitigated as there are multiple people to help transport the boats to and from the water and load and unload from the vehicle. Think about how much you can easily carry if you plan on kayaking alone before deciding which sit-in kayak is best for you.
PRIMARY USE
There are a variety of kayaks in this guide. The Perception Sound and the Old Town Dirigo are recreational kayaks and are better suited to lakes and slow moving rivers. The other three can be used on the same waterways, but can also be used in intracoastal waterways, tidal creeks, and, given enough experience, even offshore.
FEATURES EXPLAINED
HULL
The bottom of the kayak is called the hull.
STERN
The back (or rear) of the kayak is called the stern.
BOW
The front of the kayak is called the bow.
COCKPIT
Sit-in kayaks are more commonly referred to as cockpits. The lower body of the paddler is inside the kayak and only the torso extends above the rim of the kayak.
POLYETHYLENE
More commonly referred to as plastic. It is very durable and will last a long time and is very forgiving.
BULKHEAD
A bulkhead is a structural partition which separates compartments. In kayaks, these partitions separate the bow and stern compartments from the cockpit.
POLYPROPYLENE
Polypropylene is a thermoplastic polymer. It is a type of plastic but is harder and more heat resistant than most other types.
CARBONLITE
Carbonlite is a proprietary plastic laminate. It is a high performance material and it also 100% recyclable.
READ MORE
For more of our top kayaking gear recommendations, check out these popular buyer's guides: