Updated on December 29, 2021
Unplugging from all the day-to-day hassles is a requirement these days. Camping is an awesome way to unplug, either alone or with your friends or family. Fortunately for you, there are tents designed to give you this downtime outside of the summer seasons. Introducing: the 3-season tent! If camping in seasons other than summer is new to you but something you want to try, never fear! We created a list of the best 3 season tents to get you started.
Spring and fall can bring some of the best camping weather. And with a good 3-season tent, you can stay warm on cool nights and cool on nights that are a little warm – all with one tent! These tents have everything you need to stay comfortable and protected against any of the elements you may encounter, whether you're spending the night in an established campground or exploring the backcountry. So ditch the electronics, grab your pack, and get outside in your tent!
For a complete analysis of all backpacking tents, check out the buyer's guide Best Backpacking Tents.
Quick Answer

-

The Best 3 Season Tents
Big Agnes Copper Spur HV UL 2

REI Co-op Half Dome SL 2+

The North Face Stormbreak 2

Big Agnes Fly Creek HV UL2
Comparison Table

-

Best 3 Season Tents

For the best experience turn your device horizontally
* Weight, floor area and price refer to the 2-person models.
Reviews

-

The Best 3 Season Tents for Backpacking
Big Agnes Copper Spur HV UL 2
Specs
Capacity

:

1P / 2P / 3P / 4P

Doors

:

2

Floor Area

:

29.0 sq ft

Weight

:

2 lbs 12 oz

Season

:

3-Season
Features
Increased Livability
Large Zippered Doors
Ample Gear Storage
Privacy Mesh Body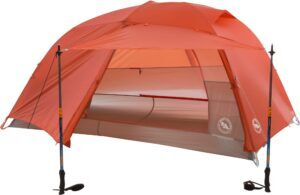 BEST BACKPACKING TENT OVERALL
The Big Agnes Copper Spur HV UL 2 is a lightweight and comfortable tent that is a favorite among long distance hikers. It balances weight, weather protection, interior space extremely well which is why we picked it as the best backpacking tent overall.
What we loved the most about this tent is how liveable it is considering its weight. It has an awning that can be set up with two trekking poles. It gives you a bit of shade while still allowing for plenty of ventilation through the tent. In light rain, the awning would do a decent job at keeping you dry while cooking.
The biggest drawback of the Copper Spur HV UL is it's tight for two people. This won't be an issue for solo hikers but if you plan to camp with a friend, have a look at the three-person option. It's on the pricier end of the spectrum but is still a good value if you're looking for a lightweight freestanding tent that will last for years.
The Copper Spur doesn't come with a footprint so if you want to increase the lifespan of your tent, grab the UL2 footprint or use some type of groundsheet.
The Copper Spur HV UL also comes in a 1-person, 3-person and 4-person version.
MSR Hubba Hubba NX 2
Specs
Capacity

:

1P / 2P / 3P

Doors

:

2

Floor Area

:

29.0 sq ft

Weight

:

3 lbs 08 oz

Season

:

3-Season
Features
Durable
Ventilating
Flexible Tent Poles For Increased Wind Performance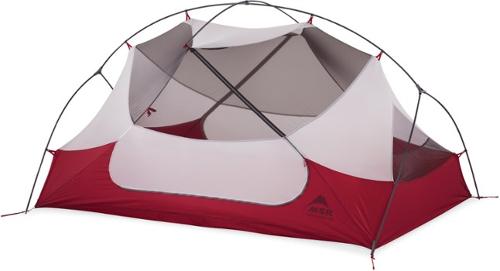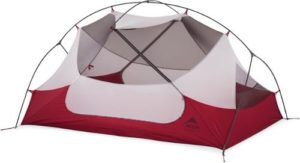 BEST TENT FOR HEAVY RAINS
The MSR Hubba Hubba NX2 is a reliable backpacking tent that balances weight, durability, and comfort well.
What we love the most about the Hubba Hubba NX2 is how it holds up in rough weather. We put this tent to the test while backpacking in New Zealand through a crazy windstorm with horizontal pounding rain. The poles flexed with the violent gusts that night while our friend's tent poles bent. Also, we didn't get a single drop of rain inside the tent which is why the Hubba Hubba NX2 is our top pick for camping in heavy rains.
While it's not the lightest tent on this list, it does gain points in durability and interior space. If weight is an issue for you, you can take a look at the Big Agnes Copper Spur, which is also featured on this list, but it has angled walls that get narrow at the feet, reducing liveability.
Our biggest complaint with the MSR Hubba Hubba NX is the price tag. It's not an ultralight tent but not inexpensive either. It's a middle ground tent that left us feeling like perhaps it would be better to spend a bit more to get an ultralight tent, like the Nemo Hornet Elite or go for a quality budget option, like the REI Co-Op Half Dome.
This tent is also available in a 1-person and a 3-person model.
REI Co-op Half Dome SL 2+
Specs
Capacity

:

2P / 3P

Doors

:

2

Floor Area

:

35.8 sq ft

Weight

:

4 lbs 14 oz

Season

:

3-Season
Features
Superlight construction
Pre-bent pole architecture
Interior pockets and hangloops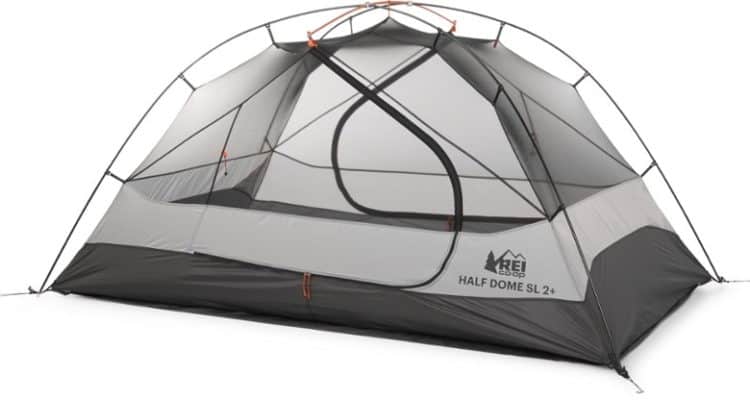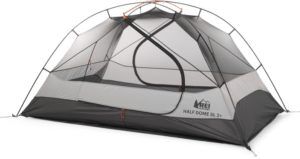 BEST BUDGET TENT
While there are cheaper tents featured on this list, we believe the REI Co-Op Half Dome SL 2+ is excellent value which is why we chose it as the best budget tent. We also considered that buying a cheap tent could be more expensive in the long run if you decide to upgrade, so we prefer to point you towards a tent that will be easy on your wallet and last for years.
At under 5 pounds, it's light enough to be considered a true backpacking tent and has some of the liveability and durability you might find in more expensive models. It's super easy to set up, it has plenty of interior space and it's durable, making it a great option for beginner backpackers.
The Half Dome SL 2+ does weigh quite a bit more than other options but it's manageable, especially if you divide it up between you and your partner. We think it's a valid sacrifice if saving money is your goal.
The Half Dome SL also comes in a 3-person model.
Nemo Hornet Elite 2
Specs
Capacity

:

1P / 2P

Doors

:

2

Floor Area

:

27.5 sq ft

Weight

:

1 lbs 15 oz

Season

:

3-Season
Features
Well Ventilated
Great Wind Protection
Volumizing Clips Increase Space
Super Lightweight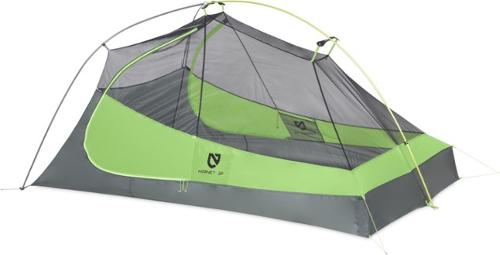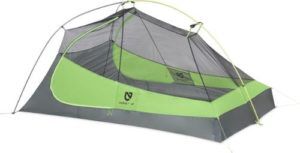 BEST ULTRALIGHT BACKPACKING TENT
The Nemo Hornet Elite 2 is a high-end, ultralight backpacking tent that is packed with thoughtful features, which is why it's our top choice for the best ultralight option.
The poles have color-coded ends, which makes it easy to set up, especially in the dark. The dual stage stuff sack makes it easy to share the weight with your hiking partner. There's a light diffusing pocket in the ceiling. The dark mesh interior is great for stargazing on warm cloudless nights when you could sleep without the fly. Another nice feature is there is a little guy line with a hook attached to each side of the exterior of the tent that can attach to a loop on the vestibule. This opens up the interior of the tent a bit more and keeps the inner mesh away from your face when you sit up. Photographers and videographers might like the bright yellow fly color. It really pops in pictures but of course, it's not ideal for stealth camping.
While it's physically possible for two people to sleep in this tent, both people can't sit up comfortably at the same time. It's really more of a spacious 1-person tent rather than a true 2-person tent. You could make it work if you're just going to go to sleep straight away and get right out in the morning, but you'll find it even annoying to take off or put on a layer without jabbing your tent partner. Another complaint is the fly bar design seems kinda flimsy. We're not sure how it will hold up over time. Having said that, NEMO has excellent customer service, so if something were to break, we're confident they will sort it out for you.
If this is your first time buying ultralight gear, something to keep in mind is it is delicate. You need to be more careful when you set it up and pack it down. If you're tough on gear, look at getting a more durable tent like the MSR Hubba Hubba NX.
As with all ultralight tents, we highly recommend a foot print to protect the bottom of the tent from rips and tears.
REI Co-op Passage 2
Specs
Capacity

:

1P / 2P

Doors

:

2

Floor Area

:

31.0 sq ft

Weight

:

5 lbs 05 oz

Season

:

3-Season
Features
Pole-less Design
A-frame Shape
Reflective Guylines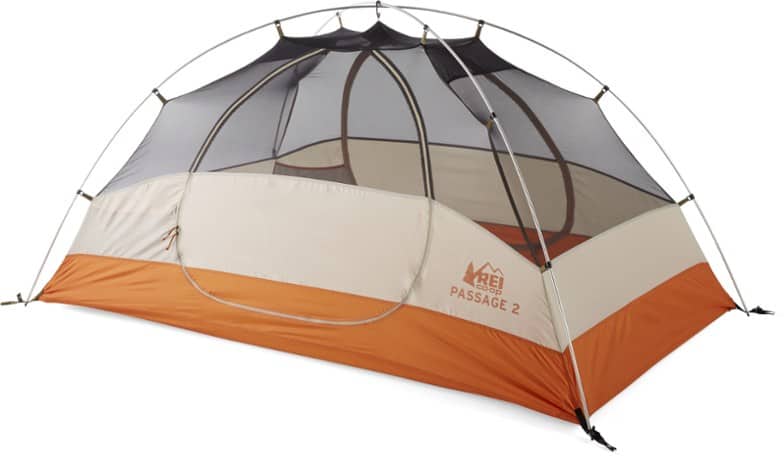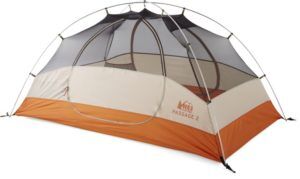 The REI Co-Op Passage 2 is a simple and sturdy backpacking tent. It's an excellent choice for first time tent buyers or backpackers on a tight budget.
Without a doubt, our favorite thing about this tent is its price. At $159, it's hard to beat. Even though it is basic, it comes with some nice features like gear loops, internal pockets, and adjustable ceiling vents
It's a heavy tent for backpacking standards but if you share the load with a partner, it's not so bad. A little annoyance is the zipper sometimes snags. Also, the stakes are pretty crap. If you're going to camp on hard ground, consider replacing them.
If you're willing to pay a little more for a better quality, lighter and roomier tent, check out the REI Half Dome SL 2+.
The REI Co-op Passage also comes in a 1-person version
The North Face Stormbreak 2
Specs
Capacity

:

2P / 3P

Doors

:

2

Floor Area

:

30.6 sq ft

Weight

:

5 lbs 14 oz

Season

:

3-Season
Features
Easy-pitch design
Twin-zips
Very affordable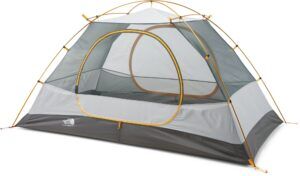 The North Face Stormbreak 2 is a super spacious tent with plenty of headroom that is a great choice for hikers who don't mind sacrificing a bit of weight to save some cash.
What we love the most about this tent is how liveable it is. There is plenty of headroom and space for two people. The spaciousness is much appreciated if you have to wait out a storm. We also appreciated how it is to set up. It would be a great option for someone who is new to backpacking who wants an affordable, easy to use tent that doesn't feel claustrophobic.
The biggest downside we see with the Stormbreak 2 is it is bulky and heavy. We'd only recommend it as a backpacking tent if your hiking partner is willing to split the load.
Another complaint is the cheapie stakes. They are thin and tiny. They're probably okay for camping on very soft ground but not much more. If you're set on this tent but the stakes also concern you, check out the MSR Ground Hog Stakes, they are super sturdy and almost indestructible.
If you're looking for a bigger tent, check out The North Face Stormbreak 3.
Nemo Aurora 2P
Specs
Capacity

:

2P / 3P

Doors

:

2

Floor Area

:

31.8 sq ft

Weight

:

5 lbs 07 oz

Season

:

3-Season
Features
Lots of room. Great for tall people.
Boxy shape.
Great for bad weather and heavy winds.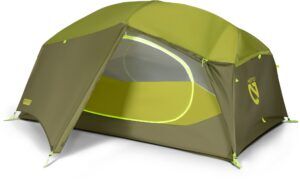 The Nemo Aurora 2P is a spacious backpacking tent that would be a great option for taller people or if you just enjoy spreading out a bit. It would also be a good choice for someone who is looking for a tent for gear-intensive trips like climbing or bikepacking, the Aurora 2P would give you plenty of room to store your equipment inside if the weather turned bad.
What we loved the most about this tent is its boxy construction that makes it much roomier inside compared to a lot of other tents that have more angled sides. We could sit up comfortably inside, which was a big plus. I mean, who loves a soggy tent in your face first thing in the morning? We also appreciated how the Aurora stands up in bad weather, from torrential rains to strong wind gusts, we stayed dry and didn't get lots of condensation on the walls. Some other upsides are the setup is pretty self-explanatory, it comes with a footprint and the price is hard to beat for a tent of this quality.
Our biggest disappointment with the Aurora is the doors only have one zipper. Having two zippers would make getting in and out a lot quicker and easier. Another downside is it is on the larger side of the spectrum when it comes to backpacking tents. We were able to split the tent up between our backpacks so it wasn't a big issue but it is something to consider, especially if you want to use it for the occasional solo trip. We also aren't in love with the olive green color palette but maybe we are just being picky.
The Nemo Aurora 2P tent is also available in a 3-person version.
Sea to Summit Telos TR2
Specs
Capacity

:

2P / 3P

Doors

:

2

Floor Area

:

28.0 sq ft

Weight

:

3 lbs 10 oz

Season

:

3-Season
Features
Adjustable vents at the base of the tent
High tent doors
Very roomy and liveable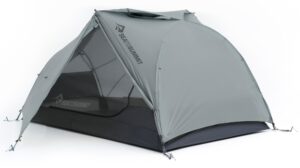 The Sea to Summit Telos TR2 is a newcomer to the world of backpacking tents. It's quickly becoming a favorite among weight-conscious hikers.
What we loved the most about the Telos TR2 is how roomy and liveable it is. This is thanks to a small but effective design tweak Sea to Summit calls the "Tension Ridge". It's a crossbar that slightly bends the ridge pole upward instead of sloping downward like most other backpacking tents. The result is taller doors, much more headroom, and better ventilation. Another feature we loved was the tent pole bag. While this isn't usually something to write home about, Sea to Summit creatively converted this ordinary piece of kit into a useful tool they call the "Lightbar". When you put your headlamp inside the bag it diffuses the light. It can be snapped onto the ceiling of the tent and is a great tool for reading at night or early morning packing.
Our biggest concern with the Telos TR2 is the thin floor, one of the trade-offs when it comes to cutting weight. It shouldn't be a major issue if you are extra careful. If you plan on camping in places that might have sharp rocks or roots, consider getting the Lightfoot Print or using some kind of groundsheet.
With a $499 price tag, the Telos TR2 comes in on the expensive end of the spectrum. If you are tall or plan on spending a lot of time inside your tent, you might consider the extra cost well spent. The Telos TR2 is in tight competition with the Big Agnes Copper Spur HV UL2. The Copper Spur wins when it comes to price and weight, but the Telos TR2 is still our pick for liveability.
If you're the kind of hiker who camps right to the end of shoulder seasons, take a loop at the Sea to Summit Telos TR2 Plus. It's designed to handle wet and windy conditions like a champ.
If you're looking for a larger tent, Sea to Summit also makes a 3-person and a 3-person Plus version of the Telos.
Zpacks Duplex
Specs
Capacity

:

1P / 2P / 3P

Doors

:

2

Floor Area

:

28.1 sq ft

Weight

:

1 lbs 12 oz

Season

:

3-Season
Features
Made with Dyneema Composite Fabrics
Rainbow zippers
Mesh pockets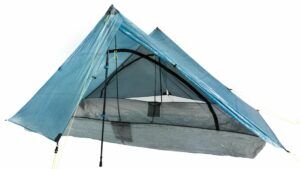 The Zpacks Duplex is a tarp style ultralight tent that is easy to pitch, well-ventilated, spacious, and packs down small. It's one of the lightest and most functional two-person tents we could find, making it easy to see why it's a favorite among thru-hikers.
What we love the most about this tent is that it is super light, only 19 ounces (539 grams). One of the reasons the Duplex is so light is that it doesn't come with tent poles, you use your trekking poles to pitch it instead. If you'd prefer to use a proper tent pole, you can buy it separately from Zpacks. The Duplex is made with Dyneema Composite Fabrics (DCF) which is a strong, highly waterproof material that doesn't absorb water or stretch overnight. Not having to pack away a soggy tent is a huge plus. One big concern we initially had with the Duplex was condensation build up, something common among single walled tents, but it proved to be well ventilated and this wasn't an issue.
The stakes are not included with this tent. It takes eight stakes to fully set up this tent. You could get away with using only six if you don't set up the guylines. The Duplex has a high price tag, at $649.00. If you plan to use this tent for thru-hiking or any other long distance journey we think it is totally worth it. It's going to be your house for several months after all.
Do you want the Duplex but prefer a freestanding tent? You can now transform your Duplex with Zpacks Flex Kit.
If you are tall, have a look at the Zpacks Duplex XL version. Zpacks also makes a 3 person version of this tent, the Triplex.
Big Agnes Fly Creek HV UL2
Specs
Canopy Material

:

Nylon/polyester mesh

Capacity

:

1P / 2P

Design Type

:

Semi-Freestanding

Doors

:

1

Floor Area

:

28.0 sq ft

Weight

:

2 lbs 04 oz

Season

:

3-Season

Sleeping Capacity

:

2-Person

Waterproof?

:

Yes

Packed Dimensions

:

5.5" x 12"

Pole Material

:

Aluminium
Features
Multiple Internal Pockets For Storing Gear
Durable Rain Fly For Protection In Bad Weather
Tent Designed Specifically For Bike Packing With A Small Packed Size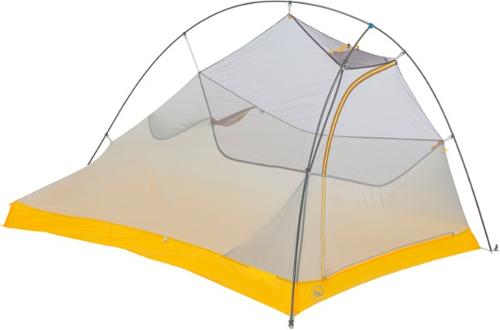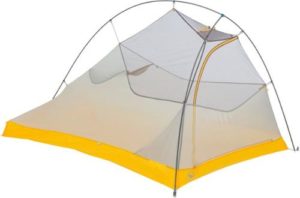 The Big Agnes Fly Creek HV UL2 is an ultralight tent that has been recently redesigned to give it steeper walls and more interior space than the older model. It's a great option if you're looking to cut weight but aren't willing to splurge on a high end, super light tent.
What we loved the most about this tent is it is light but still can be set up with proper tent poles. Some other ultralight tents on this list need to be pitched with trekking poles, which is resourceful but it puts some people, especially new backpackers off.
The Fly Creek HV UL2 might not cut it for true ultralight hikers who count every ounce. Our biggest drawback is the single door. That's fine if you're going to use this tent for solo adventures but it's a real pain for two people. On that note, unless you and your partner are short and slim, sleeping two people in this thing is going to be a struggle.
In conclusion, this is a good option for solo hikers who are looking for a practical lightweight tent to use in summer and spring.
The Fly Creek HV UL also comes in a 1-person version
THINGS TO CONSIDER WHEN CHOOSING THE BEST 3 SEASON TENTS
Cost and warranty
Cost is always something people will factor in with the decision about what type of tent to purchase. However, really well made tents will often times come with a lifetime warranty, so keep your eyes open for this when purchasing, and if issues arise down the road, take advantage of it.
Fabric and durability
The best 3 season tents are commonly made with either nylon or polyester. Nylon is woven tightly when creating tents, making it very durable. The outer portion of tents are waterproof and the fabric of the inner portion is usually mesh nylon, so these tents will be pretty lightweight. Polyester tents will end up being slightly heavier, but unlike their nylon counterparts, will not stretch when wet and tents to not rip as easily, which goes a long way in the camping world.
Poles and framework
A sturdy framework is a must, so find a tent with a flexible one that can withstand bending when packing and setting up. And a sturdy framework largely comes from the poles. But poles will often determine how easy a tent is to set up. Larger, family tents will be able to stand freely with the poles, meaning you don't have to stake them into the ground. Smaller backpacking tents will be lighter, using fewer poles and will come with stakes. These poles will attach to clips in the tents and elastic bands will held them together. Most poles are aluminum or fiberglass poles, contributing to the overall lightweight nature of the tent.
Ventilation
Ventilation is important not only for airflow, but also to keep condensation from building up on the inside of the tent. Many tents will have vents located at the top to allow for airflow, and mesh siding that not only keeps air flowing, but keeps the bugs out. Because no one wants bugs buzzing around all night!
Weight and size and height
Weight is important for those in the backcountry that are concerned about cutting down on the pounds strapped to their backs, but for those car camping, possessing a tent that tips the scale slightly is not a concern. Either way, looking at the weight of a tent will give you an idea if it is the best fit for your needs.
And much like getting sleeping pads and sleeping bags, certain brands of tents are sized longer or make longer versions to accommodate taller people. Similarly, the height of a tent is important to consider based on what you are using the tent for. Cabin-shaped tents are equal on all sides, maximizing height and making them comfy for the car or campsite camping. Dome-shaped tents, on the other hand, award more stability for windy conditions and focus the height in the center, so there is a portion to stand (or almost stand-up) in.
Waterproof
You can treat many tents with waterproofing sprays to prevent leakage. But if the tent fabric is tightly woven, it should be resilient to water leaks. Tents that have a tendency to stretch can accumulate water on the roof, pooling and then ultimately, leaking. Waterproofing your tent between seasons, however, is probably a good plan.
FEATURES EXPLAINED
Framework
The overall structure of a tent created with tent poles and stakes. The framework of tent will help determine the overall durability, setup feasibility, and ease of moving and cleaning.
Rain fly
A waterproof cover that goes over the roof of the tent to keep the rain out and help with insulation. Rainflies can come as either a roof rainfly to cover just the top or to cover the entire tent.
Guylines
These are the nylon lines that you attach to the outside of the tent (through built-on loops). You can connect them with the stakes and into the ground to secure the tent during windy conditions.
Vestibule
A vestibule is like a garage, either built into the doors of the tent or bought as add-ons, to create some extra space in the tent and are helpful to store things like wet or muddy shoes.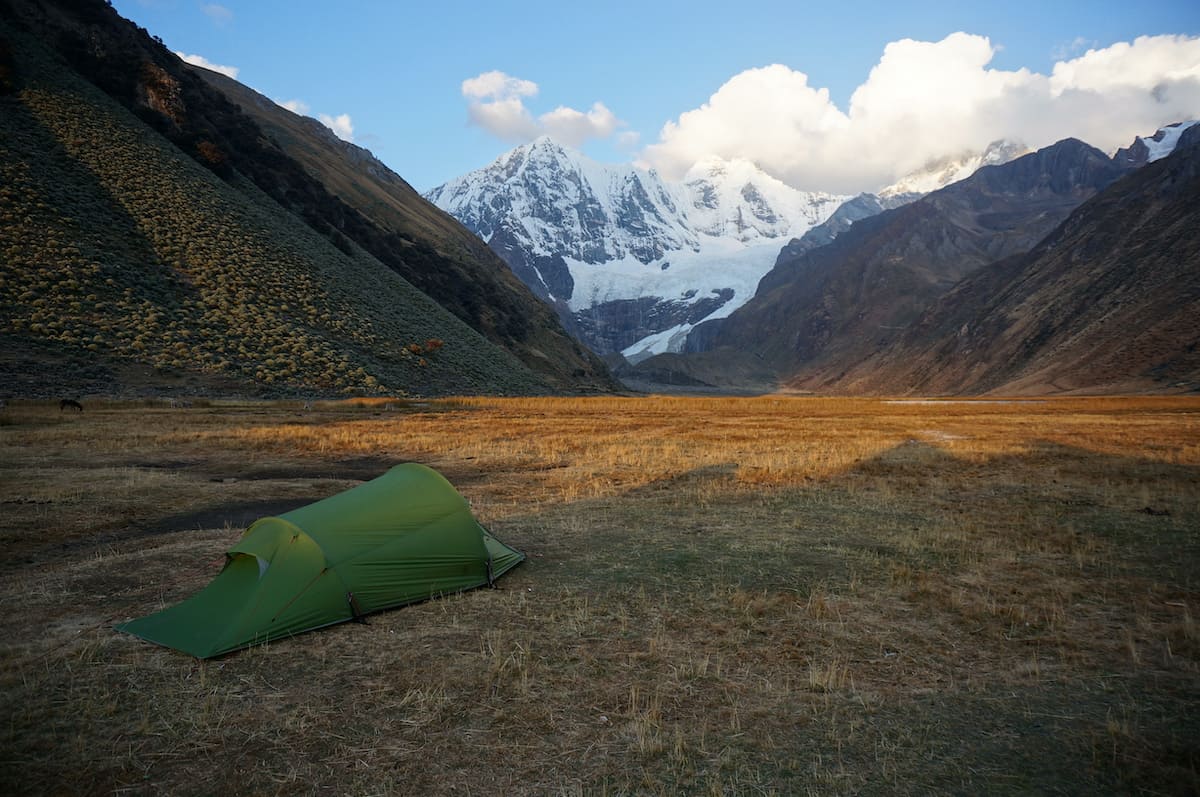 F.A.Q. ABOUT THE BEST 3 SEASON TENTS
What is a good 3 season tent?
A good 3 season tent is strong enough to handle rain and wind but also ventilated enough to be used during warm weather. It should keep you dry and comfortable during spring, summer, and fall. This type of tent typically has a mesh inner tent and air vents to give you plenty of airflow and ventilation during warm nights.
Is a 3 season tent waterproof?
Yes, three-season tents are made to be waterproof. The rainfly and foot of the tent are made from waterproof materials. Some tents take it a step further and have seam sealed zips and seams.
What is the best weather proof tent?
For excellent performance in wet weather, look for a tent that is made out of DCF (Dyneema Composite Fabrics), this technical material won't sag when wet and doesn't soak up water like nylon tends to do. Gossamer Gear, Zpacks and Hyperlite Mountain Gear are premium outdoor gear brands that make tents with DCF.

What makes a tent 3 or 4 season?
A 3-season tent can handle moderate wind, rain and even some snow, but for true winter camping, a 4 season tent is the best choice. A 4 season tent is designed to handle extreme conditions like high winds, pounding rain and snow storms. What you get for weather protection, you typically lose in ventilation and airflow, which makes 4 season tents too warm for summer use.
Can I use a three season tent in winter?
Most 3 season tents can handle mild winter conditions. If you have a warm sleeping pad and sleeping bag you might be able to be comfortable camping in cold weather with a 3 season tent. However, we don't recommend using a 3 season tent in harsh winter conditions. Deep snow and heavy winds might damage the tent, leaving you without shelter in harsh weather.
How do you insulate a 3 season tent?
To make a 3 season tent warmer you can use a warmer sleeping pad and sleeping bag. If you're going to be sleeping on frozen ground, putting a foam pad under your main sleeping pad will also help keep you warm. Also, set up your tent near something that will block the wind like bushes, trees or rock formations.