Updated on December 21, 2021
If you're a woman who dives, you already know that finding the perfect wetsuit can be a challenge. The right fit and features are critical to your comfort underwater. And, it can be hard to know where to start when it comes to shopping. Well, you've come to the right place! Keep reading to learn more about the best 3mm wetsuits for women, handpicked and reviewed by The Adventure Junkies team of female dive pros.
A 3mm full wetsuit is the most versatile option you can choose if you're diving in water between 70 and 85 °F (21 and 29 °C). In colder climates, you can add a base layer for extra insulation. And, even in warmer waters, you'll be thankful for a little extra protection against the elements. The right wetsuit should be warm, flexible, and easy to don and doff. And, if you're prepared, shopping should be a breeze. In this article, we'll share our favorite 3mm models and our top tips to keep in mind while shopping.
For more of our top scuba gear recommendations, check out the Best Wetsuits for Women.
Quick Answer

-

The Best 3mm Wetsuits for Women
Henderson Thermoprene Pro

Scubapro Definition Steamer

Aqua Lung Quantum Stretch
Comparison Table

-

Best 3mm Wetsuit for Women

For the best experience turn your device horizontally
Reviews

-

The Best Women's 3mm Wetsuit
Cressi Bahia Flex
Specs
Material

:

Nylon-2 Neoprene, Rubber

Closure

:

Front

Padding

:

Knee and Shin

Seals

:

Aqua Stop Cuffs

Seams

:

Sewn

Zippers

:

1
Features
Metal YKK Zipper
Front Closure for Easy Donning and Doffing
Flexible Panels for Ease of Movement
Available in Plus Sizes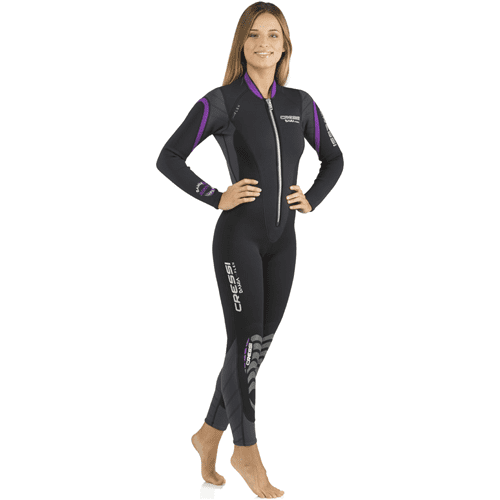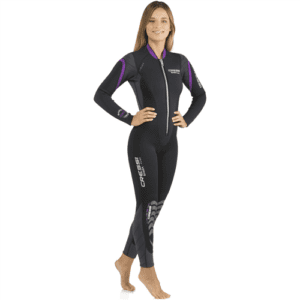 BEST FOR: CURVY GIRLS
If you're busty or curvy, you've probably tried on a few wetsuits that just didn't fit. The Cressi Bahia will. This suit is made from ultra-stretchy Neoprene and has flexible panels to give you a better range of motion. It's available in a wide range of sizes, from XS to 2XL. And, it offers a zippered front closure, making it super easy to get in and out of, even on a moving boat. This model uses a thinner material in the arms and legs too, which makes it easy to tug over your wrists and ankles. But, because this suit's seams are sewn and not glued, it is best for warm water use.
Henderson Thermoprene Pro
Specs
Material

:

Nylon-2 Neoprene, Lycra

Closure

:

Back

Padding

:

Spine and Knees

Seals

:

Lycra Cuffs

Seams

:

Double Glued and Sewn

Zippers

:

1
Features
Adjustable Collar
Padded Spine for Comfort and Protection
Friction Resistant Exterior Fabric Reduces Visible Wear and Tear
Available in Tall and Petite Sizes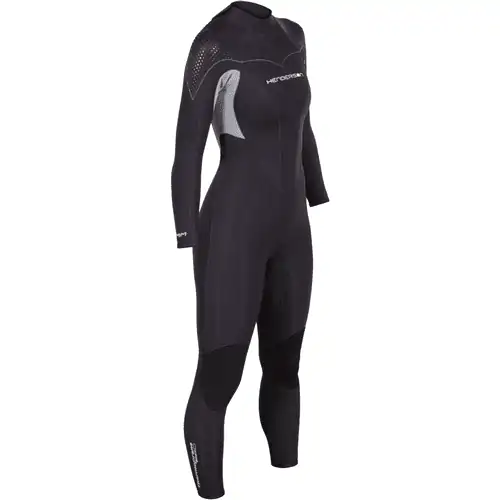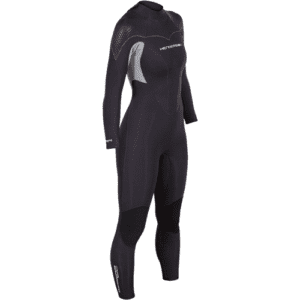 BEST FOR: OVERALL VALUE
When it comes to value, dollar for dollar, you can't do much better than the Henderson Thermoprene Pro. This wetsuit comes in a wide range of sizes, including tall and petite, so it's easy to find your perfect fit. Double glued and sewn seams reduce water seepage for maximum warmth while diving. An abrasion-resistant exterior fabric and reinforced padded knees will extend its life for seasons to come. And, comfortable Lycra cuffs make it super easy to pull over your hands and feet. Though it's hardly the most stylish option out there, this suit does everything you need it to and nothing you don't. And, it won't break the bank.
Scubapro Definition Steamer
Specs
Material

:

X Foam Neoprene, Rubber

Closure

:

Back

Padding

:

Spine, Knees, and Elbows

Seals

:

Zippered Neoprene and Rubber Cuffs

Seams

:

Glued and Sewn

Zippers

:

6
Features
Small Front Zipper at the Neck for Comfort Between Dives
Zippered Wrists and Ankles for Easy Donning and Doffing
Padded Spine for Comfort and Protection
Diagonal Back Closure for Easy Zip and Unzip
Abrasion Resistant Shoulders and Seat Increase Durability
Made from Petroleum Free Materials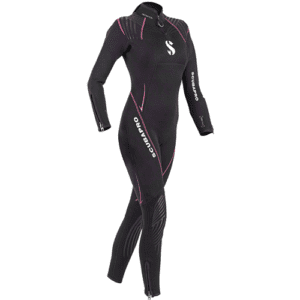 BEST FOR: DIVERS WHO GET COLD
Do you get cold underwater? The Scubapro Definition Steamer provides all the warmth of a heavy-duty wetsuit but is still light and compact enough for dive travel. And, thanks to an innovative design, all that extra warmth doesn't equal discomfort during donning and doffing. This model is super easy to get in and out of, thanks to its zippered wrists and ankles, and diagonal back closure. And, a small front zipper at the neck will keep you feeling comfortable between dives, so you won't have to take your suit off while you wait. Keeping your wetsuit on topside also helps retain core heat and for a warmer second and third dive of the day.
Bare Evoke
Specs
Material

:

Nylon-2 Neoprene, Rubber, Celliant Infrared Fabric Liner

Closure

:

Back

Padding

:

Spine, Knees

Seals

:

Skin-to-Skin Cuffs

Seams

:

Glued and Sewn

Zippers

:

1
Features
Adjustable Collar
Padded Spine for Comfort and Protection
Seamless Underarms to Reduce Friction and Chafing
Available in Tall Sizes
Sold in Various Colors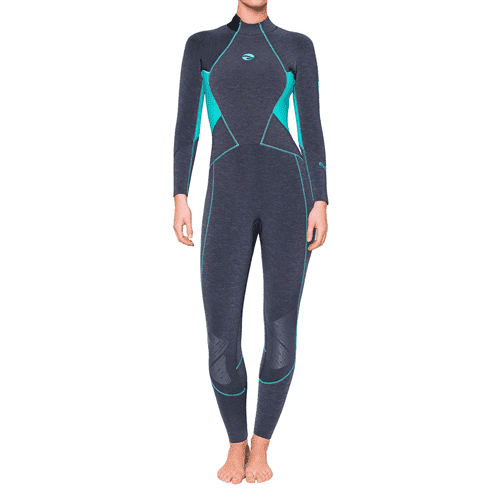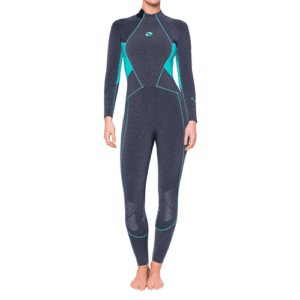 BEST FOR: FASHION FOCUSED
The Bare Evoke looks unlike any other women's wetsuit thanks to its fashion-focused design. This model, based on yoga and activewear styles, uses a flattering cut and details to accentuate and enhance your figure. And, it comes in a variety of appealing colors, too. But, this suit does more than just look good. Its innovative infrared fabric liner traps and reflects your body heat, using it to warm you to the core throughout every immersion. And, skin-to-skin seals reduce water movement at the wrists, ankles, collar, and zipper for added warmth. Small details like seamless underarms and extra padding around the spine and zipper reduce friction and chafing, keeping you comfortable underwater for longer.
Aqua Lung Quantum Stretch
Specs
Material

:

Nylon-2 Neoprene

Closure

:

Front

Padding

:

Knee

Seals

:

Skin-In Cuffs

Seams

:

Glued and Sewn

Zippers

:

1
Features
Metal YKK Zipper
Adjustable Collar
Reinforced Chest Panel for Added Core Warmth
Texturized Knee Pads for Extra Grip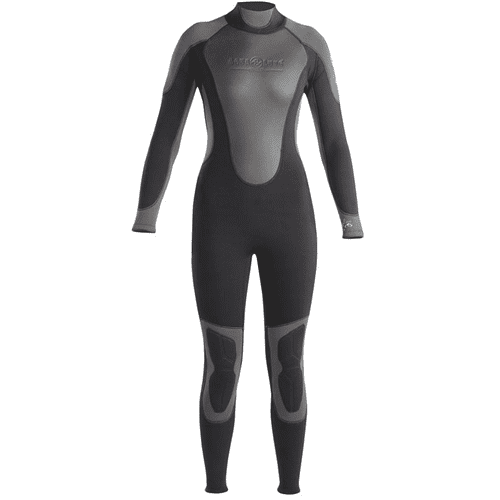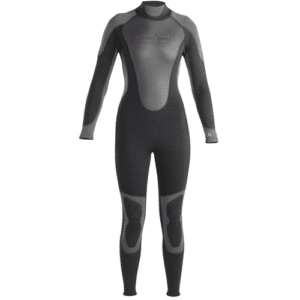 BEST FOR: BEGINNERS
Are you new to diving? Many divers like to get their own suit straight away because shop rentals can be downright gross. But, your first wetsuit is sure to take a beating. The Aqua Lung Quantum Stretch is up to the challenge! This basic model doesn't have too many aesthetic details. But, it's warm, flexible, and affordable. Its texturized kneepads offer extra protection and grip, perfect for divers learning on their knees. And, its reinforced chest panel provides extra warmth around your core, where you'll need it the most. Best of all, this is one of the most affordable options on the market.
THINGS TO CONSIDER WHEN BUYING A WOMENS WETSUIT
FIT
Fit is always the most important consideration when shopping for dive gear. But, it's never more crucial than when you're buying a wetsuit. A suit that is too tight won't be comfortable, and one that's too loose won't keep you warm.
A wetsuit that fits well should be snug, but not restrict your movements. You should be able to squat and lift your arms over your head comfortably. There should be no pressure around your throat or neck. And, you shouldn't feel pinching or binding around your groin, armpits, or elbows.
Remember, when your suit fills with water it will loosen a bit. And, Neoprene fabric compresses a bit at depth, so your suit won't feel as thick. Check out this helpful article from Divers Alert Network for more basic information on wetsuits and how they work underwater.
WATER TEMPERATURE
If you are planning to dive in warm, tropical waters, a 3mm wetsuit should offer plenty of exposure protection. In fact, most divers will be comfortable in temperatures as low as 70 °F (21 °C) if they use a base layer for extra insulation. Divers who are prone to cold should consider investing in a lycra skin suit or full-body rash guard to wear under their wetsuit for added warmth.
Proper fit is vital for a wetsuit to keep you warm. A suit that is loose around the wrists, ankles, or neck will let water in. This flow of water will reduce internal heat, which means you'll get colder faster.
DONNING AND DOFFING
It's an old divers joke that putting on your wetsuit is the hardest skill in the entire Open Water course. And unfortunately for many divers, it's true! If you often struggle getting in and out of your suit, consider a model with features like zippered wrists and ankles, or a front closure.
For divers who find donning and doffing particularly difficult, Lycra socks and gloves can be lifesavers. These low friction fabrics help your hands and feet slide through a wetsuit's water-resistant wrist and ankle seals without the workout.
PADDING
Most wetsuits come with a little extra padding. But, different models are designed to protect various parts of the body. Nearly all suits have reinforced knees to prevent wear and injury while divers are kneeling on the bottom. And, some styles offer more cushion in the seat, shins, and elbows. If you are prone to lower back pain or pressure, choose a suit with a padded spine for added protection.
SEAMS
No matter how well made your suit is, a small amount of water will enter and exit through its seams. This seepage can reduce body heat and allow you to get cold underwater. So, when it comes to shopping, you'll want to buy a wetsuit with the best quality construction that you can reasonably afford.
Wetsuits designed for warm water only sometimes feature glued seams. Because these suits are for tropical climates, a bit of extra seepage is less of a concern. But, if you're a diver who gets cold easily underwater, this type of construction isn't your best bet. Opt for a suit with seams that are glued or taped, and then sewn over for a more watertight seal.
The most common type of seam found in 3mm suits is glued and sewn. First, the suit's seams are joined and coated with Neoprene cement on one or both sides (single or double glued). Then they are sewn, using a blind or flatlock stitch. Your suit's stitching is as vital to your warmth as the seam type, so choose wisely. A blind stitch allows less water to penetrate your seams.
FEATURES EXPLAINED
EXTRA ZIPPERS
A standard wetsuit has only one zipper. But, if you struggle with donning and doffing, or like to keep your suit on between dives, you'll benefit from a few extra zippers. Some models include these at the wrist, ankles, and neck. Suits designed for cold water may also feature zippers at the chest and groin for extra venting and bathroom breaks.
HIGH-QUALITY HARDWARE
The best quality wetsuits use metal zippers from reputable manufacturers like YKK and heavy-duty Velcro for closures. Avoid any model with zippers that feel flimsy, weak, or overly flexible. These cheaply made parts and pieces won't stand up to frequent use in saltwater.
PANELS FOR FLEXIBILITY AND WARMTH
Well made wetsuits often feature more than one thickness of Neoprene. Thinner panels in the arms and legs add flexibility and make your suit easier to get in and out of. Thicker panels around the core keep you warmer for longer and add a tiny bit of extra padding where you need it the most.
FRICTION AND ABRASION RESISTANT FABRIC
No matter how good your buoyancy is, you'll eventually snag your suit. And, other equipment like your BCD will rub wear spots around your shoulders and ribs. But, this kind of wear won't affect your warmth underwater. If your suit's outer appearance is important to you, you'll want a model that uses abrasion and friction-resistant materials on its exterior. These specially designed fabrics will help your wetsuit last longer and look better.
READ MORE
For more of our top scuba diving gear recommendations, check out these popular buyer's guides: