Updated on September 2, 2020
If you're an experienced diver, you've probably made plenty of immersions with a traditional, jacket style BCD. But, these days, more and more of us are changing to back inflating buoyancy compensators. These styles allow better trim underwater; they are more air efficient (require less tank pressure to fill), and they offer a better range of motion throughout your dive. But, with so many new models hitting the market, it can be hard to know what to choose. No worries! Read on for our full shopping guide, including The Adventure Junkies top picks for the best back inflate BCDs available, and the most important features and considerations to keep in mind while shopping.
For more of our top scuba gear recommendations, check out the Best Scuba BCDs.
Quick Answer

-

The Best Back Inflate BCD
Comparison Table

-

Best Back Inflate BCDs

For the best experience turn your device horizontally
Reviews

-

The Best Back Inflate Style BCD
Zeagle Express Tech
Specs
Lift Capacity

:

24 lbs

Style

:

Wing

Dry Weight

:

6.5 lbs
Features
Modular Design (interchangeable and replaceable pieces)
Doubles Compatible (can accommodate twin cylinders)
Interchangeable Bladder (bladder size can be customized for climate and diving conditions)
Easy Wash Interior (bladder attaches directly to a garden hose for easy cleaning)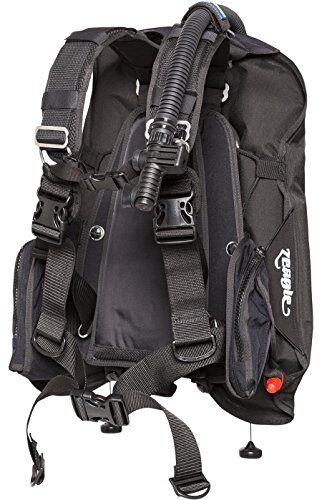 BEST FOR: DIVE TRAVEL
Sometimes referred to as "the ultimate travel rig," the Zeagle Express Tech is a lightweight wing and harness setup that can be used in a wide variety of diving environments. This BCD offers super pared down design featuring everything you need and nothing you don't. And, this style fits everyone thanks to its super adjustable webbing.
When compared with similar models, the Zeagle Express Tech stands alone as one of the most travel-friendly options available. This BCD is easy to clean and disassemble, making it perfect for divers on-the-go. Its traditional weight system and a low number of accessory attachment points make it lighter than the competition. This option is compatible with tech diving and can support a double back mount tank setup.
Oceanic Excursion
Specs
Lift Capacity

:

38 - 52 lbs

Style

:

Hybrid

Dry Weight

:

9.3 lbs
Features
Adjustable Height (waist and chest straps that slide up and down to fit all heights)
Metal D-Rings and Mounting Grommets (extra points for storing accessories)
Flexible Backplate (for easy packing and storage)
BEST FOR: REGULAR WEAR
How often do you dive? If your diving plans include more than one or two tanks a month, you'll want a BCD that can handle the wear and tear. The Oceanic Excursion offers a supportive and well-padded fit that is ergonomic enough for daily use. This model also has more storage for accessories than similar designs, making it a top pick for working divemasters and instructors.
The Oceanic Excursion is suitable for cold and challenging conditions, featuring super sturdy construction and plenty of lift. So, while it won't win any points for style, this BCD is one of the most stable and comfortable options available.
Hollis HD 200 BC
Specs
Lift Capacity

:

35 - 45 lbs

Style

:

Hybrid

Dry Weight

:

9.4 lbs
Features
Adjustable Height (waist and chest straps that slide up and down to fit all heights)
Metal D-Rings and Mounting Grommets (extra points for storing accessories)
Crotch Strap (an additional supportive strap that runs between your legs)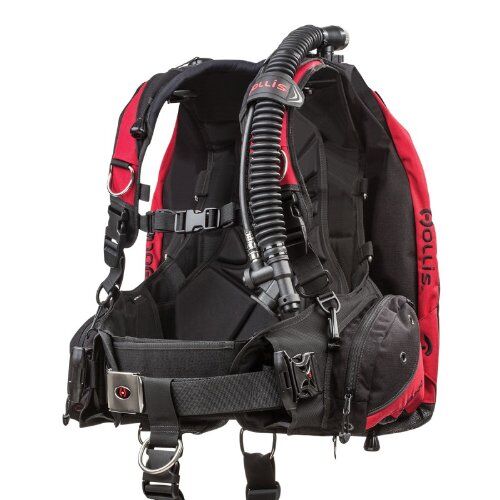 BEST FOR: ADVANCED SPORT DIVERS
If you're an experienced diver looking to upgrade your BCD, the Hollis HD200 might be your best bet. This hybrid model's straps are sturdy and highly adjustable, making it easy to don and doff. Its padded wraparound design is extra comfy above and below water. And, two zippered pockets and grommets for mounting accessories offer plenty of storage for all your odds and ends.
The Hollis HD200 provides plenty of lift, so it's perfectly suited to diving in warm or cool conditions. Plus, this is one of the only hybrid models that comes standard with a crotch strap. This extra piece of webbing promotes good trim underwater and will keep your kit from riding up on the surface.
APEKS Black Ice
Specs
Lift Capacity

:

9.7 lbs

Style

:

Hybrid

Dry Weight

:

52 lbs
Features
Adjustable Height (waist and chest straps that slide up and down to fit all heights)
Metal D-Rings and Mounting Grommets (extra points for storing accessories)
Flexible Backplate (for easy packing and storage)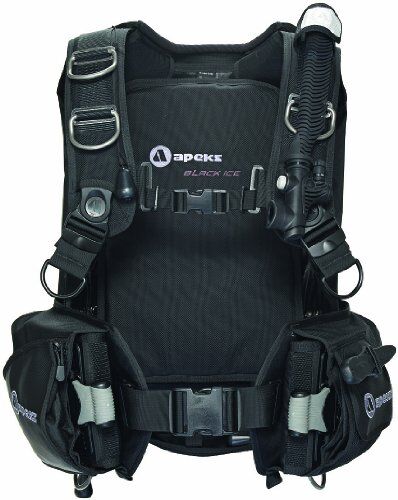 BEST FOR: COLD WATER DIVERS
The Apeks Black Ice is a back inflating hybrid system, designed with cold water divers in mind. Its straightforward straps and wraparound design make it a breeze to don and doff, even while wearing thick gloves. You'll find plenty of easy-to-access storage for accessories like knives, torches, and surface signaling devices. And, it offers plenty of lift for divers using thick wetsuits and drysuits, too.
This BCD is one of the bulkiest in its class, and it isn't super stylish. But, you won't mind the extra weight if you're diving in cold water. Because the Apeks Black Ice was designed for wear over a thick exposure suit, it's better padded than the competition. So, you'll never wrestle with plastic parts and pieces digging into your back or sides.
Scubapro Hydros Pro
Specs
Lift Capacity

:

36 - 40 lbs

Style

:

Back Inflate

Dry Weight

:

8 - 9 lbs
Features
Modular Design (interchangeable and replaceable pieces)
Metal D-Rings and Mounting Grommets (extra points for storing accessories)
Flexible Backplate (for easy packing and storage)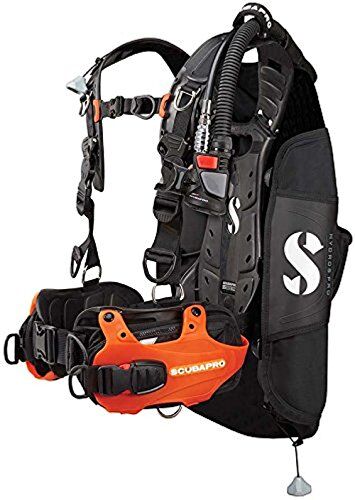 BEST FOR: VERSATILITY
The ScubaPro Hydros looks totally different than any other BCD on the market thanks to its one-of-a-kind modular design. Almost every piece of this hybrid, back inflating system can be removed or replaced without the help of a service technician. So, while pricier than the competition, this system is highly customizable, versatile, and affordable to repair.
The Hydros is, without a doubt, one of the most durable designs available thanks to its fabric-free Monoprene harness. This material is quick drying, never frays or tears, and attaches to the bladder with ultra-lightweight injection molded plastic parts and pieces. And, the optional crotch strap will keep your harness from riding up, even in rough surface conditions.
THINGS TO CONSIDER WHEN BUYING A BACK INFLATE BCD
Simply put, back inflate BCDs aren't for everybody. But, they are gaining in popularity. Just like when shopping for a traditional jacket BCD, you'll want to choose a style that fits well and feels comfortable both above and below water. If you've never used this type of buoyancy compensator, consider diving with a few different rental models to see if it's the right style for you. And, check out these considerations and features to focus on before you start shopping!
STYLE
Back inflate BCDs come in two main styles: hybrid and wing.
Hybrid buoyancy compensators fit much like traditional jacket style BCDs and are the most popular back inflating design. They are easy to don and doff, as they slide over the shoulders like a standard model. And, they feel more stable and comfortable on the surface than a wing because they don't tend to push your face and shoulders toward the water. Most hybrid systems include an integrated weight system and storage for accessories.
Wing style BCDs look and operate completely differently than their hybrid counterparts. Once reserved for technical diving and exploring overhead environments like caves and wrecks, this dressed down style combines a donut or horseshoe shaped bladder and a harness for a much more lightweight and agile piece of equipment. These BCDs are easier to travel with, more streamlined underwater, and offer a huge range of motion. But, they can be a bit uncomfortable on the surface, as they promote horizontal trim by pushing your face and shoulders forward. Wing style BCDs do not typically include weight integration or storage for accessories.
FIT
Fit is the most important factor, no matter what piece of gear you're shopping for. A properly fitting BCD should feel snug around your chest and waist without squeezing or pinching while full. When empty, it shouldn't slide around on your shoulders or back. If you're unsure of your size, consider what diving environments you'll be exploring, and be sure you have plenty of room for adjustment in all your straps and buckles. This is especially important if you plan on diving in cold water or using a dry suit.
When it comes to hybrid back inflate BCDs, you'll want a snugger fit than with a traditional jacket style. This will help your equipment stay in place if you aren't using a crotch strap to prevent it from riding up. Wing and harness setups use a continuous piece of adjustable webbing cut for your body. This style of BCD offers the most customizable fit possible.
TYPE OF DIVING
What type of diving do you plan to do? Back inflate BCDs are highly versatile and built to withstand the extra challenges associated with diving in cold water or rough surface conditions. But, some environments and technical diving may require specialized equipment. If you're hoping to take on these exciting and advanced pursuits, be sure to research your specific needs before shopping!
LIFT
Lift refers to how much weight your BCD's air bladder can offset. If you dive in cold climates or naturally require a lot of lead, shop for a model that is up to the challenge. A BCD that can't lift enough won't hold your head and shoulders high above water when you're on the surface, especially if you are using a back inflating style. And, it can create problems when controlling your buoyancy below water, more so if you are using a large amount of weight. When in doubt, buy a BCD that offers more lift than you think you'll need.
DRY WEIGHT
Back inflate BCDs often weigh more than their traditional counterparts. So, they aren't your best bet for warm water dive travel. A wing and harness setup will be the lightest option when it comes to this style, but even these models will most likely weigh more than 5 lbs.
Keep in mind that your BCD's dry weight may affect how much weight you need while diving. A heavy buoyancy compensator might cause you to feel overweighted, and reduce the amount of lead that you need to use during your dives. Because back inflate models are intended for cold water and challenging conditions, they often feature heavy duty details like thick cushioning, metal zippers, and steel D-rings. Keep in mind that these added features up your gear's weight substantially.
FEATURES EXPLAINED
MODULAR DESIGN
Most modularly designed BCDs are back inflating systems with interchangeable straps and panels. These models are easier to service and repair and last longer than their traditional counterparts because each part of the BCD can be removed and replaced. All those individual parts and pieces make it super easy to create a 100% custom fit, too.
DOUBLES COMPATIBLE
Some technical divers use more than one tank per immersion. These days, sidemount is becoming more and more popular, but you may still want a BCD that is doubles compatible. These models can hold two tanks side by side on your back, secured by a tank band.
INTERCHANGEABLE BLADDER
Sometimes, you just need more lift. A BCD with an interchangeable bladder will allow you to install a larger sized wing, for that extra boost. This feature also comes in handy for dive travel and packing purposes because your disassembled wing and harness is quite compact.
EASY WASH INTERIOR
Keeping your gear clean is the best way to extend its life. But, your BCD is one of the hardest pieces of equipment to wash and maintain. If you regularly dive in salt water, consider a model that features an easy clean interior. This design element allows you to attach your BCD's bladder directly to a hose or faucet for a super simple internal wash.
CROTCH STRAP
A crotch strap is an extra piece of webbing that runs between your legs, attaching the BCD's backplate to a waistband or cummerbund. This keeps your equipment firmly pressed against your back, and prevents it from riding up. While this extra strap may feel uncomfortable at first, most divers find that it corrects their trim underwater and keeps their gear snug and secure on the surface.
READ MORE
For more of our top scuba diving gear recommendations, check out these popular buyer's guides: