Updated on December 21, 2021
Get ready for another roundup of the cream of the crop ski gear. We're dropping into this ski season by highlighting an often overlooked tool: the ski pole. Most people buy 'em cheap, others don't examine them as closely as their poles, boots, and bindings – and some people just forgo them all together! However, if you want to have the best skiing experience away from the resorts and groomed runs, you're going to need the best set of backcountry ski poles.
Backcountry ski poles are designed specifically for those who are trekking away from the crowded runs at resorts in search of fresh powder and a truly wild ski environment. To that end, they need to be multifunctional: able to act as a hiking pole as you ascend the mountain before converting to a ski pole for when you descend.
Not only will a solid set of ski backcountry ski poles help get you from A to B, but they'll help you maintain stability and the speed necessary to aggressively tackle a run. If you're doing any type of carving, especially in powder, ski poles can help you plant and pivot into your next turn. Whatever the application, we've rounded up the best backcountry ski poles for your next off-piste adventure.
For more of our top ski gear recommendations, check out the Best Ski Poles.
Quick Answer

-

The Best Backcountry Ski Poles
Black Diamond Expedition 3

Black Diamond Carbon Whippet – Single
Comparison Table

-

Best Backcountry Ski Poles

For the best experience turn your device horizontally
Reviews

-

The Best Poles for Backcountry Skiing
Black Diamond Vapor
Specs
Adjustable

:

No

Weight

:

10.4 oz.

Shaft Material

:

Carbon Fiber

Basket Type

:

Powder
Features
One-Piece Design Adds To Minimalist Construction
Ultralight Foam Used For Grips To Keep Overall Weight Low
Freeride Baskets Are Minimal Yet Effective At Keeping Poles Above Snow

BEST ULTRALIGHT POLES
Weighing in at just 10.4 ounces for the entire pair, the Black Diamond Vapor Carbon ski poles are the lightest backcountry ski poles on the market. What makes these poles so light, yet incredibly strong, is their carbon fiber construction. For those who don't realize, carbon fiber is 10x stronger and 3x stiffer than steel.
The tops of the poles, just above the grips, interestingly feature a "sticky" rubber grip that when turned upside down can be used to adjust bindings and snow boot buckles. This makes minor and quick adjustments much easier than having to balance and bend down.
One potential drawback of these poles is their lack of compact adjustment as many backcountry skiers prefer a pole that can be packed away easily. However, the one-piece design is what makes these poles so incredibly light that most people will be able to overlook this.
Black Diamond Expedition 3
Specs
Adjustable

:

Yes

Weight

:

1 lb. 2.4 oz.

Shaft Material

:

Aluminum

Basket Type

:

Powder
Features
External Lever-Lock Uses Friction To Keep Adjusted Length Secure
Baskets Can Be Swapped Out For Hiking (sold seperately) Or Skiing
Adjustable Width Straps Accommodate Bare Hands For Hiking And Gloves For Winter


BEST MULTI-SEASONAL POLES
Are you a multi-sport adventure enthusiast? Do you take to hiking when there's no snow but trade in your hiking boots for skis once the snow season has commenced? Then the Black Diamond Expedition 3's are your best investment.
No need to double dip the wallet and buy two sets of poles when these crossover poles can tackle both sports! Designed for all-season use, the Expedition 3's are meant to be swapped between 3-season hiking and snow season skiing. Just change out the powder baskets (the collar near the pole tip) for a smaller basket when the weather warms up.
These poles also pack down extremely well, with locking mechanisms that let you adjust the height in two places. This is ideal considering you'll need your poles to be different lengths for both hiking and skiing.
Dynafit Speed Vario 2.0
Specs
Adjustable

:

Yes

Weight

:

14.7 oz.

Shaft Material

:

Carbon

Basket Type

:

Powder
Features
Push-Button System Makes Adjustment A Breeze
External Lever-Lock Uses Friction To Keep Adjusted Length Secure
Wrist Straps Double To Provide Extra Stability For The Hike Up The Mountain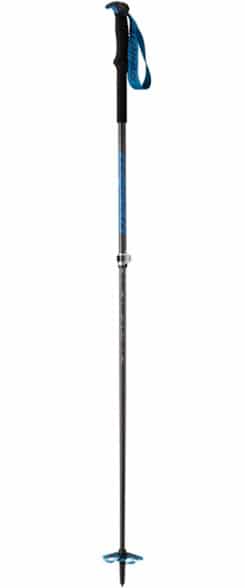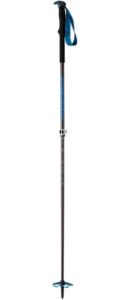 BEST POWDER AND OFF-PISTE POLES
When hitting fresh powder and backcountry runs, the Dynafit Speed Vario 2.0 are the best ski poles you can possibly have in your arsenal. Crossing the intersection of lightweight and durable, these poles are a mad scientist mix of Dynafit's best poles.
Made from carbon, a super lightweight yet strong material, the Speed Vario 2.0's deliver a responsive touch in harsh conditions. The low weight combined with the adjustable length push-button system make these poles ideal for backcountry pursuits.
Lastly, these poles also have extended grips, giving you a wider range of grip area for the climb up the mountain. They feel more like walking sticks than fancy hiking/ski poles – in a good way!
Black Diamond Carbon Whippet – Single
Specs
Adjustable

:

Yes

Weight

:

15.7 oz.

Shaft Material

:

Aluminum Upper / Carbon Lower

Basket Type

:

Powder
Features
Includes 2 Adjustment Mechanisms For Ultimate Compatibility
Removable Steel Ice Pick Provides Extra Security On Icy Terrain
External Lever-Lock Uses Friction To Keep Adjusted Length Secure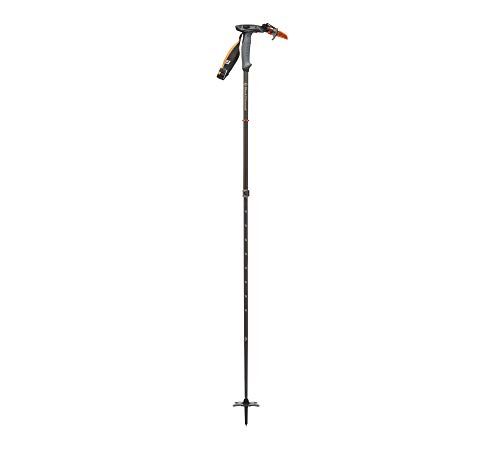 BEST MULTI-USE POLES
If you were a wizard, this would be Gandalf's staff. It can do practically anything, from mountaineering to hiking, and even skiing. Though it's only a single pole (rather than a set) many skiers opt for a more minimal style anyways, using the single pole for turns on certain backcountry conditions.
The top of the staff, I mean pole, is where the magic is: a removable steel ice pick that assists when traversing especially icy and dangerous conditions. This optional piece can easily be removed with the click of a dial and stowed safely when skiing downhill, thereby removing any potential for interference.
Also of importance is the ¾ basket (disc-like collar) found near the tips of the pole. While it sports a powder-specific basket that's wide enough to plant in deep snow, it cleverly reduces the overall weight and footprint by shaving down the sides. Whizz on, wizard!
Atomic Backland FR
Specs
Adjustable

:

Yes

Weight

:

1 lb. 8 oz.

Shaft Material

:

Aluminum

Basket Type

:

Powder
Features
Designed With The Help Of Pro Skier Chris Benchetler
Hybrid Aluminum Design Blends Strength With Reduced Weight
Features Hidden Phillips And Flathead Screwdrivers Within The Pole Shafts

BEST BANG FOR YOUR BUCK POLES
Easy on the wallet and packed with features, the Atomic Backland FR ski poles are truly the best bang for your buck. Light and thrifty, they will support any backcountry skiing adventure you have in mind.
The telescoping poles are adjustable in length, allowing you to shorten them for your ascent and lengthen them for downhill skiing. The poles can also be pulled apart (beyond their maximum telescoping length) to reveal a Phillips screwdriver at the end of one shaft and a flathead screwdriver at the end of the other. These nifty tools are sure to be useful for quick gear adjustments as you traverse the backcountry.
Finally, the wrist straps on the Atomic Backland FR's feature padding for increased comfort and adjustments for proper sizing.
THINGS TO CONSIDER WHEN BUYING BACKCOUNTRY SKI POLES
HOW TO FIT SKI POLES
When determining the right size ski pole, make sure that you're wearing either shoes or your ski boots. Turn the poles upside down so that the grips are touching the floor and the bottoms are pointed to the sky.
Next, grip the pole just beneath the basket (the little disc near the tip). If your arms are at a 90° degree angle, it's a perfect fit! If your arm is less than 90° degrees, then the pole is too large; consequently if the bend in your arm is more than 90° degrees, then the pole is too small. If you're an "in-between" size, choose the shorter of two poles.
When buying online, you might not have the luxury of trying your ski poles out in person. Use the following chart to determine the right size for you when buying online.
| | | | | | |
| --- | --- | --- | --- | --- | --- |
| Pole Size | 95 cm | 100 cm | 105 cm | 110 cm | 115 cm |
| Skier Height | 4'1" – 4'4" | 4'5" – 4'8" | 4'9" – 5'0" | 5'1" – 5'3" | 5'4" – 5'6" |
| | | | | | |
| --- | --- | --- | --- | --- | --- |
| Pole Size | 120 cm | 125 cm | 130 cm | 135 cm | 140 cm |
| Skier Height | 5'7" – 5'9" | 5'10" – 6'0" | 6'1" – 6'3" | 6'4" – 6'6" | 6'7" + |
SKI POLE STRAPS
Ski pole straps have a twofold purpose: to help you form a better grip when planting your poles and to keep your poles with you (read: attached to your person) should you wipe out.
Many people put their straps on incorrectly, so make sure you know how to properly use them! When putting the straps on, put your hand up through the strap and then tug down. Wrap your hand around the strap and grip the pole with strap in hand. This will give you the proper fit and support.
BASKET
The basket of a ski pole is a small collar near the tip of your ski pole. It works like a small snowshoe in that it's designed to keep the pole from sinking too far into the snow. Standard baskets are roughly 2" across and are good for All-Mountain use. Powder baskets are larger, 4" or more across, and are specifically designed for fresh powder and backcountry skiing.
FEATURES EXPLAINED
BASKET
The disc-like collar near the tips of your poles.
EXTERNAL LEVER LOCK
A quick-clamp mechanism that helps fasten adjustable length poles.
OFF-PISTE
Any ski run that is attempted off the beaten track or in the wild.
POLE TIPS
The pointed ends (bottoms) of the ski pole that help you plant your pole in the snow/ground.
SHAFT
The long, cylindrical part of the ski pole.
READ MORE
For more of our top skiing gear recommendations, check out these popular buyer's guides: