Updated on August 10, 2021
Are you shopping for your very first BCD (buoyancy control device)? It's one of the most important pieces of equipment when it comes to your comfort and performance while SCUBA diving. So, you'll want to choose wisely. The best BCD will keep you safe and comfortable on the surface before and after your dives. And, it will help you remain stable underwater while offering plenty of fine-tuned control over your buoyancy. But you're probably wondering which are the best BCDs for beginners?
If you've been struggling to find the right model, relax. The Adventure Junkies have done the homework for you! We'll guide you through all the considerations and features to focus on while shopping for your BCD and we'll share our favorite models, hand selected to match your newbie needs. Keep reading to find your perfect fit.
For more of our top scuba gear recommendations, check out the Best Scuba BCDs.
Quick Answer

-

The Best BCDs for Beginners
Comparison Table

-

Best BCDs for Beginners

For the best experience turn your device horizontally
Reviews

-

Best Beginners' BCDs
Cressi Start
Specs
Lift Capacity

:

29-45 lbs

Weight System

:

Traditional

Release Valves

:

3
Features
Internal Handle
Extra Storage
Hose Pockets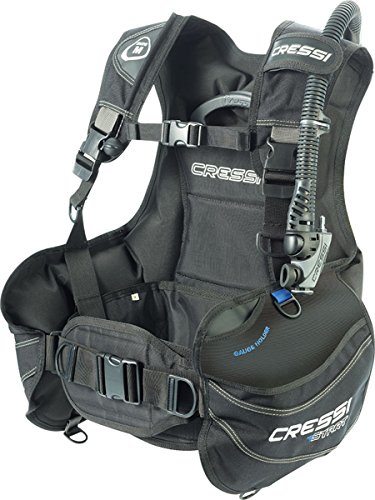 GOOD FOR: DIVERS WHO ARE TOUGH ON THEIR GEAR
If you're new to diving and want a BCD that will stand the test of time, the Cressi Start is an excellent option. This model was designed for use as rental equipment, so it's built to take a beating. And, it's one of the most affordable choices on the market, so you won't feel bad about wearing it out.
This BCD's straightforward and easy to operate design offers only the features that you need and none that you don't. Its padded hollow backplate and extra wide straps make it super stable and comfortable both above and below water. And, unlike many other basic models, its high lift capacity and traditional weight system make it perfect for diving in cooler climates.
Zeagle Focus
Specs
Lift Capacity

:

36 lbs

Weight System

:

Integrated

Release Valves

:

3
Features
Extra Storage
Trim Pockets
Folding Backplate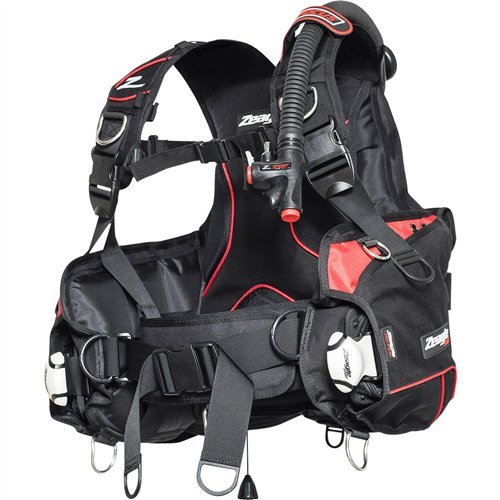 GOOD FOR: EXTRA COMFORT
When it comes to comfort, this BCD is one of the best options available. Its well-padded interior and folding backplate make for a super snug, custom fit. So, you'll never feel plastic parts digging into your back and sides. And, its highly adjustable straps make it one of the easiest models to don and doff.
The Zeagle Focus also offers more options for storage than similar designs. Its oversized pockets and numerous stainless steel and plastic D-rings make it a top pick for divers carrying a lot of accessories or working underwater. So, while this BCD is a bit bulky for dive travel, it's a top pick for everyday wear.
Aqua Lung Wave
Specs
Lift Capacity

:

18-55 lbs

Weight System

:

Traditional

Release Valves

:

2
Features
Internal Handle
Extra Storage
Hose Pockets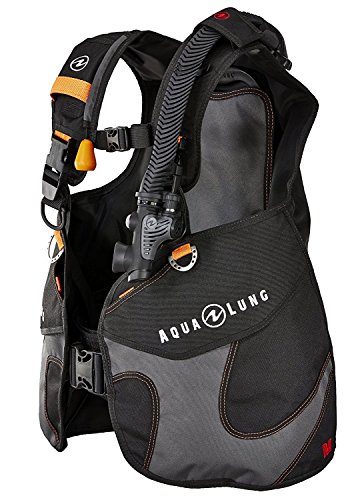 GOOD FOR: DIVERS OF ALL SHAPES AND SIZES
The Aqua Lung Wave is one of the best selling BCDs of all time, thanks to its classic and practical design. It's one of the most durable models available, and its parts are easily interchangeable. So, if you're looking for a rugged and reliable piece of gear that will last for years to come, this might be your best bet.
This stable, wrap around jacket is also available in a wide variety of sizes, making it perfect for divers of all heights and weights. The Wave features only the most basic of elements, specifically designed with beginners in mind. Though it doesn't win any points for style, this is a BCD that will absolutely stand up to wear and tear in a variety of diving environments, including cold water.
Oceanic OceanPro
Specs
Lift Capacity

:

20-58 lbs

Weight System

:

Integrated

Release Valves

:

2
Features
Hose Pockets
Trim Pockets
Folding Backplate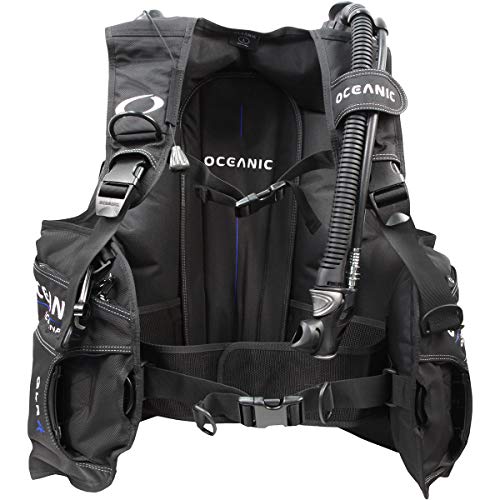 GOOD FOR: DIVERS WHO WANT A FEW EXTRA FEATURES
The Oceanic Oceanpro is an entry level BCD designed for divers who want a few extra features. This model has an integrated weight system with trim pockets, a flexible padded interior, and plenty of storage for all your accessories. Plus, it uses rugged and high-quality closures like zippers instead of Velcro for pockets and pouches.
In addition to a variety of diver-friendly design elements, this BCD offers plenty of comfort-focused perks, too. A flexible backplate and highly padded interior offer one of the coziest fits on the market. And all this jacket's straps, including the Velcro waistband, are adjustable and replaceable. So, it's easy to create a custom fit no matter what size you wear.
ScubaPro Classic
Specs
Lift Capacity

:

27-67 lbs

Weight System

:

Integrated

Release Valves

:

3
Features
Internal Handle
Extra Storage
Trim Pockets
GOOD FOR: BEGINNERS AND ADVANCED DIVERS ALIKE
Not all BCDs for beginners are created equally. And, the Scubapro Classic is, without a doubt, one of the best-made models available. Though it might come with a slightly higher price tag than other options, this piece of gear is sure to last for years to come. This BCD is a top pick among experienced divers, thanks to its stability and high-end design elements.
The Scubapro Classic BCD features internal air passages instead of an inflatable bladder. So, you'll have more control and ease of motion underwater. Plus, you can empty air from the jacket regardless of your body position. Welded seams, solid steel D-rings, and a metal closure on the waistband are sure to outlast their plastic competitors. This BCD also uses a unique buckled weight system instead of the standard integrated plastic trays, making it nearly impossible for your weights to slip free.
THINGS TO CONSIDER BEFORE BUYING YOUR FIRST BCD
FIT
No matter what dive gear you're shopping for, a good fit is the most important factor to look for. Ill-fitting equipment won't work well underwater, and you're likely to regret the purchase later on. While most BCDs are created to fit a wide variety of shapes and sizes, it is still very important to try before you buy.
A properly fitting BCD should be snug but not tight, and it shouldn't move too much around your chest and shoulders. So, once you tighten the straps, you shouldn't feel the jacket pulling to one side or the other or riding up.
It's also important to choose a model with a backplate that feels comfortable and sits at the right height. Your waistband should rest comfortably across your belly without squeezing or creating any pressure.
WEIGHT SYSTEM
BCDs are designed with either traditional or integrated weight systems. Which one suits you best depends on a lot of different factors. But, no matter which style you choose, the most important things to consider are whether your equipment can carry enough weight for you and how easy your weights are to release in an emergency. This is especially important for divers who need to carry a lot of lead, or those diving in cold climates.
Traditional weight systems are completely separate from your BCD. These include weight belts, pouches, and vests. A traditional weight system has many benefits. For example, it has less moving parts and accessories than integrated pockets. So, you are far less likely to lose or break it. Non-integrated weights are also easier to release, especially for newly certified divers.
Integrated weight systems secure inside the BCD itself. These are usually attached via buckles or clips and include some small pockets for non-releasable trim weights, too. While they are harder to release, integrated systems are easier to control on the surface, as they split your weight into multiple pouches.
VALVES
Most BCDs include 2 or 3 dump valves. These allow you to release air from the jacket as needed in a variety of different body positions. The 2 main valves are generally located on the right shoulder and lower right corner of the jacket, but some BCDs offer a third built into the inflator hose. This allows you to quickly release air by tugging on the hose instead of depressing the deflate button.
LIFT
How much your BCD can lift will determine how much weight you can safely use while wearing it. This is extremely important for divers who wear a lot of lead, and those in cold water climates. A BCD with too little lift will leave you feeling uncomfortable and overly heavy on the surface. It can also cause buoyancy control issues underwater, especially if you're diving with a large amount of weight. You should consider all the environments that you will be diving in before making a purchase. And, keep in mind that when in doubt, more lift is always better.
DRY WEIGHT
How much your BCD weighs dry is a major factor for dive travel. Your jacket is often the heaviest piece of gear you'll pack, and the bulkiest, too. So if you're planning to fly with your equipment multiple times per year, a light model might be best. Keep in mind that extra perks like steel D-rings, integrated weight systems, and extra cushion all add weight to your gear bag.
A BCD's dry weight can also impact how much lead you need to dive. This effect is especially noticeable for divers in warm water environments and those who use a small amount of weight to begin with.
FEATURES EXPLAINED
INTERNAL HANDLE
Some BCDs include an interior carrying system, usually a plastic handle, for easier handling above water. While an internal handle might seem bulky at first, it can be beneficial. Handles are especially helpful for shore divers, or anyone who frequently carries their equipment over long distances. And, they can make it easier to hang your gear to dry.
EXTRA STORAGE
All BCDs come with at least 1 pocket, but some offer very minimal space for storage. If you dive with a lot of accessories, you should purchase a BCD with at least 2 large pockets and multiple D-rings. Extra storage is also vital for anyone working underwater. So if you plan to go pro, keep this feature in mind.
HOSE POCKETS
There are plenty of ways to store your octopus (spare regulator) and pressure gauge, but many divers prefer to tuck them into hose pockets located on the front of their BCD. This storage system will reduce the risk of your gear catching on anything underwater and reduce your drag, too.
Keep in mind that your pockets will work best with traditional rubber hoses. Braided and flexible materials will easily slip out of your BCD and should be stowed using clip-on accessories like octopus holders.
TRIM POCKETS
If you're diving with an integrated weight system, you'll quickly notice that all your lead sits on the front of your body. This uneven distribution of weight can cause problems with your trim underwater. And, it can cause you to overarch your lower back which can cause discomfort.
Trim pockets allow you to distribute some weight onto your back, which prevents both of these issues. And, it will reduce your tendency to float up toward the surface when your tank is low.
FOLDING BACKPLATE
Your BCD will take up more space than any other piece of gear. A rigid backplate makes your jacket harder to pack around, which is why divers who travel frequently often prefer a folding backplate that can conform to the shape of their gear bag or easily stuff into a duffle. Folding BCD styles are typically more lightweight too, making them perfect for frequent fliers.
Keep in mind that folding backplates do offer less support. They are best for divers in warm climates and those who use a small amount of weight.
READ MORE
For more of our top scuba diving gear recommendations, check out these popular buyer's guides: