Updated on March 29, 2022
Flying down a rushing river riding giant waves is both thrilling and dangerous. It takes some paddlers many years and many runs to feel truly comfortable in Class IV or V rapids. And every river changes from year to year and season to season. When you're just getting into whitewater river running, you need a solid vessel upon which to practice. In this article, we're going to detail ten of the best beginner whitewater kayaks to purchase when you're just getting into this adrenaline-packed extreme sport!
For more of our top kayaking gear recommendations, check out the Best Whitewater Kayaks.
Quick Answer

-

The Best Beginner Whitewater Kayaks
Advanced Elements Attack Pro
Comparison Table

-

Best Beginner Whitewater Kayak

For the best experience turn your device horizontally
Reviews

-

The Best Whitewater Kayak for Beginners
Advanced Elements Attack Pro
Specs
Type

:

Inflatable

Length

:

9'9"

Weight

:

25 pounds 8 ounces

Weight Capacity

:

225 pounds

Width

:

35"

Cockpit Size

:

20" x 12"

Inflatable Chambers

:

3
Features
Includes Drainage Ports In The Bottom That Allow Water to Self-Bail
Heavy-Duty Hull And Independent Bladders For Double Wall Thickness
Covered Rear Storage Area For Dry Bags And Other Gear
Twelve-Inch Rise At Bow (Front) And Stern (Back) For Added Maneuverability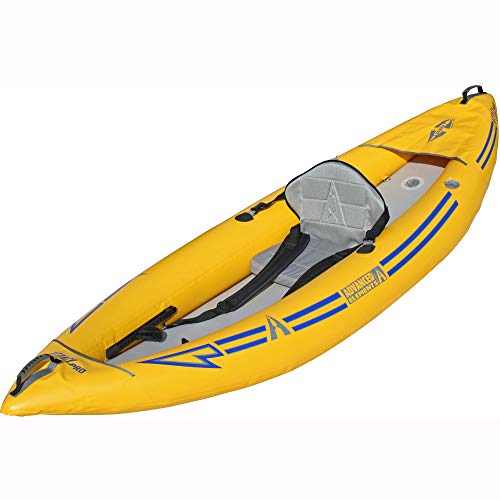 BEST FOR: COMPACT STORAGE
Sometimes you might not have storage space for a hard kayak. Or maybe you don't have a vehicle that can safely transport a larger model. That's when an inflatable kayak like the Advanced Elements Attack comes in handy. It's a rugged inflatable kayak with a heavy-duty PVC hull that's reinforced by independent PVC bladders for added durability. The rear storage area gives you the space you need to store gear and/or dry bags. The 12-inch rises at the front and rear of this kayak help with both stability and maneuverability so you won't be likely to fall over or out while running rapids in this inflatable 'yak.
STAR Raven I
Specs
Type

:

Inflatable

Length

:

9'10"

Weight

:

38 pounds

Weight Capacity

:

220 pounds

Width

:

38"

Cockpit Size

:

18" x 12"

Inflatable Chambers

:

3
Features
Stable And Responsive Design
Durable Seams For Improved Longevity
Easy-to-Use Inflation And Deflation Valves
Padded Folding Seat For Comfortable Paddling
BEST FOR: TRAVELING WHITEWATER KAYAKERS
This lightweight inflatable kayak is great for the adventurous whitewater seeker. The STAR Raven I has  a stable and responsive design that fares well from slow-moving flatwater to Class IV rapids. It boasts state-of-the-art welding technology for better abrasion resistance so that this kayak lasts longer. It's easy to inflate and deflate with simple valves and the padded seat keeps you comfortable in an ergonomic paddling position.
Dagger Katana 9.7
Specs
Type

:

Solid

Length

:

9'7"

Weight

:

50 pounds

Weight Capacity

:

210 pounds

Width

:

27.75"

Cockpit Size

:

35.5" x 20"

Inflatable Chambers

:

N/A
Features
Adjustable Seating System With Leg Lifters For Added Comfort
Precision Adjustable Hip Pads And Thigh Braces
Adjustable Tracking System For Improved Performance In Adverse Conditions
Stern Hatch And Bungee Deck Rigging For Storage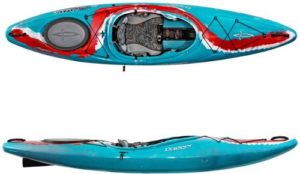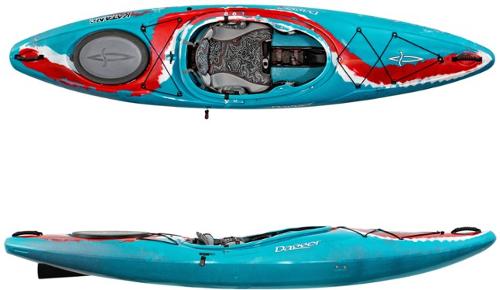 BEST FOR: SMALLER PADDLERS
The Katana 9.7 from Dagger Kayaks is perfect for you if you're a paddler with a smaller build, or if you don't require a kayak with a bunch of extra storage space. It's a compact "crossover" kayak, which means it will still perform in flatwater but it's perfect if you're a beginner whitewater explorer.
The leg lifters in the kayak's cockpit help you keep your knees comfortably bent without having to use your muscles to hold them up. This allows you to find a comfortable position. Hip pads and thigh braces can be adjusted to your body type and provide extra cushion and padding as you bounce around down the river. This kayak also comes with an adjustable skeg system that helps you track straight if you decide to take it out on flatwater.
Driftsun Rover 120
Specs
Type

:

Inflatable

Length

:

8'6"

Weight

:

22 pounds

Weight Capacity

:

300 pounds

Width

:

36"

Cockpit Size

:

26" x 13"

Inflatable Chambers

:

3
Features
Rigid Floor For Improved Maneuverability
Reinforced Material For Longevity
Adjustable Seat Makes It Easy To Find A Comfortable Position
Inflates In Just Six Minutes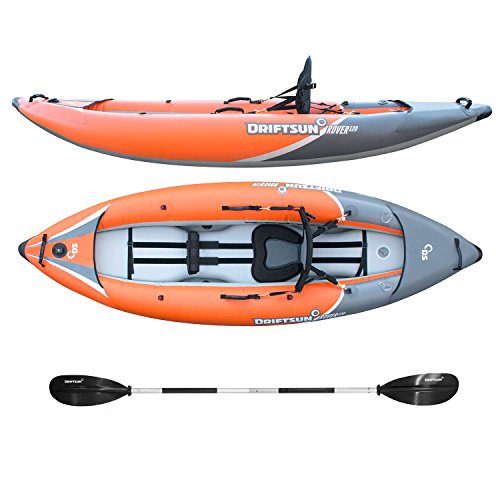 BEST FOR: TRAVELERS WHO DON'T HAVE A LOT OF STORAGE SPACE
This inflatable whitewater kayak is a great choice if you like to chase the best river running conditions but you don't have a ton of extra storage space in your vehicle. It inflates in just six minutes so you can get on the river quickly and the rigid design still allows you to make technical maneuvers with ease. The durable material is resistant to tears and punctures and this kayak comes with the full package of accessories. It includes a removable seat and footrests, a lightweight aluminum paddle, a double action hand pump, a removable tracking system, and a lightweight travel bag.
Liquidlogic Remix XP 9
Specs
Type

:

Solid

Length

:

9'2"

Weight

:

46 pounds

Weight Capacity

:

220 pounds

Width

:

26"

Cockpit Size

:

36" x 21.5"

Inflatable Chambers

:

N/A
Features
High Seat Back For Comfortable Ride
Retractable Skeg (Fin) For Better Tracking In Windy Conditions
Rear Dry Storage Compartment Keeps Your Belongings Safe And Dry On Your River Run
Adjustable Foot Pegs For Comfort
BEST FOR: WHITEWATER AND FLATWATER PERFORMANCE
The designers of the Remix XP 9 kayak were determined to bridge the gap between whitewater and flatwater kayak designs. This kayak has a high seat back to keep your torso upright and comfortable when you're paddling all day. It plays off the many years of experience that Liquidlogic has designing high-quality whitewater kayaks, and then incorporates elements that allow it to perform better on flatwater as well.
The skeg is essentially a fin that drops down behind the kayak to help it track better in windy conditions or when you encounter strong currents. It also offers a dry storage compartment in the rear of the kayak to keep your belongings safe and dry. And the adjustable foot pegs will allow you to adjust to a comfortable position easily so you can get the most out of your ride.
THINGS TO CONSIDER WHEN BUYING A BEGINNER WHITEWATER KAYAK
SKILL DEVELOPMENT
As a beginner whitewater kayaker, there are a handful of skills you should develop before heading out on the river. At the most basic, safety skills are imperative to make sure you know how to roll (literally!) with the variables that a river can throw at you. Understanding your skill level and investing in skill development is one of the first things to consider before you've even purchased a whitewater kayak. Take some time to research paddling classes or courses on the basics of whitewater kayaking in your area!
KAYAK TYPES
Whitewater kayaks can be broken down into five sub-categories. These categories are mainly defined by the kayak's length, but there are some other factors at work here too. We'll provide a brief synopsis of these whitewater kayak types.
Long Boats
Long boats are generally defined by a length of more than 9 feet. They'll have a higher volume than their shorter counterparts and some can be considerably skinnier as well. They are best for extended whitewater expeditions because most include extra storage space. However, getting a longer kayak means you'll sacrifice maneuverability.
Creek Boats
As their name suggests, these kayaks are meant for running creeks and narrow rivers. They're usually between 7.5 and 9 feet in length and maintain a voluminous shape that helps them carry speed and negotiate difficult waters. These boats tend to have a large rocker and either soft or hard chines, depending on the needs of the individual paddler (more on rockers and chines below).
River Runners
Kayaks that fall into this distinction are actually about the same length as creek boats (7.5 to 9 feet). Where they differ, however, is in the hull design, which is generally flatter and includes less rocker. This gives these boats the ability to maintain more speed and control on straight line runs. They maintain adequate maneuverability, which makes them a great choice for learning on easy to moderate whitewater rapids.
Playboats
Playboats are generally 6.5 to 8 feet in length. In essence, these boats combine the maneuverability that skilled paddlers desire for freestyle paddling with the performance needed for navigating downriver. These boats are also usually characterized by symmetrical bow and stern designs.
Dynamic Freestyle Boats
Kayaks that fit into this sub-category are usually under 7 feet in length. They feature planing hulls that allow the paddler to execute surfing and aerial tricks. As you might imagine, these boats are best suited to experienced, skilled paddlers, but they're also not meant for challenging whitewater because they are difficult to maneuver when running downriver.
CHINES
A kayak's chine is the part of the boat that sits below the surface of the water. Chines can generally be categorized as "hard" or "soft." Hard chines will give a kayak more stability and the paddler more control. A kayak with softer chines will be more forgiving to both the paddler and the water, which means it will forgive errant or erratic paddle strokes. However, each chine design comes with drawbacks.
Hard chines are more likely to get caught on obstacles in the river and cause you to lose control. They will also respond to currents and changes in water flow more than soft chines, which can make it feel much more difficult to control the kayak.
Soft chines, on the other hand, require much more input from the paddler. Because they're more forgiving, you'll generally need to paddle more frequently to get a kayak with soft chines to go where you want it to. They also don't allow you to control the boat by tipping or angling it with your torso, which can be a helpful technique in some whitewater situations.
In general, a kayak with soft chines is better for shallower, rockier areas. A kayak with hard chines will provide more maneuverability and finesse techniques as your whitewater skills develop.
ROCKER
Rocker is defined as the amount of upward curve in the hull (or bottom) of your kayak. A larger rocker (more curve) will allow the kayak to ride over waves and obstacles more easily. It will also make your boat more maneuverable.
Less rocker (less curve) will make your kayak track straighter and capable of maintaining speed better. Most of the best beginner whitewater kayaks seek to find a balance on what you might call the "rocker scale." This allows you to maneuver the kayak without too much effort, but still generate the speed you need to get through lower class rapids.
WEIGHT
The last factor to consider is a simple one: the weight of your kayak. Generally, a heavier kayak will be harder to maneuver but able to generate more speed. In turn, a lighter vessel is easier to maneuver but not as capable of achieving speeds that some larger rapids do require.
As a beginner whitewater kayaker, speed might not be the most important factor to you. But weight also comes into play when you're transporting your kayak. Ultimately, you should make sure you're comfortable carrying your kayak to get it to the water's edge, or to portage a short section of rapids that you're not feeling comfortable running.
FEATURES EXPLAINED
BOW
The bow is the front part of the kayak. It is generally where you'll have an internal bulkhead for added flotation (but not always).
STERN
The stern is the back of the kayak. Many whitewater kayaks have a hatch for internal dry storage in the stern area.
FERRY
To ferry in a kayak is to cross a river from one eddy to another. Ideally, this is done without losing any distance downstream on your way.
BULKHEAD
The bulkhead of a kayak is essentially an internal compartment. This compartment is designed to act as an airtight and watertight section of the kayak's body. The air that is trapped in this compartment provides the kayak with added buoyancy to keep the kayak afloat.
FLOATING BACKREST
This provides support for your lower back while sitting in your kayak. It can be adjusted to keep you in a more aggressive paddling position or to allow you to recline and relax on gentler river sections.
COCKPIT
The cockpit is the area where you sit to maneuver your kayak and navigate down river. Most whitewater kayaks are compatible with a spray skirt that goes over the cockpit to create a sealed compartment.
SPRAY SKIRT
This is a skirt that is worn by the kayaker. Generally made of neoprene, a spray skirt will seal off the kayak's cockpit so that no water can enter while paddling.
READ MORE
For more of our top kayaking gear recommendations, check out these popular buyer's guides: