Updated on April 27, 2022
Bodyboarding takes a lot of guts. You carve, flip, and cruise on waves that are usually taller than yourself. Having the right equipment makes bodyboarding much easier, not only for catching waves but also for getting out to them in the first place. This article features ten pairs of bodyboarding fins that will keep you out on the water, constantly seeking a wave better than the last. Check out the list below and snag yourself a pair of fins that work best for you!
For more of our top bodyboarding gear recommendations, check out the Best Body Boards.
Quick Answer

-

The Best Bodyboard Fins
Dorsal Bodyboard Swimfins

Churchill Makapuu Swimfins
Comparison Table

-

Best Bodyboard Fins

For the best experience turn your device horizontally
Reviews

-

Best Fins for Bodyboarding
US Divers Shredder II
Specs
Color

:

Red/Black

Paddling

:

Fast

Acceleration

:

Slow
Features
Large Drainage Channel Empties Water Quickly So You Don't Get Weighed Down
Adjustable Foot Strap For Customized Sizing
Built-In Leash System Keeps Your Fins From Floating Away
Compact Design Makes The Fins Easy To Transport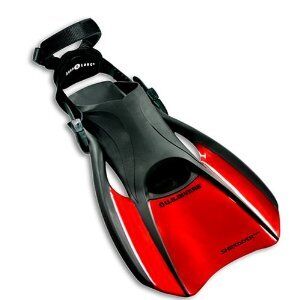 BEST FOR: CUSTOMIZABLE FIT
There are two unique features of this pair of bodyboarding fins. First, they have an adjustable strap. Bodyboarding fins break-in over time, which is why it's recommended to buy a pair of fins that are a bit smaller than your street shoe size. These fins will allow you to err on the side of caution when purchasing. Second, the fins come with a built-in leash system. If the waves are pounding and they trip your fins off your feet, you won't have to worry about chasing them far since they'll stay attached to your body! These fins are unique, but they also perform well.
Dorsal Bodyboard Swimfins
Specs
Color

:

Green/Black

Paddling

:

Moderate

Acceleration

:

Fast
Features
Drainage Hole At The Top Of The Foot Is More Comfortable
Stiff Blades For Extremely Fast Acceleration
Unique Design Promises Faster Speed And More Control
Soft And Supple Foot Pocket Molds Around The Foot For Comfort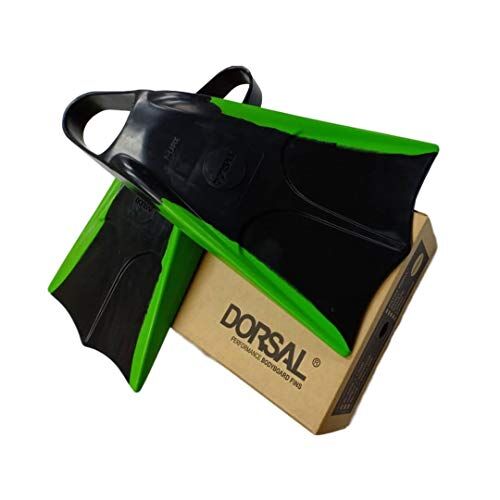 BEST FOR: DRAINAGE
Most fins on the market today have a drainage hole underneath the foot, which allows for sand to enter into the fin easier. The Dorsal Bodyboard fins are unique because they move the drainage hole to the toe of the fin. These fins are also made with a different material than the others – gum rubber. Some bodyboarders claim that they mold around the foot better than others. These fins will get you out to the waves and perform well for you once you get out there.
DaFin Black Swimfins
Specs
Color

:

Multiple Options

Paddling

:

Moderate

Acceleration

:

Moderate
Features
Designed By Bodyboarding Legends For Dependable Performance
Endorsed By The United States Lifesaving Organization
Middle Dorsal Fin Makes Fins Rigid And Responsive
Fins Float In Salt Water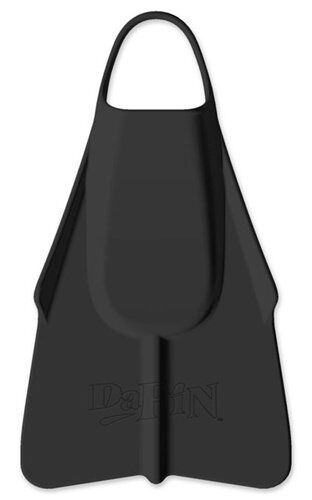 BEST FOR: BODYBOARDING LIFEGUARDS
The Dafin Black Swimfins are one of the oldest bodyboarding fins on the market. They've been used by bodyboarders since the very beginning of the sport. They also happen to be the only fins that are endorsed by The United States Lifesaving Organization. If you're a lifeguard who catches waves between shifts, your boss will be happy to see you with these bad boys. They are also wider than other fins, helping them strike a balance between paddling speed and acceleration.
Kpaloa Waterman
Specs
Color

:

Black/Green

Paddling

:

Slow

Acceleration

:

Fast
Features
Great For All Levels Of Bodyboarders, From Beginners To Experts
Specifically Designed For Water Surface Leg Kicks
Fins Come With Free Mesh Bag For Easy Storage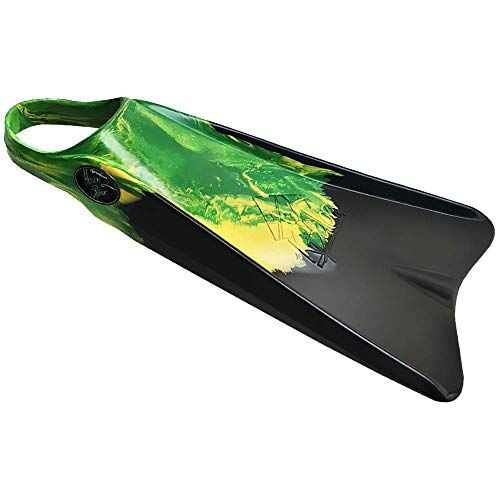 BEST FOR: SURFACE KICKS
Most fins try to strike a balance between performing on the waves and performing on the paddle out to the waves. This pair focuses primarily on performance on the wave. When you are trying to boost yourself, you're going to be doing a lot of surface kicks. These fins were designed to do just that. Also, while most fins have one large drainage hole, these fins have three. If you've been disappointed with traditionally built fins, give these ones a shot.
DMC Repellor Fins
Specs
Color

:

Green/Black

Paddling

:

Fast

Acceleration

:

Moderate
Features
Unique Shape And Design Allow For Fin To Contact Water At Multiple Points
Silicone Composition Of Fins Is Extremely Flexible And Comfortable
Ridges At Both Sides Of Fins Allow For Great Control In Water
BEST FOR: MAXIMUM SURFACE AREA
It seems as if different animals are the best way to describe the performance of fins. While others use terms like duck feet or dorsal fins, these fins compare themselves to a squid. Yes, you read that correctly. The fins really stick to the water, which allows them to generate a ton of power. These fins have extremely large sidewalls as well. This makes the fins extremely powerful and the top contender for best bodyboarding fins on the list.
Churchill Makapuu Swimfins
Specs
Color

:

Blue/Yellow

Paddling

:

Slow

Acceleration

:

Fast
Features
Unique Shape Makes Fins Lightweight With Great Acceleration
Stiff Side Rails For Powerful And Controlled Kicks
Large Drainage Hole Keeps Sand And Water Out Of Fin
Rounded Footbox For Tight Fit Around Foot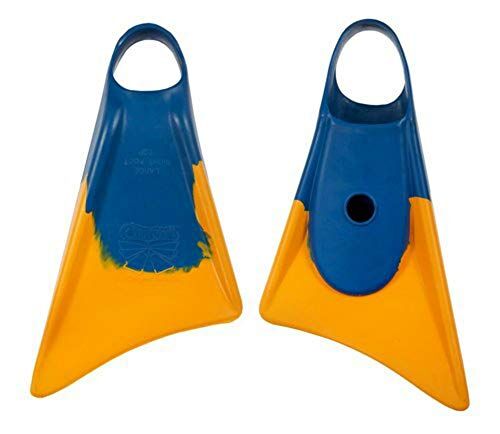 BEST FOR QUICK ACCELERATION
These fins are the smallest on the list and have the most unique shape. Together they form a dolphin fin shape. This removes a lot of material on the insides of the fin, keeping them lightweight and giving them better accelerating abilities. The fit of these fins is flexible and they mold around the feet, but they also feature an extremely stiff toe to aid with acceleration. If all you care about is getting going as quickly as possible, these are the fins for you.
Hydro Tech 2 Fins
Specs
Color

:

Multiple Options

Paddling

:

Fast

Acceleration

:

Moderate
Features
Designed To Mimic Natural Movement Of Foot
Small And Comfortable Ankle Strap
Super Soft Silicone Construction Makes Fins Extremely Comfortable
3 Drainage Holes To Ensure Sand And Water Stay Out
BEST FOR: DROP KNEE RIDING
The Hydro Tech 2 fins are a contender for the best fins on the list. What makes them stand out are two things — comfort and versatility. The foot box on these fins is shaped like a foot, which gives them a much more natural feel. It also allows for the force to be spread out to the entire foot, instead of just the toes. The fins are best for drop knee riders. Why? Well they are designed to avoid catching in the upright position. If you aren't sure exactly which fins to purchase, give these a shot. You won't be disappointed.
Cressi Agua Short Fins
Specs
Color

:

Black Blue

Paddling

:

Fast

Acceleration

:

Slow
Features
Longer Fins Are Great For Paddling Out To Waves
Very Flexible Design Makes Fins Easy To Store
Fins Can Be Used For Multiple Different Water Sports
Self Adjusting Foot Pocket For Great Comfort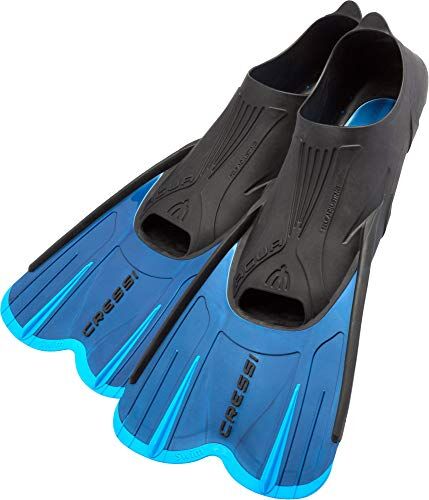 BEST FOR: PADDLING OUT
Even though these fins are considered the shorter version of Cressi fins, they are larger than others on the list. There are two main advantages to this. First, paddling out to catch waves is quicker and simpler. Second, the fins can be used for other water activities, such as snorkeling, SCUBA diving, and swimming.
These fins aren't as stiff as others on the list, which makes them easier to store. However, reviewers have complained that the fins tend to lose their stiffness over time. If you want an all-around pair of fins to use in the water, these are for you. If you want fins only for bodyboarding, consider another pair on the list.
Voit Duck Feet
Specs
Color

:

Blue/Green

Paddling

:

Moderate

Acceleration

:

Moderate
Features
Double Drainage Holes Makes Fins Fast And Comfortable
Extended Middle Dorsal Fin For Great Control
Soft Rubber Foot Pocket Allows You To Stay In The Water Longer
Fins Are Dependable And Date Back To The 1950's
BEST FOR: DEPENDABILITY
If you've been bodyboarding for a while, chances are you've heard of these legendary fins. The fins are called Duck Feet for a reason. With no structured foot box, the shape of the fins truly mimics that of a duck. The middle of the fin has a stiff ridge, which will keep you in control and also allow you to accelerate quickly. These fins strike a great balance between acceleration and paddling speed. They have a great reputation and you can be guaranteed that these fins will perform for you.
THINGS TO CONSIDER WHEN BUYING BODYBOARD FINS
ACCELERATION
The acceleration of fins is one of the things that makes bodyboarding fins stand out. Most bodyboarders prefer fins that accelerate quickly so that they can catch a wave with minimal effort. Fins that accelerate fast are typically stiffer and smaller.
COMFORT
If you're a serious bodyboarder, chances are you're going to be spending a lot of time in the water. For this reason, try to choose a pair of bodyboarding fins that boast extreme comfort.
Typically fins that mold to your foot's shape are preferred over fins that hold the same stiff shape. Another thing that factors into the fin's comfort is the heel strap. If you are blister prone, consider buying a pair of fins that have an adjustable heel.
DRAINAGE
Where you want your fins to drain is a personal preference. Underneath the arch of the foot was once the standard. Nowadays, however, fins are putting drainage holes near the toes of the foot. The advantage of this is that sand will not become trapped if you walk out to the water. However, your foot will not make such direct contact with the water, which is ideal for quick acceleration.
PADDLING
This refers to how well your fins help you get out to the waves. Bodyboarding fins are typically shorter and stiffer, which makes paddling out more difficult than other types of water fins.
SIZE
Due to their rubber construction, bodyboarding fins break-in over time. That's why buying fins that are a bit smaller than your street shoe size is recommended.
SPECS AND FEATURES EXPLAINED
BUILT-IN LEASH SYSTEM
Fortunately, fins are designed to float. However, this doesn't mean they will stay near to you after coming off. Fins with a built-in leash system will stay attached to you even if they slip off in a big wave.
DESIGNED TO MIMIC NATURAL MOVEMENT OF FOOT
Fins with this technology are shaped to fit tightly around your foot. The stiffness of the fin is uniform instead of being reinforced along the edges or middle of the fin.
READ MORE
For more of our top surfing gear recommendations, check out these popular buyer's guides: