Updated on April 19, 2022
Without a bodyboard leash, you may spend more time chasing your board instead of catching waves. In fact, it would be pretty stupid to try and bodyboard without one. What makes bodyboard leashes unique is the fact that they are coiled, unlike surf leashes. Most leashes feature swivels, allowing you to avoid tangles and protecting the outer rails of your board. We've compiled a list of the best bodyboard leashes of 2022, designed to help you pick the right leash for you. Pick a leash, pick a color, and get yourself out on the waves ASAP.
For more of our top surfing gear recommendations, check out the Best Bodyboards.
Quick Answer

-

The Best Bodyboard Leashes
Creatures of Leisure Ryan Hardy
Comparison Table

-

Best Bodyboard Leash

For the best experience turn your device horizontally
Reviews

-

The Best Leashes for Bodyboarding
Specs
Colors

:

Bright Blue, Bright Pink, Ebony Black

Connection

:

Bicep, Wrist

Leash Plug Included

:

Yes

Swivel

:

No
Features
Made With Heavy Duty Thermoplastic Polyurethane So It Won't Break Easily
Super Comfortable Neoprene Cuff For All Day Wear
Comes With Free Installation Tutorial Video Via Email
100% Satisfaction Guarantee -- If You Aren't Pleased, You Can Return For A Refund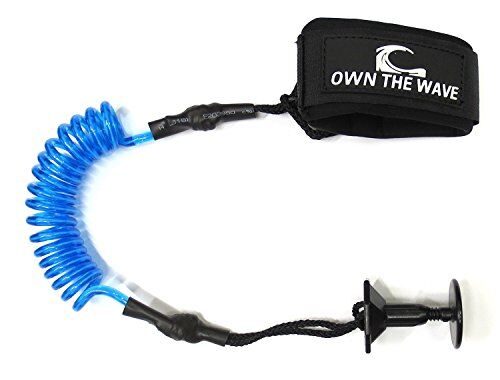 BEST FOR CUSTOMER SATISFACTION
The company that makes this first leash says it all — Own The Wave. This leash is designed to help you do just that. The company really puts an emphasis on customer satisfaction. After purchasing the leash they will send a video to your email that explains the process of installing your leash. To top things off though, the leash is backed by a 100% satisfaction guarantee. If you aren't pleased with the leash, you can return it for a full refund. What more could you ask for?
BPS Storm PRO
Specs
Colors

:

Black, Clear/Black, Dark Blue, Green, Light Blue, Red, White

Connection

:

Wrist

Leash Plug Included

:

Yes

Swivel

:

Dual Stainless Steel
Features
Handy Hidden Key Pocket In Cuff
Cuff Has Strong, Reinforced Velcro
100% Satisfaction Guarantee -- If You Aren't Pleased, You Can Return For A Refund
Super Quick Release System To Keep You Safe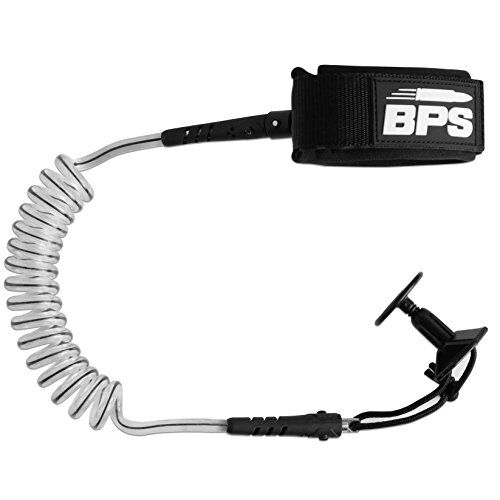 BEST FOR HIDDEN KEY POCKET
If the color of your leash matters, this may be the leash for you. It is offered in more colors than any leash on the list. The leash also is one of the only leashes on the list that has a hidden key pocket in the cuff. This will allow you to store your key while you're out catching waves. The BPS Pro doesn't just look great, it performs well too. If you aren't pleased, you can even return the leash for a full refund.
DAKINE Coiled
Specs
Colors

:

Black, Cyan/Pink

Connection

:

Bicep

Leash Plug Included

:

Yes

Swivel

:

100% Marine Grade Stainless Steel
Features
Highest Quality Coiled Urethane Dura-Cord Is Dependable And Extra Strong
Molded Neoprene Cuff Is Super Comfortable
Hook And Loop Velcro System Is Very Dependable

BEST FOR DURABILITY
The Dakine Coiled has all the things that you could want in a bodyboard leash. The cuff is the smallest of all the leashes on the list, which makes the leash feel as if it isn't even there. The swivels on this leash are made with top of the line marine grade stainless steel. Other leash swivels may deteriorate over time, but not this one. The leash will stay out of your way and last for a really, really long time.
TAGVO
Specs
Colors

:

Black

Connection

:

Bicep, Wrist

Leash Plug Included

:

Yes

Swivel

:

Stainless Steel Double Swivel
Features
Padded Neoprene Is Comfortable On Either The Bicep Or The Wrist
Hidden Key Pocket In Cuff For Easy Key Storage
Comes With Free Waterproof Waist Carry To Protect Valuables In The Water
Super Strong Velcro And Reinforced Stitching Makes Leash Long-Lasting And Durable
BEST FOR BONUS WAIST CARRY
Leaving your things on the beach can be sketchy, especially if you go to the beach alone. Fortunately for you, this leash from Tagvo comes with a free waist carry. You can store your wallet, phone, keys, and other things in it, strap it around your waist, and catch waves without having to worry about your things. The leash is made with high strength material and stretches out to over 4 feet. The cuff is also very durable, made with super-strong velcro and reinforced stitching.
XM Bodyboard Leash
Specs
Colors

:

Red, Yellow, Blue, Black

Connection

:

Bicep

Leash Plug Included

:

Yes

Swivel

:

Double Swivel
Features
Backed By A 3 Year Warranty If Leash Breaks Or You Are Unsatisfied
Designed, Manufactured, And Tested By Pros In California
Cuff Is Made With Comfortable Neoprene And Ultra Strong Velcro
Strap Is Made With Hook And Loop, Allowing For Easy On And Off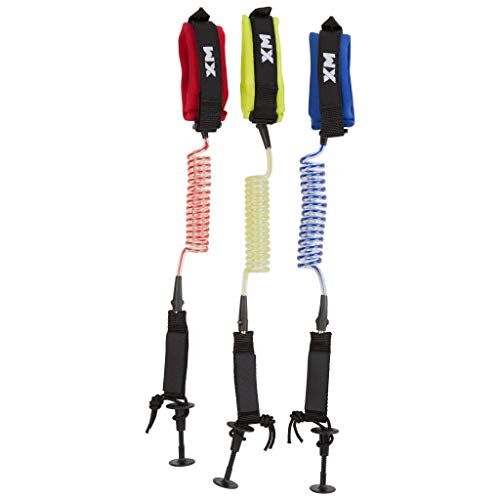 BEST FOR SIMPLE PUTTING ON AND TAKING OFF
The Power Ring is touted as the perfect leash for the bodyboarder who rides any wave that comes their way. The leash comes in four different colors, each of which has a cuff and cord that matches. The cuff has the same hook and loop technology as other leashes on the list. It's also made with neoprene, making it super comfortable. This leash is tested and proven, but if you're not satisfied, you can send it back to the company for a replacement or refund.
Creatures of Leisure Ryan Hardy
Specs
Colors

:

Black/Black, Navy/Orange

Connection

:

Bicep

Leash Plug Included

:

No

Swivel

:

360 Degree Rotator Swivel System
Features
Cuff Features Patented Non-Slip Technology
DNA Flex Mold Absorbs Impact And Resists Breaking Under Pressure
Quick, Easy Release Tab In Case Of Emergencies
Heat Bonded Coil For Longevity And Durability
Rotator Swivel System Allows For Full 360 Degree Movement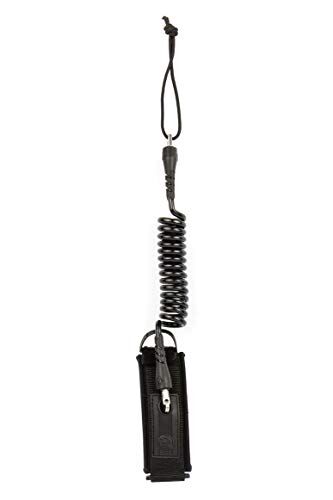 BEST ALL-AROUND LEASH
Looking for the best leash on the list? Look no further. The Creatures of Leisure leash is a very specialized leash. It's made with a unique DNA flex mold, which absorbs impact better than any other coil on the list. This is especially nice when you're paddling out to catch waves. The leash was specifically designed for medium size waves, but it can handle massive waves just as well as other leashes on the list. You also won't have to worry about the cuff slipping off as it comes with Creatures of Leisure's patented non-slip technology.
THINGS TO CONSIDER WHEN BUYING A BODYBOARD LEASH
CONNECTION
It's important to consider where you want your leash to connect — your wrist or your bicep. If the leash is connected to your bicep, it will stretch out more than if it is connected to your wrist. For this reason, bodyboarders who ride drop-knee will prefer a leash that connects to their wrist. Bodyboarders who use their arms to catch waves will prefer to have the leash connect to their bicep. If you want to play it safe, purchase a leash that can be connected to both parts comfortably.
LEASH PLUG INCLUDED
Without a leash plug, you won't have anything to attach your bodyboarding leash to. Most of the leashes on this list come with a leash plug. If you already have one on your board, you can save the extra plug for when your old one blows out. Before you use your new plug, be sure you know how to install a leash plug without damaging your board.
SWIVEL
Without a swivel on your leash, you risk the leash becoming tangled around your arm. Even though all bodyboarding leashes are coiled, there is still a risk that you can become tangled in the event of a big wave. Leashes with marine-grade metal or stainless steel metal will last much longer than those without.
WARRANTY/SATISFACTION GUARANTEE
If you're buying your first ever bodyboard leash, you may not have much of an idea what you are looking for in a leash. If you're skeptical about whether or not a leash is right for you, buy one that comes with a warranty or satisfaction guarantee.
FEATURES EXPLAINED
DOUBLE SWIVEL
This means that the leash has swivels at both ends, near the cuff and on the leash plug. This allows for ultimate versatility and flexibility.
EASY RELEASE TAB
There is always a possibility that your leash gets trapped on something underwater. This can be fatal if you can't remove your leash. This is where an easy release tab comes in handy. You can unstrap your leash and avoid a fatal accident.
HOOK AND LOOP WEBBING
Hook and loop webbing makes putting your leash on much easier. Instead of just strapping together with velcro, the strap will first go through a small loop of plastic. You can put the velcro through this and slip your hand through the cuff before attaching the leash.
READ MORE
For more of our top surfing gear recommendations, check out these popular buyer's guides: