Updated on August 27, 2020
Bodyboarding is the ideal way for kids to ease into swimming, surfing, and earning their water wings. If you're in the market for a quality bodyboard, we've put together a list of the best bodyboards for kids. These boards have smaller profiles, brighter colors, and specific features for children.
When your kids are playing in the water, you want to make sure they have the most fun in the safest manner possible. The bodyboard gives them a platform to drop-knee surf, bodysurf, or float. Pair these kids' bodyboards with a PFD in their size for extra peace of mind.
For more of our top surfing gear recommendations, check out the Best Bodyboards.
Quick Answer

-

The Best Bodyboards for Kids
Own the Wave Beach Attack

Morey Bodyboards Mini Boogie
Comparison Table

-

Best Bodyboard for Kids

For the best experience turn your device horizontally
Reviews

-

The Best Kids' Bodyboard
Bo-Toys
Specs
Length

:

33", and 41"

Tail Shape

:

Crescent

Size Limit

:

40-180 lbs
Features
Lightweight and Impact Resistant
Comes with a Wristband and Leash (so your child won't lose the board)
Super Slick Bottom with Channels (for maximum glide across the water)
60/40 Rails (for sharpening your skills)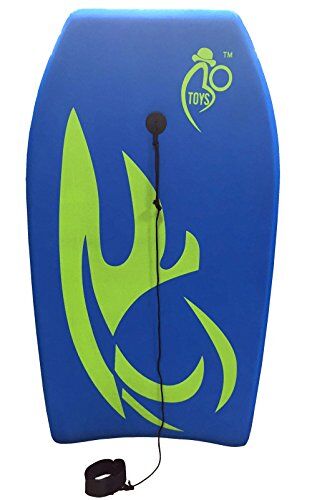 BEST FOR: BEACH VACATION WAVE-RIDING
If you're looking for a new way for your little ones to experience the water, set them up with a Bo-Toys Bodyboard. They'll have a blast riding over the top of the waves or pretending to surf. Either way, their hours on your beach vacation will be well spent. We apologize in advance for how hard it's going to be to get them out of the water.
GYMAX
Specs
Length

:

41"

Tail Shape

:

Crescent

Size Limit

:

up to 145 lbs
Features
Comes With Leash (so your child won't lose the board)
Rear Channels (to keep consistent contact with the water's surface)
Slick Bottom ( glides across the waves)
Lightweight and Durable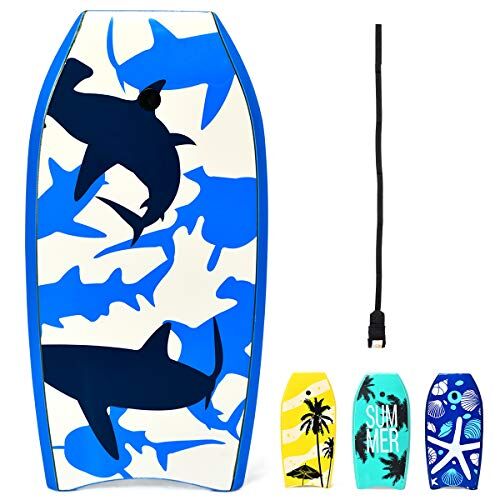 BEST FOR: TESTING THEIR DROP-KNEE SKILLS
Give your son or daughter a chance to develop their surfing skills by starting with a bodyboard. This maneuverable board gives them a quality surface to test their drop-knee and potentially standing skills before they graduate to more progressive surfing skills. One of the best features of this board, though, is the variety of designs available, including snakeskin and hibiscus patterns.
GoPlus Super
Specs
Length

:

33", 37", and 41"

Tail Shape

:

Crescent

Size Limit

:

4'-5'11" tall, 89-189 lbs
Features
Tropical Designer Patterns
Slick Bottom (glides across the water)
Resists Weather, Water, and Shock
60/40 Rails (good control on large waves)
Includes a Leash and Wristband (so your child won't lose the board)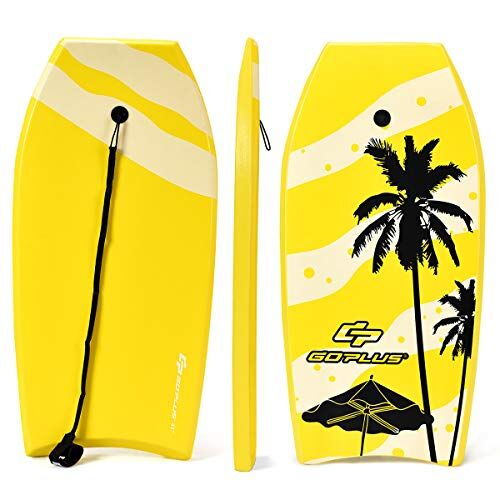 BEST FOR: KIDS WITH A WATER FIXATION
Some kids just don't want to come out of the water, no matter how blue their lips or wrinkled their toes. Nurture their love of water with a board that lets them familiarize themselves with the surf. Even in an indoor swimming pool, your child can learn how to paddle and keep his or her head above the water without intervention. This bodyboard is easy enough for them to carry on their own too.
Own the Wave Beach Attack
Specs
Length

:

33", 37", and 41"

Tail Shape

:

Crescent

Size Limit

:

2'-5'9" tall, 60-188 lbs
Features
Comes With a Leash and Fin Tethers (so the board won't float away)
Slick Bottom (glides across the water)
Rear Bottom Channels (keeps more consistent contact with the surface)
60/40 Rails (for better control on bigger waves)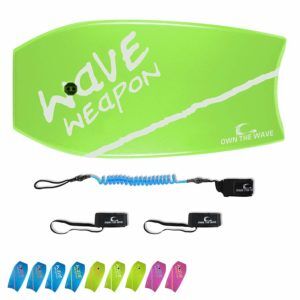 BEST FOR: RIDING THE TIDE TO SHORE
If you want to spend more summer afternoons out on the water, then you should consider some new water toys like this kid-friendly boogie board. This bodyboard has hours (days!) of fun built into it, making good use of your free time. Kids love to try surfing and riding waves all the way to shore on this raft. To boot, the handy leash and fin tethers save parents of kids who are prone to losing things lots of grief.
Morey Bodyboards Mini Boogie
Specs
Length

:

21"

Tail Shape

:

Crescent

Size Limit

:

For Small Children
Features
Foam Core (keeps the board lightweight and buoyant)
Slick Bottom (glides across the water)
Absorbs Impact Easily To Prevent Injury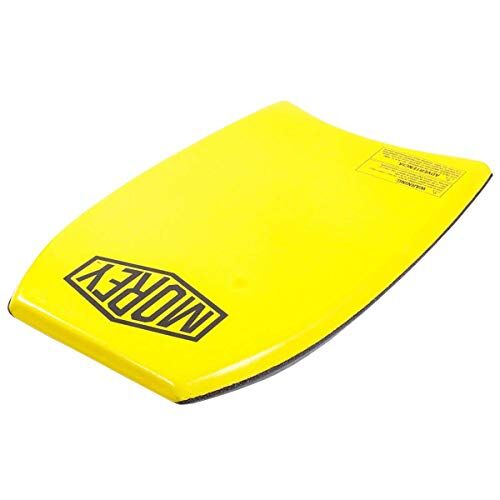 BEST FOR: TINY TOT WATERPLAY
Just like your toddler, this mini bodyboard has all the features of a full-size model on a much smaller scale. While you probably won't send your tiny tots out to catch waves, you can teach them water basics and build their confidence with this board. The mini Morey can also be used as a kickboard for beginner swimming lessons or a platform for action figures. You're only limited by your imagination.
The Slyde Grom
Specs
Length

:

19"

Tail Shape

:

Crescent

Size Limit

:

None
Features
Super Advanced Construction, Debuted on Shark Tank
Soft, Grippy Top (for enjoyable comfort)
Ultra-Slick Bottom Surface (slides down waves)
Secure Hand Strap
Ultra-Portable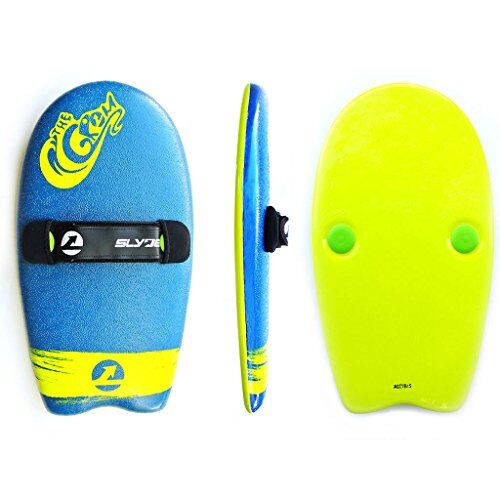 BEST FOR: BODYSURFERS WITH BODYBOARDING INCLINATIONS
From the inventors of handboarding, the Slyde lets your brood try a new hybrid version of bodyboarding and bodysurfing. Instead of using just their body or a full-size board to ride waves, your kids can try gliding over the waves on their hands. And you don't have to lug the kid-friendly handboards around like a full bodyboard or surfboard. They fit in your beach bag!
THINGS TO CONSIDER WHEN BUYING BODYBOARDS FOR KIDS
PRICE
Bodyboards are usually quite inexpensive, especially compared to paddleboards and surfboards. The boards in this list all come in under $100, but typically cost more than your store-bought brand because of their high-tech features such as bottom slicks and leashes. Thankfully, children usually don't need anything fancier than a board that floats to get them interested in water sports.
USE
You might want to ask yourself a few questions before choosing a bodyboard for your child such as: How serious is your kid about boarding? Will they use it for the swimming pool or the ocean? Will they use it all summer or only occasionally? More robust models are best for those who have more serious boarding ambitions in the open water while toy models are more appropriate for occasional backyard use.
CHILD SIZE
Bodyboards typically have height and weight limits, so you need to pay attention to those specifications to make sure you choose the right board for your child. Bodyboards don't perform well if they're weighed down and your kid may have a difficult time maneuvering a board that's too wide for their wingspan. Use the manufacturer's specifications to help you find the right size. Otherwise, use this chart to help you gauge size.
TAIL SHAPE
Most bodyboards have a tail that's shaped like a crescent or bat wings. Children's boards tend to carry the crescent shape since it's more beginner-friendly and comfortable. The curved shape wraps nicely around the torso and makes it easier to climb aboard. You may see an occasional rounded square tail, like the Wave Bandit has, which makes it more functional and kid-friendly than your standard board.
FEATURES EXPLAINED
RAILS
The rails of a bodyboard refer its sides or thickness, and their design is usually listed as a percentage (i.e. 50/50, 60/40). The numbers refer to how much of the rail is dedicated to the top portion (which connects to the deck) and how much is dedicated to the bottom (which contacts the water). Professional bodyboarders pay close attention to these numbers (learn more here), but it typically doesn't impact children very much.
LEASH
Like a dog leash, a bodyboard leash keeps your board within arm's reach at all times. If you're worried about your kids losing their boards when they fall or get distracted, then a leash is an important feature to have. That way, they never get separated from their board.
DECK
The deck is the top of the board, where your child rides. The deck usually has a straightforward foam construction, but some decks have additional features such as body contours and grippy surfaces to make the ride a little more comfortable.
FIN TETHERS
Fin tethers hold your child's flippers to their ankles with a short leash so they don't go missing either. Again, if your child tends to lose their belongings, fin tethers are a worthy investment.
CHANNELS
Channels are indents molded into the bottom of the board, which distribute weight over the water better than a flat surface. Channels help the board grip the wave and help move you in your intended direction.
SLICK
A slick is the material on the bottom of a bodyboard, which is usually slippery, reducing friction against the water. With less drag, super-slick bottoms allow you to gather more speed. The slick also lends support and durability to the board.
GROM
Short for grommet, grom is a term used to describe a young person who participates in extreme sports like surfing.
Learn more about the features of a body board here.
READ MORE
For more of our top surfing gear recommendations, check out these popular buyer's guides: