Updated on October 9, 2020
Camping on the cold, hard ground again to save money? Getting some comfy zzz's in the outdoors doesn't have to cost you an arm and a leg. With the best budget sleeping pad nestled underneath you, you'll get some much needed rest at a fraction of the cost.
To help you in your quest for the most comfortable yet affordable sleeping pad in your budget range, we rounded up our top picks. We'll also give you the lowdown on what to consider so you can find the best sleeping pad for your budget.
For more of our top backpacking gear recommendations, check out the Best Backpacking Sleeping Pads. 
Quick Answer

-

The Best Budget Sleeping Pads
Big Agnes Insulated Air Core Ultra

Therm-a-Rest RidgeRest SOLite
Comparison Table

-

Best Budget Sleeping Pad
Reviews

-

The Best Sleeping Pads on a Budget
NEMO Switchback
Specs
Type

:

Foam Pad

Insulation

:

Yes

Weight

:

14.5 oz.

Thickness

:

0.9 in.
Features
Plush Foam
Increased Body Warmth
Very Durable

BEST FOR: HIKERS PREFERRING A FIRM PAD
If you're hard on gear, the Nemo Switchback is your answer to a good night's rest. This rugged sleeping pad is durable enough to take a beating on the trail for those who need it most. 
Nemo uses two layers of proprietary foam in the Switchback's closed-cell design to increase plushness and protection. The top layer remains uncompressed after a night's rest which means the egg-carton style pattern can trap in more body heat while the shiny thermal film reflects it back to your body. Meanwhile, the abrasion-resistant foam can stand up to all the roots and rocks you encounter in the outdoors.
Therm-a-Rest Z Lite Sol
Specs
Type

:

Foam Pad

Insulation

:

Yes

Weight

:

14 oz

Thickness

:

0.75 in.
Features
Lightweight
Durable
Reflective Bottom Increasing Warmth

BEST FOR: THRU-HIKING BACKPACKERS
The ever-popular Therm-A-Rest Z Lite Sol is a favorite in the thru-hiking community. Coveted for its ultralight weight and durability, this accordion-style pad packs up in a snap and is easy to strap onto a backpacking pack. 
The Therm-A-Rest Z Lite Sol features a closed-cell foam design which increases insulation while offering a softer top yet firm bottom for your comfort. Adding to your comfort level, this sleeping pad also reflects heat to increase warmth on colder nights.
Therm-a-Rest Trail Pro
Specs
Type

:

Self-inflating

Insulation

:

Yes

Weight

:

2 lbs. 2 oz.

Thickness

:

2 in.
Features
Self-Inflating
Thick Pad
Convenient

BEST FOR: YEAR-ROUND USE
If you're looking for year-round comfort, the Therm-A-Rest Trail Pro is a terrific choice. Designed for four-season use, this U.S.A sourced sleeping pad has an exceptional warmth to loft ratio that maximizes comfort.
As a self-inflating pad, you'll find setting up the Therm-a-Rest Trail Pro is a breeze. Simply unroll it, open the valve, and watch it inflate. With a few additional breaths, the mattress will go from soft to firm in seconds.
Big Agnes Insulated Air Core Ultra
Specs
Type

:

Air Pad

Insulation

:

No

Weight

:

1 lb. 4 oz.

Thickness

:

3.5 in.
Features
Easy To Inflate
Thick Pad
Cool In Warm Weather
BEST FOR: SUMMER CAMPING
Hot, sweaty summer nights are best matched by an uninsulated pad. For this, we recommend the Big Agnes Air Core. This sleeping pad is designed to keep you cool and comfortable at an affordable price. 
For fast setup, this thick air pad comes with an efficient high-volume valve that makes it just as easy to pack up as it is to set up. If popping the pad is a concern, you can sleep soundly knowing the Big Agnes Air Core is constructed from a tough, durable fabric.
REI Co-op AirRail Plus
Specs
Type

:

Self-inflating

Insulation

:

Yes

Weight

:

1 lb. 9 oz.

Thickness

:

1.5 in.
Features
Air Rails To Prevent Rolling Off
Well Insulated
Non-slip Surface

BEST FOR: RESTLESS SLEEPERS
If you're the type to thrash around in your sleep, you'll appreciate the REI-Co-op Air Rails Plus. Similar to the idea of bumper bowling, this self-inflating/air hybrid sleeping pad comes equipped with inflatable air rails on the sides to keep you centered when you're tossing and turning all night long. 
Furthering your stabilization, the top of the pad has a non-slip surface while the bottom is designed to resist wear from ground friction. With an R-value rating of 5, this is one of the warmer sleeping pads on the list.
Big Agnes Third Degree
Specs
Type

:

Foam Pad

Insulation

:

Yes

Weight

:

14 oz.

Thickness

:

0.62 in.
Features
Firm
Increases Warmth
Can Be Modified

BEST FOR: ALPINE LAYERING
In extremely cold weather, adding a sleeping pad to your sleeping system can make or break your trip. For additional warmth, the Big Agnes Third Degree is a good foam pad to have under your backside. 
The foam pattern does well to trap in warm air while the tire tread-like patterned bottom enhances your overall comfort. If you find the pad to be too long any which way, it can easily be cut to tailor its size to your needs. Flexible and slim, this pad works well for adding additional insulation in snowy situations or as a lightweight option on long-distance hikes.
Therm-a-Rest RidgeRest SOLite
Specs
Type

:

Foam Pad

Insulation

:

Yes

Weight

:

14 oz.

Thickness

:

0.62 in.
Features
Extremely Affordable
Lightweight
Durable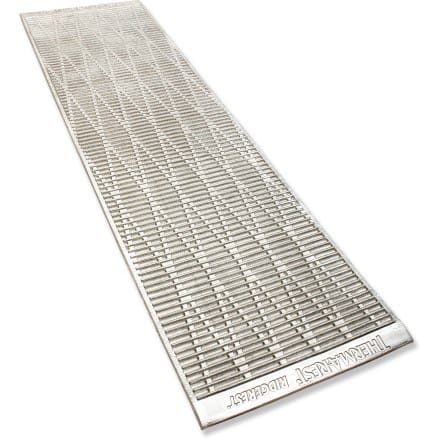 BEST FOR: EXTREME BUDGETING
If you're really on a tight budget, the Therm-A-Rest Ridgerest SOLite has an incredibly affordable price. At 14-ounces in weight and 0.62-inches in thickness, this slim sleeping pad offers up just the right amount of protection from the ground. 
Along with ground protection, you'll find this sleeping pad increases your warmth on a chilly night. The patented ridge style design will trap in warm air as the metallic surface reflects the heat back to your body, keeping you toasty all night long. While it may not be as plush as some of the other options, it's a viable option for the budget shopper on a weekend campout.
Sea to Summit Camp SI
Specs
Type

:

Self-inflating

Insulation

:

Yes

Weight

:

1 lb. 9 oz.

Thickness

:

1.5 in.
Features
Good Warmth Rating
Self-Inflating
Reduces Bulk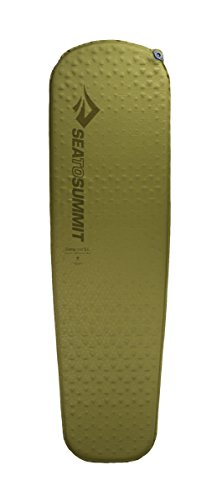 BEST FOR: MINIMALIST WHO WANTS A SELF-INFLATING PAD
If you like what a self-inflating pad has to offer, but don't want all the bulk, consider the Sea to Summit Camp SI. Thanks to their proprietary technology, this sleeping pad cuts down 40-percent of the volume without detracting from your comfort level. Featuring an R-value of 4, this sleeping pad can be used year-round thanks to this middle of the road warmth rating. The Sea to Summit Camp SI is great for the camper who wants more comfort than a foam pad without the additional bulk of a typical inflatable air pad.
ENO Air Loft Hammock
Specs
Type

:

Air Pad

Insulation

:

Yes

Weight

:

2 lbs. 12 oz.

Thickness

:

1 in.
Features
Hammock And Ground Compatible
Well Insulated
Plenty Of Cushion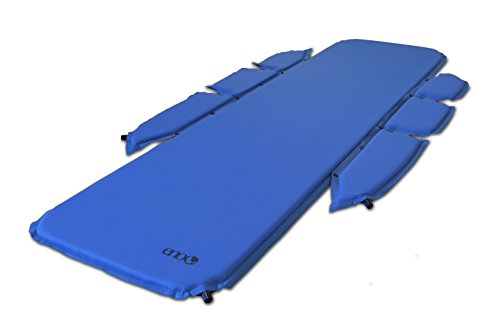 BEST FOR: VERSATILITY
The ENO Air Loft Mattress was made with the hammock camper in mind. Equipped with detachable side wings, you can sleep on the ground or off of it with this self-inflating mattress. 
If you prefer the trees, nestle this pad in your hammock and get cozy. At an inch thick, this pad offers plenty of cushion. In addition to cushioning, the combination of side and bottom insulation does wonders in protecting you from cold, airy nights. At 2-pounds 12-ounces it is heavier than most of the other options of sleeping pads, but if you're car camping, you'll find the extra weight is not an issue.
Coleman Self-Inflating
Specs
Type

:

Self-inflating

Insulation

:

Unavailable

Weight

:

6 lbs.

Thickness

:

2.5 in.
Features
Built-in Pillow
Very Thick
Weather-Resistant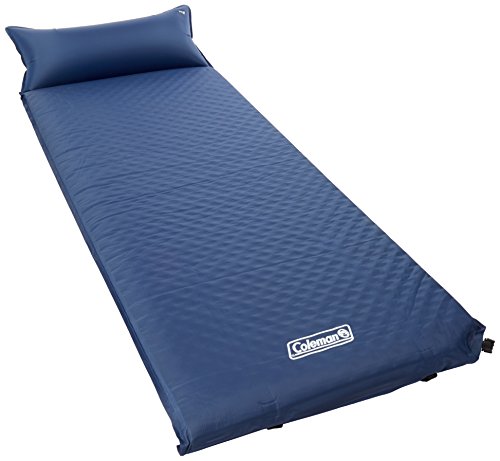 BEST FOR: CAR CAMPERS
Forgetting your pillow is not an issue with the Coleman Self-Inflating Camping Pad and Pillow. This sleeping pad has a built-in pillow so it goes where the mattress goes.
Open up the valve and the pad and pillow will automatically inflate. With the addition of a few breaths, you can tailor both pad and pillow to your ideal firm setting. Weather-resistant and lofty, this sleeping pad is ideal for car campers looking for comfort.
THINGS TO CONSIDER WHEN BUYING SLEEPING PADS ON A BUDGET
COST
You're here for a reason: your minimal budget. While all these sleeping pads are excellent choices for the bargain shopper, the price will vary from your basement bargain buys around $30 to those who can spare a few more bones at $100. Depending upon your budget, this can play a major role in how you choose a sleeping pad.
USE
The type of camping you're doing is an important consideration when choosing a sleeping pad. For instance, when you're car camping, you can get away with a bulky, heavier pad if it means more comfort. On the other hand, if you're backpacking, the size, weight, and durability of your sleeping pad will matter more. Take into consideration any limitations you'll face with your style of camping.
TYPES
There are three types of sleeping pads to choose from: foam, air, and self-inflating pads. Let's break down each type so you can decide which kind is best for you.
FOAM PADS
Closed-cell foam pads are the most affordable options on the market. They are constructed from dense foam and retain heat well due to a closed-cell design. Firm, lightweight, and durable, these pads require no additional setup other than unrolling/unfolding. The major drawback with foam pads is they aren't as comfortable as the other options.
SELF-INFLATING
These pads tend to be the thickest, most well insulated, and most comfortable options available. They inflate at the turn of a valve and only require a few breaths to achieve the desired firmness. Their main disadvantage is that they are more bulky and heavier than the foam and air pads.
AIR PADS
These are super lightweight, comfortable, and packable. This style does require full manual inflation before use, so be prepared to be a little out of breath before bed. The downside to air pads is that they tend to run cold and are more prone to popping.
INSULATION
More than just a cushy pad for your tired body, sleeping pads are also meant to keep you insulated so you stay warm all night long. The amount of insulation you need, however, depends upon use. For hot summer nights, you can get away with little to no insulation, whereas you bet your bottom you'll want to max out insulation when sleeping in the snow.
To find out how well your sleeping pad is insulated, you'll want to check on the R-value. This will give you the precise measurement of insulation so you know if the sleeping pad will keep you warm from the snowy ground or cause you to freeze your butt off.
SIZE
Budget sleeping pads come in a range of sizes from short to long. You'll want a pad that matches the length of your body. In addition, you'll want to consider width. The average width of a sleeping pad is about 20-inches. If you're a side sleeper or tend to toss about at night, a wider sleeping pad may suit you best.
INFLATION METHOD
Foam pads require no inflation whereas self-inflating and air pads do. For self-inflating pads, you simply open an air valve and then top it off with a few breaths. Air pads, on the other hand, require more work. This will mean you either blow it up with a handful of steady breaths or use a hand pump to help you out. Consider how much effort you're willing to put into your sleep system before deciding which type of pad is right for you.
FEATURES EXPLAINED
R-VALUE
Rating for how well a pad resists heat flow on a scale of 1 (minimum) to 11(maximum). The higher the value, the warmer you'll be.
CLOSED-CELL FOAM
Dense yet light foam with cells that are pressed together or "closed" to prevent air from entering.
READ MORE
For more of our top hiking & backpacking gear recommendations, check out these popular articles: