Updated on October 16, 2020
Jumping into the beautiful subsea realm of scuba diving is an exciting adventure. But you won't get far if you don't know where you're going! That's where dive compasses come in. Plan your adventure, plot your course, and swim straight as an arrow to make sure you don't waste a single minute of your diving experience. To help you on your way, we've compiled a list of the ten best dive compasses on the market along with a comprehensive buying guide. Dive in, pick out the best compass for you, and start your SCUBA adventure!
For more of our top scuba gear recommendations, check out the Best Dive Watches.
Quick Answer

-

The Best Dive Compasses
Comparison Table

-

The Best Dive Compasses

For the best experience turn your device horizontally
Reviews

-

The Best Compasses for Diving
Suunto SK8
Specs
Mounting

:

Console, Wrist, Or Retractable

Indicator Mark Increment

:

5 Degrees

Side-View Navigation

:

Yes
Features
Excellent Responsiveness
Tilt Compensation Is Effective And Convenient
Easy To Read And Operate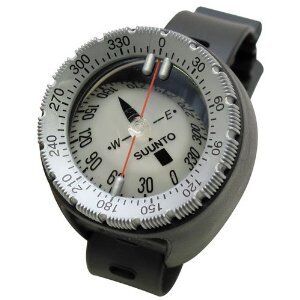 BEST FOR: PREMIUM CONSTRUCTION AND FEATURES
Suunto is often at the top of the list in terms of dive consoles, compasses, and computers, with good reason. Their products are always high-end in both design and operation. The SK8 dive compass follows this trend with an easy to read and operate interface that's housed in a durable case designed to stay with you for the long run.
The SK8 is available in wrist, retractable, and console compatible versions that are, by default, configured for diving in the Northern Hemisphere. But there's no need to worry if you plan on heading south for some epic diving. Suunto also offers Southern Hemisphere configured models directly through their website.
The display on this dive compass is very easy to read while the loud ratchet at every 5-degree increment makes for easy and intuitive operation. All these benefits come with a steep price tag, however, and the SK8 is easily the most expensive traditional compass on our list.
XS Scuba Supertilt
Specs
Mounting

:

Console, Wrist, Or Retractable

Indicator Mark Increment

:

10 Degrees

Side-View Navigation

:

Yes
Features
High Tilt Angle Makes For Easy Reading
Side View Navigation Provides Easy Bearing Information
Very Responsive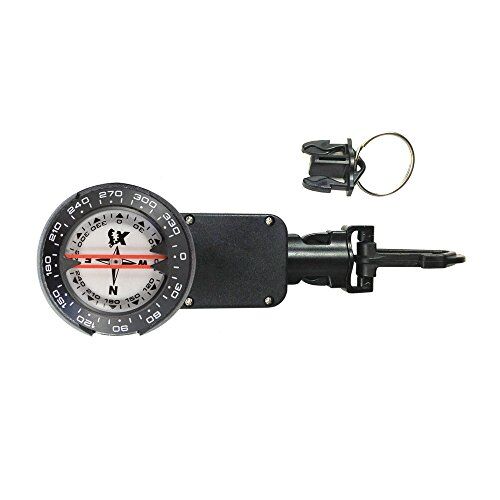 BEST FOR: RETRACTABLE COMPASS
XS Scuba has produced a solid product that we believe to be the best dive compass for those of you looking for a retractable, BCD mounted option. The SuperTilt compass attaches easily to your BCD through a split ring or plastic snap hook and can be pulled out 25 inches for clear reading when the time comes.
Speaking of clear reading, the SuperTilt features twin heading indicators along with a double lubber line to make it incredibly easy to work with. You'll also find a side-view bearing indicator to quickly read your current numerical bearing.
The only reported downside to the SuperTilt is that the retractable mechanism can sometimes interfere with the compass's accuracy, but this is typically resolved when the compass is extended. Despite this one drawback, XS has produced a stellar compass that offers easy operation and reading for any scuba adventure.
Cressi Compass
Specs
Mounting

:

Wrist Or Hose

Indicator Mark Increment

:

10 Degrees

Side-View Navigation

:

Yes
Features
Hose Mount Allows For Easy Mounting Near Your SPG (Submersible Pressure Gauge)
Excellent Accuracy
More Affordable Than Other Options
Oil Filled For Smooth Reading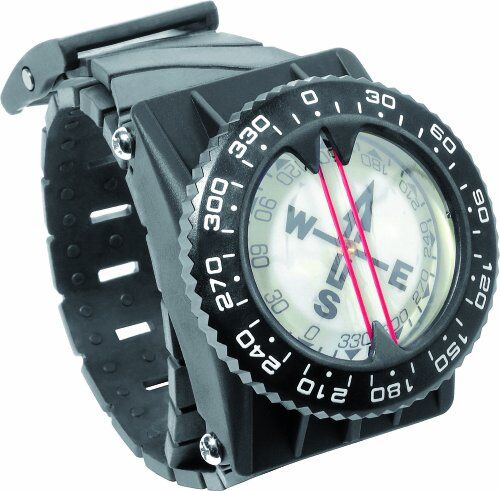 BEST FOR: HOSE MOUNTING
Some divers out there prefer to have all their gauges in one place. The Cressi Compass is made just for you with its hose mounting option. Easy to install or remove, no worrying about brand compatibility, and securely mounted once fitted.
Cressi has included all the usual refinements of a premium compass. First off, we have a ratcheting bezel with easy to read numbers and indicators at 30- and 10-degree increments, respectively. There is also a handy side-view readout for quick direction bearings.
If you prefer wrist-mounted compasses, no problem. This compass also comes with a wrist strap for mounting versatility. The only drawback of the Cressi Compass is that it's slightly less responsive than other compasses on the market, sometimes adding a little hassle to your navigation process.
Oceanic Swiv Wrist Mount
Specs
Mounting

:

Wrist

Indicator Mark Increment

:

10 Degrees

Side-View Navigation

:

Yes
Features
Excellent Visibility In Low Light
Very Responsive
Easy To Work With While Wearing Dive Gloves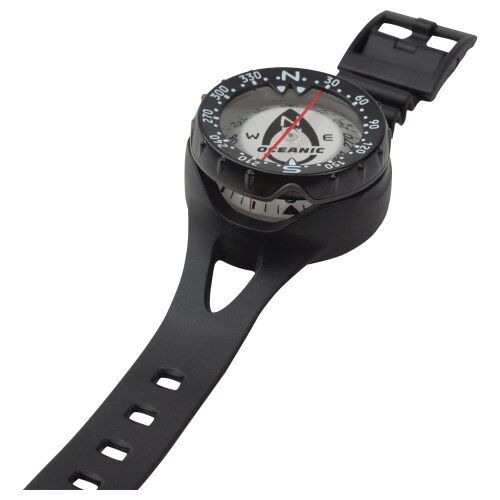 BEST FOR: BRIGHT ILLUMINATION IN LOW LIGHT
Squinting and doing underwater barrel-rolls to try and find the best light angle is rarely on a SCUBA diver's list of wants. That's why Oceanic designed the SWIV compass. Their proprietary OceanGlo technology makes the SWIV glow much longer than other models, and arguably much brighter.
This stellar illumination works in tandem with large and clear number increments to make a compass that's immediately readable in almost all low light conditions. The ratcheting bezel is also easy to grip and twist with diving gloves for easy operation.
The SWIV's easy viewing also extends to the handy side-view gauge for all-encompassing illumination. In terms of downsides, we're coming up empty. The SWIV wrist mount is a strong performer in all departments and is certainly the best dive compass for those wishing for better illumination.
Scubapro FS-2
Specs
Mounting

:

Wrist

Indicator Mark Increment

:

10 Degrees

Side-View Navigation

:

Yes
Features
Very Responsive For An Oil-Filled Compass
Good Readability Thanks To Tilt-Compensation
Accurate In Any Hemisphere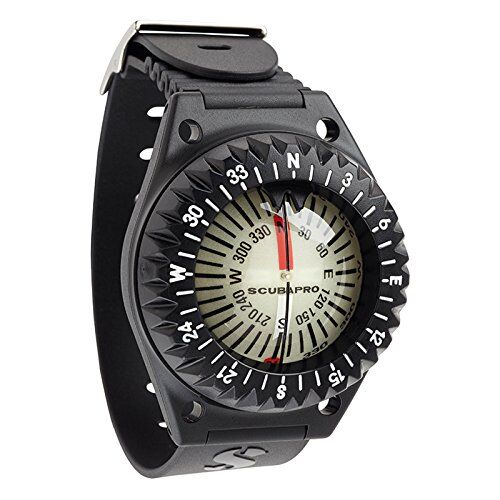 BEST FOR: TRAVELLING DIVERS
It's a pain to travel to a new hemisphere and find that your compass is no longer accurate. But you'll never have to cross that bridge with the FS-2 from ScubaPro. Here, the magnet is completely separate from the compass-rose and floats freely in the suspension oil. This gives you two distinct advantages: first, the compass is unaffected by which hemisphere you're in. Second, the compass has phenomenal tilt compensation of up to 35 degrees.
This results in a very versatile compass that's ready to hit the road with you on your next diving adventure, wherever it may be. We also have the standard 10-degree increment scale and side-view navigation that we've come to expect from the best dive compasses.
Unfortunately, a larger price tag accompanies the FS-2. We nevertheless wholeheartedly recommend this as the best dive compass for travelers. But if you simply need a compass for your local diving escapades, there are cheaper options available that are equally functional.
Oceanic Side Scan
Specs
Mounting

:

Clip Or Module Only

Indicator Mark Increment

:

10 Degrees

Side-View Navigation

:

Yes
Features
Very Large Display For Easy Reading
Bright Illumination
Compass Is Large And Hard To Lose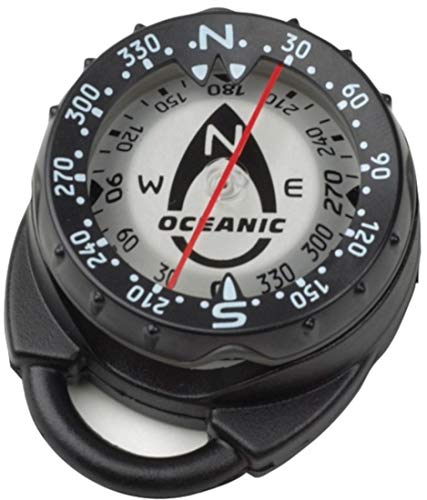 BEST FOR: EASY READING
Oceanic seems to make a habit out of producing very visible dive compasses. That trend continues here with the Side Scan. This compass essentially takes all the features of Oceanic's SWIV, and makes them bigger.
The indicators, numbers, and increments have all been enlarged to make the Side Scan as easy to read as possible. This is ideal for the divers out there who struggle to read the smaller print on standard dive compasses.
You've probably already guessed the downside to making all the markings bigger — the Side Scan compass is very large! This consequently makes this compass cumbersome to deal with, but that may be a small price to pay for folks who will benefit from the easy to read display. But if you have no trouble making out the markings on a standard compass, then the Side Scan probably isn't for you.
Aqualung Compass
Specs
Mounting

:

Wrist Or Bungee

Indicator Mark Increment

:

10 Degrees

Side-View Navigation

:

Yes
Features
Easy To Read Display
Good Price Point
Excellent Tilt Compensation
Bungee Easily Attaches To BCD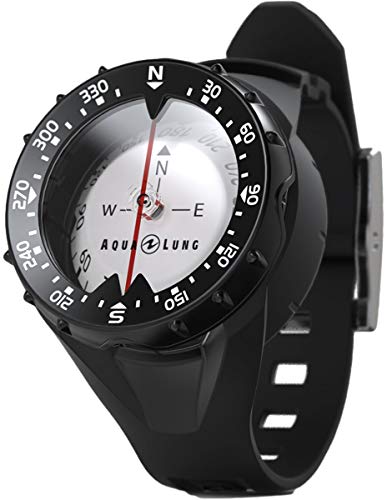 BEST FOR: OVERALL WRIST MOUNTED DIVE COMPASS
Aqualung has established an excellent reputation in the diving world as a source of good quality products. Their compass fits squarely into this category with a well-designed display and accurate readings to make it the best dive compass for wrist mounting.
This compass's readability is bolstered by large number markings and excellent luminescence. Although not specified by Aqualung, many divers report that this compass functions very well at high tilt angles. Together, these features make the Aqualung compass a solid wrist-mounted option for quick and easy navigation.
Bungee and single module options are also available for this particular dive compass, but the wrist version is clearly our favorite. All the above features are available at a reasonable, mid-range price and function just as advertised, resulting in an excellent addition to any diving repertoire.
Suunto D6i Novo
Specs
Mounting

:

Wrist

Indicator Mark Increment

:

1-Degree Digital Readout

Side-View Navigation

:

No
Features
Very User-Friendly Interface
Easy To Set A Bearing
Clear Display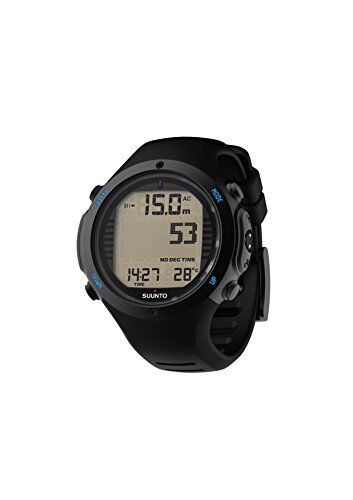 BEST FOR: DIGITAL COMPASS AND COMPUTER PAIRING
Your dive compass doesn't necessarily have to be its own entity in your SCUBA diving getup. That's where digital dive compasses integrated into your dive computer come in. The Suunto D6i Novo conveniently includes your dive compass among the device's many functions for an all-in-one diving readout.
The digital compass displays your directional heading in terms of N, NE, S, SE, and so on while your numerical bearing is shown in the bottom corner. As this device is electronic, and not mechanical based, there is tremendous tilt compensation that allows you to view the compass from almost any orientation.
The conveniences of this digital compass do have a couple of distinct drawbacks, however. You'll find that it's not quite as accurate as a dedicated physical compass, and requires calibration in order to function properly. On top of that, the price for a D6i is ridiculously high if you're only thinking in terms of a compass. But add in the high-functioning dive computer and air-integration, and the price is comparable to other wrist dive computers.
Sherwood Genesis
Specs
Mounting

:

Retractor or Individual Module

Indicator Mark Increment

:

10 Degrees

Side-View Navigation

:

Yes
Features
Durable Design That Can Withstand Jostling
Lower Price Than Other Options
Easy To Read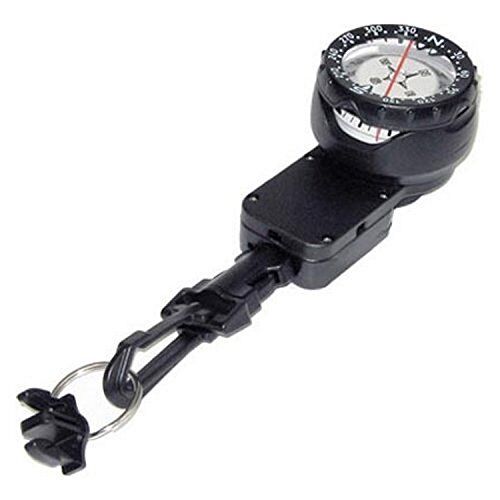 BEST FOR: INDIVIDUAL COMPASS MODULE
Sherwood has given us a very reliable yet cost-effective dive compass in the Genesis. It's nothing fancy but covers all the basics we look for in a decent compass and is available at a very reasonable price compared to other options.
The Genesis boasts a very rugged design that's well equipped to take the jostling and occasional bumps of SCUBA diving. The display utilizes easy to read indicators and numbers paired with a bright luminescent dial, making this compass very easy to use for beginners.
Be warned that the Genesis does not have the same amount of tilt compensation as other compasses on our list. Many divers report having to hold the compass near parallel to prevent the dial from becoming unresponsive. But the tough design and readable display work together to make this a very versatile compass module that will perform well no matter where you mount it.
THINGS TO CONSIDER BEFORE BUYING A DIVE COMPASS
MOUNTING METHOD
There are several different methods to secure your compass while diving. Your choice will mostly depend on your personal preference, so let's examine a few of the most common options.
Wrist Mounting: This lets you wear your compass like a watch. It allows you to easily check your bearing without fiddling with a large gauge attached to your BCD.
Retractable Clip: Your compass will attach directly to your BCD via a plastic clip or carabiner with a retractable cord. Simply pull the compass when you need it, and the cord will unwind so you can hold the display properly to check your bearings. The cable will then automatically retract when you let go, and the compass will return to its original position on your BCD.
Hose Clip: Your compass will include a mount that can be secured to your high-pressure hose, right next to your pressure gauge or dive computer. This allows you to have all your information readouts in one place so when you check one, you can check them all.
Module: This is the basic compass housing, and nothing more. It can be mounted to gauges that allow you to add individual modules, or to a wrist housing, or to a retractable unit. This type of compass offers you versatility in how you deploy it but may require a secondary purchase.
TILT COMPENSATION
Most standard compasses need to be held almost perfectly level for them to function properly. However, the dynamic world of SCUBA diving makes this easier said than done. That's why the best dive compass manufacturers implement tilt compensation. This allows you to tilt the compass towards your face for easy reading, without risking the compass malfunctioning. The greater the tilt compensation number, the more you can tilt the compass without diminished accuracy.
READABILITY
Your compass will do you no good if you can't read it! Some manufacturers take this to heart and place a premium on brightness and readability for their products. These compasses will feature luminescent materials for low-light situations along with larger number and indicator readouts.
Along with readability is the ability to actually understand what you're reading! Make absolutely sure you understand the basics of dive compass navigation before relying on it underwater.
FEATURES EXPLAINED
HEMISPHERE CALIBRATION
Physics lesson! The magnetic field in the northern hemisphere dips to the north pole and consequently causes the northern end of your magnetic compass to point downward. The opposite is true in the southern hemisphere, where the magnetic field dips towards the south pole and pulls down the southern end of your compass.
Compass manufacturers, therefore, weight their compass needles to balance the effects of the magnetic field, but this is only effective in one hemisphere as the magnetic field switches from hemisphere to hemisphere. But some manufacturers, such as Suunto, have developed an ingenious method to make dive compass balancing universal between hemispheres.
COMPASS LIQUID FILL
Dive compasses require some type of liquid filling in order to protect the delicate compass mechanism from changing pressures as you dive into deeper water. The two main filling liquids are oil or less viscous fluid/water. The less viscous option allows your compass to be more responsive but also means the dial is more susceptible to your individual movements.
Oil-filled compasses, on the other hand, dampen any unintended movement for a very smooth reading experience. However, this also means the compass can be slightly less responsive than other models.
SIDE VIEW NAVIGATION
Most compasses feature a side-view window for easy bearing adjustments. Sometimes known as 'gunsight navigation', this allows you to get a quick snapshot of your current course without having to level and read the entire compass. The exact data you see in your side-view window varies from brand to brand. Some compasses provide only bearing numbers or a mixture of numbers and degree indicator marks.
READ MORE
For more of our top scuba diving gear recommendations, check out these popular buyer's guides: