Updated on March 29, 2022
Whitewater kayakers could be labeled as some of the most daring athletes on the planet. The sheer power of the rapids and waterfalls they tackle is enough to make most people pause. Whether you're a novice whitewater kayaker or you have years of experience under your belt, protecting yourself is critical.
While it might be impossible to eliminate risk entirely, there are certainly things we can do to mitigate the likelihood of serious injuries. There is, of course, inherent risk in running Class IV and V rapids, but picking up the best kayak helmet for your skill and challenge level will help you reduce that risk. In this article, we'll give you several options to help you select the right kayak helmet for your needs.
For more of our top kayaking gear recommendations, check out the Best Kayak Paddles.
Quick Answer

-

The Best Kayak Helmets
Sweet Protection Strutter
Comparison Table

-

Best Kayak Helmets

For the best experience turn your device horizontally
Reviews

-

The Best Helmets for Kayaking
NRS Havoc Livery
Specs
Gender

:

Unisex

Weight

:

1.3 pounds

Shell Material

:

ABS Plastic

Brim

:

No

Head Circumference

:

20.9" to 24.4"
Features
Adjustable 'Knob And Ratchet' Sizing System
Soft Foam Padding For Increased Comfort
Closed-Cell Foam Liner For Improved Impact Protection
Ten Ventilation And Drainage Ports
BEST FOR: ADJUSTING TO FIT MULTIPLE PADDLERS
This kayak helmet from Northwest River Supply (NRS) features a knob and ratchet fitting system that adjusts to a wide variety of head sizes. It also boasts an adjustable chin strap and the tough exterior shell protects what matters most - your brain. It includes soft foam padding in key areas to make it a comfortable fit and the closed-cell EVA foam liner increases impact protection. Finally, this kayak helmet features a total of ten ventilation and drainage ports to keep your head cool and let water drain when you go for an unexpected (or planned!) swim.
NRS Chaos Side-Cut
Specs
Gender

:

Men's

Weight

:

1.76 pounds

Shell Material

:

ABS Plastic

Brim

:

No

Head Circumference

:

20.7" TO 24.2"
Features
Durable Plastic Shell Dissipates Impacts
Interior Foam Liner Provides Comfort and Protection
Customizable Fit for Better Security
Eight Ventilation and Drainage Ports
BEST FOR: ECONOMICAL, COMFORTABLE HEAD PROTECTION
The NRS Chaos Side-Cut helmet is a great option for kayakers, stand-up paddle boarders, and canoeists alike. The interior of the helmet boasts a dial-style adjustable system that allows you to find a snug fit to your exact head size. The dual-density EVA foam liner in this helmet provides extra protection for your head while also making the fit more comfortable. The ABS plastic shell on this helmet helps to dissipate force when impacts do occur and a total of eight ports help heat and water escape to keep your head cooler and drier.
WRSI Current
Specs
Gender

:

Unisex

Weight

:

1.4 pounds

Shell Material

:

ABS Plastic and Polyurethane

Brim

:

Yes

Head Circumference

:

20.9" TO 24.4"
Features
Replaceable Padded Liner for Comfort and Easy Washing
Adjustable Harness Conforms to Your Head
Vented Shell Keeps Your Head Cool
Self-Adjusting Retention System Keeps The Helmet In Place
BEST FOR: MAXIMUM HEAD PROTECTION
The Whitewater Research and Safety Institute (WRSI) brings you their Current kayak helmet with a replaceable padded liner. It features an adjustable O-brace harness that's designed to conform to the back of your head for added comfort. The ABS plastic and polyurethane shell is vented so that it breathes well and keeps your head cool. For an even better fit, this helmet features an interconnect retention system that self-adjusts as water pushes it back. This way, it stays firmly in place so that you can tackle the next rapid without worrying about your helmet falling off or becoming loose.
WRSI Current Pro
Specs
Gender

:

Unisex

Weight

:

1.5 pounds

Shell Material

:

ABS Plastic and Polyurethane Sub-Shell

Brim

:

Yes

Head Circumference

:

20.9" TO 24.4"
Features
Removable Ear Pads for Added Warmth
Visor for Increased Face Protection
Adjustable Harness System Keeps Helmet In Place
Hybrid Shell Construction Dissipates Force from Impacts
BEST FOR: MAXIMUM HEAD PROTECTION WITH A FEW ADDED FEATURES
The WRSI Current Pro is the upgraded model of the standard WRSI Current kayak helmet. Its additional features include removable ear pads and a visor. In addition to providing added warmth in colder conditions, the ear pads reduce impacts from waves and are perforated to allow you to still hear what's going on around you. The visor protects your eyes and face from the sun, and adds additional protection against impacts. Just like the WRSI Current helmet, this helmet's adjustable harness system keeps it in place even when you get hit by larger waves.
WRSI Moment Full Face
Specs
Gender

:

Unisex

Weight

:

4 pounds

Shell Material

:

ABS Plastic and Polyurethane Sub-Shell

Brim

:

Yes

Head Circumference

:

19" TO 23.25"
Features
Full Face Guard for Jaw Protection
Ear Vents for Better Hearing and Temperature Ventilation
Twelve Pads of Varied Thicknesses for Customizable Fit
Adjustable Retention Harness to Keep Helmet In Place
BEST FOR: FULL FACE PROTECTION
This kayak helmet is designed for serious whitewater runners that desire full face protection. The full front face guard will protect your jaw against impacts.Ear vents in the outer shell help you still hear what's going on around you. Those vents also help to keep your head cool on hotter days. This helmet features twelve pad options that come in varying thicknesses. These pads allow you to customize the fit of the WRSI Moment Full Face kayak helmet to your desired size. Like the WRSI Current and Current Pro, the Moment helmet features WRSI's adjustable retention system to keep the helmet in place even when you're getting battered by Class V rapids.
Sweet Protection Strutter
Specs
Gender

:

Unisex

Weight

:

0.88 pounds

Shell Material

:

Carbon Fiber Reinforced Polymer

Brim

:

Yes

Head Circumference

:

20.85" TO 24"
Features
Carbon Fiber Shell for Improved Impact Protection
Edge Protector for Added Durability
Visor to Protect Face from Sun and Impacts
Fully Adjustable Straps for Safety and Comfort
BEST FOR: LIGHTWEIGHT, LOW VOLUME PROTECTION
If you're looking for a stylish, low-volume kayak helmet, the Strutter Helmet from Sweet Protection boasts a carbon fiber reinforced shell for improved impact resistance. The helmet's edge protectors help it hold up longer against rugged wear and tear while the visor works to protect your face from sun exposure and impacts. The helmet's fully adjustable straps are secure in four locations for added security and adjustability. This helmet is truly optimized for high-performance paddling and it's so light you'll hardly notice you're wearing it, but it'll be there to protect you when you need it most.
WRSI Trident Composite
Specs
Gender

:

Unisex

Weight

:

1.45 pounds

Shell Material

:

Carbon Composite

Brim

:

Yes

Head Circumference

:

20.9" TO 24.4"
Features
Rugged Outer Shell and Inner Foam Liner for Added Protection
Polyurethane Sub Shell Works to Further Dissipate Force From Impacts
Adjustable Retention System Keeps Helmet In Place
Removable, Replaceable Padded Liner
BEST FOR: THE MOST DEMANDING OF WHITEWATER KAYAKERS
One of WRSI's top models is designed to meet the needs of the most hard-charging whitewater kayakers out there. This helmet combines a rugged carbon composite outer shell, polyurethane sub shell, and EVA foam liner for the highest degree of protection for your brain box. It features WRSI's interconnect retention system that will keep the helmet in place even as you're being bounced around in your kayak. This helmet also features a removable and replaceable padded liner that can easily be washed or replaced entirely when the need arises.
Pro-Tec Ace
Specs
Gender

:

Men's

Weight

:

1.1 pounds

Shell Material

:

ABS Plastic

Brim

:

No

Head Circumference

:

21.3" TO 25.2"
Features
Soft, Nylon-Webbed Straps For Comfort
Adjustable Interior Fit System
Waterproof Foam Liner
Fifteen Open Vents For Drainage And Ventilation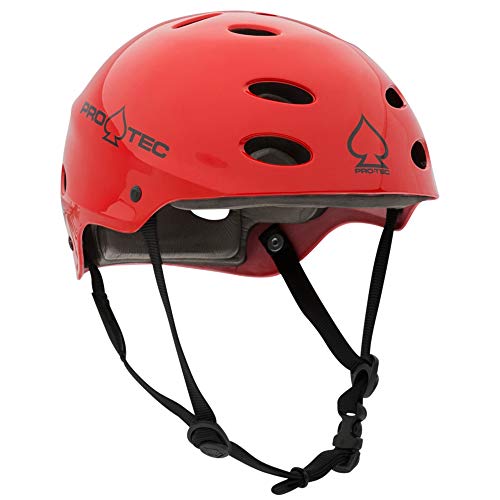 BEST FOR: MULTI-PURPOSE ADVENTURERS
While this water helmet is great for beginner kayakers, it can also be used for wakeboarding, kite surfing, or any other water sports that require avoiding potentially-damaging impacts to the head. It boasts soft straps and a waterproof EVA foam liner that provides both comfort and protection. The hard ABS plastic shell protects your head while the adjustable fit system makes this helmet useful for a variety of head sizes. It also features a grand total of fifteen vents to let water drain out and to keep your head cool on hot days.
Bern Unlimited Watts
Specs
Gender

:

Unisex

Weight

:

17 ounces

Shell Material

:

ABS Plastic

Brim

:

Yes

Head Circumference

:

21" To 23.25"
Features
Crank Dial Fit System for Adjustable Fit
Low Profile Design For Lightweight Comfort
ABS Shell With Hard Foam Interior for Durable Protection
Replaceable Liner for Adaptability to Warm and Cold Weather
BEST FOR: ALL-SEASON VERSATILITY
The Bern Watts Unlimited Helmet is a versatile option for whitewater kayakers that want to chase adventure year-round. It offers a low profile design that reduces its overall weight and makes this helmet less cumbersome once you put it on your head. It features a crank-dial fit system that makes it easy to get a snug, reliable fit every time. This helmet is made with an ABS plastic outer shell and a hard foam interior to provide ample protection for your noggin. Finally, the replaceable liner can be removed and switched out depending on the weather conditions outside!
THINGS TO CONSIDER WHEN BUYING A KAYAK HELMET
According to the University of Colorado at Denver, 87% of injuries amongst whitewater kayakers they surveyed occurred while still in their kayak. As the head is one of the most sensitive and exposed areas when sitting in a kayak, let's take a look at some important factors to consider when selecting a kayak helmet to keep your noggin safe on the water.
HELMET TYPES
The majority of kayak helmets will fit into one of the following categories: half-cut, full-cut, or full-face. Let's take a look at what separates each.
HALF-CUT
Half-cut kayak helmets provide the most low-volume designs out there. These helmets generally won't impair your vision and will cover your head adequately. However, most half-cut helmets won't protect your ears and most won't offer a visor for added face protection.
FULL-CUT
Full-cut kayak helmets are a little higher volume in design but also typically include added features for a larger degree of protection. In addition to fully covering your head, these helmets also offer ear protection. Because of their design, many full-cut helmets also offer a more secure fit. However, they can minimally impact your ability to hear other paddlers if you frequently paddle in a group.
FULL-FACE
Full-face helmets feature maximum protection for the most extreme whitewater kayakers. These helmets protect your entire face, including your ears and jaw. They're best for kayaking in more dangerous conditions where there's a higher risk of impacts to the head. Checking if you can still safely hear your co-paddlers and the sounds of the river is very important when choosing a full-face kayak helmet.
FIT
Fortunately, finding the best kayak helmet that fits on your head isn't overly difficult. Most of the best helmets come in a variety of sizes so you can select what works for you. When you place the helmet on your head, you should ideally be able to adjust the straps so that the helmet doesn't shift on your head as you move your head back and forth and side to side.
A snug fit is really important when it comes to avoiding unexpected movement when you're on the water and you're relying on the helmet to be where it should be if a moment of need arises. If you're buying online, you'll need to know the circumference of your head. It can be helpful to find tips on how to get an accurate head measurement so that you can choose the right size helmet.
DRAINAGE
Drainage is a feature that shouldn't be overlooked. Not just any old helmet will do when it comes to more serious whitewater kayaking. Helmets that are made for watersports include ventilation holes that allow water to drain out when you do take a swim. These holes also help heat escape from your head so that you don't overheat while you're running the river. A helmet that isn't made for watersports will lack these holes, which can both cause your head to overheat and the helmet to retain far too much water in the event of an unexpected plunge.
WEIGHT
Although there's not a huge difference between the weights of the best kayak helmets out there, you should make sure that you feel comfortable wearing your helmet of choice for a solid period of time. You're not going to want to remove and reposition your helmet multiple times once you're on the water, so weight is an added factor to consider when selecting a kayak helmet that is comfortable for you.
ACCESSORIES
Some kayakers only need a helmet that will protect their head. Others want head protection, but also desire the ability to attach a GoPro, headlamp, or other accessories to the top or sides of their helmet. Consider your accessory needs and desires when selecting the best kayak helmet for you.
FEATURES EXPLAINED
RETENTION/HARNESS SYSTEM
A helmet's retention system, which is also sometimes referred to as the harness, is what's designed to keep the helmet in place on your head. This almost always includes adjustable straps to tighten the helmet down, but some helmets also include a dial-style retention harness that allows you to tighten an interior 'harness' around your head before you even worry about fasting the straps.
OUTER SHELL
The outer shell is what you look at when you see a helmet from a distance. This is the first line of defense in protection your head. Some common materials used in the outer shell of a kayak helmet include ABS plastic, carbon fiber, and carbon composite.
SUB SHELL
Not all kayak helmets include a subshell, but those that do provide an added degree of protection. The subshell is located between the helmet's outer shell and the interior liner.
LINER
The liner of a kayak helmet is what we're looking at when you hold a helmet in your hands as if you were about to place it on your head. It's the closest layer of protection to your skull and there are a variety of materials used in a helmet liner. One more common material used in kayak helmets, however, is EVA foam.
VISOR
Some have one and some don't, but a visor is usually located on the front of the kayak helmet (although some are designed to be able to be worn backwards as well). The visor acts just like the brim of a hat, working to keep the sun out of your eyes and adding a layer of protection against frontal impacts.
VENTILATION/DRAINAGE PORTS
These are holes in the sides and sometimes top of a kayak helmet that allow water to drain out and also hot air to escape. They function to keep your head from becoming waterlogged or overheating while you're on the water.
READ MORE
For more of our top kayaking gear recommendations, check out these popular buyer's guides: