Updated on January 18, 2022
Kayaking typically means you're going to be spending an hour or more in the sun. That's why you're here looking for hats. We've narrowed down the options to the 5 best kayaking hats. These hats represent the top picks because they come highly recommended, have all the right qualities for kayaking, and give you more time to enjoy the sun.
For more of our top kayaking gear recommendations, check out the Best Wetsuits for Kayaking.
Quick Answer

-

The Best Kayaking Hats
Sunday Afternoons Ultra Adventure

REI Co-op Vented Explorer

Sunday Afternoons Shade Goddess Hat

LETHMIK Fishing Sun Boonie
Comparison Table

-

Best Kayaking Hat

For the best experience turn your device horizontally
Reviews

-

The Best Hats for Kayaking
Sunday Afternoons Ultra Adventure
Specs
Color

:

Eucalyptus and Pumice

Fabric

:

88% Nylon/12% Polyester

Style

:

Sun Hat

UPF

:

50

Moisture Wicking

:

Yes

Brim

:

Yes, 3.25"
Features
Adjustable Chin Strap for the Best Fit
UPF 50+ Rating, Wide Brim, and 6" Neck Cape for Sun Protection
Water- and Stain-Resistant to Keep You Looking Sharp
Sunglass Lock to Keep Your Shades in Place
Moisture-Wicking Sweatband and Crown Vents Allow Sweat to Escape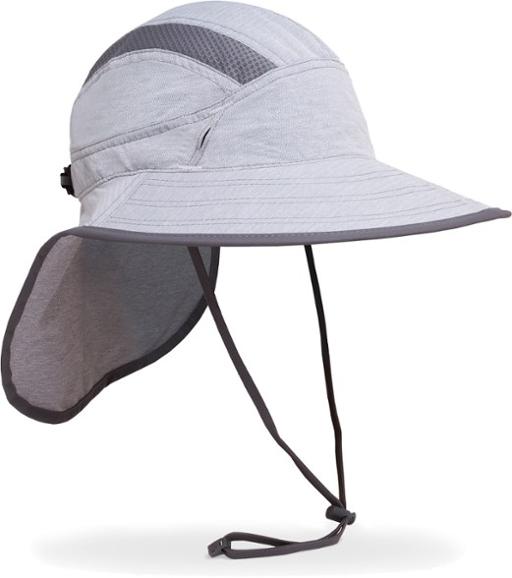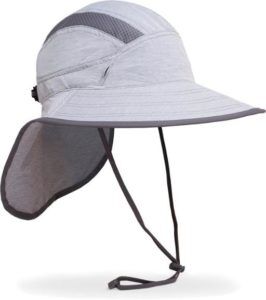 BEST FOR: ALL-PURPOSE COVERAGE
This hat has everything you could ask for in a kayaking hat. It shades against the sun, keeps sweat to a minimum, holds your sunglasses, and lets dirt and rain slide right off. I mean, you're looking at hats for one or more of those reasons anyway, right? Lucky for you, this hat protects your head in all different ways, all while feeling like it's barely there.
When you're not kayaking, you might want to grab this hat for backpacking adventures or even trolling the fairgrounds on a hot summer day. Some users note the slightly geeky appearance, but it's perfect if the seriousness of sun protection overrides your ego. And remember, you can always fold that back flap up into the hat.
REI Co-op Vented Explorer
Specs
Color

:

Beachwood and Rockwall

Fabric

:

Organic Cotton

Style

:

Sun Hat

UPF

:

50

Moisture Wicking

:

No

Brim

:

Yes, 3"
Features
Adjustable Drawcord for the Best Fit
Mesh Side Vents Allow for Ventilation
Moisture-Wicking Sweatband Keeps Sweat Out of Your Eyes
Snaps on Both Sides to Secure The Brim
Inner Stash Pocket to Hide Cash or Car Key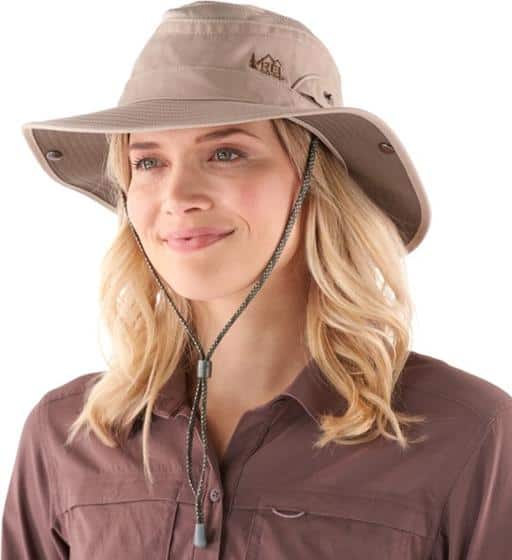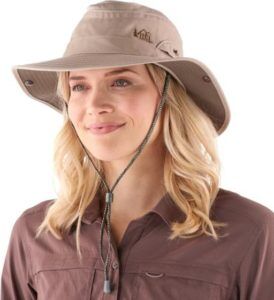 BEST FOR: CASUAL OUTINGS
You want something to protect your head and face from the sun and splashback better than a ball cap. This wide-brim hat casts shade all around your head and keeps you from overheating with breathable ventilation. Plus, you can secure it to your head with the adjustable drawstring chin strap, so the hat doesn't join all the other ball caps at the bottom of the lake.
This hat doesn't have all the extra bells and whistles as some of the other hats on this list, but maybe all you need is simple. And you appreciate the softness and substantiality of organic cotton. Then, this one's for you!
Sunday Afternoons Shade Goddess Hat
Specs
Color

:

Opal and Purple Larkspur

Fabric

:

Nylon and Polyester

Style

:

Sun Hat

UPF

:

50

Moisture Wicking

:

No

Brim

:

Yes, 4"
Features
Adjustable Chin Strap for the Perfect Fit
UPF 50+ Sun Protection Rating
Moisture Wicking Sweatband and Crown Vents Regulate Sweat
Sunglass Holder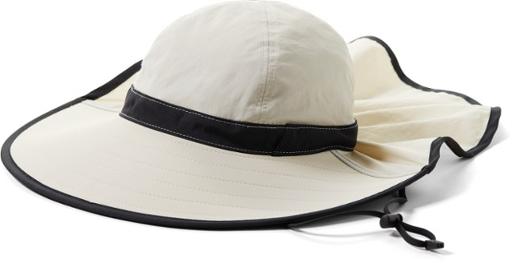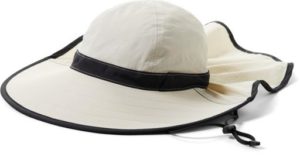 BEST FOR: FASHIONISTAS
Listen ladies, we know the whole safari hat look might not exactly be the style you'd choose for your kayaking voyage. You're looking for something a little more tasteful and chic to complement your outdoorsy pursuits. The Shade Goddess has the look you're after with it's easy feminine style. You'll look right in place when you pull up at the country club too.
A decorative ribbon and ruching make you look graceful as you paddle through the calm waters or attempt your best golf swing. You can maintain your perfect coif with the integrated ponytail hole. Meanwhile, the generous hat protects your delicate skin from sun damage.
LETHMIK Fishing Sun Boonie
Specs
Color

:

Beige and Gray Green

Fabric

:

Polyester

Style

:

Sun Hat

UPF

:

50+

Moisture Wicking

:

No

Brim

:

Yes
Features
Waterproof Fabric Allows Splashes and Rainfall to Fall Right Off
Adjustable Chin Strap Keeps the Hat From Blowing Away
Snaps Allow You to Pull the Brim Away From Your Face
Folds Down Into a Pocket-Sized Package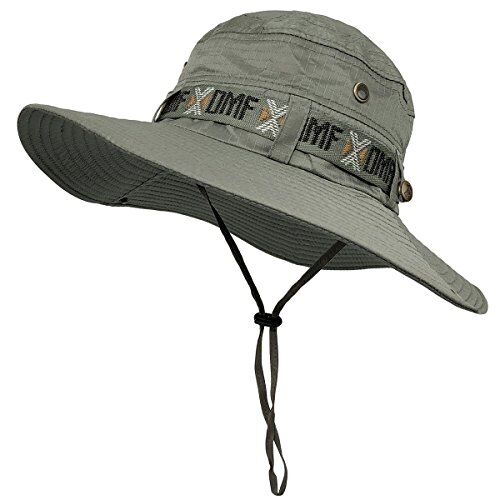 BEST FOR: HUNTING AND FISHING
When you're out in the boonies, waiting for your catch to appear, you need a hat that matches your sporting stamina. This hat lets sweat and raindrops roll right off of you, keeping your composure unaffected. The hat also redirects sunrays, so you don't wind up with more sun damage than fish.
Do be aware that the hat seems to run a bit small. If your head is on the larger side, you might want to skip this hat. Otherwise, it fits the average-sized head like a charm. For the price, this hat provides a great beginner-friendly place to start.
REI Co-op Paddler's
Specs
Color

:

Titanium

Fabric

:

Nylon

Style

:

Sun Hat

UPF

:

50

Moisture Wicking

:

Yes

Brim

:

Yes, 3-4"
Features
Adjustable Chin Strap for the Best Fit
Wide Brim and UPF 50 Rating for Sun Protection
Mesh Panels Allow Airflow on Hot Days
Moisture-Wicking Polyester Headband Keeps Sweat Out of Your Eyes
Foam Insert Allows the Hat to Float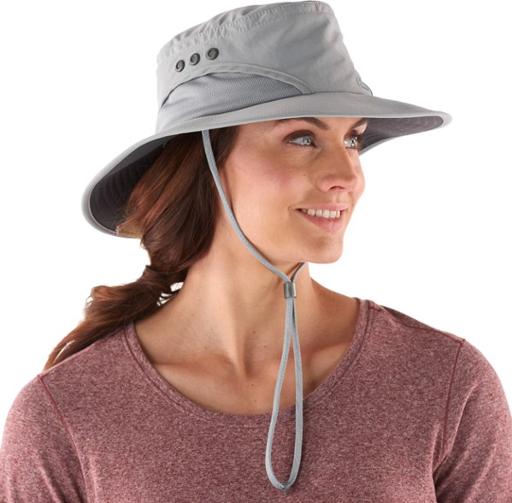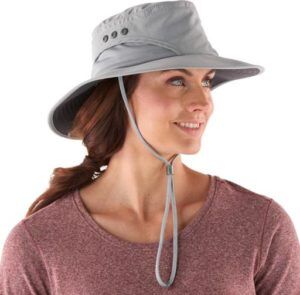 BEST FOR: WINDY DAY CRUISES
Strap this hat on tight with both the chin and rear strap and it's not going anywhere when the wind picks up. Even if you do accidentally drop the hat in the water, it floats! You can turn back around and grab your hat because it should still be bobbing on the top of the water.
The hat also has some excellent sun protective qualities. It has a 3" brim in the front and 4" brim on the back to protect your face and neck. The hat also carries a UPF 50 rating to keep your scalp protected too.
THINGS TO CONSIDER WHEN BUYING A KAYAKING HAT
MATERIAL
All the hats on this list are made of one or a combination of the following: polyester, nylon, or organic cotton. Polyester and nylon are highly durable and have better moisture management qualities than cotton. Nylon tends to have a little more give and dries quicker while polyester absorbs less water in the first place.
Cotton has a breezy summer feel to it and packs down easily, but it becomes water-logged if it gets wet. Compare the conditions you're kayaking in and how you want your hat to perform to the material properties (here's a comprehensive material guide) before making your selection.
SIZES
One of the most important factors to consider when choosing a kayaking hat is sizing. No hat is worth it if it doesn't fit well. Some hats are slightly adjustable, and nylon hats have a little give. If your head tends to run on the big or small side, you may want to measure the crown of your head against the manufacturer's recommendations and look to see if the hat tends to run according to size.
SUN PROTECTION
Sun protection is one of the main purposes of buying a kayaking hat, so it's important to determine how much coverage you need. A hat's UPF rating tells you how well the hat protects the covered skin and the size of brim determines how much skin is covered. The thicker the brim and the higher the UPF rating, the better the protection. In addition, a back flap covers even more exposed neck skin, if that's important to you. Learn more about how to stay protected here.
MOISTURE MANAGEMENT
A kayaking hat's moisture management properties refer to its moisture wicking qualities from the inside and water repellent features on the outside. If you're kayaking on hot days, you may want a hat that's breathable and moisture wicking. If you know rain and splashing will be involved in your trek, then you may want a water repellent hat.
STYLE
Kayaking hats often have a distinctive safari or bucket hat look. Some people enjoy that rugged, outdoorsy look while others prefer a different style. Although kayaking hats are meant to be more practical than decorative, wider hats are gaining popularity these days and styles have come a long way. The Shade Goddess hat, in particular, has a distinctive design for those who appreciate higher fashion.
FEATURES EXPLAINED
BRIM
The brim of a hat is the part that extends out from the crown. Most kayaking hats have a brim that extends around the perimeter of the hat to provide shade from all angles.
UPF RATING
UPF stands for ultraviolet protection factor and refers to how well a hat's fabric blocks ultraviolet radiation. A UPF rating of 50, for example, means a hat blocks 97.5% or more of the sun's UV rays and is considered an excellent rating.
CHIN STRAP
Kayaking hats usually come with an adjustable chin strap. The strap goes under the chin and can usually be tightened to ensure you don't lose your hat when a gust of wind hits.
MESH PANELS
Mesh panels are mesh material inserts on the crown of the cap that allow for airflow. The mesh allows sweat to escape when you start to get hot.
CROWN VENTS
Just like mesh panels, crown vents are holes in the crown of the hat that allow heat and sweat to escape from your head.
NECK CAPE
A neck cape is a length of fabric at the back of the hat that provides extra neck coverage. A neck cape helps reduce the amount of skin that gets exposed to the sun.
READ MORE
For more of our top kayaking gear recommendations, check out these popular buyer's guides: