Updated on September 28, 2021
Before any kayaking trip in a temperate or cold region, it's important to do your research to find the best drysuit for kayaking. A drysuit is a full-body piece of clothing designed to keep warmth in, while simultaneously allowing internal moisture to escape and sealing external water out.
While drysuits are unnecessary in tropical weather, freezing weather and strong waves can make for a dangerous combination if you're far from land. Here at The Adventure Junkies, we can guide you through a wide selection of the best drysuits available to make your purchase simpler and your kayaking experience safe, warm and dry.
For more of our top kayaking gear recommendations, check out the Best Wetsuits for Kayaking.
Quick Answer

-

The Best Drysuits for Kayaking
Kokatat Hydrus 3L Meridian
Comparison Table

-

Best Drysuit for Kayaking

For the best experience turn your device horizontally
Reviews

-

The Best Kayaking Drysuits
Kokatat Front Entry
View Women's Version
Specs
Material

:

Gore-Tex

Fit

:

Medium

Warranty

:

Lifetime
Features
Specialized sleeves for mobility
Reflective highlights
Front entry for pit stops
Integrated Gore-Tex socks
Reinforced knees and seat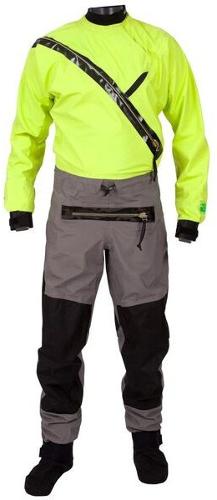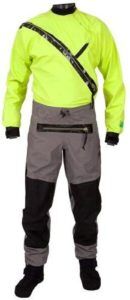 BEST FOR:

LONGBOAT WHITEWATER KAYAKING
PROS: Durability of Gore-Tex, latex gaskets prevent leakage
CONS: No hood
Kokatat Hydrus 3L Meridian
Specs
Material

:

Hydrus 3L

Fit

:

Medium

Warranty

:

Limited Lifetime
Features
Front entry zip
Relief zipper or rear drop-seat for women
Hydrus 3L socks
Adjustable waist
Reinforced seat and knees
Latex and neoprene gaskets
Self-draining chest pocket
Key lanyard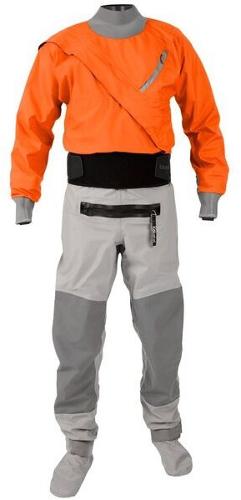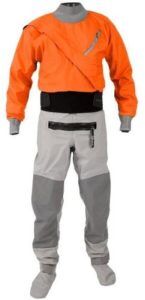 BEST FOR:

COLD DAYS
PROS: Highly breathable, durable, and warm
CONS: Neck gasket is snug
Kokatat Idol
Specs
Material

:

Gore-Tex

Fit

:

Medium

Warranty

:

Limited Lifetime
Features
SwitchZip for two-piece functionality or relief
Dual adjustable overskirt
Self-draining
Zippered sleeve pocket with key lanyard
BEST FOR:

FREESTYLE WHITEWATER KAYAKING
PROS: Very durable
CONS: Price, no hood
Stohlquist EZ
Specs
Material

:

4-Layer Twin Sensor

Fit

:

Relaxed

Warranty

:

3 Year
Features
Waterproof cross-chest entry
Relief zippers
Neoprene neck gaskets
Articulated armored knees
Reflective accents
Adjustable cuff covers
Fabric dry socks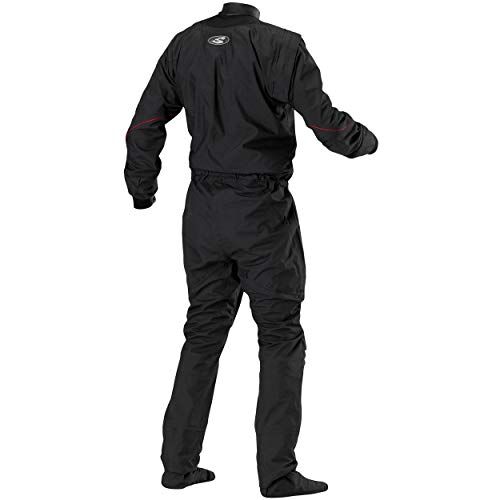 BEST FOR:

FREESTYLE KAYAKING
PROS: Easy chest entry, armored knees for freestyle kayaking
CONS: Lacks durability of Gore-Tex
O'Neill Boost
Specs
Material

:

PVC-backed Nylon

Fit

:

Relaxed

Warranty

:

1 Year Limited
Features
Latex ankle and wrist seals
Built-in suspenders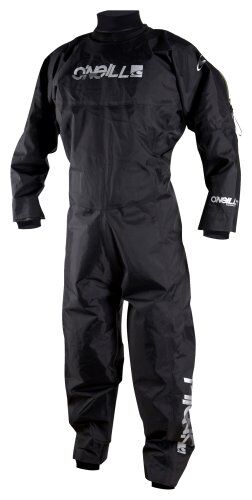 BEST FOR:

WHITEWATER ON A BUDGET
PROS: Price, relaxed fit designed for additional layering
CONS: Weight, PVC-backed nylon lacks breathability
Level 6 Emperor
Specs
Material

:

Cordura Seat/Knees

Fit

:

Relaxed

Warranty

:

Lifetime
Features
Bi-layer Cordura seat, knees, elbows, and forearms
Adjustable waist
Double tunnel waistband
Neoprene ankle, wrist, and neck gaskets
Rear entry
Relief zippers
Integrated socks
Fleece pockets
Emergency whistle
Taped seams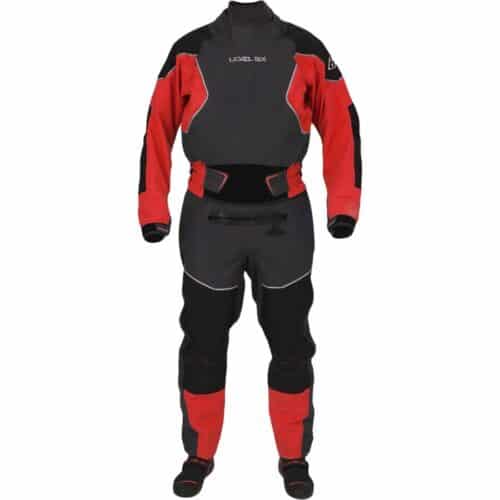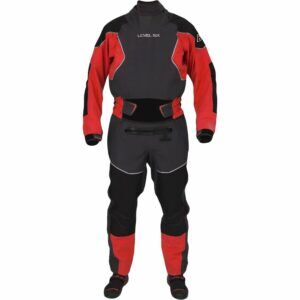 BEST FOR:

ALL AROUND KAYAKING
PROS: Great drysuit for all four seasons
CONS: Slightly bulky and warm, rear entry
Stohlquist Amp
Specs
Material

:

4 Layer Twin Sensor, Laminated Nylon Shell

Fit

:

Relaxed

Warranty

:

3-year Limited
Features
Masterseal entry
Relief zippers
Cordura-reinforced knees and seat mesh drainers
Waterproof fabric socks
UV-resistant
Reflective accents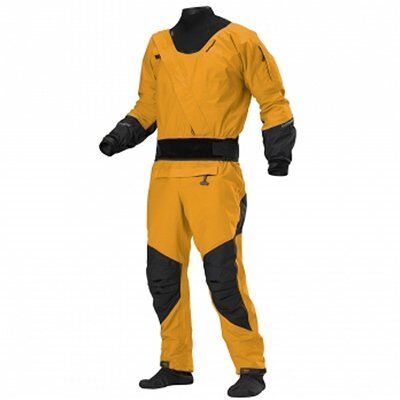 BEST FOR:

COMFORT
PROS: Price, relaxed fit for layering
CONS: Lacks durability of Gore-Tex
HOW TO CHOOSE THE BEST DRYSUITS FOR KAYAKING
MATERIAL
Drysuits are almost always made of either nylon or Gore-Tex. Sometimes, the nylon is coated or laminated with a hydrophilic substance to repel water. Gore-Tex is highly durable, and while more expensive than other fabrics, is definitely worth the money.
Many suits will offer Cordura-reinforced knees and seat, soft latex and neoprene gaskets around the neck, ankles and wrist to prevent chafing, or even a proprietary fabric on the interior of the suit for added comfort. Consider the climate and intended use when shopping for a drysuit.
FIT
Like all pieces of clothing, drysuits are made to fit snugly, loosely or somewhere in between. If you enjoy whitewater kayaking in late fall or early spring when the daytime temperatures are still low, you might consider buying a drysuit that offers a loose fit and ample room for warm, long sleeve layers underneath.
If you don't anticipate needing extra layers, perhaps opt for a suit that fits more snugly to eliminate excessive bulk.
BREATHABILITY
We covered materials above. While staying dry and warm are the main reasons for wearing a drysuit, thicker, water-repellent fabrics are less breathable than thinner, uncoated fabrics. However, Gore-Tex, in addition to being durable, is one of the most breathable fabrics available.
Sweating underneath your clothes in a cold environment can be dangerous as it leaves you wet and prone to hypothermia. Breathable fabrics were developed to overcome this problem, which can present challenges in nearly all sports, from mountaineering and long-distance running to snow-skiing and kayaking.
ENTRY TYPE
Up until recent years, there have been two types of drysuit entries, back entry and front entry. The first uses a zipper down the back of the suit, the second, down the front of the suit. While they each have their benefits, front entry suits will typically offer a relief zipper which makes pit stops a breeze.
The third entry type, SwitchZip, was developed by Kokatat. Their drysuits can be completely separated in the middle and function as either top only, bottom only or full drysuit when fused.
FEATURES
Make a list of wants and needs before you shop. If comfort is very important to you, choose a drysuit with mesh draining areas, and adjustable wrist, ankles and waist cinches.
If functionality is more essential, perhaps for an activity like fishing in the early morning hours, gear pockets, loops, reflective trim may rank higher on your list of desired features. While some drysuits come with built-in socks, you will need to find kayaking shoes and kayaking gloves, as they will not be included in your purchase.
WARRANTY
Warranty may be more important to some users than others, depending on their choice of activity. Fisherman and whitewater kayakers will damage or wear out their suits faster than the casual kayaker.
A drysuit will most likely be the second most expensive purchase you'll see apart from your kayak. So, a lifetime warranty will come in handy if it should ever need to be replaced.
READ MORE
For more of our top kayaking gear recommendations, check out these popular buyer's guides: