Updated on September 10, 2020
You're here because you're looking for the best lightweight long-sleeve hiking shirt to either block out the elements or keep you warm in cool-weather conditions, right? Either way, you want a shirt that stays comfortable the whole time you're on the trails, pack or not.
The long-sleeve hiking shirts on our list all offer a lightweight feel, which make them ideal base- or single layers. Some provide extra skin coverage, sun protection, and moisture management for warm summer hikes while others provide wool enhancements for warmth on those see-your-breath days. Use the "Best For" and "Things to Consider" sections to help you identify the right shirt for your needs.
For more of our top hiking gear recommendations, check out the Best Hiking Shirts.
[thrive_leads id='68010′]
Quick Answer

-

The Best Lightweight Long Sleeve Hiking Shirts
Comparison Table

-

Best Lightweight Long Sleeve Hiking Shirt

For the best experience turn your device horizontally
[thrive_leads id='56126′]
Reviews

-

The Best Hiking Lightweight Long Sleeve Shirts
Icebreaker 150 Zone
View Women's Version
Specs
Type

:

Long-sleeve Crewneck Base Layer

Material

:

Merino Wool / Nylon / Spandex

Size

:

Men's S-XXL; Women's XS-XL
Features
Quick-Dry Moisture Management (allows sweat to evaporate)
Ventilated Mesh Panels (allow airflow)
Underarm Gussets and Raglan Sleeves (room to move around)
Dropped Front and Back Hems (for extra coverage)
UPF 20 Sun Protection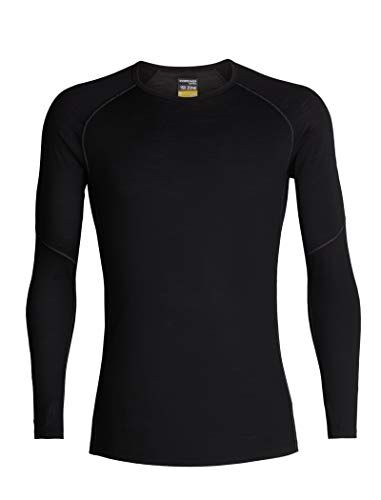 BEST FOR: LAYERING UP FOR WINTER HIKES
This lightweight shirt fits close like long underwear but can be worn as a standalone garment after you warm up. At the same time, mesh panels and moisture wicking material keep you from catching a sweat-induced chill. The spandex in the fabric and athletic shaping allow you to achieve your full range of motion while you tackle powdery summits.
REI Co-op Lightweight
View Women's Version
Specs
Type

:

Long-sleeve Crewneck

Material

:

Polyester

Size

:

Men's M-XXL; Women's XS-XL
Features
Quick-Dry Moisture Wicking Performance (allows sweat to evaporate)
Raglan Sleeves (for extra shoulder room)
Flat Seams (prevent rubbing and chafing)
Dropped Back Hem (for extra lower-back coverage)
Flattering, Fitted Style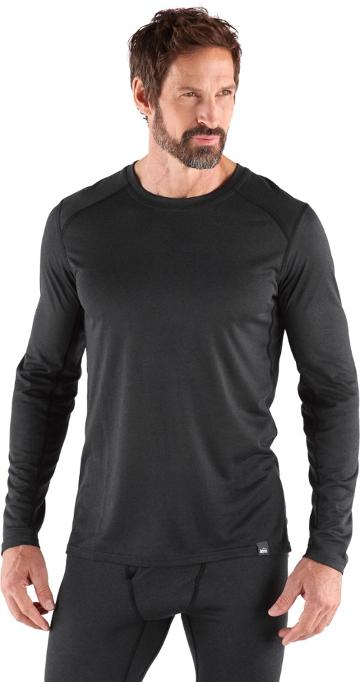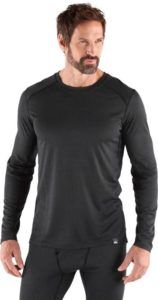 BEST FOR: COLD WEATHER ENDURANCE HIKING
If you're looking for a high-performance long-sleeve shirt for the trails, this REI shirt has the perfect combination of warmth and quick-drying performance to keep you comfortable. When you start to sweat on a cold day, you need a shirt like this that doesn't hold the moisture and make you even colder. The entire style emphasizes an athletic lifestyle, promoting maximum mobility and comfort under intense conditions.
Smartwool Merino 150
View Women's Version
Specs
Type

:

Long-sleeve Crewneck

Material

:

Merino Wool / Nylon

Size

:

Women's XS-XL; Men's S-XXL
Features
Temperature Regulation (cooling in summer, warming in winter)
Slim Fit (allows for layering)
Raglan Sleeves (for extra shoulder room)
Flat Seams (minimize chafing)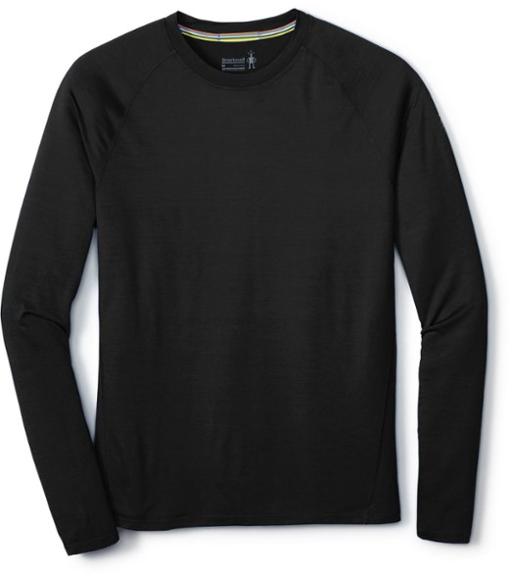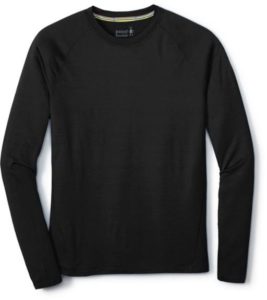 BEST FOR: CHANGING HIKING ENVIRONMENTS
Merino wool is mixed into the fibers of this shirt, which is good news for you and your comfort level. The specialty fabric helps keep your body's thermostat stable while also naturally fighting odors. When you think of wool though, you probably would never guess this base layer could be so soft, but it is. This long-sleeve shirt will become one of your versatile favorites.
KUHL Valiant
Specs
Type

:

Long-sleeve Crewneck Tee

Material

:

Polyester / Merino Wool

Size

:

Women's XS-XL; Men's S-XL
Features
Insulated Wool Fibers (for winter warmth)
3D Stripe Pattern (for an eye-catching look)
Sleeve Thumbholes (to keep your hands and wrists warm)
Strong, Stretchy, Anti-Bulk Seams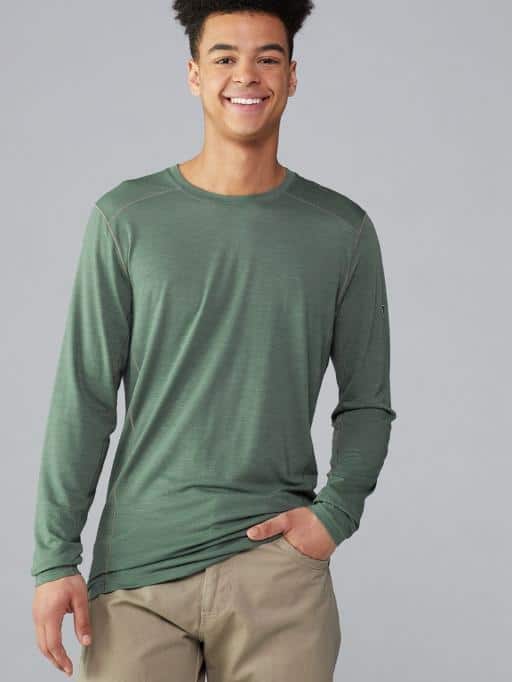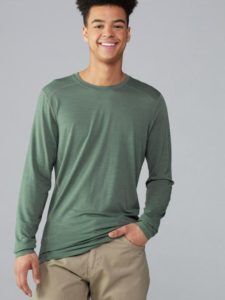 BEST FOR: WARMTH IN CHILLY CONDITIONS
If you're more worried about staying warm on the trails than getting sweaty, then this base layer has you covered with wool-enhanced fabric. The soft mix of polyester and wool gives you the warmth you desire without the itchiness. The give in the fabric and the seams allows you to move around unencumbered.
[thrive_leads id='59716′]
THINGS TO CONSIDER WHEN BUYING A LIGHTWEIGHT LONG SLEEVE HIKING SHIRT
SIZING
You never know how a shirt is going to fit until you try it on, but you can do your best with online tools like size charts and customer feedback. Use the retailer's measurement charts and sizing feedback as a guide to make your choice. Then, review the retailer's return policy to make sure you can send it back if it doesn't fit.
INTENDED USE
Your decision about which long-sleeve hiking shirt to buy varies depending on the conditions of your favorite hiking trails and what you want to use the shirt for. For example, some hikers choose long sleeves to provide protection from the sun and poisonous plants. Others choose long sleeves for warmth in wintry conditions, which entails a completely different style.
You may want to use your shirt for sports other than hiking too. Most of the hiking shirts here are designed for multisport use, but consider whether or not you might want a long-sleeve hiking shirt that pulls double duty.
LAYERABILITY
There's a reason why many of these shirts are called "base layers" – because they're meant to be layered with additional outerwear. If you want to be able to layer your long-sleeve shirt, it's important to find a shirt with a close fit and possibly a little stretch so you can easily add and shed layers in changing conditions.
MATERIAL
The fabric of your hiking shirt can make or break your entire trip, but the idea of comfort is different for each person and hiking environment. Polyester and nylon are usually pretty good choices for athletic wear as they wick sweat and have some give. Spandex increases the stretch in shirts, so you can bend and move around easier in a spandex garment. You might not guess, but merino wool is a great crossover fabric for summer and winter. This type of wool is softer and not itchy like earlier wools. Learn more about how fabric affects your active wear here.
FEATURES EXPLAINED
UPF SUN PROTECTION
Some fabrics have either natural or infused sun blocking features and are given an ultraviolet protection factor (UPF) rating, much like sunscreen. The higher the UPF number, the more UVA and UVB rays it blocks out. A UPF 25 rating means that your shirt allows 1/25th of the sun's rays to pass through the fibers.
RAGLAN SLEEVES
Raglan sleeves are the type of sleeves you see in baseball shirts. Unlike set-in sleeves which are sewn to the body of the shirt at the armpit, raglan sleeves extend across the shoulders and under the armpits. This shape provides a nice drape across athletic shoulders and allows for full mobility.
DROPPED HEM
A dropped hem is an extended hemline that's longer in the front and/or back of the shirt. An extended hem is easier to tuck in and covers more belly and lower back skin when you bend and move around.
GUSSETS
A gusset is an extra piece of fabric sewn between two seams to create more room in the garment. Gussets are common along the side body and under the arms to create a more natural fit around the body's curves.
Click here to learn more about active wear features.