Updated on November 12, 2021
If you have a small face, you've probably dived with a mask that floods all the time. A leaking mask can cause discomfort during a dive, make you use more air during each immersion, and lead to undue stress in the water. Women, kids, and divers with narrow foreheads are especially prone to masks flooding and leaking. But, there is a simple solution to this uncomfortable problem. All you need is a mask that fits well! The best dive masks for small faces are specially designed to form an air and watertight seal, even on the most pint sized and petite underwater explorers.
In this article, we'll walk you through The Adventure Junkies' top tips for mask shopping including which features and considerations to look out for. Plus, we'll share our favorite models from around the web, handpicked for divers with small faces.
For more of our top scuba gear recommendations, check out the Best Dive Masks.
Quick Answer

-

The Best Scuba Masks for Small Faces
Comparison Table

-

Best Scuba Mask for Small Faces

For the best experience turn your device horizontally
Reviews

-

The Best Dive Masks for Small Faces
Cressi F1 Mini Frameless
Specs
Skirt

:

Colored and Clear

Volume

:

Low

Windows

:

1
Features
Frameless (the lens is bonded directly to the mask skirt)
Double Skirt (uses 2 layers of silicone to form an airtight seal)
Compact and Foldable
Extra Wide Field of Vision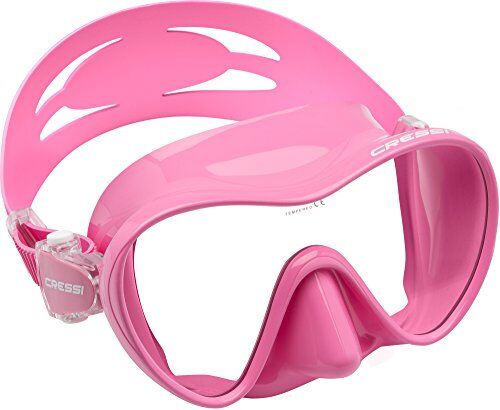 BEST FOR: SINGLE WINDOW
The Cressi Frameless F1 Mini is a classic style and an excellent value for money. Thanks to its super low profile one window design, this mask clears easier than similar models and has a very wide field of vision. It fits even the smallest of faces perfectly, including women and kids. Plus, it's available in light blocking colors (to keep your front lens free from unwanted reflections), making it one of the most functional and stylish options around. The F1 Mini also folds into a nearly flat shape, making it perfect for dive travel or to keep as a spare in your BCD pocket.
TUSA Tina
Specs
Skirt

:

Black and Clear

Volume

:

Medium

Windows

:

1
Features
Dimpled Skirt (a texturized edge that forms to fit your face)
Extra Wide Field of Vision
Female Specific Design
Accessory Port (for mounting a snorkel or camera)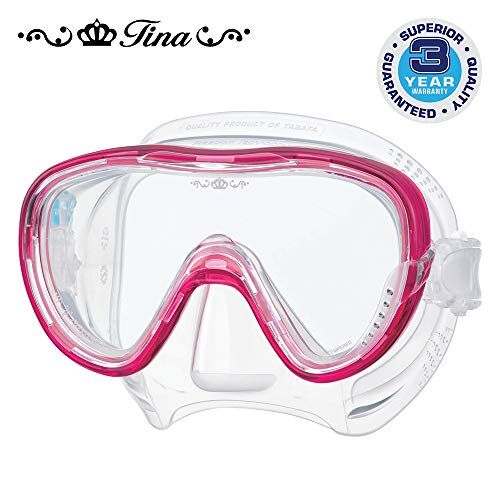 BEST FOR: WOMEN
If you're a woman who dives, you know how hard it can be to find a mask that fits properly. The TUSA Tina was designed with you in mind! This mask features a "female specific" fit, with narrow temples and a shortened mask skirt lined with dimples to form the most airtight seal possible. And, if you're looking for something stylish, the TUSA Tina won't disappoint. This is one of the few masks on the market that comes standard with feminine decorations (crystals and stencils) on its sides. This model also features an accessory port, perfect for mounting a snorkel keeper or small camera.
Cressi Eyes Evolution
Specs
Skirt

:

Black and Clear

Volume

:

Medium

Windows

:

2
Features
Double Skirt (uses 2 layers of silicone to form an airtight seal)
Teardrop Lenses (for better look down vision)
Prescription Lens Compatible
Oversized Lenses (for better peripheral vision)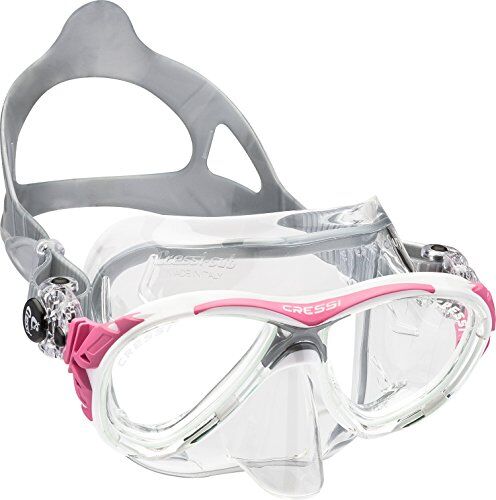 BEST FOR: OVERALL VALUE
The Cressi Eyes Evolution is one of the most versatile mask options available for divers with small faces. This model is prescription lens compatible and features a teardrop-shaped lens for better "look down" vision. It features a wide, double skirt, flexible enough to fit a variety of face shapes without leaving marks or rings around the eyes. Plus, its frame comes in a variety of colors, designed to block light and reduce reflections while still looking great! If you're looking for a basic model that will last for dive seasons to come, this might be your top pick.
Scuba Pro Spectra Mini
Specs
Skirt

:

Black and Clear

Volume

:

Low

Windows

:

2
Features
Double Skirt (uses 2 layers of silicone to form an airtight seal)
Prescription Lens Compatible
Swiveling Buckles (for added comfort)
Ultra Clear Glass (for the truest colors underwater)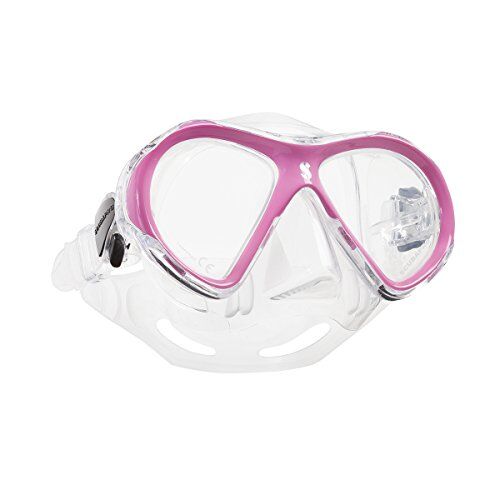 BEST FOR: BEST OF THE BEST
When it comes to dive masks for small faces, the ScubaPro Spectra Mini is the top of the line. This is one of the lowest volume models on the market, so it's super easy to clear. And, its ultra-flexible double skirt fits nearly every face shape and size, including women and kids. The Spectra Mini features oversized teardrop lenses for increased "look down" and peripheral vision, and ultra clear glass (no green tint) so you'll see the most accurate color possible underwater. Plus, its swiveling buckles are large and easy to grasp even while wearing gloves and won't rip your hair out if they twist or move underwater.
Aqua Lung Look 2
Specs
Skirt

:

Black and Clear

Volume

:

Low

Windows

:

2
Features
Prescription Lens Compatible
Single Skirt (uses 1 ultra thin layer of silicone to form an airtight seal)
Teardrop Lenses (for better look down vision)
Good for Cold Climates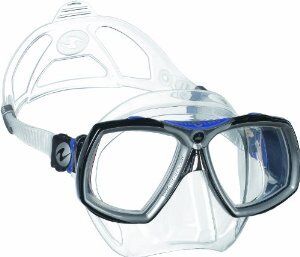 BEST FOR: EVERYDAY USE
If you dive often, you'll want a mask that's up to the challenge of regular use and abuse. The Aqua Lung Look 2 is a rugged, classically designed option, perfect for divers who spend a lot of time in the water. This mask is corrective lens compatible, offers excellent "look down" vision, and fits almost every face thanks to its extra thin single skirt. The Look 2 is an excellent choice for cold water divers too, because of its oversized buckles, easy to adjust strap, and elevated frame (for easy clearing while wearing thick gloves).
THINGS TO CONSIDER WHEN BUYING A SCUBA MASK FOR A SMALL FACE
FIT
While you're mask shopping, fit is the most important concern, no matter what size or shape your face is. To try a dive mask on properly, you should follow these simple steps.
First, hold the mask over your face, and see how the skirt (the rubber part that sticks to your face) fits you. A mask skirt that overlaps with your hairline or sits too low on your top lip will leak. If your mask skirt is the right size, you can move on to testing the seal it creates around your face. To check for a strong seal, you should continue holding the mask in place, and inhale through your nose. The suction created inside the mask should hold it firmly in place without using the strap. If the mask moves or slides around easily, it will leak.
Be sure that your mask's window is not pressing against your nose or forehead. This pressure will increase once you are underwater, and can cause headaches and uncomfortable squeezes.
SKIRT COLOR
SCUBA masks are available with a variety of skirt colors. And, while you may prefer the look of one over another, style is not the real reason for these options. Different skirt colors perform differently underwater, and the only way to know which you prefer is to try diving with a variety of different styles.
A clear mask skirt allows more light to enter, so it offers more peripheral vision and a more "open" feeling underwater. That's why divers who suffer from mild feelings of claustrophobia may prefer a transparent mask skirt. But, some clear masks can allow too much light to enter. This extra light can cause visual distortions underwater (typically reflections of objects outside your field of vision) that some divers find irritating.
A black mask skirt allows less light to enter, but the contrast between light and dark clarifies your vision and helps you see further. Technical divers, spearfishing enthusiasts, and photographers often prefer this style because it improves their vision underwater. A solid black mask can create feelings of "tunnel vision" and mild claustrophobia, usually in newly certified divers. But, these feelings normally pass with time and experience.
These days, more and more masks are available with colored skirts. And, for some divers, these styles offer the best of both worlds. A solid colored mask skirt blocks unwanted light and reflections without creating a boxed-in feeling. Light colors like pink, white, and yellow are also very easy to spot from a distance and can help other divers in your group identify you.
VOLUME
Volume refers to your mask's internal airspace. How much air your mask holds will determine how difficult it is to clear, and how far it sits from your face. Most divers prefer a low volume design because it is easy to push water back out if some accidentally enters during your dive. But, divers with deep smile lines or very prominent foreheads may find it challenging to find a low volume mask that fits well. Keep in mind that fit is the most important factor while shopping for a dive mask.
WINDOWS
SCUBA masks are sold in 2 main styles, single window and dual window.
Single Window
Single window masks use one large piece of glass as a lens. This style is more travel-friendly because it folds into a flat shape that can easily fit inside a BCD pocket. And, it generally offers a wider field of vision than its dual window counterparts. But, single window masks don't always fit well on narrow faces and may leak around the temples. Generally speaking, one-window masks hold a larger volume of air too, which makes them harder to clear. Single lens models are not compatible with most tinted or corrective lenses.
Dual Window
Dual window masks use two individual pieces of glass for their lenses. Though these styles are less compact and foldable than their counterparts, they offer plenty of benefits. Many dual window masks use teardrop shaped lenses, which provide better "look down" vision. This enables you to see your gauges easily and can be helpful while entering and exiting the water, as you have a clearer view of your feet. Two window masks fit a wider variety of face shapes, are easier to clear, and are compatible with colored and prescription lenses, too.
Some mask styles use three or four individual pieces of glass to create side windows. Though extra windows increase your peripheral vision, these styles don't fit well for small faces because they use wide frames. Three and four window masks are also much more difficult to clear because of their large air volume. And, these models are prone to visual distortions underwater due to reflection and refraction of light.
FEATURES EXPLAINED
FRAMELESS (the lens is bonded directly to the mask skirt)
Frameless masks do not have a rigid piece of plastic or frame attaching the skirt to the lens. Instead, the window is bonded directly to the mask skirt. This makes frameless masks the most lightweight, compact, and moldable models available. Frameless masks are also great backups because they are easy to slip into a BCD pocket. This mask style doesn't fit every face type, so be sure to try it on before making a purchase.
TEARDROP LENS (for better look down vision)
Teardrop shaped lenses allow you to look down toward your own body while diving. This helps you see your gauges, BCD straps and buckles, and weight system. Increased look down vision is also helpful while you are entering and exiting the water, because you can see where you are putting your fins. Some divers find this helps them fight feelings of mild claustrophobia.
EXTRA WIDE FIELD OF VISION
Single window masks have a wider field of vision than their dual window counterparts. So, while they don't offer the extra "look down vision" provided by a teardrop lens, they do give you a wider frame. This helps with peripheral vision and allows more light to enter the mask.
FEMALE SPECIFIC DESIGN
Masks designed especially for women are typically a different shape and size than standard models. These styles usually fit well on narrow face types and accommodate deeper smile lines than traditional designs. Some dive masks designed for women feature feminine details too, like crystals and decals.
CORRECTIVE LENS COMPATIBLE
If you wear glasses or contacts, you might want to invest in prescription lenses for your mask. Two window masks with teardrop shaped lenses are the most compatible styles for lens replacement and "stick on" magnifiers.
READ MORE
For more of our top scuba diving gear recommendations, check out these popular buyer's guides: