Updated on October 7, 2020
Ski goggles are essential for the slopes. They're as important as any of your layers. If you're beginning to collect your own gear, it's hard to know if spending more on the most recent Oakley's is a necessary investment. If you're like me, I'm sure you don't want to break the bank buying the most stylish, updated models. Ski goggles can be cheap, durable, and functional in all skiing conditions, and it's quite simple to purchase the best ski goggles for under $100.
Spending more on a pair of goggles is only necessary if you're a fashionista. All of the goggles detailed below are affordable, highly functional, and will last you for multiple seasons if taken care of properly. They are also all helmet compatible, so make sure you find a comfortable helmet to match your new goggles and keep your noggin safe on the slopes! And if you snag a pair of goggles with interchangeable lenses, which most of the options below have, you'll be ready for all-mountain conditions. The only thing you'll need to worry about is developing gnarly goggle tan, a tell-tale sign of a ski bum.
For more of our top ski gear recommendations, check out the Best Ski Goggles.
Quick Answer

-

The Best Ski Goggles Under $100
Comparison Table

-

Best Ski Goggles Under $100

For the best experience turn your device horizontally
Reviews

-

The Best Goggles for Skiing Under $100
Smith Squad ChromaPop
Specs
Fit

:

Medium

Ventilation

:

Medium

UVA/UVB Protection

:

100%

Low Light Lens

:

Yes

Lens Shape

:

Cylindrical
Features
Comes In A Variety Of Stylish Colors
Non-Slip Silicone Strap to Keep Goggles in Place
Easy to Swap Lenses
Protected by Smith's Lifetime Warranty
Comes With A Low Light Lens For Gray Days On The Mountain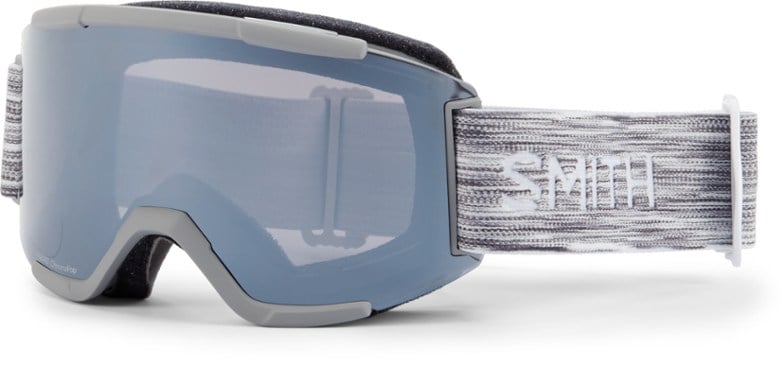 BEST FOR: DEPENDABLE, STYLISH, AND AFFORDABLE
Smith is a reputable name in the optic industry, and they produce goggles for every budget. The Smith Squad XL comes in a variety of styles and colors. Surely you'll be able to find a pair that matches your outer layer, pants, and other gear. With your purchase, Smith includes a low-light lens for those gray days on the mountain. The lens is interchangeable, which is very valuable when choosing goggles. Smith isn't going anywhere. So when the pines have scratched your lenses a few times, it's easy to upgrade. The Smith Squad XL is a durable goggle that will last you for multiple seasons in the mountains.
Giro Blok
Specs
Fit

:

Medium

Ventilation

:

Medium + Anti-Fog Coating

UVA/UVB Protection

:

100%

Low Light Lens

:

No

Lens Shape

:

Cylindrical
Features
Compatible with Giro Helmets
Lens Finished with Scratch Resistant Coating
Lens Technology Enhances Light Contrast and Visibility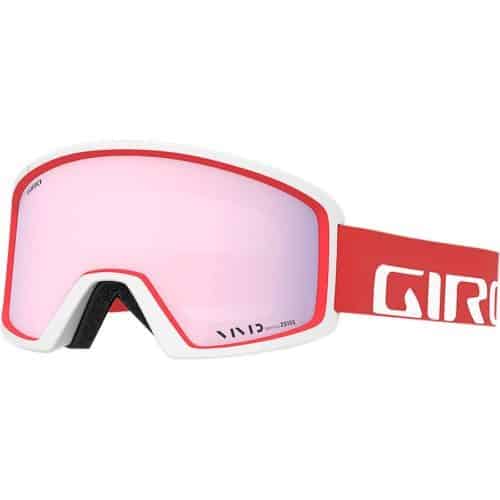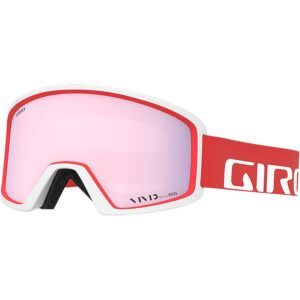 BEST FOR: HELMET COMPATIBILITY
These goggles are great for cold days on the mountain. Once the temperature rises, you can expect them to fog up quite easily. Giro uses Anti-Fog technology in the lens, but it can be hit or miss. Giro makes great helmets, all of which are compatible with their goggles though. If you need to protect your head, purchase the two products together for a better deal. If you are a weekend skier, these goggles may fit your budget. If you want a more serious pair of goggles, the Blok's are not the best option.
Anon Helix 2.0
View Women's Version
Specs
Fit

:

Medium

Ventilation

:

Medium + Integral Clarity Technology

UVA/UVB Protection

:

100%

Low Light Lens

:

Yes

Lens Shape

:

Cylindrical
Features
Compatible With Glasses
Dual-layer Face Foam for Comfort
Full-Perimeter Ventilation
Non-Slip Silicone Strap to Keep Goggles in Place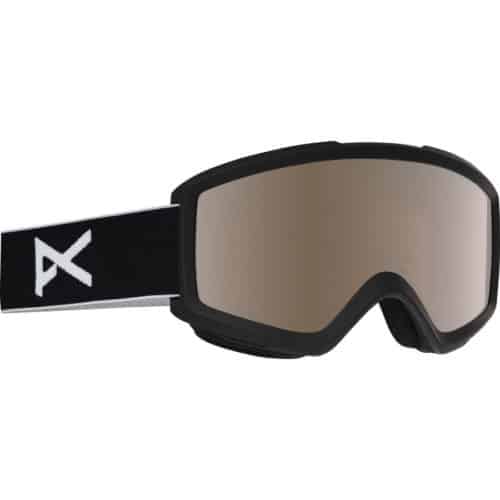 BEST FOR: LENDING TO FRIENDS
These goggles are very dependable for all conditions. The frames are a bit bulky, but they fit really well no matter how big or small your head may be. If you want to get a pair of goggles that any friend of yours can use, buy these. They have Over-the Glasses technology, which makes them simple for anyone to use, even if you wear corrective lenses. If you want serious style, purchase a different pair. But if you just need an extra pair for people to use when they come to visit you, the Anon Helix 2.0 will be your friend's best friend.
Oakley O2 XL
Specs
Fit

:

Medium - Large

Ventilation

:

Dual-vented lenses with F2 anti-fog coating

UVA/UVB Protection

:

100%

Low Light Lens

:

Yes

Lens Shape

:

Cylindrical
Features
Comes In A Variety Of Stylish Colors
Non-Slip Silicone Strap to Keep Goggles in Place
Lens Technology Enhances Contrast and Visibility
Large Lends Extends Peripheral Vision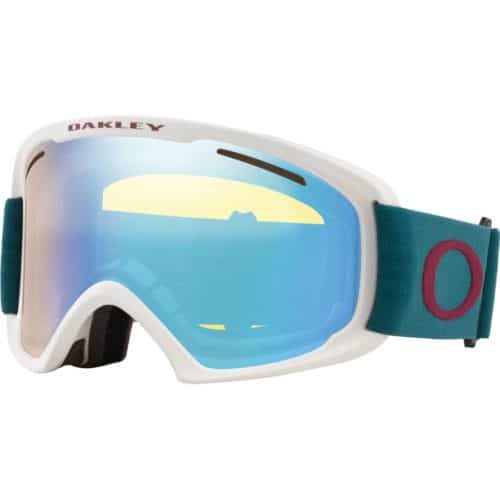 BEST FOR: LIFELONG SHREDDERS
Oakley is simply the most reputable brand in the outdoor glasses industry. Their lenses consistently perform well, and they have the styles to back it up. If you are going to be living near a mountain for the next few years, do yourself a favor and get these goggles. You get 2 lenses, but can also purchase Oakley replacement lenses for years to come. Oakley always gives plenty of options and price points, which is why they are the best pair of goggles under $100. Look no further if you are willing to spend the money on these.
Spy Woot
Specs
Fit

:

Small - Medium

Ventilation

:

Dual venting + Anti-Fog Coating

UVA/UVB Protection

:

100%

Low Light Lens

:

Yes

Lens Shape

:

Cylindrical
Features
Non-Slip Silicone Strap to Keep Goggles in Place
Anti-Fog Lens Technology with Anti-Scratch Protection
Trademarked Unique Scoop Ventilation System Prevents Goggle Fog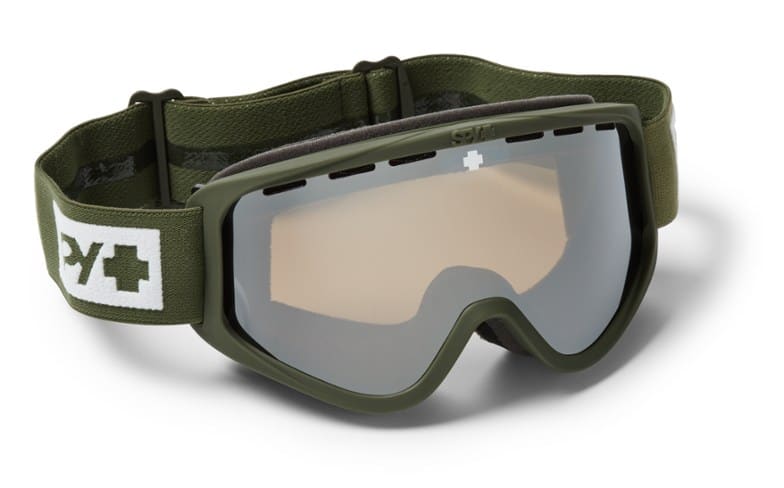 BEST FOR: "BANG FOR YOUR BUCK"
The Spy Woot goggles are very affordable. If you just need some goggles to get you by for a few weeks in the mountains, these are a great option. They come in a few different styles, but the most basic goggles are also the most affordable. You get two lenses for the price of one with your purchase from the vendors above. If you have a large head, you may find these goggles to be a bit tight. That being said, these goggles are great for a growing teenager, and will last for years if taken care of. Spy makes a great, affordable goggle with the Woot.
THINGS TO CONSIDER BEFORE BUYING SKI GOGGLES
FIT
This is very important to take into consideration if you have an abnormally sized head. If most caps, helmets, or face masks fit you, I wouldn't worry much about the size of your goggles. That being said, if you do have a big head, you may want to look into how large the goggles fit.
HELMET GRIP / SILICONE STRAP
Ever owned a pair of goggles that just won't stop sliding around on your helmet? A silicone strip on your helmet strap will grip the helmet, preventing just that.
LENS SHAPE
Cylindrical lenses are the style nowadays. All 5 of the goggles in this list are cylindrical, which is highly recommended for snow sports. You get the most of your peripherals, and the lenses are quickly interchangeable. What more could you want?
UV PROTECTION
Fortunate for your eyes, all of the lenses listed above feature 100% UV protection. What does that mean? Well, you can wear goggles for 8 hours a day and not damage your eyes at all. Your eyes will be much better protected than wearing a polarized pair of goggles, or a simple pair of sunglasses. Light reflection off snow can cause serious optic damage, which is why you should never wear a pair of polarized goggles while skiing or snowboarding.
VENTILATION
Goggle fog sucks. Reviews are the most dependable way to know whether or not goggles breathe well. Don't trust all the different technologies that brands promote, but instead ask someone for their opinion or read the reviews online. At the end of the day, you will need to find the most effective layering system to keep you at an ideal temperature. But the goggles you purchase can make that process much simpler.
FEATURES EXPLAINED
LENS ENHANCES CONTRAST AND VISIBILITY
Lenses with enhanced contrast improve overall visibility. You'll see shadows more clearly, especially on difficult terrain. All of this ultimately allows for a better view of the slope.
HELMET COMPATIBILITY
Fortunately, all recent goggles are helmet compatible. If you are purchasing new goggles, chances are they will fit your snow helmet. Also, WEAR. A. HELMET.
LIFETIME WARRANTY
If you plan to use your goggles for multiple seasons, be sure to check if your goggles are covered by a warranty. Smith Optics, for example, will replace your goggles if the damage is inhibiting your vision. This simple feature may save you a lot of money in the long run!
LOW LIGHT LENS
Be sure to purchase a pair of goggles that include a free low-light lens. This will save you money in the long run. Frankly, skiing in low light conditions with the wrong lenses can be very dangerous. Protect yourself and others by investing in a set of goggles that has two different lens types.
READ MORE
For more of our top skiing gear recommendations, check out these popular buyer's guides: