Updated on October 7, 2020
We love to ski here at The Adventure Junkies. From groomers to tree runs, powder fields to endless mogul runs, we really do love every day spent on the mountain, and we want to help you get out there and enjoy it as well. Though your downhill ski boots may not be your flashiest piece of ski equipment, they are arguably the most important. Ski boots that cause pain and discomfort can easily ruin a day on the slopes. If they're not fit correctly to your feet and your stance, you will limit the responsiveness of your skis, and you won't be able to control your turns as well as you want to.
So, we've put together a list of the best downhill ski boots on the market for skiers of all experience levels, so that you can make the most of your next ski day. Take a look at the guide below to help you get a feel for how to choose your next pair of downhill ski boots. See you out on the slopes!
For more of our top ski gear recommendations, check out the Best Ski Boots.
Quick Answer

-

The Best Downhill Ski Boots
Comparison Table

-

Best Downhill Ski Boots

For the best experience turn your device horizontally
Reviews

-

The Best Boots for Downhill Skiing
Dalbello Panterra 90
View Women's Version
Specs
Flex

:

Medium

Experience Level

:

Beginner

Boot Liner

:

Thermoformable

Flex Index

:

85

Last Width

:

99-101 millimeters

Boot Sole Type

:

GripWalk
Features
Includes A Ski/Walk Mode For Maximum On- And Off-slope Comfort
Center Balanced "Rocker" Stance Helps Center The Skier Over The Ski
Gripwalk Soles Allow For Ease Of Movement While Walking Around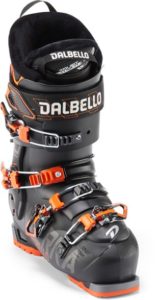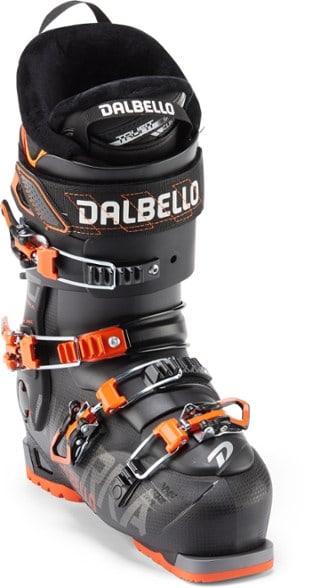 BEST VALUE FOR BEGINNER SKIERS
This boot will grow with you as you progress from green runs to blue and even black diamond slopes. The flex on this Dalbello downhill ski boot is on the line between soft and medium flex, making it the perfect boot for those beginners who are improving quickly. Its unique center-balanced design also helps beginner skiers develop those good habits early on in their learning process so that their technique progresses along with the terrain.
Nordica Speedmachine 100
View Women's Version
Specs
Flex

:

Medium

Experience Level

:

Beginner - Advanced

Boot Liner

:

Custom Moldable

Flex Index

:

85

Last Width

:

100 millimeters

Boot Sole Type

:

Alpine (ISO 5355)
Features
Includes Primaloft Insulation (Warm, Lightweight, Breathable, Water Resistant) Made From 55% Post-consumer Recycled Content
Waterproof Weather Shield Helps Prevent Snow And Water Leaking Into Boots
Tri-force Shells Can Be Heat-customized For Precise Fit
Cant Adjustment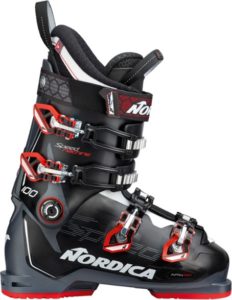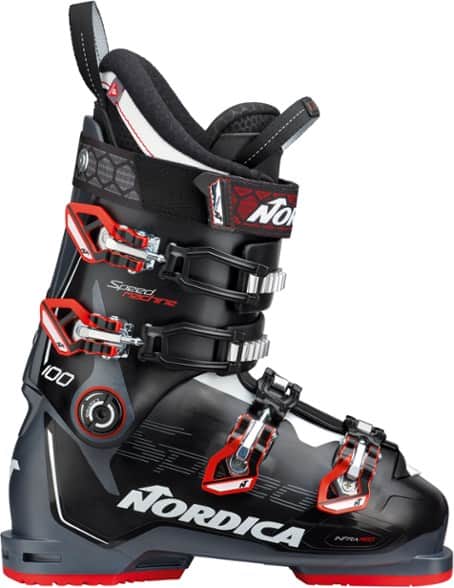 BEST ALL-MOUNTAIN BOOT
This boot is best for those who enjoy all types of terrain in a variety of conditions. From powder to hard-pack turns, these boots will keep up. The fully customizable shells are made with Nordica Infrared technology, meaning they can be heat molded to better fit your feet, ankles, and calves. The shell is also made of three different plastics, allowing for the easiest possible boot entry and exit. Finally, the liners are specially formulated with Primaloft microfiber insulation that will keep you warm all day. All of these components combine for superior comfort and warmth without compromising performance.
Lange LX 100
View Women's Version
Specs
Flex

:

Medium

Experience Level

:

Beginner - Intermediate

Boot Liner

:

Thermoformable

Flex Index

:

80

Last Width

:

102 millimeters

Boot Sole Type

:

Alpine (ISO 5355)
Features
Easy Step Insert Allows Easier Opening Of The Boot Overlap For More Comfortable Entry And Exit
Comfort Fit Provides A Wider, More Forgiving 102 Millimeter Last Designed For Skiers With Wider Feet Or Those Looking For All-day Comfort
Anatomical Asymmetric Tongue Design Distributes Shin Pressure As You Pressure The Boots, Dispersing The Pressure To Relieve Discomfort And Providing A Greater Level Of Control
Cant Adjustment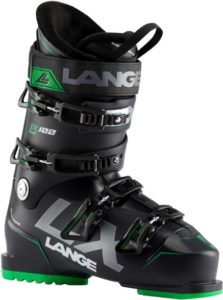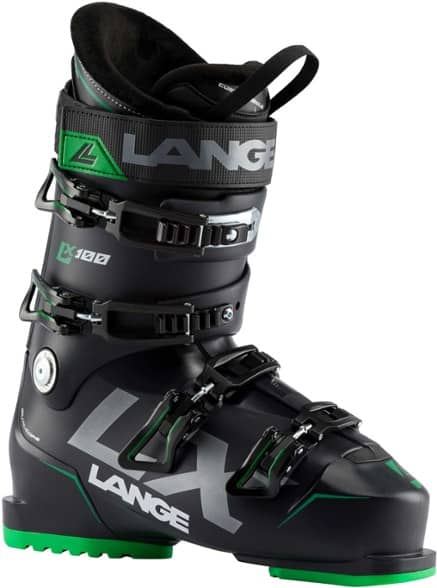 BEST COMFORT BOOT
This boot was designed for all-day comfort. Each element of the boot is perfectly balanced to help you have the most fun possible on the hill without discomfort or pain. The Dual 3D sport liners are designed to precisely mirror the dimensions of the interior of the plastic shell of the boot, which minimizes rubbing and hot spots on the feet and ankles. The liners are also designed with asymmetric tongues that imitate the shape of your calf, hugging your shins and protecting them from plastic pinching. Additionally, the Natural Stance feature offers a more neutral, upright stance (rather than leaning far over the front of your skis) to increase balance and offset quad fatigue.
Tecnica Mach1 100 MV
View Women's Version
Specs
Flex

:

Medium

Experience Level

:

Intermediate - Advanced

Boot Liner

:

Thermoformable

Flex Index

:

95

Last Width

:

100 millimeters

Boot Sole Type

:

Alpine (ISO 5355)
Features
Merino Wool And Celliant (Microcrystals That Reflect Heat) In Liner Construction Increase Warmth
Softer Plastic On The Instep Makes It Easier To Get In And Out Of Boot
4 Ratcheting Buckles And 35 Mm Power Straps Lock Foot And Ankle Into The Boot
Cant Adjustment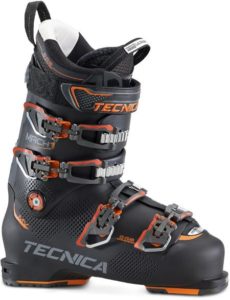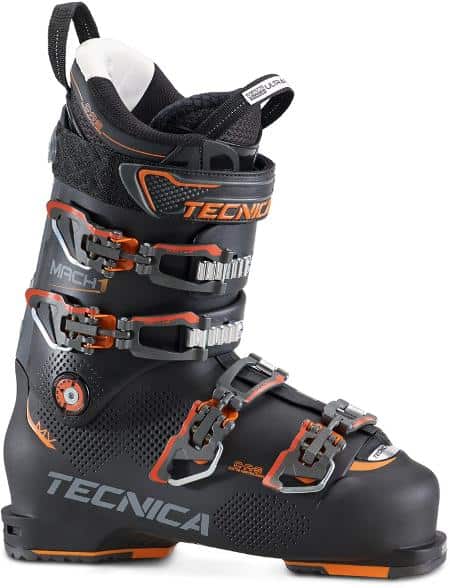 BEST BOOT FOR TAKING IT TO THE NEXT LEVEL
For those skiers looking to take their skiing to the next level, this is the boot for you. The strength and versatility of this boot make it best for skiing powder and for durability season after season. With a slightly higher flex (the boot is a bit stiffer and more difficult to flex forward, indicating a more aggressive or higher level boot), you'll find that this boot will help you tackle that harder terrain and allow you to comfortably progress as you get more aggressive out there on the slopes.
Salomon X Pro 100
View Women's Version
Specs
Flex

:

Medium

Experience Level

:

Intermediate

Boot Liner

:

Thermoformable

Flex Index

:

90

Last Width

:

100-106 millimeters

Boot Sole Type

:

Alpine (ISO 5355)
Features
Shells Are Heat-moldable For A Customizable Fit
Medium Flex Is Perfect For Intermediate Skiers
Shell And Liner Designed Specifically For Ease Of Getting The Boot On And Off
BEST FOR: INTERMEDIATE SKIERS
This downhill ski boot offers the best range of features for the intermediate skier. Its heat-moldable shells (the hard plastic casing with buckles around the outside of the boot) and pre-shaped 3D liners (i.e., the liners are made to precisely fit the interior shell of the boot) make for a completely personalized fit that combines performance with comfort. You can expect superior foothold as the liners grip ankles and heels without pressure and the liners conform under the foot with use.
THINGS TO CONSIDER WHEN BUYING DOWNHILL SKI BOOTS
Fit and performance are the two most important factors to focus on when you're looking for your next pair of downhill ski boots. First, consider your skiing style and experience: are you a beginner who enjoys mellow, groomed runs or are you an all-mountain skier that enjoys exploring all different types of terrain at the resort?
Just as skis are grouped into categories based on the type of terrain they're optimized for, so are downhill ski boots. All-Mountain boots feature a well-balanced combination of carving and freeride characteristics. They tend to be good for skiers of all experience levels; flex, width, and fit all based on the individual skier's experience level and foot shape will lend further nuance to your decision on which pair to invest in.
Other boot categories include Freeride, the design of which is based on race boots; Alpine Touring, which are optimized for off-piste adventures into the backcountry; and Park & Freestyle boots, the light-weight design which is perfect for those skiers that spend most of their day in the terrain park. Check out this article from Backcountry for more information about the different boot categories and the technical features of downhill ski boots.
YOUR SKIING STYLE
The first things to consider when choosing a boot that's right for you are the terrain that you'll be skiing and how you will be skiing it. If you're a beginner that enjoys cruising the groomed trails on the mountain, then you'll want to choose a boot that has been designed especially for you. If you're a more advanced skier looking to improve your technique and to tackle harder terrain, you'll want to find a boot that will help you reach that next level.
COST
While there are different ski boot price points, it's true that downhill ski boots tend to be an investment. They are complicated, highly-engineered pieces of equipment that often come with a price tag to match. But when you factor in the longevity of the boot (if you ski less than 25 days per year and if you take care of them, then you can expect your boots to last for years) as well as the experience of having boots that fit really well, then the price becomes worth it.
FLEX INDEX
The flex index of a downhill ski boot refers to the stiffness or rigidity of your boot. The higher the flex, the more rigid your boot will be. When choosing a ski boot, the flex most often correlates to the skier's ability level, meaning the higher the flex, the more advanced the skier.
FIT: LINERS
Ski boots are made from two main components: the hard plastic shell and the liner. Most boots are designed with some level of heat-moldable liners that help fit the boot your specific foot shape. The more expensive the boot, the more customizable and moldable your liners will be. You can learn more about liners and fit from this article from REI's Expert Advice column.
BOOTFITTERS
Professional bootfitters are trained to help you work on the custom fit of your downhill ski boots. Whether you prefer REI or your local ski shop, seek out these professionals to help you optimize your existing or new ski boots.
DESIGN
Though most ski boot designers will be sure to include cool colors and fun designs on the shell of the boot, it really is the least important factor when choosing a boot that's best for you.
MATERIALS & DURABILITY
The outer shell of the ski boot is made of a hard plastic and metal clips that help tighten the boot around your ankle and calf. To extend the life of your boot, consider purchasing a product like Seirus Cat Tracks to protect the base of the boot when walking on cement either through the parking lot or down a sidewalk.
FEATURES EXPLAINED
SOFT FLEX
For a soft flex boot, the index is typically below 85 for men and 75 for women. These boots are usually comfortable and warm, and they're best for those who are new to skiing or enjoy skiing leisurely on groomed runs.
MEDIUM FLEX
For a medium flex boot, the index is typically 90-110 for men and 80-95 for women. Intermediate skiers will love a medium flex boot, which comes with increased responsiveness and better control at higher speeds.
STIFF FLEX
For a stiff flex boot, the index is typically above 115 for men and above 100 for women. Stiff flex boots are best for those who ski aggressively and at high speed on the steepest and most challenging terrain.
SIZING
Ski boot sizes are determined based on the Mondo sizing scale, which refers to the length of the boot's inner sole in centimeters. Sizes are not necessarily universal by brand, but a general rule of thumb is that you want your boot to fit snugly around your foot. That may mean going down in size from your normal shoe size.
OTHER FEATURES
Many medium to high-end boots include a ski/walk mode that allows for maximum comfort and performance both on and off the slopes. When you're headed to apres-ski, simply flip the switch to walk mode to increase your comfort.
READ MORE
For more of our top skiing gear recommendations, check out these popular buyer's guides: