Updated on April 29, 2021
Tripods are an invaluable piece of equipment in your camera kit, but when you're adventuring outside, you don't want to add too much bulk. Travel tripods designed for DSLRs should be compact, sturdy, and lightweight so they can easily fit in your pack. Of course, you don't want to skimp on features like smooth panning and easy adjustability. At The Adventure Junkies, we can help you choose the best travel tripod for DSLR cameras.
For more of our top travel photography gear recommendations, check out the Best Travel Tripods.
Quick Answer

-

The Best Travel Tripods for DSLR
Manfrotto Element Traveller Big

3 Legged Thing Punks Corey

Benro Aero 4 Travel Angel
Comparison Table

-

Best Travel Tripod for DSLR

For the best experience turn your device horizontally
Reviews

-

The Best DSLR Travel Tripod
Manfrotto Element Traveller Big
Specs
Weight

:

3.5 lbs

Max Load

:

17.6 lb

Collapsed Length

:

16.5 in
Features
Detachable Leg Converts To Monopod
Rubber-Coated Twist Locks Make It Simple To Adjust Leg Length
Carrying Case Included For Easy Transport
BEST FOR: HEAVY CAMERAS
The Manfrotto Element Traveller Big is an excellent choice for a travel tripod, with lots of features that make it perform well in a variety of situations. At a little over 3.5 lbs, it's not the lightest travel tripod out there, but it can hold a load of over 17 lbs, so it can support your heaviest DSLR along with big lenses and accessories.
The Element has rubber-coated twist locks on the legs, making it easy and quick to adjust each leg individually, which is especially nice when you're on uneven terrain outside. Also, one of the legs detaches and converts to a monopod, which is handy in areas where tripods are not allowed.
JOBY GorillaPod 5K
Specs
Weight

:

5.1 oz

Max Load

:

11 lbs

Collapsed Length

:

15.2 in
Features
Jointed Legs Provide A Variety Of Set-Up Options
Integrated Bubble Level Ensures Your Shot Is Straight
Can Pan 360° And Tilt 90° For Full Range Of Angles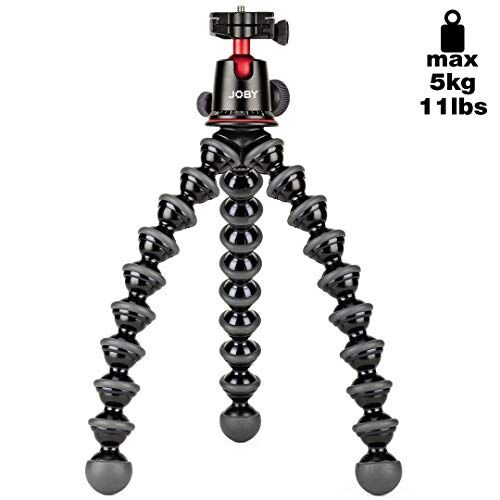 BEST FOR: VERSATILITY
The GorillaPod 5K tripod features Joby's unique flexible tripod design in a package that is large enough to handle a DSLR. The jointed legs of the Joby GorillaPod 5K allow you to use this travel tripod in all sorts of configurations just about anywhere – you can wrap it around trees, adjust it to sit on rocks, and even grip it in your hand if you're on the move.
The head on the GorillaPod 5K can pan 360° and tilt 90° so you'll never miss the shot once you're set up. A bubble level allows you make sure that your shot is straight.
3 Legged Thing Punks Corey
Specs
Weight

:

3.4 lbs

Max Load

:

30 lbs

Collapsed Length

:

13.7 in
Features
Reversible Folding Legs Provide Compact Storage
Detachable Monopod Leg
Mounting Plate Makes It Easy To Attach Accessories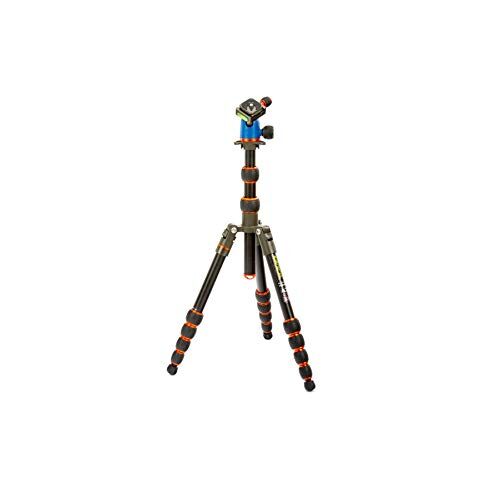 BEST FOR: ADJUSTABILITY
The 3 Legged Thing Punks Corey tripod folds down to a compact 13.7 in for travel, but when you set it up, it can extend to a maximum height of 58 in, so you can comfortably get the shot without crouching down too much. With the three different leg angles and five twist locks on each leg, the Corey can be adjusted to a variety of heights, so you can get the shot from just the right angle.
The Corey has a patented mounting plate which makes it easy to attach accessories, and the tripod kit also includes several tools, including a multi tool, hex key, and a carabiner.
Vanguard Alta Pro
Specs
Weight

:

5.4 lbs

Max Load

:

15.4 lbs

Collapsed Length

:

28.1 in
Features
Central Column Can Be Repositioned From 0° To 180°
Metal Spikes On The Legs Twist Out For Use On Dirt
Quick-Flip Legs Lock For Easy & Secure Adjustment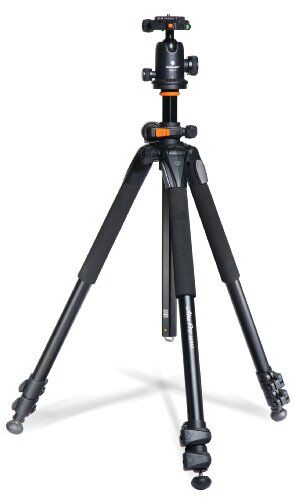 BEST FOR: VARIED ANGLES
The Vanguard Alta Pro has a unique proprietary Multi-Angle Central Column which allows the central column to be positioned from a 0° to 180° angle. The center column also allows for a full 360° rotation, so you can get the exact angle you need for your shot, making the Alta Pro an excellent choice for macro photography.
The legs of the Alta Pro have flip leg locks for quick adjustments, and the legs can be positioned at three different angles. The legs also feature twist out metal spikes on the bottom to add stability on dirt or rocky ground.
Gitzo Traveler Series 1
Specs
Weight

:

2.34 lbs

Max Load

:

22.05 lbs

Collapsed Length

:

16.73 in
Features
Extremely Lightweight Carbon Fiber Legs
Legs Fold Around The Center Column For Compact Transport
Shorter Center Column Is Included For Low-To-The-Ground Shots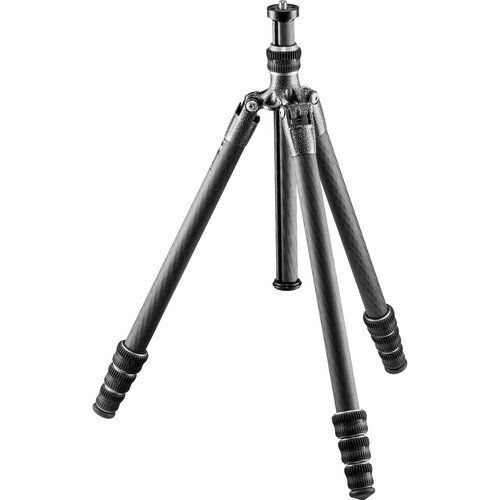 BEST FOR: PROFESSIONAL QUALITY
The Gitzo Traveler Series 1 is a professional level tripod with a price tag to match. The carbon fiber legs make the Traveler Series 1 tripod extremely lightweight for its size, and the legs reverse to fold around the center column to pack away and transport. Yet the tripod can extend to a maximum height of 60 in and hold up to 22 lbs of camera gear. A second, short center column is included which can be used to capture low angle shots.
However, a pan head for the Gitzo Traveler Series 1 is not included and needs to be purchased separately, which only adds to the steep investment for this high-quality tripod.
Manfrotto BeFree
Specs
Weight

:

3 lbs

Max Load

:

8.8 lbs

Collapsed Length

:

15.75 in
Features
Removable Center Column Helps You Get Low Angle Shots
Available In Multiple Colors
Included Carrying Case With Shoulder Strap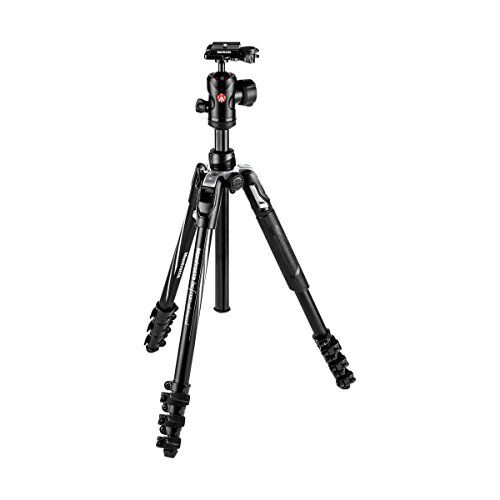 BEST FOR: HIKING PHOTOGRAPHERS
The Manfrotto BeFree is an ideal choice for hikers who want to capture images on the trail. It comes with a carrying case with a shoulder strap, so you can easily transport the tripod and be ready to set up as soon as you see your shot. The legs can be positioned at two different angles, and the center column is removable so you can position the tripod low to the ground.
The Manfrotto BeFree comes in multiple colors to match your style, and you can also choose your preference of twist or lever leg locks when you purchase.
Vortex Optics Summit
Specs
Weight

:

2 lbs

Max Load

:

5 lbs

Collapsed Length

:

14 in
Features
Lightweight To Carry Around In Pack
Split Center Column To Get Low To The Ground
Rubber Feet To Keep Legs In Place Securely
BEST FOR: BACKPACKING
The Vortex Optics Summit tripod is simple yet full-featured and weighs only two lbs while collapsing to a height of 14 in, so it is easy to slip inside your pack on your next adventure. The light weight and small size does only support small DSLRs up to 5 lbs, but if your camera is one of those, this is a great choice for a travel tripod.
The center column of the Vortex is split so you can remove the lower section to get low angle shots. The legs have twist leg locks for adjustability, and the legs can be positioned at three different angles. Rubber feet keep the tripod from slipping on slick surfaces such as polished rock.
MeFOTO Roadtrip
Specs
Weight

:

3.6 lbs

Max Load

:

17.6 lbs

Collapsed Length

:

15.4 in
Features
Removable Foam-Cushioned Leg Converts To Monopod
Bubble Level On Pan Head Keeps Your Shots Straight
Center Column Features Twist Locks For Quick Adjustments
BEST FOR: ALL-AROUND PERFORMANCE
The MeFOTO RoadTrip travel tripod offers many high-quality features in a small package that is easy to take with you when you're exploring outdoors. Both the legs and center column have rubberized twist locks for easy and secure adjustments, and the legs can be set at two different angles to handle uneven ground. One of the legs is removable to convert to a full-size monopod, and it is foam-cushioned to help you keep a secure and comfortable grip while shooting.
The pan head rotates 360° and features a bubble level to prevent crooked shots. The RoadTrip also includes a carrying case which is handy, since it is slightly heavy for backpacking.
Benro Aero 4 Travel Angel
Specs
Weight

:

5.8 lbs

Max Load

:

8.8 lbs

Collapsed Length

:

21.7 in
Features
Fluid Video Head With Pan & Tilt Controls
Interchangeable Rubber Or Spiked Feet For Different Surfaces
Leveling Platform To Quickly Adjust While Shooting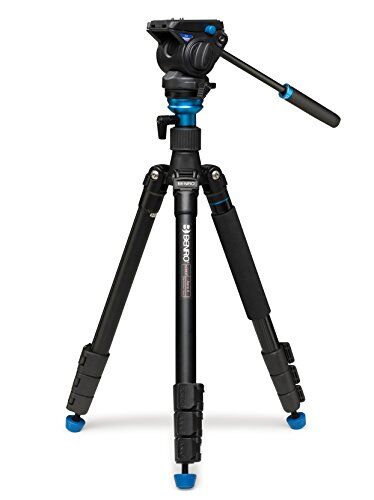 BEST FOR: VIDEOGRAPHERS
The Benro Aero 4 Travel Angel is designed with several features specifically for videographers. The fluid video head includes separate pan and tilt control and allows you to make smooth movements while you're shooting video. The integrated leveling ball lets you make quick adjustments and keep your shot straight on the fly.
The legs of the tripod can be positioned and locked at three different angles – flip lock levers on the legs let you adjust each one individually on uneven ground. The tripod includes two types of feet, rubber or spiked, which you can swap out depending on the surface you're setting the tripod on.
Manfrotto PIXI EVO
Specs
Weight

:

9.4 oz

Max Load

:

5.5 lbs

Collapsed Length

:

2.4 in
Features
Can Mount Camera In Portrait Orientation
Two Section Legs For Maximum Adjustability
Extremely Lightweight & Compact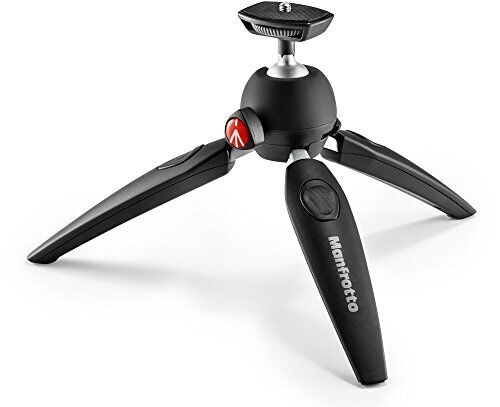 BEST FOR: TABLETOP TRIPOD
One of the tiniest travel tripods you can find, the Manfrotto PIXI EVO provides stable support for small DSLRs, though it lacks the height and features of a full-size travel tripod. The legs of the PIXI EVO have two sections and can be adjusted to 5 different levels, from a height of 2.4 in to 7.7 in. This means the PIXI EVO can handle uneven ground well, even if it can't get very high.
The head of the tripod includes a notch at 90° so you can easily switch your camera into a portrait orientation, giving you extra options for framing the shot.
THINGS TO CONSIDER WHEN BUYING TRAVEL TRIPODS FOR DSLR
When you're shooting with a DSLR, the tripod is the key to keeping your shot steady and straight. This article from B&H breaks down the various parts and features that make a tripod such an important part of any photographer's kit.
While a tripod will definitely help you capture a better image, when you're taking your camera on outdoor adventures, you want to find a high-quality tripod in a small package so it's not a burden to lug around.
WEIGHT
When you're carrying your tripod on the trail, you want it to be as light as possible. Tripods are made of different kinds of metal, from aluminum alloy to carbon fiber, and this helps determine the weight of the tripod. Although lighter is generally better, you might sacrifice some stability or load-bearing capability with a super light tripod. If you're usually backpacking rather than just hiking, weight is an especially important consideration when choosing which tripod to buy.
LENGTH
All tripods collapse down to make them easy to carry, but some are more compact than others. Many travel tripods come with their own carrying case, which can be nice for short hikes, but if you want to fit your tripod in your pack, the collapsed length is an important consideration.
LOAD CAPACITY
Your travel tripod is useless if it can't hold your camera securely and safely, so make sure to check that the load capacity can handle the weight of your DSLR along with any lenses and accessories you plan to use. You'll often have to find a balance between the size and weight of the travel tripod and how much weight it can support.
FEATURES EXPLAINED
LEG LOCKS
The height of the legs is adjusted via leg locks, which can either be a twist or a lever lock.
MONOPOD
Using just one leg of the tripod provides some stability in small spaces.
TRIPOD HEAD
The mechanism on which you mount the camera that allows for panning & tilting.