Updated on August 24, 2021
You head down a new trail in your non-waterproof hiking boots only to discover that it involves several unplanned stream crossings. Now you have soggy feet and a long hike back to the car. What could have improved the scenario? Perhaps a shoe that allows you to cross those unexpected streams without spending the rest of the day with soaking wet feet. Selecting the best water shoes for hiking can provide more protection for your feet than sandals as well as secure traction on a variety of surfaces, from slippery streambeds to gravelly trails. Water hiking shoes also dry out quicker than trail shoes or boots and they look great on or off the trail!
Fortunately, here at The Adventure Junkies, we pride ourselves on doing the legwork to help you find the best gear for your next adventure. In this guide, we'll literally walk you through the best water shoes for hiking so you can hit the trail without worrying about getting your feet uncomfortably wet.
For more of our top hiking footwear recommendations, check out the Best Hiking Shoes.
Quick Answer

-

The Best Water Shoes for Hiking
Adidas Terrex CC Voyager Parley

The North Face Litewave Amphibious II

Teva Terra-Float Churn It Up
Comparison Table

-

The Best Water Hiking Shoes

For the best experience turn your device horizontally
Reviews

-

Best Water Shoes for Hiking
Salomon TechAmphibian 4
Specs
Closure

:

Quicklace

Weight

:

1lb 5.6oz (Men's 11.5)

Upper

:

Synthetic

Convertible Heel

:

Yes
Features
Synthetic Upper Provides Quick Drying Capabilities
Hydrophobic Upper (for repelling water)
Breathable Mesh Promotes Water Drainage
BEST FOR: OFF-THE-BEATEN PATH ADVENTURES
The versatility of the Salomon TechAmphibian 4 makes it an ideal choice for those that enjoy off-the-beaten path adventures and need a shoe to support their endeavors. The collapsible heel transforms this go-anywhere shoe into a great around-camp slip-on. In shoe mode, it's perfect for everything else.
The Quicklace system locks the laces, which helps to maintain consistent tension for all day comfort. Excess lacing can be stored in the integrated pocket found in the tongue of the shoe. The synthetic rubber toe cap will protect your toes in the water and around camp, while the hydrophobic qualities of the shoe help it to dry quickly after immersion.
Chaco Torrent PRO
View Women's Version
Specs
Closure

:

Single-Pull Lace

Weight

:

1lb 5.6oz (Men's 11.5)

Upper

:

Polyester

Convertible Heel

:

No
Features
Gender-Specific Midsoles (for increased comfort)
Closed-Toe Protection (to prevent stubbing your toes on roots and rocks)
Enhanced-Traction Rubber For Slippery Surfaces
BEST FOR: WATERSPORTS ENTHUSIASTS
The Chaco Torrent Pro was co-developed with professional whitewater athletes. This cross-trainer provides superb traction on slippery surfaces while the closed-toe area ensures a safer outdoor experience on or off the water.
This shoe was designed to perform similarly to Chaco's popular sandals, while providing greater protection for your feet whether you're rafting or hiking. The single-pull lacing makes securing the shoe to your foot a breeze. The durable footbed is certified by podiatrists and provides a comfortable all day experience while the quick-drying feature helps create a pleasant environment once out of the water. An antimicrobial treatment is applied to the inside of the shoe to assist with odor control.
Astral TR1
View Women's Version
Specs
Closure

:

Lacing

Weight

:

1lb 7.9oz (Men's 11.5)

Upper

:

Synthetic

Convertible Heel

:

No
Features
Holes At The Front And Back Facilitate Drainage
Alternate Color Laces
Directional Lugs On The Bottom Of The Shoe Increases Traction
BEST FOR: ULTRALIGHT HIKERS
At first glance, the Astral TR1 Mesh appears to be a traditional hiking shoe. The brand has a tradition of creating products that have a symbiotic relationship with water and land. This shoe is no exception. Sticky rubber provides premium grip and abrasion resistance while the large lugs on the sole provide increased traction to take you anywhere you want to go, and back.
The synthetic upper contains holes at both the front and back to facilitate the movement of water away from the foot. Mesh uppers aid in drying quickly, while the removable insoles are treated with an antimicrobial treatment to help eliminate odors.
Merrell Choprock
View Women's Version
Specs
Closure

:

Lace-Up

Weight

:

1lb 9.7oz (Men's 11.5)

Upper

:

Synthetic

Convertible Heel

:

No
Features
Integrated Webbing Loops For A Secure Fit
Channels Located In The Midsole Help Push Water Away From The Shoe
Integrated Rubber Toe Bumper (to prevent painful stubbing on roots and rocks)
BEST FOR: TRAIL TO WATER AND BACK
At first glance, this shoe looks surprisingly like a trail running model. While it's capable of being a trail running shoe, it's designed for so much more. The Merrell Choprock is new to the brand and contains multiple models in addition to this one including a sandal and a shandal (modified sandal combined with a shoe).
The midsole channels and ports assist in pushing water away from the shoe. The integrated toe bumper protects your toes from the unsuspecting dangers that lurk around every corner as you head out on your next adventure. This shoe is ideal for trail running when stream crossings are imminent or anytime adventure is in the forecast.
KEEN Evofit One
View Women's Version
Specs
Closure

:

Bungee Lacing

Weight

:

1lb 9.8oz (Men's 9.5)

Upper

:

Synthetic

Convertible Heel

:

No
Features
Machine Washable
Sock Like Feel
Assembled In The United States
BEST FOR: ALL ACTIVITIES
With a sock-like feel, you will likely forget you're wearing anything at all on your feet when you choose the Keen Evofit One. This shoe is American built and assembled in Oregon. Like all Keen water sandals, the Evofit is machine washable. The integrated support mechanism is designed to provide excellent arch support while cradling the natural contours of your foot.
The engineered synthetic upper is comprised of the brand's quick dry Evofit. The Aquagrip rubber outsole paired with multi-directional lugs on the bottom of the shoe maximizes traction on a variety of surfaces. Once engaged, the quick lacing system increases performance and ensures that sock-like feel.
Adidas Terrex CC Voyager Parley
View Women's Version
Specs
Closure

:

Lace-Up

Weight

:

1lb 4.2oz (Men's 9)

Upper

:

Synthetic And Textile

Convertible Heel

:

Yes
Features
Integrated Drainage System Through The Sidewalls Of The Midsole
Made With Environmentally Friendly Materials
360-Degree Ventilation Throughout The Midsole For Superior Breathability
BEST FOR: ENVIRONMENTALLY CONSCIOUS HIKER
In addition to being trail and water ready, this shoe is perhaps the most environmentally friendly shoe in the roundup. In collaboration with Parley for the Oceans, some of the yarn used to make this shoe is derived from recycled waste intercepted from coastal regions.
However, its earth conscious story is just the beginning. The Adidas Terrex Cc Voyager Parley is chock full of features including Climacool that provides 360-degree cooling for the entire foot. An integrated drainage system exists within the midsole sidewalls to aid in forcing water from the shoe. The Stealth rubber outsole provides superior grip on wet terrain.
OluKai Alapa Li
Specs
Closure

:

Bungee Lace

Weight

:

1lb 3.4oz (Men's 10)

Upper

:

Mesh and Full-grain Leather

Convertible Heel

:

Yes
Features
Drop-In Heel Technology Offers Both Shoe and Slide-in Options
Elastic Laces Provide Easy On/Off Functionality
Moisture Wicking and Antimicrobial Lining
BEST FOR: LIGHT HIKING
Lightweight and fashionable, the Olukai Alapa Li is ideal for the active enthusiast who enjoys a single shoe that covers all the bases. The wet grip rubber outsole provides ideal traction in wet environments while the antimicrobial features of the mesh lining reduces the stink factor for all day wear on or off the trail.
Is this a shoe or a slide? Actually, it's both. The Drop-In Heel technology allows the shoe to function as both a shoe and a slip-on sandal. Drop the heel for the convenience of a slide and raise it for a more secure option while hiking. While Olukai makes women specific models, the Alapa Li is only available for men.
The North Face Litewave Amphibious II
View Women's Version
Specs
Closure

:

Quick-Pull Lace Lock

Weight

:

1lb 6.9oz (Men's 11.5)

Upper

:

Synthetic Mesh

Convertible Heel

:

Yes
Features
Collapsible Heel
Quick-Pull Lace System
Toe Cap Protects Forefoot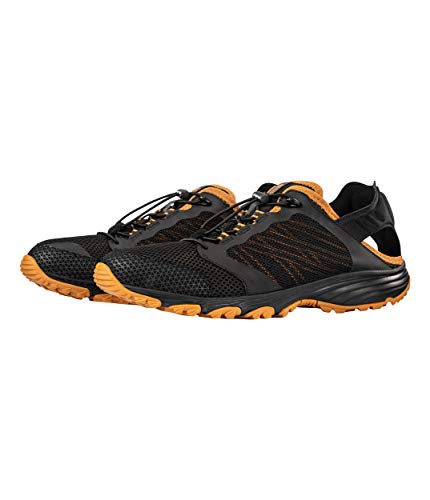 BEST FOR: EXTREME ADVENTURES
The company that continues to push the envelope in outdoor adventures has created a water shoe that perpetuates that trend. The North Face Litewave Amphibious II is ideal for anyone looking to up their adventure quotient.
A self-proclaimed sneaker is an understatement to describe this shoe. The quick-lace system easily adjusts and remains taut in and out of the water for a consistently secure fit. A grippy outsole provides traction for off-trail and water excursions. The mesh upper paired with a quick drying footbed helps to ensure that your feet remain dry. The collapsible heel is perfect for lounging around camp or for quickly returning to shoe mode.
Eddie Bauer Amphib
Specs
Closure

:

Quick-lace

Weight

:

1lb 7.9oz (Men's 11.5)

Upper

:

Synthetic

Convertible Heel

:

No
Features
Perforated Footbed For Quick Draining
Sole Designed For Multi-Terrain Usage
Quick-Lace Adjustment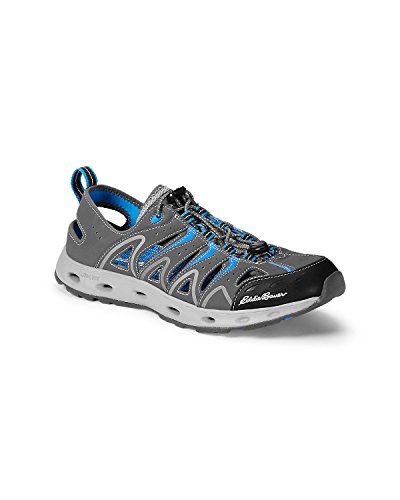 BEST FOR: BUDGET CONSCIOUS HIKERS
For nearly a hundred years, Eddie Bauer has been creating quality gear and apparel. The Eddie Bauer Amphib is a continuation of that tradition. This shoe is designed for multi-terrain adventures.
The Amphib sports a multitude of adventure worthy features including the trademark InfoFit perforated footbed for quick water draining and breathability. The outsole boasts the SportGrip XT siped rubber outsole for increased traction on a variety of surfaces. The quick-lace adjustment system allows you to dial in a secure fit which will hold until released. Just pull it on and go for a quiver full of adventures this summer and beyond.
Teva Terra-Float Churn It Up
View Women's Version
Specs
Closure

:

Lace-Up

Weight

:

1lb 9.3oz (Men's 11.5)

Upper

:

Synthetic

Convertible Heel

:

No
Features
Quick-Dry Construction
Ultralight Midsole Provides Exceptional Cushioning
Mesh Upper Is Designed To Keep Feet Cool
BEST FOR: WATERBORNE ADVENTURES
The Teva brand has become synonymous with amphibious footwear. The Terra-float Churn water hiking shoe continues that tradition in this lightweight and breathable model that was designed for life in and out of the water.
The slip-proof rubber outsole guarantees this will become your go-to shoe for waterborne adventures. An engineered mesh upper breathes and dries quickly to make the transition from land to water and back to land virtually seamless. The ultralight midsole provides exceptional cushioning that provides long-lasting comfort. The siped (AKA grooved) rubber outsoles not only grip, but they also aid in pushing water away from your feet.
THINGS TO CONSIDER BEFORE BUYING WATER SHOES FOR HIKING
BENEFITS
If you've been hiking or backpacking for a long time, you no doubt know that stream crossings used to be time intensive. In the early days of recreational hiking, crossing a stream involved removing your boots and socks before each crossing only to have to stop on the other side to dry your feet before putting your boots back on and continuing down the trail. The advent of water shoes and sandals have made these hurdles easier to cross. Water shoes provide more protection than sandals and water drains easily and efficiently while the fabric dries quickly.
PROTECTION
While water hiking sandals have become popular in recent years, most don't provide adequate protection from stubbed toes or protruding stumps and roots along the trail. Water shoes encase the toes to protect these vital appendages from being easily injured. Most have adequate protection along the sides and around the heel to protect the rest of the foot from these same hazards. Make sure to look for a closed-toe water shoe if you expect to be traipsing through rocky forests or scrambling over roots to protect your toes from painful stubbing.
SUPPORT
Water shoes differ from sandals because they are similar to running shoes in that they provide ample ankle and arch support. Water hiking shoe soles also tend to be beefier than most sandals, which means they can more easily provide the support you need for all day comfort on the trail.
However, not all water hiking shoes are created equal. It's important to consider what type of terrain you will be hiking on before deciding which pair is right for you. If you're planning for an off-the-grid adventure with challenging terrain, then you'll want to select a shoe like The North Face Litewave. However, if your plans involve a more relaxed excursion to the lake or beach for a weekend on the water, then you might benefit more by selecting a shoe like the Olukai Alapa Li.
COMFORT
Modern water shoes are designed to envelope the foot similar to running shoes to provide all-day comfort while hiking and most transition well from trail to town. It's important to consider the intended use of a shoe before purchasing. Any of the shoes on the list above are sure to provide ideal comfort for everyday use. However, their intended purpose is for outdoor adventures.
Whether you're planning a short day hike only lasting only a few hours or an entire day slogging through a dense jungle setting, comfort should be at the top of the list. The models featuring the drop down heel design (Salomon Techamphibian 4, Olukai Alapa Li, or The North Face Litewave), are great for changing the model from a shoe to a slip-on for added comfort around the house or camp.
TRACTION
The soles of water shoes are designed to provide adequate traction on a variety of surfaces, including, but not limited to, wet and slippery terrain. Again, not all shoes are created equal. Some of the shoes in this list are specifically designed for more extreme adventures than others. If you intend to hike on trails that contain a lot of roots, rocks, and challenging terrain, it might be best to consider a shoe like the Merrell Choprock. If your adventure itinerary looks more like a day whitewater rafting and exploring the trails around camp, the Salomon Techamphibian 4 may be the better choice.
SEASONALITY
Water shoes tend to be most effective during periods of warmer weather when immersing your feet into water is conducive to an enjoyable experience. While all of these shoes dry quicker than other shoes not specifically designed for wet environments, some have a more substantial upper material that may take slightly longer to dry than another model. For example, the Keen Evofit One is designed to repel water and dry quickly, while the Astral TR1 Mesh may take slightly longer to dry due to its mesh upper design.
MULTIFUNCTIONAL
Water shoes are great for hiking when water hazards might be encountered and they're ideal for warmer days as the fabrics tend to facilitate a cooler experience. As mentioned above, they also provide more protection than sandals and are ideal for rafting. These products are a great option when traveling as they can serve multiple uses while reducing the number of shoes needed for a trip. Did we mention that they dry quickly?
FEATURES EXPLAINED
OUTSOLE
The outermost layer of a shoe that comes into contact with the ground.
MIDSOLE
A layer of material between the insole and outsole of a shoe that provides cushioning and absorbs shock.
INSOLE
Often removeable, the inside part of a shoe that makes contact with the bottom of the foot.
HYDROPHOBIC
As pertaining to fabric, one that repels water.
SIPING
The process of cutting thin slits across a rubber surface to improve traction. Learn more about shoe siping here.