Updated on September 23, 2020
Maybe the last time you wore snow pants was while sledding in your neighborhood with the other local kids or maybe the last pair you bought was back in the '90s and the waterproofing has long since disappeared. Either way, the technology in women's ski pants has come a long way, and the days of wearing jeans on the ski slopes have definitely passed. Today, in addition to a myriad of design and technological choices, you can also choose the fit, color, design, and warmth that fits best with your style and activity levels. To help you optimize your enjoyment of the ski slopes this season, we've put together a list of the best women's ski pants on the market. Each with their own unique features and appeal, there's something for everyone on this list. Take a look at this guide, and we'll see you out on the mountain!
For more of our top ski gear recommendations, check out the Best Ski Pants.
Quick Answer

-

The Best Women's Ski Pants
Outdoor Research Hemispheres
Comparison Table

-

Best Women's Ski Pants

For the best experience turn your device horizontally
Reviews

-

The Best Ski Pants for Women
Helly Hansen Legendary
Specs
Best For

:

Downhill Skiing

Insulation

:

Yes

Waterproof?

:

Yes

Type of Waterproofing

:

2-ply HellyTech Performance

Insulation Type

:

Synthetic

Lining

:

Polyester

Powder Cuffs

:

Yes
Features
Durable Water Repellent Treatment Keeps Fabric Dry And Water On The Surface Of The Pants
Stretch Fabric With Articulated Knees Provide Ease Of Movement
Integrated Waist Adjustment And Belt Loops Make It Easy To Customize The Fit And Feel Of These Ski Pants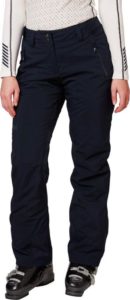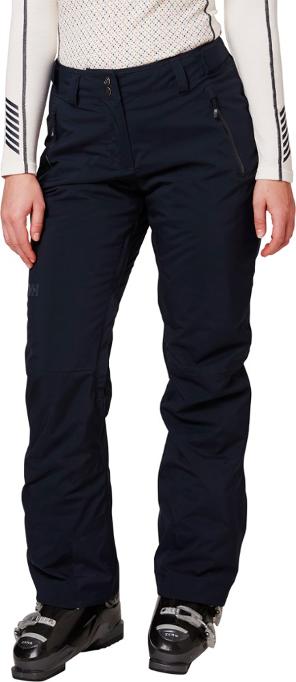 BEST FOR: ENVIRONMENTALLY CONSCIOUS SKIERS
Known for classic skier style and performance, Helly Hansen's Legendary ski pants are designed with the best in weather protection technology as well as durability. Helly Hansen also included bluesign materials in these pants, an effort that has sought to reduce the negative impacts from production on the environment, workers, and wearers of their products.
These pants also feature extra insulation in the seat and knees to keep you warmer when you're riding the chair lifts around the resort. As an added safety feature, these pants also include a RECCO reflector embedded in the design. The RECCO technology enhances radio signals from search-and-rescue detectors in the event of an avalanche or other accident at the resort. These ski pants are sure to be your next favorite piece of ski gear.
Strafe Belle
Specs
Best For

:

Downhill Skiing

Insulation

:

Yes

Waterproof?

:

Yes

Type of Waterproofing

:

3-layer Recon Elite

Insulation Type

:

Synthetic

Lining

:

Nylon/Polyester

Powder Cuffs

:

Yes
Features
Micro-Fleece Lined Hand And Back Pockets And Chamois Fleece-Lined Waistband
Mesh-Lined Front Thigh Vents Help Prevent Build Up Of Excess Heat
Fleece Insulation Is Soft On The Skin And Helps To Regulate Body Temperature During Activity
BEST FOR: ULTIMATE COMFORT
These are the pants that are worth the dawn wake up and drive to the ski hill. Strafe has designed these ski pants to be the leader in comfort and performance. The soft, fleece lining through the pants as well as specifically targeted fleecing at the waistband and pockets makes for a super soft and cozy feel throughout the day. The external hook-and-loop waist adjustment system ensures a personalized fit every time, and four-way stretch powder cuffs also make it easy to slide the gaiters over your boots and then remove to adjust your boots throughout the day as needed. Skiers will also love the teal and raspberry color choices, making these pants a contender for the leading ski pants on the market.
Outdoor Research Hemispheres
Specs
Best For

:

Downhill Skiing

Insulation

:

No

Waterproof?

:

Yes

Type of Waterproofing

:

3-layer GORE-TEX

Insulation Type

:

N/A

Lining

:

N/A

Powder Cuffs

:

Yes
Features
Stretch In The Fabric, Articulated Knees, And Stretch Back And Gusset Panels Enhance Your Range Of Motion
Zippered Outer Thigh Vents Release Excess Heat
Zippered Hand Pockets, Zippered Center Pockets, And Zippered Kangaroo Pocket On The Bib Protect All Of Your Valuables On The Hill

BEST FOR: POWDER DAYS
These ski pants, awarded Apparel of the Year by Powder Magazine in 2018, are best-in-class when it comes to waterproofing technology and stretch. Outdoor Research made them for those hard-charging powder days when even though it seems contradictory to the chilly temperatures outside, you end up at the bottom of the hill breathing hard and sweating. The suspenders of the bib design ensure a customized fit that'll stay in place through the day and keep your base layers in order under your pants and jacket. Finally, the GORE-TEX waterproofing material boasts an impressive suite of features, including waterproofing, windproofing, breathability, and sealing to keep out excess snow. If you're skiing out west under those bluebird skies and with ample powder days, these pants might be the ones for you.
The North Face Freedom
Specs
Best For

:

Downhill Skiing

Insulation

:

Yes

Waterproof?

:

Yes

Type of Waterproofing

:

2-layer DryVent

Insulation Type

:

Synthetic

Lining

:

Recycled Polyester Taffeta

Powder Cuffs

:

Yes
Features
50% Post-Consumer Recycled Polyester Insulation Provides Warmth Without The Bulk
Gaiters With Gripper Elastic Help Keep Snow Out Of Your Boots
Inner Thigh Vents Release Heat For Maximum Comfort, Even On Warm Spring Days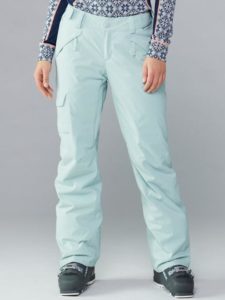 BEST FOR: VERSATILE PERFORMANCE
The North Face's signature Freedom ski pant is made for every skier on the hill. The North Face has designed these pants in tall sizes, short sizes, and in a bib with suspenders so that they will work for almost every woman on the hill. With adjustable waist tabs and belt loops, you can further customize your fit as well as manually adjust your venting when the temperature drops or heats up. Finally, the insulation in these ski pants contain 50% post-consumer recycled materials, so not only will you feel warm and comfortable on the hill, you can feel good knowing that your purchase supports these kinds of sustainability efforts in outerwear and ski apparel.
Arc'teryx Sentinel
Specs
Best For

:

Downhill Skiing

Insulation

:

No

Waterproof?

:

Yes

Type of Waterproofing

:

3-layer GORE-TEX

Insulation Type

:

N/A

Lining

:

N/A

Powder Cuffs

:

Yes
Features
Soft-Brushed Liner Provides Light Insulation Without The Bulk Of Full Insulation
Articulated Knees Provide Freedom Of Movement On Both Ascents And Descents
Compatible With Arc'teryx Ski Jackets


BEST FOR: EXPLORING THE MOUNTAIN
The Arc'teryx Sentinel ski pants are designed for those who move. As a shell without insulation, you can be sure you'll stay cool throughout your day on the resort or even in the backcountry. The exterior Gore-Tex material is windproof, waterproof, and breathable so that you can enjoy your turns in any weather and at any time during the season while the brushed liner on the interior of the pants promises a cozy feel throughout the day. Finally, these pants are compatible with many Arc'teryx ski jackets. When combined, the pants connect to the jacket to keep out the deep powder and wind-swept snow when you're having fun exploring the resort. These pants will work as hard as you do on a ski day!
Obermeyer Bliss
Specs
Best For

:

Downhill Skiing

Insulation

:

Yes

Waterproof?

:

Yes

Type of Waterproofing

:

Hydroblock Waterproof Breathable Membrane

Insulation Type

:

Synthetic

Lining

:

Nylon

Powder Cuffs

:

Yes
Features
Articulated Knees And Interior Stretch Panels Promote Range Of Motion And Enhance Mobility
Zippered Gussets At The Back Of The Ankle Make It Easy To Get Your Ski Boots On And Off
Zippered Hand Pockets With Sealed Seams Keep Your Valuables Safe And Dry Throughout The Day


BEST FOR: STYLE & PERFORMANCE
These ski pants will take you from the lift to apres-ski without batting an eye. The Obermeyer Bliss ski pants have a more streamlined silhouette for those skiers looking for a less baggy, more refined look on the ski hill. That silhouette does not, however, compromise on comfort, warmth, and protection. Their fully-seamed stretch fabric provides waterproof, breathable protection against snow and wind, and the lightweight insulation protects against those cold winter temperatures both on the ski hill and off. They also have a contoured, fleece-lined high back for added comfort (you won't have to worry about the wind sneaking down your back) and range of motion while exploring the mountain.
Flylow Foxy
Specs
Best For

:

Downhill Skiing

Insulation

:

No

Waterproof?

:

Yes

Type of Waterproofing

:

Intuitive 3-layer Waterproof Breathable Membrane

Insulation Type

:

N/A

Lining

:

N/A

Powder Cuffs

:

Yes
Features
High Performance Waterproofing Forces Water To Bead Up On The Ski Pant Fabric Rather Than Seep or Stay Inside
Inner Thigh Vents Help You To Shed Excess Heat
Pockets Include A Kangaroo Chest Pouch, Two Mid-Thigh Pockets, One Rear Pocket, And Two Chest Pockets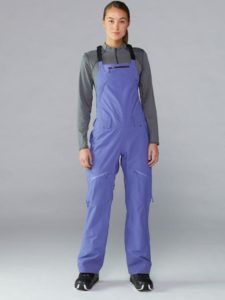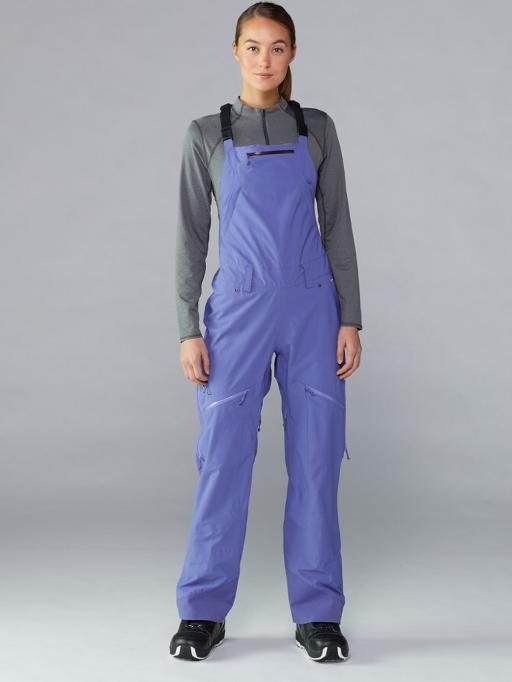 BEST FOR: TAKING IT TO THE NEXT LEVEL
The Flylow Foxy Bib ski pants are a cult favorite amongst skiers who are headed into the backcountry. These pants have all the technical features that you want in your ski pants – superior waterproofing, customizable fit, and venting to shed excess heat – while not compromising on style. Maybe you're ready to take it to the next level with your skiing or maybe you're heading out west where the snow is deeper and fluffier… Either way, these pants are technical enough to hold up to all weather conditions and stylish enough to enjoy during apres-ski.
Columbia Bugaboo II
Specs
Best For

:

Downhill Skiing

Insulation

:

Yes

Waterproof?

:

Yes

Type of Waterproofing

:

Omni-Tech Waterproof/Breathable Membrane

Insulation Type

:

Synthetic

Lining

:

Polyester Taffeta

Powder Cuffs

:

Yes
Features
Exterior Waterproof/Breathable Fabric Is Sealed At The Seams To Keep Out Snow And Cold Temperatures
Internal Leg Gaiters Keep The Snow Out Of Ski Boots
Adjustable Waist For A Personalized And Customizable Fit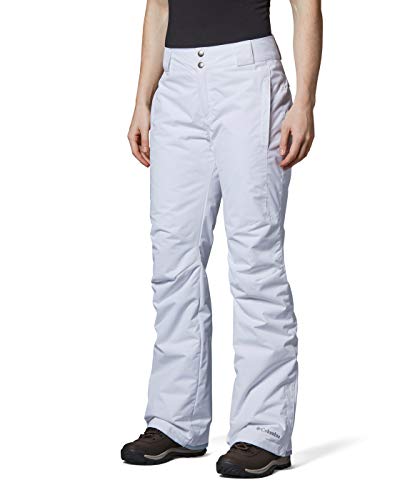 BEST FOR: VALUE MEETS PERFORMANCE
The Columbia Women's Bugaboo II ski pants are the epitome of value meeting performance. These ski pants incorporate all of the technology that Columbia is known for while retaining a reasonable price point. Zippered hand pockets and back flap pockets keep all of your valuables safe – phone, wallet, keys – while you're out on the hill, and the multiple color options available will fulfill the style needs of any skier. The adjustable waist also allows for customization based on weather. If you need any extra layer underneath on an especially cold day, simply loosen the pants and then tighten them again come spring. These reliable ski pants will keep you warm, dry, and looking cool throughout the winter and for many winters to come.
THINGS TO CONSIDER WHEN BUYING WOMEN'S SKI PANTS
COST
Ski pants come in a range of prices; you can easily spend just $100 on a decent pair or you can pay upwards of $500 for the highest quality pair of ski pants. The difference is often in features, fit, and desired activity. The best advice we can give is to buy gear that fits your lifestyle and geography. If you most often ski in the Northeast, you'll probably need more insulation than if you're most often skiing somewhere like Colorado. We've included a range of women's ski pants at varying prices in this guide so that you can find a pair that works best for you.
FIT
Women's ski pants generally come in three fit styles: slim, regular, and loose. The terms refer to how closely the legs of the pants adhere to your legs underneath. Slim fitting pants are characterized by a tighter, more form-fitting look. Though they have less freedom of movement than their looser counterparts and often less insulation, some women prefer them for their streamlined look.
Ski pants designed for a regular fit often have more room for layers underneath (a bonus if you're skiing in northern locales like Northeastern and Canadian ski resorts), and they allow for more freedom of movement on the slopes. Finally, a loose fitting ski pants will have plenty of room for layers while offering a more relaxed, casual look. This is the style most often preferred by those that enjoy the terrain park, both for style as well as comfort while attempting tricks on the terrain park features. For more information about fit, check out this article from the brand, Roxy, about how to choose the best ski pants for you.
WARMTH & INSULATION
In addition to the numerous safety benefits of wearing ski pants, they also are significantly warmer than your average pair of pants on the ski hill. Whether you tend to run cooler or warmer, it's important that you choose ski pants that match your natural rhythm. Unlined pants are generally best for backcountry skiers that need to dump heat as they hike up the hill, while insulated pants are most often preferred by people that spend most of their season in the resort. It's important to note that most people, for comfort, sweat-wicking, and warmth, wear a thin base layer under their ski pants. Adjustable venting is also a great feature that many of the pants on this list offer that allows you to open the vents for more airflow on warm days and close the vents on cold days to retain your body heat.
JACKET COMPATIBILITY
Many companies design their ski outerwear as a system. The jacket and pants connect with snaps, zippers, or hooks. The connection ideally seals snow out of the jacket and pants, so that even on those deep snow days, you're protected from the wet and cold.
FEATURES, ACCESSORIES & STYLE
Colors, designs, and embellishments vary each year in the same way that apparel brands change up their designs for each season. The color, fit, and design of your ski pants is really a matter of preference. It is, however, always prudent to choose gear that fits well. Well fitting gear can make the difference between an okay day on the hill and an awesome one. Though it may not be your primary concern when choosing ski pants, the right color and look can make you that much more excited about wearing this vital piece of ski equipment.
FEATURES EXPLAINED
BIB
This style of ski pants features a higher rise in the front and back, and they're held up by suspenders that drape over your shoulders. Bibs often provide more protection against powder snow, wind, and cold than more traditional pants.
GAITERS
Gaiters are a liner under the ski pants that are designed to keep snow out of your boots. To utilize this feature properly, pull the cinched liner over your ski boots (rather than tucked in) to prevent excess snow from getting into your boots and making your socks wet and cold.
RECCO
RECCO is a radio wave reflector that is often sewn into ski pants in some way. If an accident occurs at a resort where a skier is caught in an avalanche condition, ski patrol might use their RECCO detector to search for the lost skier. The RECCO reflector sewn into your pants may then echo the signal and make it easier for ski patrol to locate you. This is not a replacement for proper avalanche safety gear when in the backcountry.
VENTS
Venting is super important on those warm and sunny spring ski days. To remove excess heat, simply unzip the vents to expose a mesh lining underneath, which will allow heat to escape from your pants.
CUFF REINFORCEMENT
Ski pants often have a stiff fabric on the inside or outside of the pants at the bottom near the cuff of the pants and around the ankles to protect against the natural wear and tear of walking around and skiing in ski boots.
READ MORE
For more of our top skiing gear recommendations, check out these popular buyer's guides: