Updated on February 6, 2020
In a double kayak, Antonio and I paddle along the coast when we hear a thundering clap. "11 o'clock," Antonio calls out. I look to the slightly left of the bow of the kayak and see a whale tail in the distance. As we paddle closer and see it's a baby. It's telling it's mom "Hey, I'm over here." The mother surfaces soon and joins her calf.
We're in Peninsula Valdes on the Patagonian coast of Argentina. Every year between June and December Southern Right Whales visit the protected gulfs of the peninsula to breed, mate and give birth. This UNESCO World Heritage site is home to the largest concentration of this species of whale in the world.
That's just why we were here, to get up close to these ocean giants.
We joined up with a group at Patagonia Explorers on their 7 day Marine Life Peninsula Valdes tour to explore this special region of Argentina by kayak as well as on land.
SEEING SOUTHERN RIGHT WHALES FOR THE FIRST TIME
Before we headed out with the kayaks, we went on a traditional whale watching tour. This is where we caught our very first glimpses of these giant ocean creatures. The whales breached, spy hopped and played with one another.
It proved to be a great introduction to spotting whales. Being up high gives you a chance to get a good look at the whales and you can cover a lot of ground in a short time. For photographers, it's so much easier to take pictures from the boat because you don't need to fumble around with dry bags, it's more stable and being higher up gives you a better angle for shots.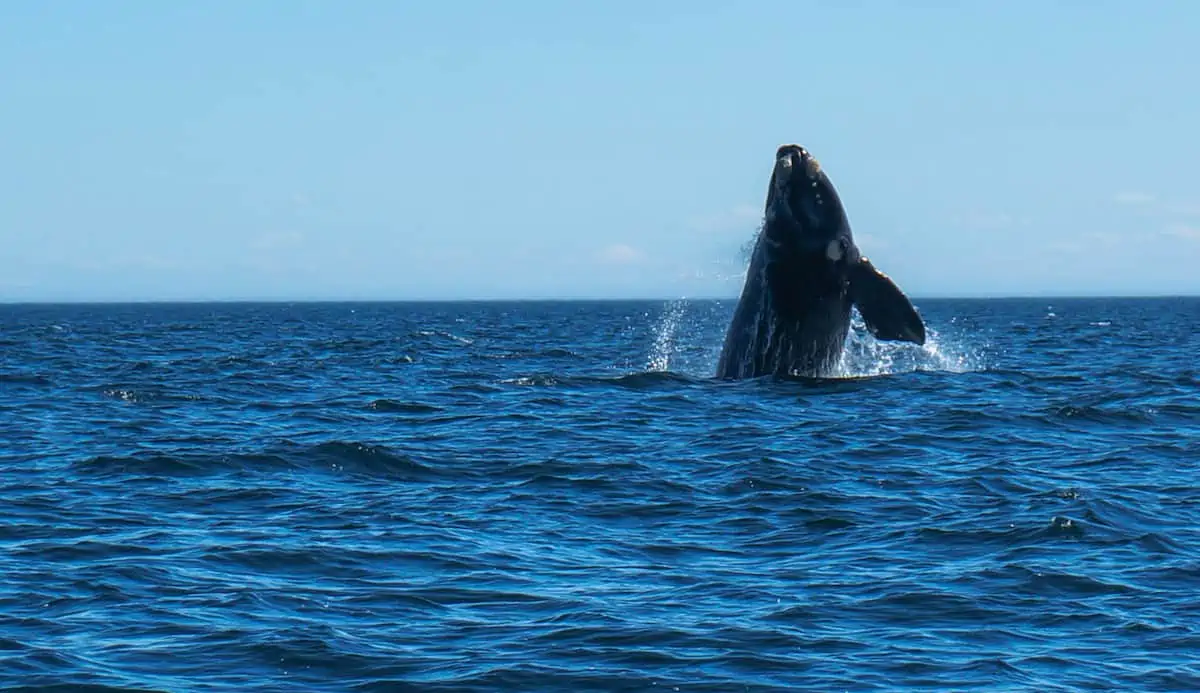 A whale breaching just 20 meters from the boat.
KAYAKING WITH WHALES: PADDLING AMONG OCEAN GIANTS
The boat tour was just a teaser for what was to come. Bright and early Pablo, our guide and co-founder of Patagonia Explorers picked us up along with Sara and Karen, our fellow kayakers and we headed to Golfo San José, our paddling playground for the next 5 days.
On the calm waters of the gulf, we navigated along to the coast with imposing cliffs in the background. Our goal was to spend time with whales, not to cover long distances so there was no rush.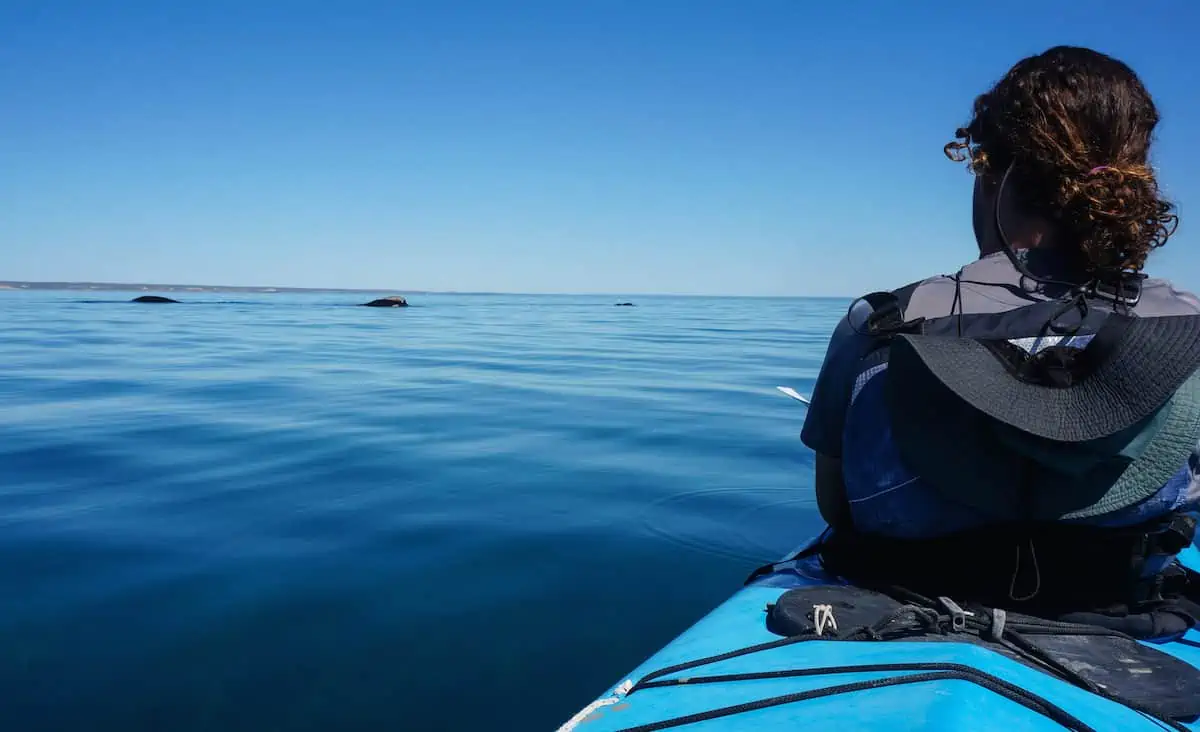 Antonio watching whales at the surface
"Huuuuuuuuuh" and spray of mist shoots into the air. There they are. We paddle close to the pair, a mother with a calf. As a rule we do our best to keep our distance and never engage the whales. Sometimes they come close, other times they bugger off.
Every encounter is different. Calfs, like most baby animals, are naturally curious. This sticks it's head out of the water get a better view of us. There's nothing better than going wildlife watching and end up getting watched yourself.
Kayaking is a special way to experience Peninsula Valdes. It gives you access to the remote corners of the coast and allows for some up close wildlife encounters. While we had seen lots of whales from the boat tour, this experience is much different. You don't have the crowds, it's just you and the whales, sharing a moment at sea.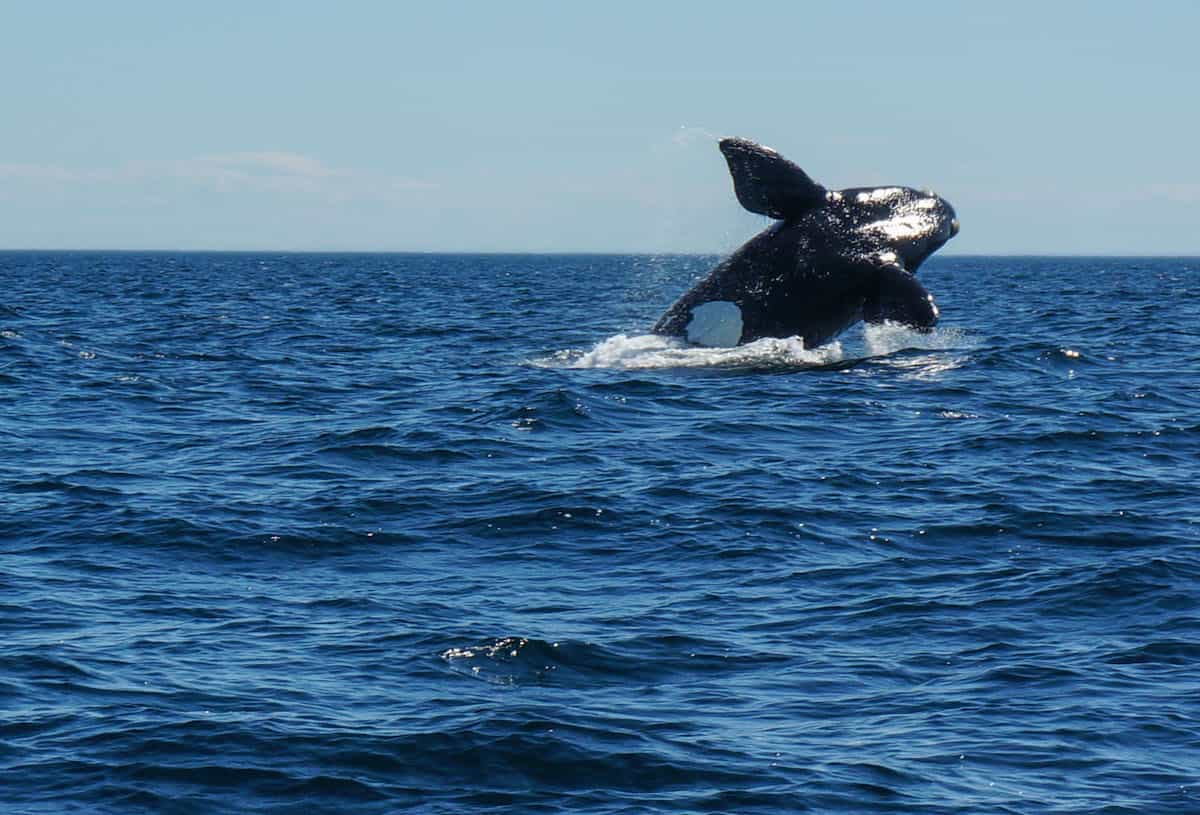 PLAYING WITH SEA LIONS
Along the coast we came across two sea lion colonies. One was closer to where people go for kayaking day trips, so they were used to humans. As we paddled close to the rock covered with lazy lobos (sea lions), they didn't pay us much attention, just barked and continued to sunbathe.
The second colony was much different. As we came close, Pablo warned us to go slow, they aren't used to people and if they get scared they'll all come into the water.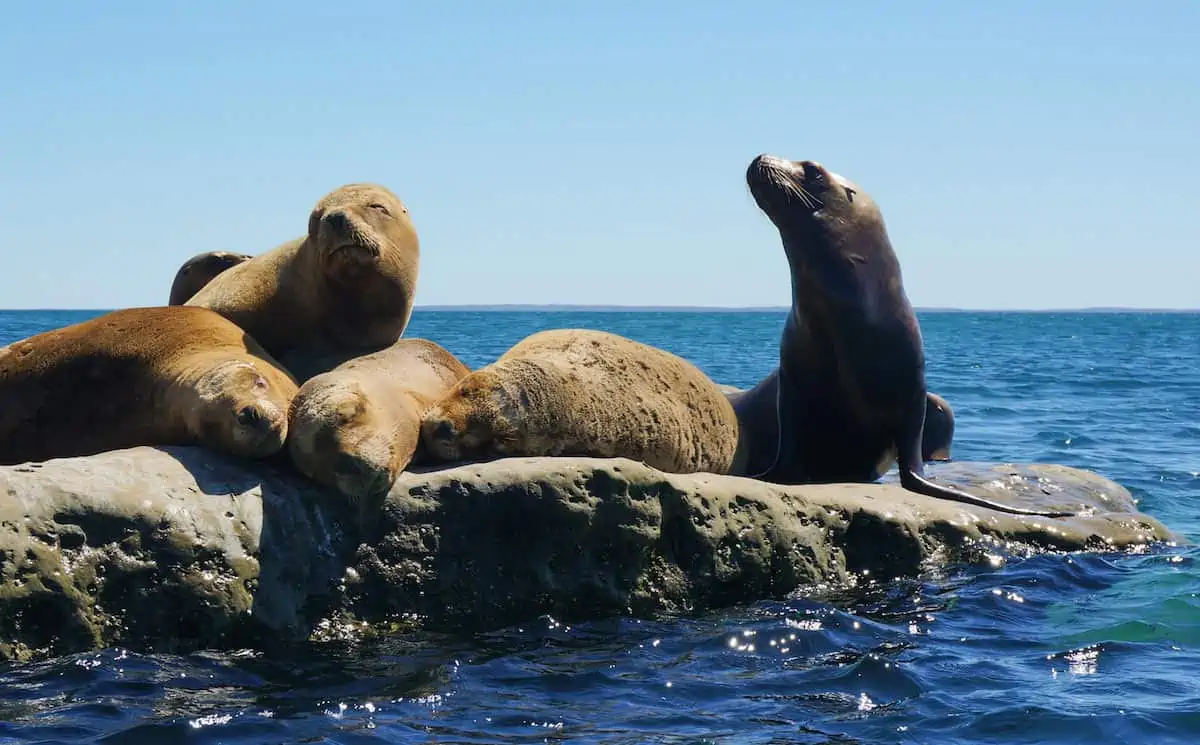 We got distracted taking pictures and drifted closer to shore. One sounded the alarm and jumped into the water. Then the whole colony waddled from the beach an dove it.
Next thing we knew, we were surrounded. The sea lions would poke their heads out then dive under the kayaks. Even as we paddled away, they would chase after us.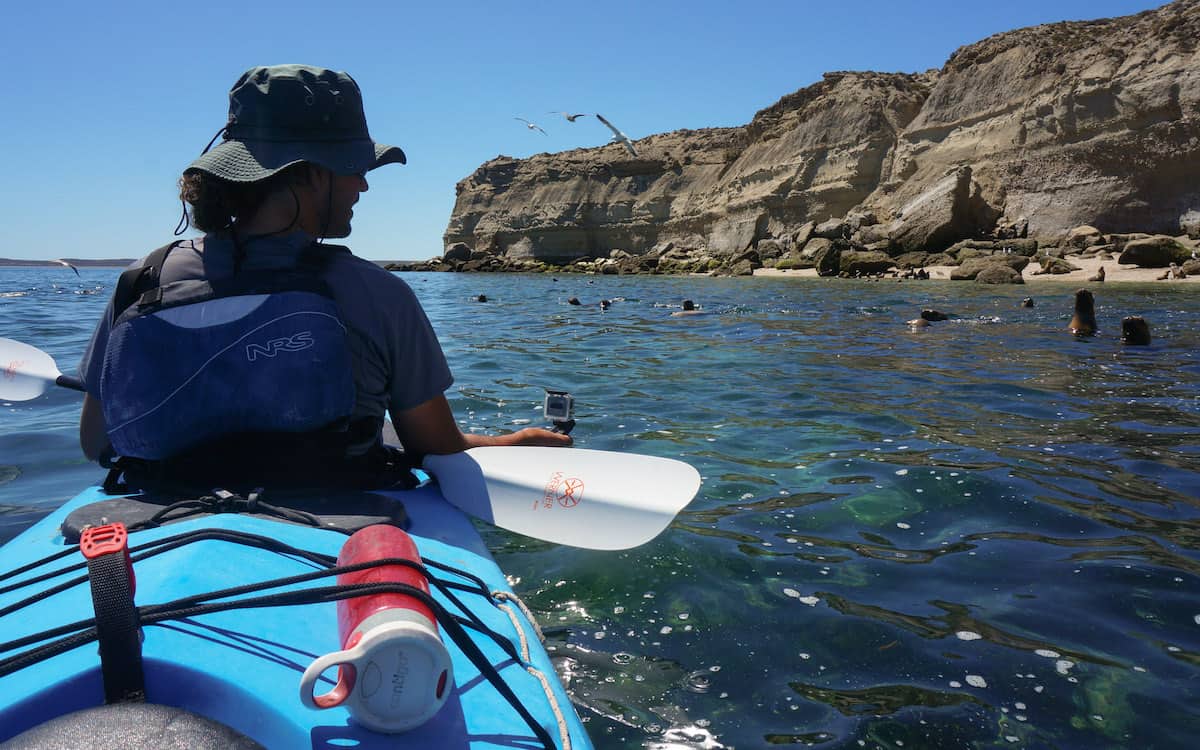 Curious sea lions coming to check us out
SECLUDED BEACH CAMPS
You need special permits to camp and kayak in this gulf, which means there are very few people around. Also, nearly all the land is private, owned by estancias (ranches), so there are no big resorts and hardly any development. It was just us and the wild. These secluded camps are something really special about this trip, you enjoy the peace of nature with out the crowds.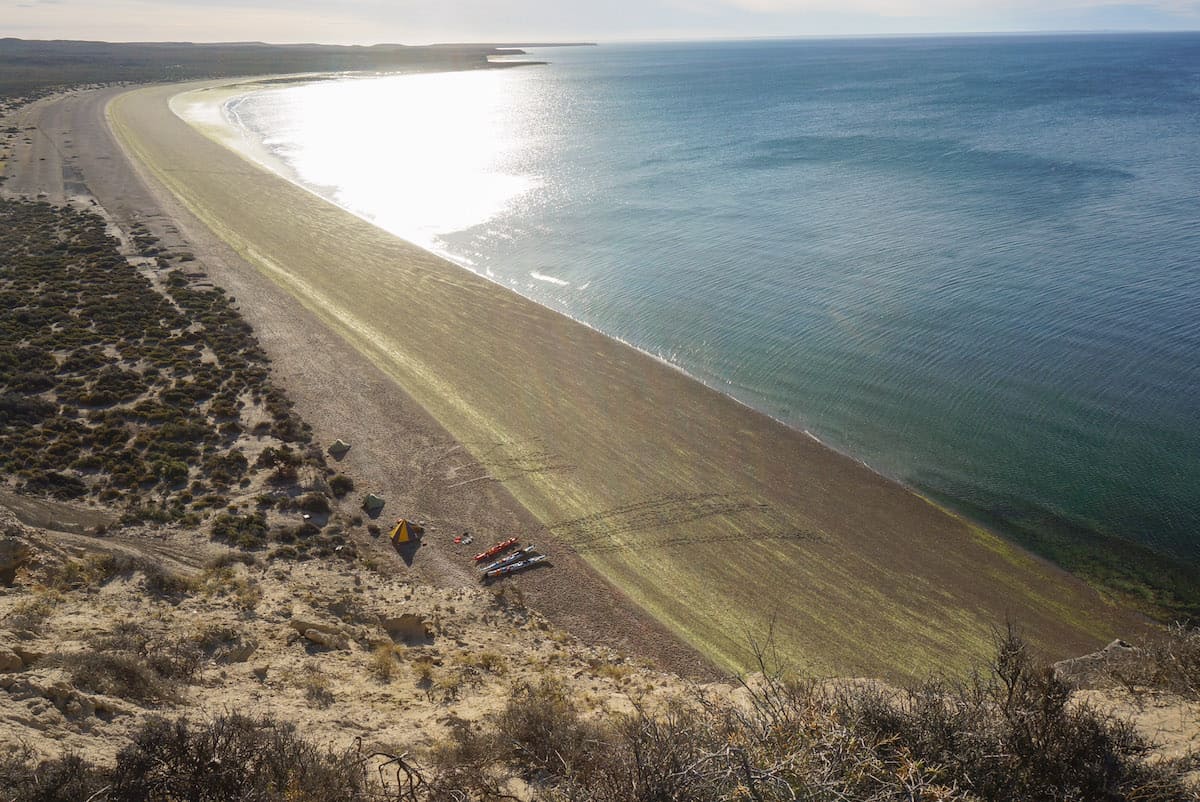 The whales come surprisingly close to shore. We spent the evenings sipping wine on the beach, watching them swim laps, playing, surface and blow.
We would do this until the sun would sink behind the horizon, painting shades of pink and purple across the sky. Then night would fall and the sky would become covered in stars. When it came time to sleep, the sound of the blows from whales lulled us to sleep.


COASTAL TREKKING
This trip wasn't only about kayaking, every afternoon we hiked along the coast and up the cliffs. We walked along the coast on top of marine platforms with an uncountable number of fossils embedded in the rocks.
Pablo looked high up the ridge of a cliff then said, "Look up there, it's an eagles' nest." As we looked up, an eagle soared by with a fresh catch in it's talons. Bringing home the supper to its family.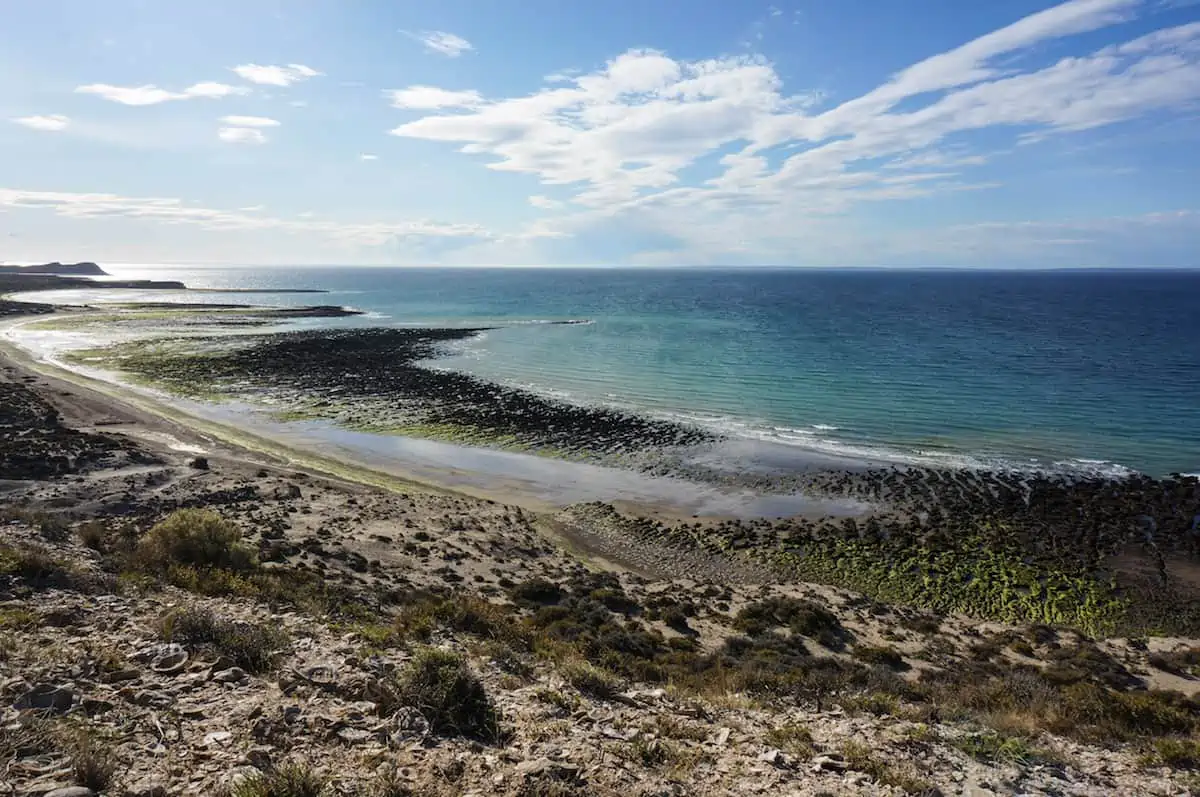 PATAGONIAN WILDLIFE SAFARI
After 5 days of paddling, we got picked up and headed back to Puerto Piramides. Going back to cilivazation for the night to take a hot shower and sleep in a bed. The next morning Pablo picked us up and we headed out on a Patagonian safari.
As we drive the gravel road through the heart of the peninsula, guanacos (a camel like animal) cross the road. We also spot a daddy rhea (similar to an ostrich) and running behind him are over ten chicks.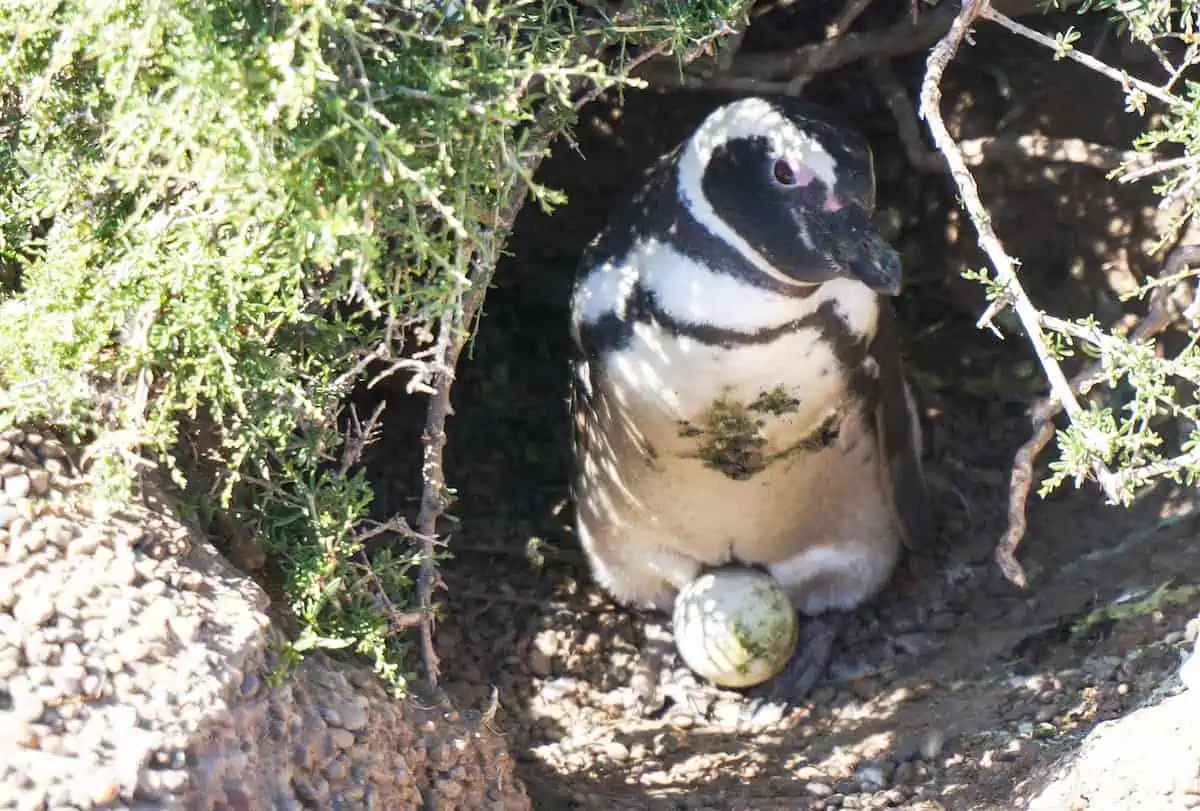 Our first stop of the day was Estancia San Lorenzo. Every year from August to March, Magellanic penguins come to Peninsula Valdes to nest, breed, mate and wait for their eggs to hatch. We're here in October and it's incubation time. The male penguins dig nests on shore, then both parents rotate shifts guarding the egg and going to sea to eat.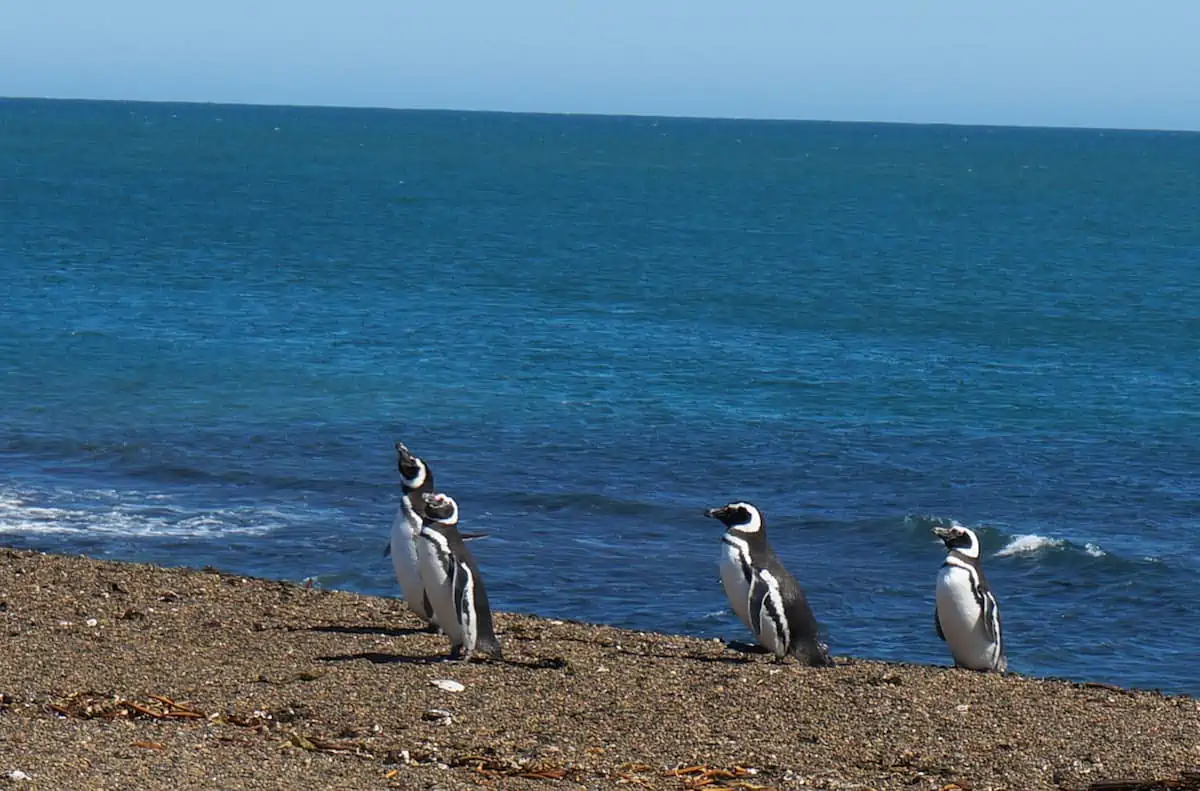 The penguins aren't shy making it a perfect opportunity to see their nests and also to take pictures.
After visiting the penguins we made two more stops. One in Punta Norte and the other in Caleta. Here we spotted elephant seals and more sea lions. The land tour was a great end to an adventure filled week.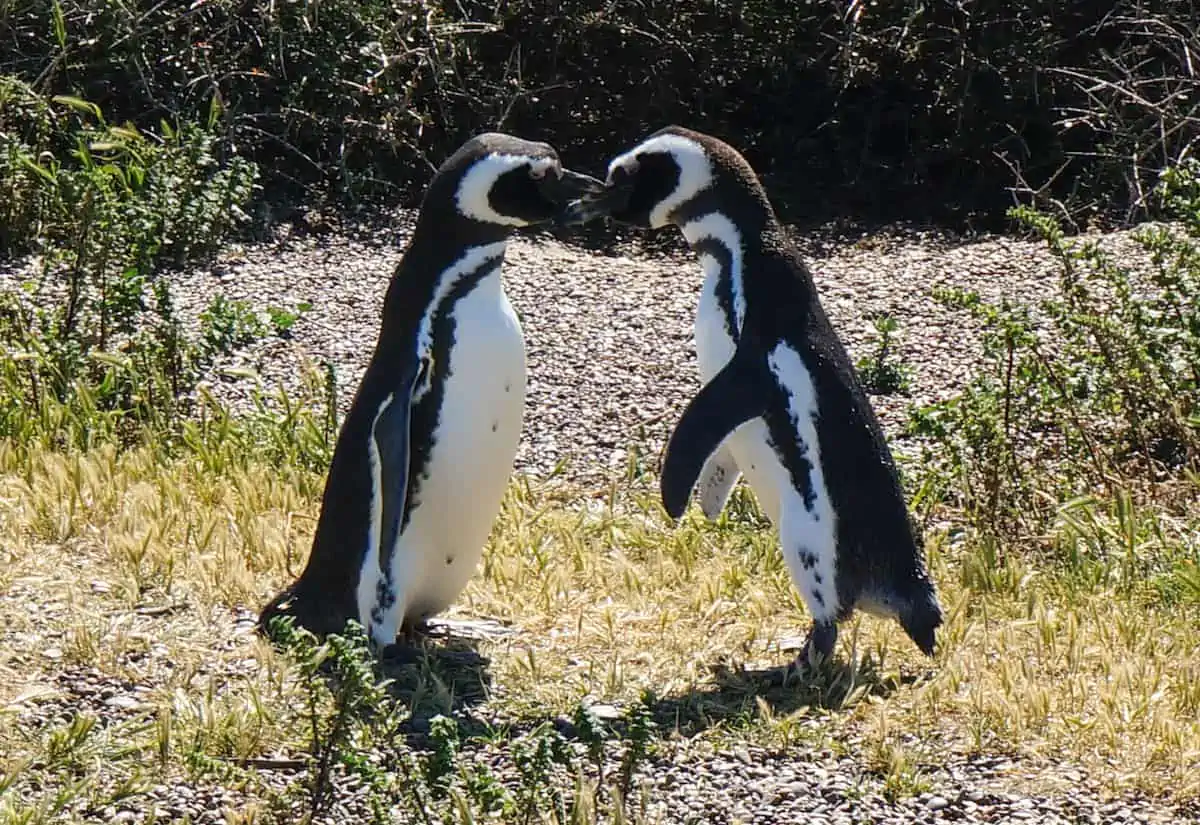 WHERE TO STAY
PUERTO MADRYN
It's the biggest city in Peninsula Valdes and has plenty of supermarkets, restaurants and hotels. It's a 1.5 drive to get to Puerto Pirámides, where most of the tours depart from.
Camping ACA – Camping
Located in Punta Cuevas, at the end of the beach and about 30 minutes walking distance from the city centre, the Camping ACA is the best option for those traveling on campervans or with camping gear. It's quiet, the staff is friendly and free Wi-fi is available. Weekends tend to be busier here.
Hotel A La Helice – Budget
The Hotel A La Helice is the best choice if you want to stay in the city center and are on a budget. Located just 100 meters from the beach, A La Helice offers free Wi-Fi, shared kitchen, BBQ area and a fully equipped dining area.
Complejo Pielago – Mid Range
Complejo Piélago offers self-catering apartments with free Wi-Fi. It's located 5 minutes from the beach and 1.2 km from Puerto Madryn city centre. A great place for families and couples alike.
PUERTO PIRÁMIDES
This tiny town is right in the middle of the peninsula and the hub where all the tours start from. If you're planning to spend a few days exploring Peninsula Valdes, this is the place to stay.
Camping Municipal – Camping
Located by the beach the Camping Municipal is the only option for those with campervans or wanting to camp in Puerto Pirámides. The lots are shady and the bathrooms/showers clean. A good option if you are only staying a couple of nights and don't want to splurge in a hotel room.
Hostel Bahia Ballenas – Budget
Located right at the entrance of Puerto Pirámides, the Bahía Ballenas Hostel offers comfortable dorm rooms and a shared kitchen for guests to prepare their own meals. There's no Wi-Fi connection.
Casa de la Tía Alicia – Mid Range
Hosteria La casa de la Tia Alicia offers clean and comfortable rooms in Puerto Piramides. It's set behind "El Guanaco," a restaurant & artesian beer house. A dry breakfast of coffee, tea, and cookies is served. Piramides Beach is 600 meters away.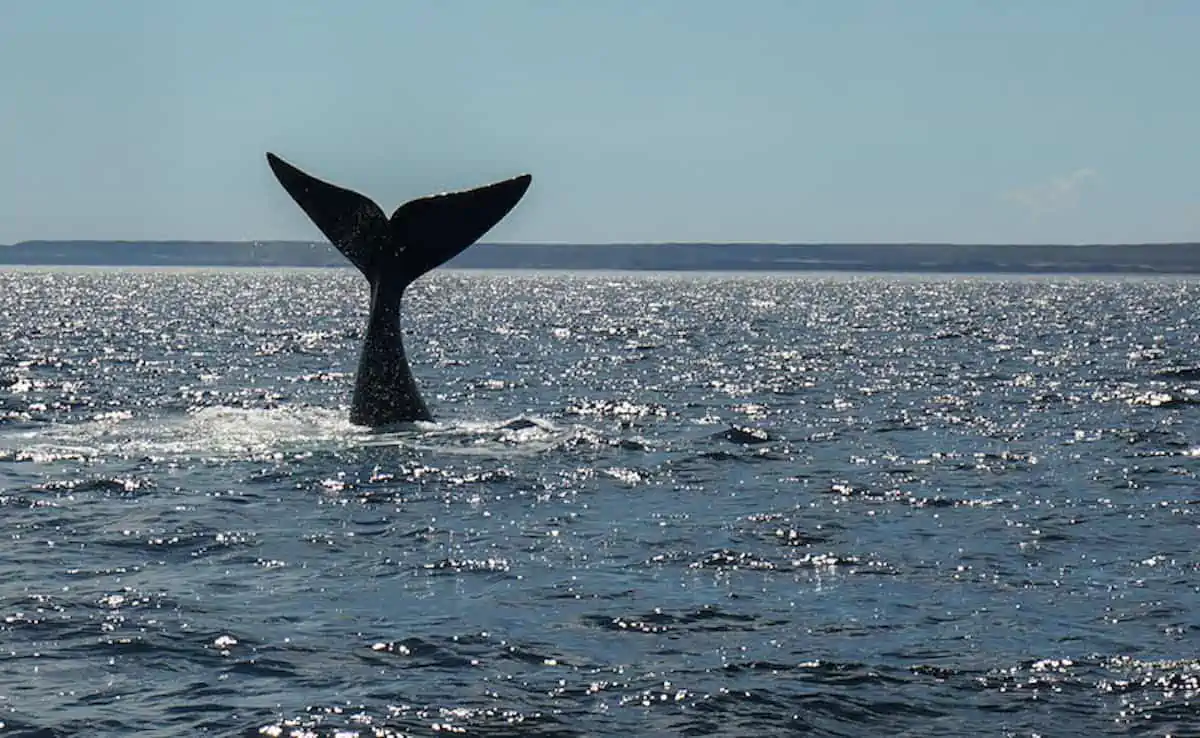 WHAT TO TAKE WITH YOU

For the Marine Life Peninsula Valdes Tour with Patagonia Explorers, they provide the kayaks, spray skirts, dry bags, tents, cooking gear, dry jacket and pants. Aside from that you will need to bring some personal items. Here's what we brought along.
CAMERA GEAR & ELECTRONICS
GoPro Hero3

Canon 1000D

Tamron 17-50mm F/2.8 XR Di II Lens

Sony NEX6

Manfrotto Tripod
CLOTHING & ACCESSORIES (PER PERSON)
Arc'teryx Rain Jacket

Patagonia Down Sweater

Arc'teryx Epsilon Soft Shell Fleece

Icebreaker Base Layer

T-shirts (x2)

Salomon Hiking Pants

Icebreaker Leggings

Icebreaker Socks (x2)

Icebreaker Undies (x2)

Merrell Avian Light Walking Shoes

Icebreaker Beanie

Icebreaker Gloves

Buff

Sun Hat

Costa del Mar Sunglasses
OTHERS
Toiletries

Sunblock

Day Pack

Water bottle

Biking gloves

Robens Air Impact 3.8 Sleeping Mat

Robens Caucasus 900 Sleeping Bag
The Southern Right Whales arrive to the gulf in June and stay until December. The best months for kayaking trips are between September and November, when the weather is warmer.
The Marine Life Peninsula Valdes tour is 7 days but Patagonia Explorers offer day trips, 3 day tours and a 10 day tour as well.
Remember that you are seeing wildlife in the wild, not a zoo or aquarium. Come without expectations and leave with memories.
Once you arrive to either Trelew or Puerto Madryn, Patagonia Explorers will pick you up and handle all the logistics from there on.
WHAT WE LIKED THE MOST
+ The paddling days were relaxed, our goal was to see wildlife not just cover ground.
+ Getting up close to the whales.
+ Falling asleep to the sounds of whale blows.
+ Meals are healthy, delicious and varied.
DOWNSIDES
– With wildlife encounters, sometimes it's just a matter of luck. To be sure you get some close encounters, you need to plan to kayak for a few days.
FINAL THOUGHTS
One of the guides on the whale watching tour asked us what else we were going to do in the Peninsula. When we told him we were going kayaking with Patagonia Explorers, he told us it was the best thing you can do here. After spending seven days paddling here, we couldn't agree more.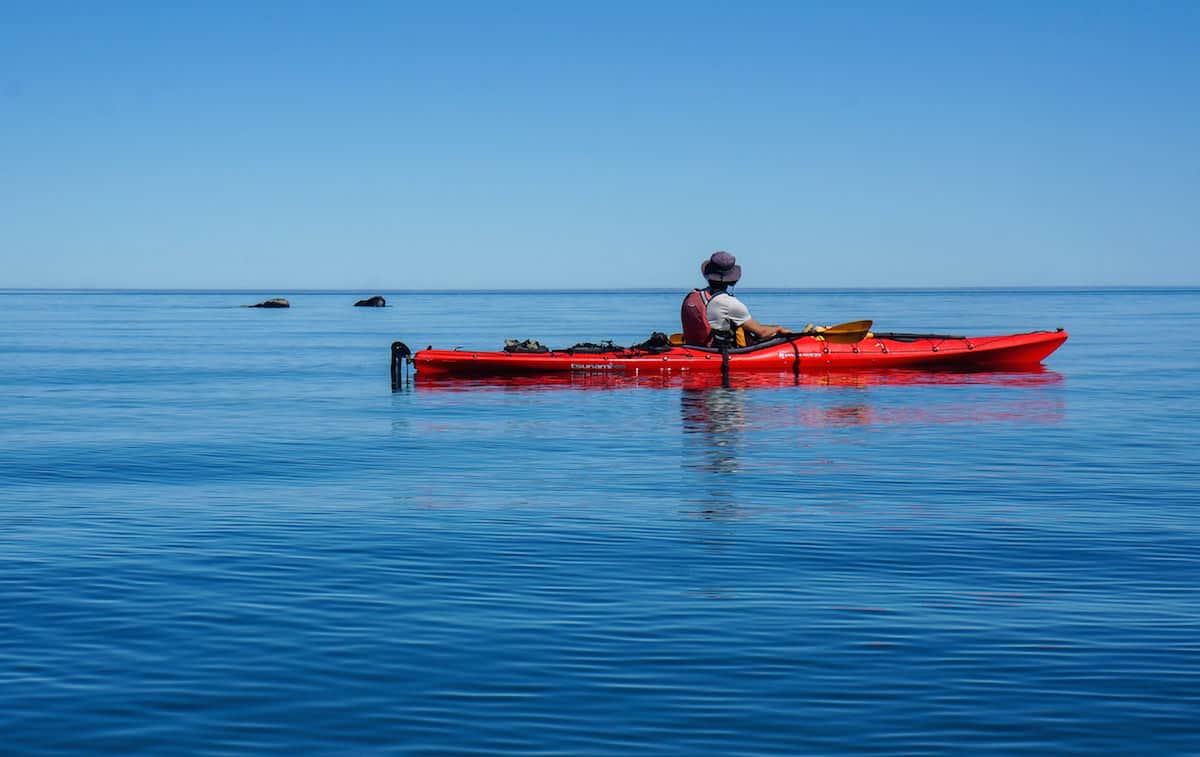 READ MORE
For more of our top kayaking gear recommendations, check out these popular buyer's guides: