Updated on February 9, 2020
Antarctica – it's a trip you've dreamt of taking for years. When you think of your dream trip, images of humpback whales doing acrobatics, penguins waddling in the snow and icebergs floating by fill your mind. But, how will you get there?
We all know it's a long journey and it's not cheap. It took a lot of time and effort to save up for this special trip and you want to make sure you get it right. If you've come across a company called One Ocean Expeditions and would like an insider's look at what a trip with this company is like before you fork over your hard earned cash, keep reading. 
In March 2016, my husband and I went on a One Ocean Expeditions cruise and I will tell you my experience. Please keep in mind that this article is just my observations and how I interpreted my experience. I hope you find this information useful when it comes time to book your trip. 
TRIP FACTS
COMPANY: One Ocean Expeditions
SHIP: Akademik Ioffe
DATE: February – March 2016
ITINERARY: 11 Day Antarctic Peninsula Adventure
CABIN: Twin Private
THE SHIP
One Ocean Expeditions operates two ships, the Akademic Ioffe and Vavilov. They are sister ships, which means they are nearly identical. I was aboard the Ioffe. It's a refurbished Russian polar reseach vessel, as you can imagine it's not your typical cruise ship. 
The design of the interior of the ship is practical yet comfortable. While some luxury seeking cruisers might be put off, there is a big advantage to this style of ship.
It's made for polar trips, it's strong and stable. It can maneuver through the ice much better than a mega ship which means you get to go to places that others can't reach. And, because it is very stable, the open ocean crossings are more pleasant than on an ordinary cruise ship.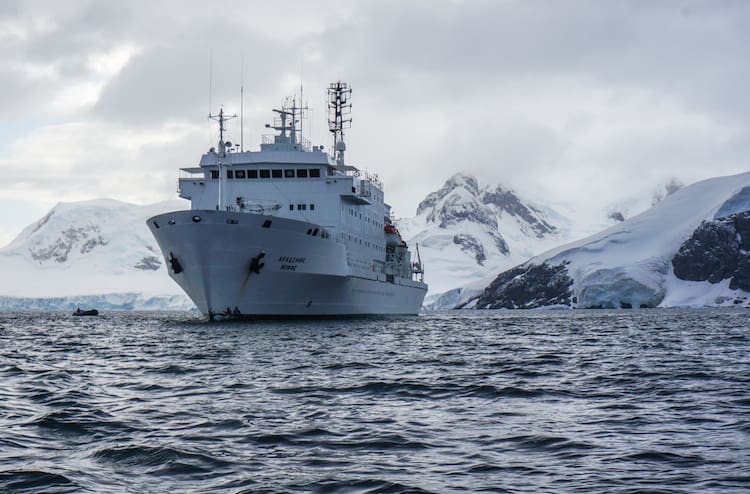 NUMBER OF PASSENGERS
One reason we chose to go with One Ocean Expeditions was because the maximum allowed passengers on each trip is only 96. We didn't want to be in a huge crowd and feel like just another number. After a few days on the ship, I got to know lots of other passengers and the crew members. I really enjoyed this time and it made the excursions a lot of fun as well because we were experiencing them with our new friends. 
Another advantage to having 96 other passengers (or less) is that only 100 people are allowed to be on an excursion at a time. Because we had under 100, we were able to get off the ship and explore the White Continent twice a day. 
THE STAFF
Both the Ioffe and Vavilov are manned by a Russian crew (the captain, sailors, cooks, engineers, housekeeping, etc…). The trip is run by The One Ocean Staff which is made up of adventure guides, expedition leader, biologists, a doctor, chef, photographer and hospitality workers.
What stood out to me the most about the OOE staff was their ability to make you feel safe and their consciousness for the environment without losing their sense of fun and adventure. You could tell by the looks on their faces that they truly loved what they do and wanted to share this special place with the guests.
FOOD & DRINK
You won't realize the importance of good food until you've been all morning exploring and come back to the ship cold and with an empty stomach. What surprised me the most was the variety of meals keeping in mind we were 11 days away from any port.
Breakfast was always served buffet style with granola, fruits, pancakes, bacon, french toast, eggs, juices, pastries, tea and coffee. Lunch and dinner are always a four course meal with soup, salad, main dish (your choice of a meat, fish or vegetarian) and dessert.
After the first meal of a hearty soup, a loaded salad, thai fish curry and white chocolate moose, we knew we weren't going to go hungry on this boat.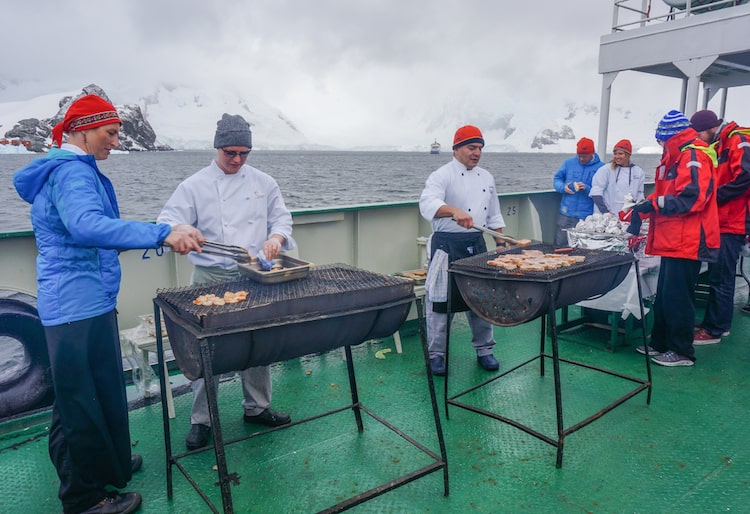 EDUCATION
When we read that it takes 3 days of cruising to reach Antarctica, we imagined we'd have a lot of down time, we were wrong. Each day at sea there was two morning presentations given by a specialist in that particular field (such as geology, marine biology, or polar exploration). It was interesting learning about penguins, whale tagging and ice formations.
The onboard scientists and educators are always around during expeditions so it's great to have someone who can answer all the questions about what you are seeing. They really love their field of study and don't mind if you talk their ear off about penguins, ice, whales or the polar expeditions. 
ACTIVITIES
The best part about our trip was all the excursions we got up to. Each morning and afternoon we would go out on a zodiac cruise searching for whales, get up close to penguins, or paddle among icebergs. There was also a night of camping. One Ocean offers different activities depending on which cruise option you pick and the time of the year.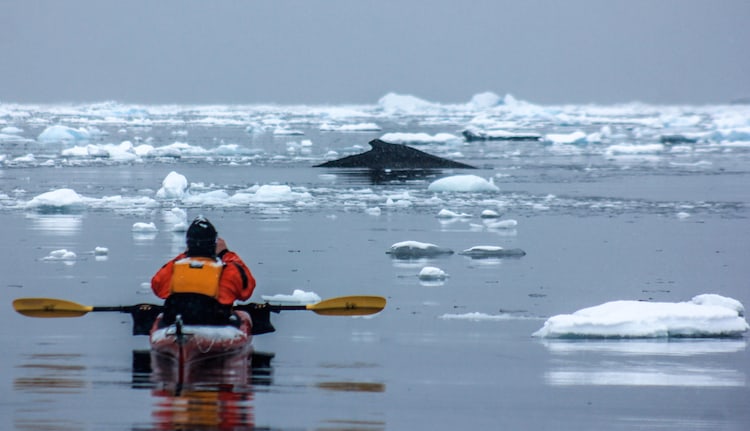 GEAR
One Ocean provides you with some gear so be sure to read this section before you make your Antarctica packing list. 
You will get a wet weather set of a coat and pants and rubber boots. The coats and pants are good quality and have lots of pockets for storing gear. They are big enough to allow several layers of clothing underneath. The boots have a thick sole which helps keep your feet warm while walking on the snow. There's also trekking poles and shoe shoes are available. 
For the kayaking program, OOE supplies all the gear you need: kayaks, paddles, dry bag and a drysuit.
If you choose to go on the camping excursion, you'll get a bivy bag, camping mattress, sleeping bag and sleeping bag liner to borrow for the night.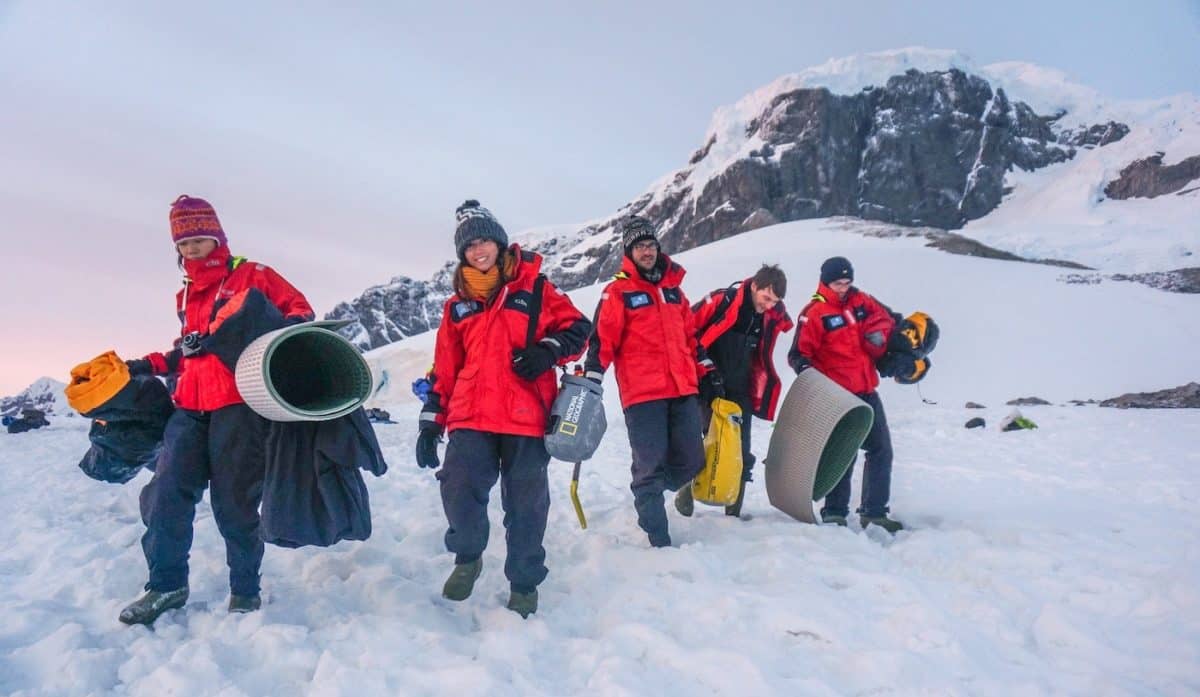 CABINS
We stayed in a twin private cabin. It was clean, well maintained and comfortable. There was a desk, two beds, clock/radio/mp3 player speaker and coffee and tea station. Housekeeping kept our room stocked with hot chocolates which were a great treat after a day out in the cold.
The beds were comfortable and had memory foam mattresses and quality sheets. There was plenty of storage racks and drawers for clothes and gear. 
The Russian housekeeping staff made sure our room was always clean. Each morning while we were at breakfast they would make the bed and then at night they would turn down the room. It fascinated everyone that the sink was never dirty and the trash never full, yet you hardly ever see the cleaning staff.
WHAT WE LIKED THE MOST ABOUT OOE
+ Kayaking Program & Guides
+ Respect For Wildlife & Environment
+ Personal Service of the Staff
+ Casual Atmosphere
+ Focus on Adventure
WHAT WE DIDN'T LIKE
– The presentation room was down on deck 1, it gets warm down there and the lulling of the boat rocked us to sleep.