Updated on December 20, 2021
Whether you normally hike solo or with a partner, you will probably want to include one of the best 2-person backpacking tents to your gear arsenal eventually. Some choose to use 2-person tents for extra sleeping space, a dog hiking companion, or for gear storage. Others prefer to hike in tandem and, of course, need the space for a partner or friend.
No matter why you find yourself considering a two-person tent, there is a lot to know before you buy. We were all newbies at one point, so don't sweat it! We've broken down all the details you need to know in order to pick out the best two-person tent for you. To save you time shopping, we've also put together a list of some of the best two-person tents on the market today!
For a complete analysis of all backpacking tents, check out the buyer's guide Best Backpacking Tents.
Quick Answer

-

The Best 2-Person Backpacking Tents
Big Agnes Copper Spur HV UL 2

The North Face Stormbreak 2

Alps Mountaineering Lynx 2
Comparison Table

-

The Best 2-Person Backpacking Tents

For the best experience turn your device horizontally
Reviews

-

Best 2-Person Backpacking Tents
Big Agnes Copper Spur HV UL 2
Specs
Capacity

:

1P / 2P / 3P / 4P

Doors

:

2

Floor Area

:

29.0 sq ft

Weight

:

2 lbs 12 oz

Season

:

3-Season
Features
Increased Livability
Large Zippered Doors
Ample Gear Storage
Privacy Mesh Body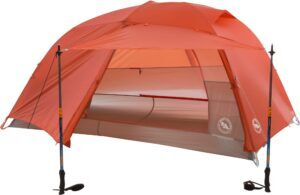 BEST BACKPACKING TENT OVERALL
The Big Agnes Copper Spur HV UL 2 is a lightweight and comfortable tent that is a favorite among long distance hikers. It balances weight, weather protection, interior space extremely well which is why we picked it as the best backpacking tent overall.
What we loved the most about this tent is how liveable it is considering its weight. It has an awning that can be set up with two trekking poles. It gives you a bit of shade while still allowing for plenty of ventilation through the tent. In light rain, the awning would do a decent job at keeping you dry while cooking.
The biggest drawback of the Copper Spur HV UL is it's tight for two people. This won't be an issue for solo hikers but if you plan to camp with a friend, have a look at the three-person option. It's on the pricier end of the spectrum but is still a good value if you're looking for a lightweight freestanding tent that will last for years.
The Copper Spur doesn't come with a footprint so if you want to increase the lifespan of your tent, grab the UL2 footprint or use some type of groundsheet.
The Copper Spur HV UL also comes in a 1-person, 3-person and 4-person version.
REI Co-op Passage 2
Specs
Capacity

:

1P / 2P

Doors

:

2

Floor Area

:

31.0 sq ft

Weight

:

5 lbs 05 oz

Season

:

3-Season
Features
Pole-less Design
A-frame Shape
Reflective Guylines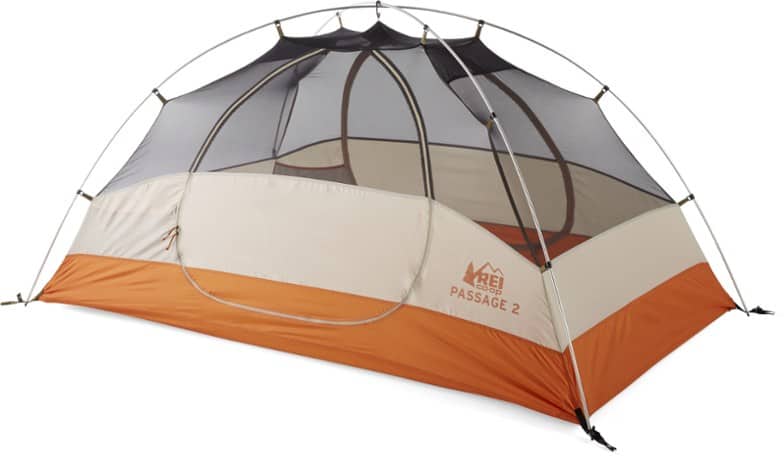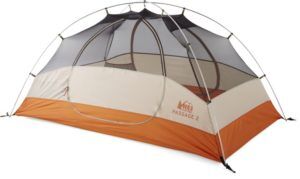 The REI Co-Op Passage 2 is a simple and sturdy backpacking tent. It's an excellent choice for first time tent buyers or backpackers on a tight budget.
Without a doubt, our favorite thing about this tent is its price. At $159, it's hard to beat. Even though it is basic, it comes with some nice features like gear loops, internal pockets, and adjustable ceiling vents
It's a heavy tent for backpacking standards but if you share the load with a partner, it's not so bad. A little annoyance is the zipper sometimes snags. Also, the stakes are pretty crap. If you're going to camp on hard ground, consider replacing them.
If you're willing to pay a little more for a better quality, lighter and roomier tent, check out the REI Half Dome SL 2+.
The REI Co-op Passage also comes in a 1-person version
The North Face Stormbreak 2
Specs
Capacity

:

2P / 3P

Doors

:

2

Floor Area

:

30.6 sq ft

Weight

:

5 lbs 14 oz

Season

:

3-Season
Features
Easy-pitch design
Twin-zips
Very affordable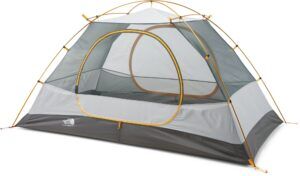 The North Face Stormbreak 2 is a super spacious tent with plenty of headroom that is a great choice for hikers who don't mind sacrificing a bit of weight to save some cash.
What we love the most about this tent is how liveable it is. There is plenty of headroom and space for two people. The spaciousness is much appreciated if you have to wait out a storm. We also appreciated how it is to set up. It would be a great option for someone who is new to backpacking who wants an affordable, easy to use tent that doesn't feel claustrophobic.
The biggest downside we see with the Stormbreak 2 is it is bulky and heavy. We'd only recommend it as a backpacking tent if your hiking partner is willing to split the load.
Another complaint is the cheapie stakes. They are thin and tiny. They're probably okay for camping on very soft ground but not much more. If you're set on this tent but the stakes also concern you, check out the MSR Ground Hog Stakes, they are super sturdy and almost indestructible.
If you're looking for a bigger tent, check out The North Face Stormbreak 3.
Alps Mountaineering Lynx 2
Specs
Capacity

:

1P / 2P / 3P / 4P

Doors

:

2

Floor Area

:

37.0 sq ft

Footprint Included

:

No

Height

:

46'

Weight

:

5 lbs 15 oz

Season

:

3-Season
Features
Two-Pole Design
Two Doors
Half Mesh Walls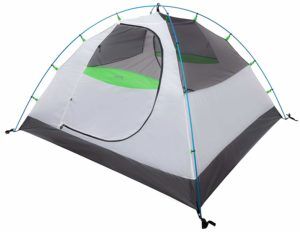 The Alps Mountaineering Lynx 2 is one of the most affordable backpacking tents out there. It's over 5 pounds, which is common at this price point but if you're willing to haul a bit more weight, then it is a good buy for summer backpacking trips.
What we love the most about this tent is the price tag. At $149, it's one of the best options for this price. It's roomy and pretty well ventilated. The zippers are large so they are sturdy and easy to use even with gloves on.
The weight prevents this tent from being used on long distance trips. For shorter trips it should be fine, especially if you can share the load with your partner. Its two-pole system limits it to warm and calm weather.
The Alps Mountaineering Lynx also comes in a 1-person, 3-person and 4-person model.
MSR Hubba Hubba NX 2
Specs
Capacity

:

1P / 2P / 3P

Doors

:

2

Floor Area

:

29.0 sq ft

Weight

:

3 lbs 08 oz

Season

:

3-Season
Features
Durable
Ventilating
Flexible Tent Poles For Increased Wind Performance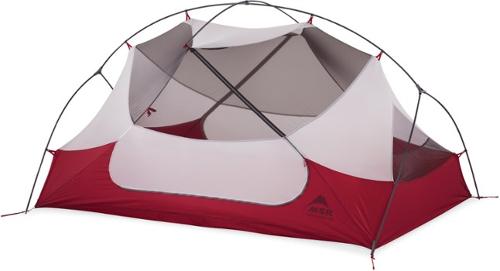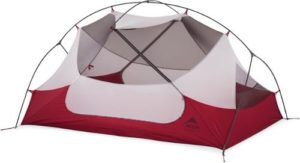 BEST TENT FOR HEAVY RAINS
The MSR Hubba Hubba NX2 is a reliable backpacking tent that balances weight, durability, and comfort well.
What we love the most about the Hubba Hubba NX2 is how it holds up in rough weather. We put this tent to the test while backpacking in New Zealand through a crazy windstorm with horizontal pounding rain. The poles flexed with the violent gusts that night while our friend's tent poles bent. Also, we didn't get a single drop of rain inside the tent which is why the Hubba Hubba NX2 is our top pick for camping in heavy rains.
While it's not the lightest tent on this list, it does gain points in durability and interior space. If weight is an issue for you, you can take a look at the Big Agnes Copper Spur, which is also featured on this list, but it has angled walls that get narrow at the feet, reducing liveability.
Our biggest complaint with the MSR Hubba Hubba NX is the price tag. It's not an ultralight tent but not inexpensive either. It's a middle ground tent that left us feeling like perhaps it would be better to spend a bit more to get an ultralight tent, like the Nemo Hornet Elite or go for a quality budget option, like the REI Co-Op Half Dome.
This tent is also available in a 1-person and a 3-person model.
THINGS TO CONSIDER WHEN CHOOSING THE BEST 2-PERSON BACKPACKING TENTS
HOW EASY IS IT TO PITCH?
Pitching a tent is something that new campers and hikers often struggle with. When the kids are running around and the burgers are threatening to burn on the grill, you don't want to be tearing your hair out trying to set up the tent before the rain comes.
Today there are many easy pitching tent options.
Hub systems use a central hub to organize and simplify setup

Color-coded systems use colored poles to indicate setup order
Most experienced camper will agree that the easiest of these options is the hub system, which allows for a foolproof and quick setup every time.
FLOOR SPACE
The best 2-person backpacking tents need enough room for pairs of hikers but must remain small enough to stay lightweight. Usually, these tents range from about 25 – 33 square feet of floor space.
In this category, the best tents use near-vertical sidewalls to provide access to more space near the edges of the tent in order to make efficient use of all the floor space.
MATERIALS
Most modern tents use either nylon or polyester fabric with some type of waterproof coating. These waterproof fabrics are used on the tent floor and rainfly.
For the tent body, mesh fabric usually makes up the majority to allow for airflow and views. Other, usually non-waterproof, fabrics are often incorporated as well.
Dual-wall tents usually have a non-waterproof inner made from mesh or lightweight fabric which allows for ventilation. Externally the waterproof rainfly does the work of keeping you dry, so be sure this piece specifically is made from quality waterproof fabric.
FEATURES EXPLAINED
Vestibules
Vestibules allow a small overhanging space near the entry door where the rain fly provides a sheltered space for gear, shoes, or packs. These little storage awnings are popular in most tents.
Vestibules also provide some coverage from rain when entering and exiting your tent so that falling precipitation cannot easily directly enter the tent itself.
Minimum trail weight
This weight is the manufacturer's determined value for the weight of the minimum viable components of the tent. For instance, this weight often does not consider the weight of:
Tent stakes

Internal tent body

Optional accessories
Tents with features that can be "left at home" such as fly-only tents may have a minimum trail weight which could be misleading. As a beginner tent camper, you won't want to leave behind some of the comfort items from your tent.
Footprint
Tent footprints are waterproof, durable liners that go on the ground under your tent. These are to protect the tent from sticks, broken glass, and ground moisture.
Footprints are not meant to keep the bottom of your tent totally dry. In fact, improper use of a tent footprint often leads to more water being channeled under the tent. Many users forego the tent footprint altogether or use some creative alternatives such as those suggested here.
Be sure to read the manual with your tent and practice proper tent pitching before using it in a storm to ensure that you get the most out of your tent footprint.
The best 2-person backpacking tents normally include a footprint with them.
Double wall tents
This is the type of tent you're most likely already familiar with. Double wall tents are the modern standard of construction. They feature an inner shelter which is usually the tent itself, often with walls made from mesh for view and circulation.
Additionally, a double wall tent also features an exterior layer to keep water out. This is usually called the rain fly. Commonly, double wall tents can be set up with either one (just the inner tent or just the fly) or both "walls" depending on your needs.
Bathtub floor
A "bathtub" floor on a modern tent refers to a waterproof fabric that wraps around and up the sides of the tent. As opposed to a single sheet of waterproof fabric on the bottom of the tent, a bathtub floor provides additional protection from running or splashing groundwater.
Bathtub floors actually wrap up the sides of the tent and provide anywhere from about 2" – 6" of protection from running or splashing water.
Guylines
Guylines refer to the tie-out ropes or cords on a tent. These ropes help provide additional support and structure to the tent when properly assembled and tensioned.