Updated on February 11, 2021
So you wanna shred fresh powder like Johnny Tsunami and Rocket Power, huh? Well you're going to need a board that's not only beginner friendly but will suit you in a variety of conditions.
We've done the hard work for you, sifting through the innumerable options, and have distilled the top 10 best beginner snowboards. Whether you've never stepped foot on a board or you picked up some basic skills through a few weekend outings, the variety of snowboards listed are awesome choices for any and all beginners!
Since snowboarding is pretty quick to pick up, think about what your goals are and choose a board that matches that. Most of the boards we've listed are All-Mountain boards, meaning they'll do well in almost all conditions, but we've also included a few specific options for the advanced beginner looking to specialize. Check 'em out below!
Side note: The measurements given in the product specs table for each snowboard are based upon a rider that is roughly 160 – 170 lbs. Take this into consideration when making comparisons since the measurements will vary depending on what length of board you buy. Refer to the "Things To Consider" section at the end of this article to determine the right length board for you.
For more of our top snowboarding gear recommendations, check out the Best Snowboards.
Quick Answer

-

The Best Beginner Snowboards
Arbor Coda Rocker Snowboard

Arbor Foundation Snowboard
Comparison Table

-

Best Beginner Snowboards

For the best experience turn your device horizontally
Reviews

-

The Best Snowboard for Beginners
Burton Instigator
Specs
Flex

:

Soft

Shape

:

Directional Twin

Style

:

All-Mountain

Sidecut Radius

:

7.4 meters

Snowboard Profile

:

Flat

Effective Edge

:

122 cm
Features
Flat Profile Makes Turning Much Easier For Beginners
Unique Styling Excels In All Conditions: Groomed Runs, Off-Trail, & Powder
Lighter Overall Weight Feels Less Cumbersome And Shortens The Learning Curve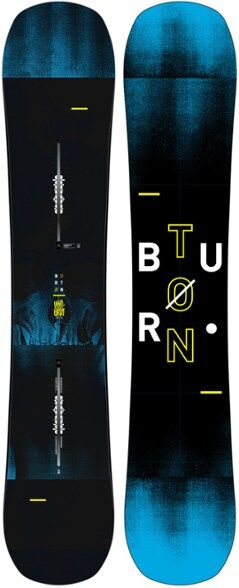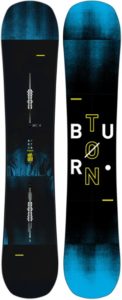 BEST FOR: TRUE BEGINNERS
If you've never stepped foot on a snowboard before, then this is the board for you. A true All-Mountain board, the Burton Instigator can handle just about any condition you test it in. It excels at groomed resort trails, floats on powder, and provides all the stability you want and need, especially when tackling icier east coast conditions.
The Instigator's directional twin shape means you'll have no problem riding switch (left or right foot forward) while also nailing down the fundamentals of snowboarding. The flat profile of the board means that you'll have more contact with snow, allowing you to have a better "feel" of the ground beneath you and thus more control.
Arbor Element Rocker
Specs
Flex

:

Stiff

Shape

:

Directional Twin

Style

:

All-Mountain

Sidecut Radius

:

8 meters

Snowboard Profile

:

Rocker

Effective Edge

:

121.6 cm
Features
Production Reduces Carbon Footprint By 40%
Lighter And More Responsive Than Previous Model
Made From Sustainable Lumber Approved By The Forest Stewardship Council (FSC)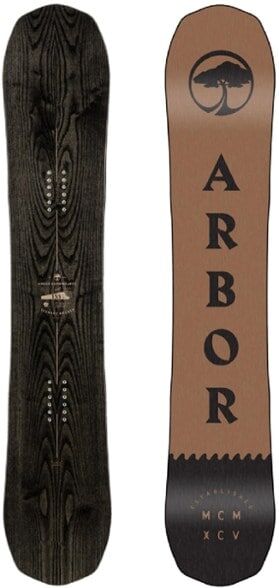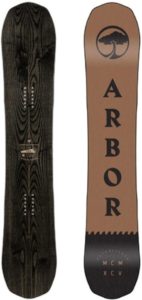 BEST FOR: THE ENVIRONMENTALLY-CONSCIOUS SNOWBOARDER
Arbor Collective has been crafting superb quality boards since 1995, relying on sustainable forestry initiatives that respects and honors the trees who give life to these epic snowboards.
The Arbor Element Rocker is the embodiment of ecologically friendly and environmentally responsible snowboarding. The wood used in all Arbor boards comes from sustainable forests that are certified by the Forest Stewardship Council (FCS), an organization that focuses on fostering a mutually beneficial ecosphere for both people and planet.
Taking things a step further, the Element Rocker's sidewalls are made from recycled plastics and the deck is finished with a resin made from waste products rather than the traditionally used petroleum-based resin, reducing it's overall carbon footprint by 40%.
Aside from giving you ecological peace of mind, the Element Rocker is a great general purpose snowboard capable of tackling a variety of conditions. Riders of all skill levels, from beginners to experts, will enjoy its easy turnability, the feeling of "floating" across fresh powder, and it's surprising ability to hold its own in the terrain park.
As with most "Jack-of-all-Trades" items, this board is "Master of None." Those desiring more specificity and results from their board for powder or the terrain park may find the Element Rocker to be slightly lacking. The majority of riders, however, will likely love this board and it's "go anywhere, do anything" usability.
Arbor Coda Rocker Snowboard
View Women's Version
Specs
Flex

:

Stiff

Shape

:

Directional Twin

Style

:

All-Mountain

Sidecut Radius

:

8 meters

Snowboard Profile

:

Rocker

Effective Edge

:

120.8 cm
Features
Rocker Profile Is Manipulated To Deliver More Stability At Higher Speeds
"Grip Tech" Delivers More Contact With Snow Resulting In Better Turning Ability
Uses Recycled Materials And Sustainable Lumber Approved By The Forest Stewardship Council (FSC)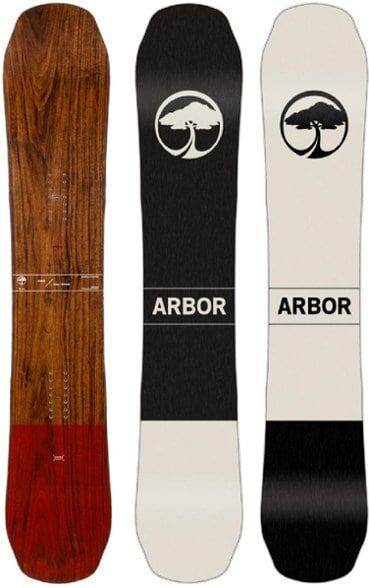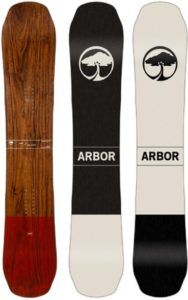 BEST FOR: LONG-TERM INVESTMENT IN SNOWBOARDING
The Coda Rocker by Arbor is your best bet for long-lasting quality that can deliver in just about any slope condition. Are you a total newbie that needs a little help nailing the basics? The Coda Rocker gives room to cheat by making initiating and exiting turns a breeze.
Or perhaps you're an advanced beginner looking to hit fresh powder? The rocker profile helps you float above the snow and feel like a pro. Need a little help when hitting the terrain park? This twin shaped board will help you navigate when riding switch and give extra "oomph" when grinding that rail or making that jump.
Regardless of your skill level or desired terrain, the Coda Rocker delivers well on all fronts. The only drawback may be for more experienced riders desiring specificity from their board. While it certainly delivers A- quality across all categories, it's "generalist" approach will never fully deliver an A+ on any one type of terrain.
Overall, this board will satisfy the majority of snowboarders and is a dream for any and all beginners.
Arbor Foundation Snowboard
View Women's Version
Specs
Flex

:

Soft

Shape

:

Directional Twin

Style

:

All-Mountain

Sidecut Radius

:

7.9 meters

Snowboard Profile

:

Rocker

Effective Edge

:

123.7 cm
Features
Feels Like Surfing And Initiates Turns Very Easily
Rocker Profile Provides Great Stability Through High Speeds
"Budget" Design Never Sacrifices Quality And Is Backed By Extended 3-Year Warranty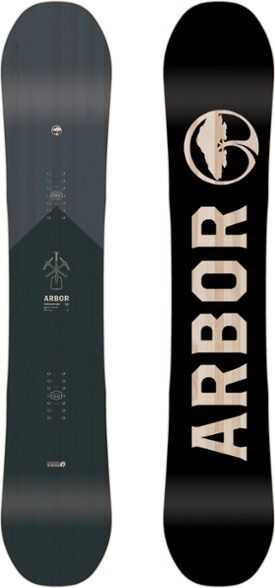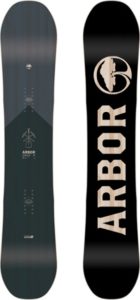 BEST FOR: THE BUDGET-CONSCIOUS BEGINNER
Are you looking to venture into snowboarding without breaking the bank? We feel you on that! Especially since you still have to buy boots, bindings, goggles, and more. The Arbor Foundation is the perfect jumping off point for any beginner. After all, you're going to drop some serious coin on the sport – might as well get the best bang for your buck.
Arbor has a rich history of producing high quality snowboards with a penchant for eco-friendly building techniques. The Foundation draws from this tradition by incorporating the same practices into a budget-friendly board.
The board's profile includes rocker that assists beginners with making turns yet has the longest effective edge of all the Arbor boards made with rocker. The effective edge is how much of the board actually makes contact with the snow, translating into more traction and stability.
While this benefit is highly advantageous for beginners with no experience, more experienced riders may find the longer effective edge to feel more like training wheels and thus hard to shed once their skills improve.
Aside from budgetary considerations, a good way to determine if this board is right for you is whether you've ever ridden a skateboard or longboard before. If not, then this board will be just right for you. If you have, then this will still be a good board but you may find that you quickly outgrow this board (depending on your skateboard skills, of course).
Capita Super DOA
View Women's Version
Specs
Flex

:

Stiff

Shape

:

True Twin

Style

:

All-Mountain

Sidecut Radius

:

8.2 meters

Snowboard Profile

:

Camber/Rocker

Effective Edge

:

120.6 cm
Features
True Twin Shape Rides The Same Forwards And Backwards
Stiff Flex Provides More Stability At High Speeds And In Powder
Wrapped In Kevlar - Military Grade Bulletproof Fiber Known For Strength And Lightness

BEST FOR: ANY AND ALL CONDITIONS
Before we begin, let's clear up what DOA means (hint: it's not "Dead on Arrival"). According to Capita, it stands for "Defenders of Awesome." Considering this board will shred in any and every condition you test it in, I'd say it's an appropriately named snowboard.
This All-Mountain, True Twin board excels on groomed runs, backcountry trails, the terrain park, ungroomed resort trails, and fresh, soft powder. Better yet, if you're learning to ride switch (switching between left and right foot front), then this is your board!
Backwards, forwards, upside down – it doesn't matter how you ride it, the Super DOA is there to perform at your whim. As with most "Do it All" boards, it won't ever earn a perfect 10/10 on any particular run. Pickier snowboarders may find this attribute frustrating, but most beginners should end up enjoying the heck out of its versatility.
Jones Hovercraft
View Women's Version
Specs
Flex

:

Medium

Shape

:

Directional

Style

:

All-Mountain

Sidecut Radius

:

9.5 meters

Snowboard Profile

:

Camber/Rocker

Effective Edge

:

125.7 cm
Features
Directional Shape Feels Like Surfing On Snow
Upturned Nose And Tail (Ends) Make The Board "Float" In Powder
Medium Flex Provides Stability At High Speed & Flexibility While Turning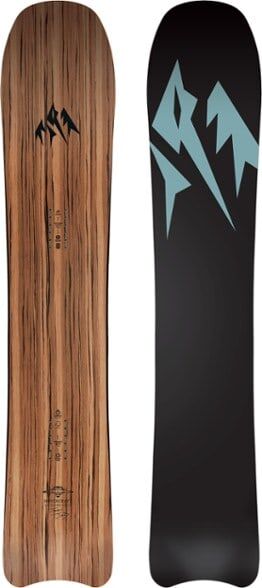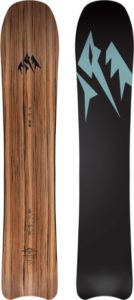 BEST FOR: CARVING
If you're looking for a board that will get you into the "flow" of snowboarding and help you carve down a run with ease and elegance, then look no further than the Jones Hoverboard. Sporting a directional shape (meaning it goes one direction) and a slightly off center stance, the Hoverboard excels at riding down steep hills by creating more stability in the stance.
This board has both the longest effective edge and the longest sidecut radius in our lineup, meaning more contact with the snow for more control and smoother turns when carving, respectively.
True beginners may find the Camber aspect (arch in the board's profile) a little trickier to manage when first starting out, but it is this feature that will assist you in powering through turns as you carve down a mountain. Mate that with the Rocker aspect (upturned ends) and you've got a board that will also float in deep powder.
Best suited for advanced beginners who want a more specific board for carving down mountains, a true beginner should still consider the Jones Hovercraft if their goal is to focus on carving and enjoying the ride.
Burton Flight Attendant
Specs
Flex

:

Medium

Shape

:

Directional

Style

:

All-Mountain

Sidecut Radius

:

7.6 meters

Snowboard Profile

:

Camber/Rocker

Effective Edge

:

121 cm
Features
Offset Stance Provides Stability On Steeper Runs
Camber Profile Uses Available Kinetic Energy To Make Turns More Powerful
Construction Is Light And Durable, Providing Extra Pop When Making Jumps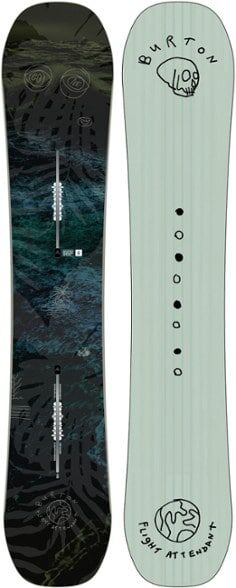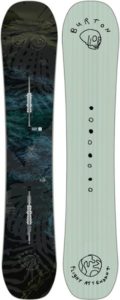 BEST FOR: PROGRESSING WITH SKILLS
Snowboarding has a short learning curve and as such, beginners often find themselves outgrowing their board halfway through the season. To avoid feeling "held back" by your board once you've polished your skills, it's best to invest in a snowboard that will "level up" with you, unlocking new abilities as your skills progress.
Burton's Flight Attendant is just the right board for the job! Whether you're looking to float in powder or gain speed on groomed runs, this board can do it all. Need some extra pop to assist you in the terrain park? The Flight Attendant has that too.
What makes this versatility possible is the hybrid Camber/Rocker profile. Camber adds arch in the center of the board, delivering power through turns especially on groomed runs. The Rocker adds an upturned nose and tail (the ends of the board) to increase floatability in powder and makes turning easier overall regardless of where you ride.
The only drawback with this board is that, as a Directional board with an off center stance, you won't be able to ride switch (changing between left/right foot forward). This means that if you land a trick backwards, you'll need to make the effort to switch your stance back before continuing. Many, however, see this as a minor inconvenience considering the versatility of the board.
Float in the pow, fly in the park, cruise at ease, and carve as smooth as butter. This Flight Attendant has turned the fasten seat belt sign "off", you are now free to move about the mountain.
Specs
Flex

:

Medium

Shape

:

Directional

Style

:

Powder

Sidecut Radius

:

8.3 meters

Snowboard Profile

:

Flat/Rocker

Effective Edge

:

114.4 cm
Features
Offset Stance Provides Stability On Steeper Runs
Made From Sustainable Lumber Approved By The Forest Stewardship Council (FSC)
Carbon Fiber Added To Construction Materials to Increase Strength While Staying Light

BEST FOR: FRESH POWDER
This is the one.
You've been dreaming of this for so long – floating in powder, carving down smooth, buttery snow. The Capita Navigator is specifically designed for fresh powder.
Its Flat/Rocker profile gives you more contact with the snow, allowing you more control beneath your feet to "feel it out" and respond to changing conditions. The Rocker aspect causes the ends to curve upwards, allowing you to float in deep snow without getting bogged down in the powder.
As a Directional board with a focus on giving the best ride in powder, it's important to understand that the Navigator won't punch as well as other boards on traditional groomed runs. Consider this before purchasing: do you intend to stick mostly to the groomed runs? If so, it's best to consider another board. But if you think you'll spend most of your time off on your own, exploring the powder, then you've got a gold medal winner right here.
It's worth mentioning that this board is best suited for an advanced beginner who's had some time on the mountain. Otherwise, this may be too specific of a snowboard for a true beginner without any experience.
Capita Mercury
Specs
Flex

:

Stiff

Shape

:

Directional

Style

:

All-Mountain

Sidecut Radius

:

8.15 meters

Snowboard Profile

:

Camber/Rocker

Effective Edge

:

121.7 cm
Features
Construction Is Light Yet Very Durable
Camber/Rocker Profile Delivers High Performance Responsiveness
Directional Shape Is Good For Powder, Groomer Runs, And Carving

BEST FOR: ALL SKILL LEVELS
A true "Every Man's" board, the Capita Mercury can be ridden by experts or by those who've never stepped foot on a snowboard before. This board's design is exceptional in that it handles carving and deep, soft powder with ease.
The Mercury's Camber/Rocker profile is a hybrid that blends arch beneath the feet with enough contact points with the snow to surf through powder. The Cambered aspect creates a "pop" or "spring" that is responsive to high energy turns while the Rockered portion creates a feeling of floating on the snow.
True beginners may find this board a little more difficult to ride at first, but advanced beginners will have a field day. Better yet, as you move beyond the beginner stage, you'll find the Capita Mercury will continue to surprise you as it matches your skill level. The more skill you put into it, the more results you'll see.
If you're a beginner without any riding experience, fret not! The learning curve for riding a snowboard is exceptionally short. In fact, it's recommended to buy a board a level above where you are since you'll likely achieve that goal pretty quickly. This will ensure you don't "outgrow" your board too quickly.
THINGS TO CONSIDER WHEN BUYING A BEGINNER SNOWBOARD
HOW WE QUALIFY SKILL LEVEL

True Beginner
A rider without any snowboarding experience.
Intermediate Beginner
A beginner with some experience, who may have taken a class and is able to successfully enjoy Green runs without wiping out.
Advanced Beginner
Someone who has a clear and definite command of basic snowboarding skills. These include exiting the chair lift, stopping safely, turning, carving, managing speed, and potentially may include someone who has attempted a trick or small jump. They are gaining confidence on simple Blue runs but may still have difficulty nailing advanced Blue runs.
Experienced Rider
A snowboarder who has a solid command of their board with ample amount of experience. All level of Blue runs are manageable and enjoyed.
Expert Rider
The expert snowboarder tackles Black Diamond runs with ease and pushes their limits on Double Black Diamonds.
STYLE OF BOARD
There are 5 different styles of snowboards to choose from: All-Mountain, Freestyle, Freeride, Powder, and Splitboard.
The latter 4 are all for intermediate and advanced beginners and go up to expert riders. However, it's important to note that learning to snowboard has a relatively quick learning curve. Most people who have never set foot on a board are able to stay up for a complete run by the end of 2 full days.
That being said, you should most likely buy a board that aims where you'd like to be (a level higher than your current ability) and shoot for it. Your skills will quickly follow.
True beginners will be best suited with an All-Mountain board, the Jack-of-all-Trades or "Generalist" of snowboards. It will provide a great ride in any conditions including both groomed and ungroomed slopes, as well as fresh powder both on the trail and off.
Intermediate and advanced beginners, those who have nailed the basics of riding a snowboard and are pushing their boundaries, may want to consider a Freestyle, Freeride, or Powder board.
If your main goal for snowboarding is to learn tricks, hit jumps, pop ollies, and do some rail grinds, then you're going to want a Freestyle board. These have the flexibility and lightness needed to achieve those stunts and usually come in a Twin shape to make it easier when riding switch (see Features Explained, below). Keep in mind that true novices will have more difficulty keeping their balance on these boards nor do they excel high speeds on groomed runs.
Intermediate and advanced beginners with a solid set of foundational skills may want to consider Powder boards. If you're in search of floating across deep, untouched snow then this is the right board for you.
Freeride boards and Splitboards are meant for experts looking to hit ungroomed runs and backcountry trails.
SHAPE
There are 3 general shapes of snowboards, each with their own specific purpose.
Directional
Best for All Riders – Beginner to Expert
For riders primarily interested in high-speed carving (riding in an "S" shape back and forth while going downhill), you may want a directional board. The rider's stance is off-center towards the tail which reduces fatigue when hitting steep terrain. While usually specific to Freeride boards, beginners can find some All-Mountain boards in a directional shape.
True Twin
Best for True Beginners and Up
These boards are completely symmetrical front to back and put the rider right in the middle. These boards are the most popular as they allow you to experiment riding in both directions (left foot front vs. right foot front) and help when making the move up into doing tricks on your board.
Directional Twin
Best for All Riders – Beginner to Expert
Directional Twin boards combine some of the best elements of both the Directional and True Twin shapes. Not all directional twins are made the same as they can vary in what elements are highlighted. Suited for riders of all abilities, these are the most commonly made boards and are likely what you've ridden if you've rented from a ski shop.
CAMBER AND ROCKER
Camber and Rocker identify the profile of a snowboard as it lays upon the ground. Some snowboards arch in the middle with either side touching the ground (known as Camber) while other boards touch the ground in the middle and curve upwards towards the ends (known as Rocker). There are several different variations of each that affect board performance for a desired outcome.
Camber
Best for Advanced Beginners and Up
Arching in the middle with either side touching the ground, Cambered snowboards offer a feeling of spring to them that cause them to respond in a lively manner when exiting turns. Built for speed, turns, and performing best on groomed runs, these boards are favored by advanced beginners looking to up their performance on the slopes.
Flat
Best for All Riders – Beginner to Expert
Flat boards have no arch and make contact with the ground at all points (save for the upturned ends that all snowboards have). They give an ample amount of "feel" to the rider and are used by those of all skill levels.
Rocker
Best for True Beginners
These boards are flat in the middle with each end upturned and are particularly suited for powder and the terrain park. True beginners tend to enjoy these boards as they initiate and complete turns rather easily. More experienced riders also enjoy the feeling of "surfing" these boards tend to to give.
Camber/Rocker
Best for Advanced Beginners and Up
This hybrid board combines the best of both worlds by having the liveliness of a cambered board while also sporting upturned ends. The result is a board that delivers results in a range of conditions including groomed runs and deep powder.
Flat/Rocker
Best for All Riders – Beginner to Expert
Flat Rockers are another great hybrid used by riders of all skill levels. The flat middle helps give stability on groomed runs while the upturned ends assist when taking on soft, deep powder.
SIDECUT RADIUS
As you've probably noticed looking at a snowboard, the middle section isn't as wide as the ends. This is what's known as sidecut radius. That slight curve in the shape of the board (when looking down at the deck from above) creates a slight arc that can be traced into a complete circle. The radius of that circle measures how prominent the arc of the snowboard is.
The sidecut radius is measured in meters and helps you determine very quickly what type of turns the board is able to make. Snowboards with a smaller sidecut radius will be able to make tighter turns while boards with a larger sidecut radius will be better at wide, sweeping turns.
small sidecut radius = tight / fast turns
large sidecut radius = wide / sweeping turns
To be clear, you aren't necessarily choosing between a board that can do only one or the other. Most snowboards are able to make both types of turns, but the effective radius helps indicate which type of turns it really excels at.
EFFECTIVE EDGE
As you learned with Camber and Rocker, the entire underside of the snowboard doesn't actually touch the snow. Whether your board has Camber, Rocker, sits Flat, or some combination thereof, the tip and tail (the ends) will always be slightly upturned.
Since the length of a snowboard measures the total overall length, from tip to tail, the effective edge measures how much of the underside is actually making contact with the snow and is expressed in centimeters.
Snowboards with a shorter effective edge, such as boards with Rocker, make less contact with the ground and as such are easier to turn. However, they provide less stability and may feel too "loose" for some beginners.

Snowboards with a longer effective edge, such as Flat boards or those with Camber, make more contact with the ground and provide greater stability. Nonetheless, this increase in control may feel more difficult to initiate turns for some beginners.
If you've never ridden a snowboard before, you may want to lean towards a shorter effective edge. Initiating turns is the crux of snowboarding and is essential for stopping safely.
LENGTH
A combination of your height and bodyweight help determine the right board length for you. It's important to know that these are rough guidelines, as some people prefer longer than usual boards to go faster or shorter boards to turn more easily.
The old way to measure a board was to stand it upright in front of you – the right sized board would be somewhere between your chin and your nose. Nowadays we have guidelines based on a rider's weight which makes online buying much easier.
Use the chart below to determine the right snowboard length for you.

Note: It's important to note that Freestyle boards come in lengths shorter than this chart describes for your weight. Consider sizing down 4 – 6 cm for Freestyle boards.
WIDTH
Width is primarily based upon the size of your boots, which should hang over either side of the board by about 1 – 2 cm. This will give you the best control over the board. If your boots don't hang over, you may have trouble making turns and controlling the board properly. If they hang over too much, you may "catch an edge" and wipe out when attempting to turn.
Use the chart below to determine the right snowboard width for you.

FLEX
Snowboards are made with a variety of types of wood that provide varying amounts of flex.
Boards with a soft flex tend to be preferred by many beginners as they're easier to turn. Anyone looking to hit the terrain park will also appreciate the mobility of a soft flex board.
Boards with a stiff flex offer a better grip on the snow when making turns, especially tight ones, and provide greater stability when going fast.
Boards with medium flex split the difference, offering enough flex to be better at turns than a stiff flex board and enough rigidity to be more stable at speed than a soft flex board.
FEATURES EXPLAINED
BINDINGS
The mechanism the holds/binds your boots to your snowboard.
CARVING
Carving is a style of riding characterized by alternating back and forth between your heel edge and toe edge in order to ride downhill in an "S" shape. This style is well-suited for beginners as it builds confidence, skill, and allows you to feel the "flow" of snowboarding.
DECK
The topside of the snowboard.
HEEL EDGE / TOE EDGE
The edges of your board are identified by your stance. The side of the board where your toes point is called the "toe edge" and the side of the board where your heels face is called the "heel edge." These are useful terms to know when riding as it helps you orient yourself both on your board and on the mountain.
When carving (see definition above), your heel edge will have your body facing downhill while riding on your toe edge will have your body facing uphill (regardless of rider stance).
LEASH
An ankle leash is usually attached to one of your bindings and should be fastened around the appropriate boot. This keeps your board from running away down the mountain.
GROOMED RUNS
Groomed runs are large, sweeping trails found at resorts that are maintained regularly to provide a relatively safe and predictable trail. The snow found on groomed runs tends to be relatively smooth (no large snow chunks) and modestly packed. New snowboarders are advised to practice their skills here before moving onto other types of terrain.
NOSE / TAIL
The nose and tail are the front and back of your board, respectively. Regardless of which stance you ride, your front foot will always be nearest the nose and your back foot nearest the tail. This is true even for Twin boards, which can be ridden forwards and backwards, or when riding switch (see below).
POW / POWDER
Fresh snowfall of at least several inches that provides for a smooth ride unlike groomed slopes. Great for high-speed and steeper descents, snowboarding on powder feels more like floating than any other style of riding.
REGULAR STANCE / "GOOFY" STANCE / SWITCH
A rider's stance is how they ride their board when going downhill. Most people ride with the left foot in front, which is known as a "Regular Stance." Less commonly, some people prefer to ride with their right foot in front, known as "Goofy Stance." Those who ride both ways, usually those doing tricks, ride "Switch."
Don't let the term "Goofy" scare you though, boarding is chock full of fun slang meant to be light hearted. If riding "Goofy" feels better to you, then go with it! Some of the biggest and best pros prefer it.
TERRAIN PARK
A section of a ski resort's trail that features jumps, rails, boxes, half pipes, and other fun obstacles that can be used for executing trick moves such as ollies, rail grinds, and gaining big air. Think skatepark, but on snow! (Also, helmets are cool – brain damage is not).
READ MORE
For more of our top snowboarding gear recommendations, check out these popular buyer's guides: