Updated on October 7, 2020
Unless you live at the bottom of a mountain, you're probably going to have to pack your stuff up together for a long car ride to the slopes. But with a car packed full of friends, boots, helmets, snow pants, and maybe even lunch, there's never enough room for what matters most: your skis and snowboards. So to prevent wedging a snowboard between your friends' heads in the backseat, you might want to consider investing in a snowboard rack. Although, finding the best snowboard rack for you and your vehicle can take some time.
Snowboard racks vary in design much like bike racks. There are hitches that attach to the back of your car, boxes that lay on the roof, and clips that do the same. To help you out on your search, we here at The Adventure Junkies have scoured through the internet to bring you the ten best snowboard racks out there. Take a look through the list below and see which one fits your needs best.
For more of our top snowboarding gear recommendations, check out the Best Snowboard Bags.
Quick Answer

-

The Best Snowboard Racks
Comparison Table

-

Best Snowboard Rack

For the best experience turn your device horizontally
Reviews

-

The Best Racks for Snowboards
Thule SnowPack
Specs
Mount

:

Roof

Ski Capacity

:

6

Snowboard Capacity

:

4
Features
Push To Open Design
Soft Rubber To Protect Boards
Adjustable For All Thicknesses Of Skis And Boards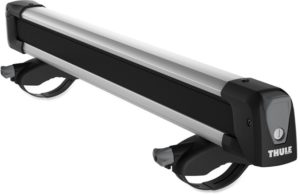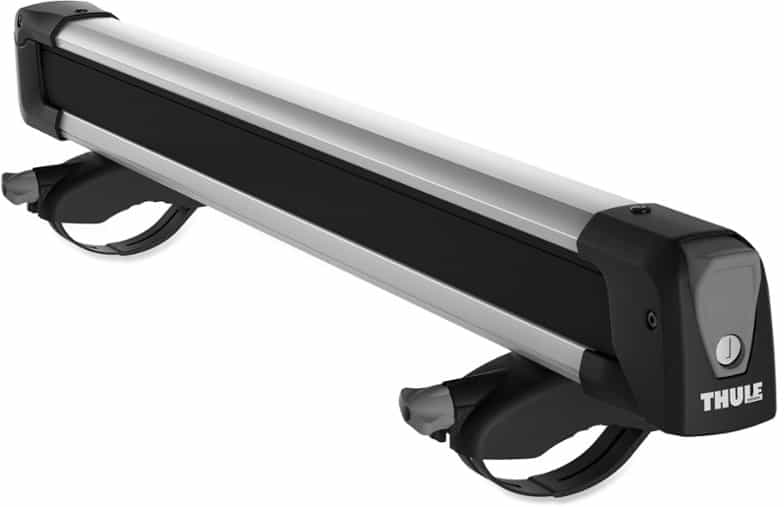 BEST FOR: WARM WEATHER CAR-POOLING RIDERS
With four slots for boards and six for skis, the Thule SnowPack Extender 6 will keep your boards and skis safe for any ride. Up above your car and out of the way of dirt and gravel, the SnowPack Extender comes with a vertical spring system that allows you to adjust its dimensions for any sized ski or snowboard. And the large push-to-open design is built to open with gloves, so if you find yourself in a cold environment, you won't have to take off your gloves to open it up. 
This system is best for warm weather riders that don't expect a lot of rain when driving, and boarders who don't intend to have too much equipment apart from the necessities.
Yakima SkyBox Carbonite
Specs
Mount

:

Roof

Ski Capacity

:

Many

Snowboard Capacity

:

Many
Features
Closed-Top Box
Dual-Side Opening
No Assembly Required


BEST FOR: FAMILIES
Do you go riding with the whole family? What about camping? Or any other outdoor adventure with a ton of gear. If so, the Yakima Skybox is by far and away the best option on this list for you. With sizes available in 12, 16, 18 and 21 cubic feet, the Yakima Skybox can fit as much as you pack into it. Boards, boots, bags – you name it. The beauty of a skybox is that you can pack it full with anything and rest assured that it will all stay dry during the ride. 
Occasionally, if in extreme environments, the lock and key system could freeze, but that's nothing a lighter or some hot breath won't fix. And if you're an avid skier or boarder with long legs and big skis or a big board, make sure you buy the Skybox model that's big enough to accommodate your size. Either way, we recommend this to all families. It will last a lifetime.
Kuat Grip
Specs
Mount

:

Roof

Ski Capacity

:

6

Snowboard Capacity

:

4
Features
Rubber Security Holds Keeps The Rack Firmly In Place
Slide-Out Feature Allows You To Slip Your Skis Or Snowboard Out Without Hassle
Metal Outer Shell For Superior Strength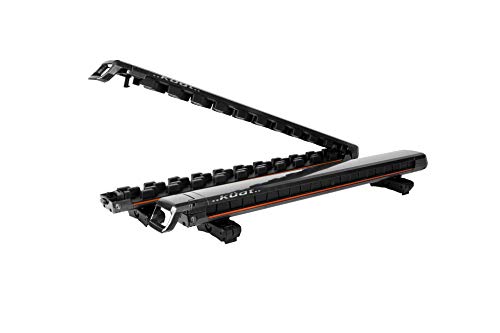 BEST FOR: RUGGED ENVIRONMENT RIDERS
The Kuat Grip 6 Rack may be pricier than most other racks out there, but with a hard metal outer shell, a lightweight design, and capacity for up to four boards or six skis, you won't regret this purchase. Perhaps the most impressive feature of the Kuat Grip 6 is its slide-out design which allows you to simply slide out your board or skis during loading and unloading. 
If you plan on traveling through windy, snowy, and rocky regions where a durable rack is needed to hold your skis and boards in place for years and years to come, then consider the Kuat Grip 6 for your next rack.
Yakima FreshTrack
Specs
Mount

:

Roof

Ski Capacity

:

6

Snowboard Capacity

:

4
Features
One-Button Opening
Tool-Free Design Makes Installation Easy
Includes Attachment For Tall Bindings


BEST FOR: ALL RIDERS
Coming in at a reasonable price point and with enough capacity to suit all your needs, the Yakima FreshTrack 6 Rack will satisfy all your needs. Specific features to note are the tool-free design which allows for easy assembly and also the Ski Lift attachment for tall bindings. This attachment means that if your bindings are too tall or big, you can modify the mount to accommodate them with ease. 
Great for all skiers and riders in mild weather, the Yakima FreshTrack 6 Mount will keep your equipment safe and secure for any ride.
Yakima FatCat 6 EVO
Specs
Mount

:

Roof

Ski Capacity

:

6

Snowboard Capacity

:

4
Features
Universal Mounting System
Wide-Expanding Hinges To Accomodate All Sized Skis And Boards
Large Easy Release Button
BEST FOR: LONG TERM RIDERS
Wide, easy to use, and stronger than most other racks, the Yakima FatCat 6 Evo may not be the first on our list, but it may just be the best. Wide-expanding hinges accommodate any sized ski or board while a large release button means you can operate this rack even with mittened or gloved hands in the cold. 
The only thing to note is that if you have a T-slot crossbar on your car, you'll need to purchase the Yakima SmarT slot Kit 2 for attachment. Apart from that, however, this is one of the lightest and most reliable racks on our list. Recommended to all riders, especially those of an advanced level looking to ride well into the future.
Thule Project Tram
Specs
Mount

:

Rear

Ski Capacity

:

6

Snowboard Capacity

:

4
Features
Ultra-Soft Rubber Keeps Rack In Place Without Damaging Your Car
Easy-To-Open Push-Button Design
Rear-Mount As Opposed To Roof Mount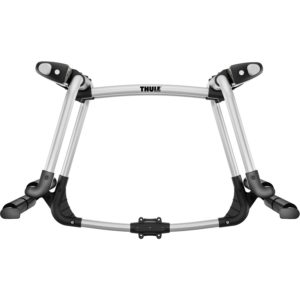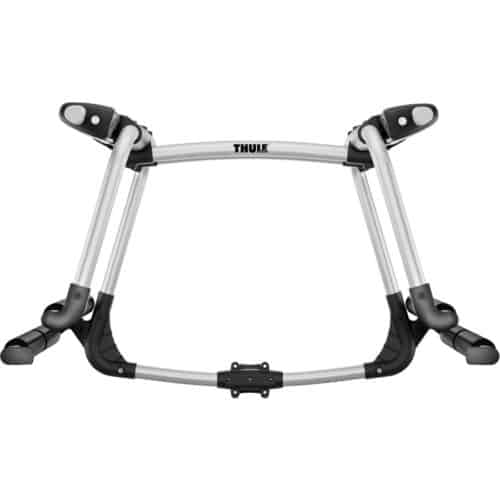 BEST FOR: RIDERS THAT WANT A REAR MOUNTING SYSTEM
It isn't often that you'll see a rear mount ski and snowboard rack, but every so often a great one hits the market.  If a rear style hitch is for you, the Thule Project Tram hitch is a safe bet for any rider. With capacity for up to 6 skis or 4 boards, the Thule Project Hitch will securely hold your gear in place on any road. 
Things to note with a rear hitch include the likely need for more tune-ups as unwanted gravel and/or sludge from the road may make its way up into your board or bindings during the drive. Other than that, we recommend this hitch to any rider with a preference for a rear-hitch system.
Yakima HitchSki
Specs
Mount

:

Rear

Ski Capacity

:

6

Snowboard Capacity

:

4
Features
Soft, Flexible Rubber For Padding
Adjustable Arms For Mounting
Fits Most Bikes As Well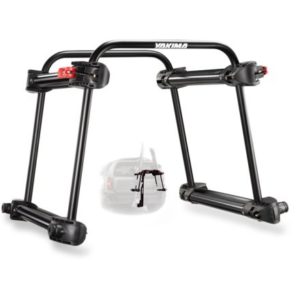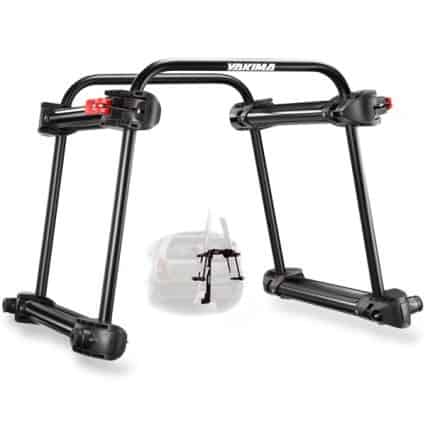 BEST FOR: MULTI-SPORT ATHLETES
Built to mount skis, boards, and bikes, the Yakima Hitchski mount is a bit cheaper and simpler than Thule's model, but still a reliable option for any rear-mount seeking rider. With a secure lock and key system and the added customizability to suit your needs, this hitch is great for any rider looking for a mount that can be used for bikes as well.
INNO Gravity Universal
Specs
Mount

:

Roof

Ski Capacity

:

3

Snowboard Capacity

:

2
Features
Soft and Hard Cushions For Thick Skis And Bindings
Customize And Set Mount Settings To Match Your Preferences
Universal Mounting System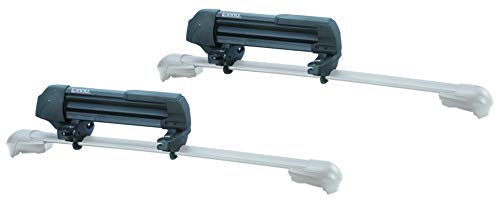 BEST FOR: PERSONAL USE
With a universal mounting system that can attach to any car and a combination of soft and hard padding for any sized board or skis, this is a great, reliable model for single skiers and boarders. A unique memory mount means that after you set your car's mounting parameters, the INNO Gravity will memorize that preset and keep it until changed otherwise. 
If you're looking for an above-car mount to store your board and perhaps a friend's for a weekend trip, this is a great model for you as it is much more affordable than other models on the market. However, if you think you'll ever escort a team out to the mountain, we suggest checking out one of the larger models on this list.
Rhino Rack
Specs
Mount

:

Roof

Ski Capacity

:

6

Snowboard Capacity

:

4
Features
Key Locking System For Security
Rubber Grips To Protect Equipment
Easy Release System For Gloved Hands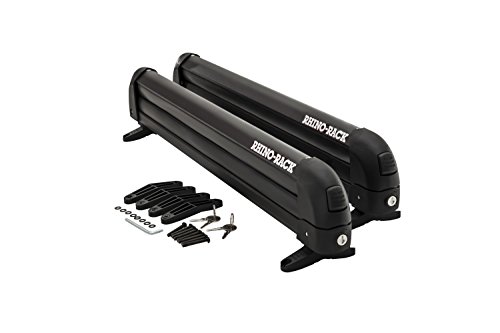 BEST FOR: YOUNGER RIDERS
With capacity for four boards side by side, a rarity amongst snowboard racks, the rhino rack ski carrier is extremely affordable and reliable for any group of riders looking to enjoy a long drive to the mountain. An easy-release system means that you can keep your gloves on when you're grabbing a board, and if you choose to leave, the lock-and-key feature means you can keep your boards safe while you run to the bathroom. 
A simple design, great capacity, and a low price point makes this rack an excellent choice for younger riders looking to hold on to some of their money while getting their first rack. Varying sizes in 10, 13, 20 and 27 inch diameters give you the freedom to find the perfect sized rack for you.
Thule Universal Flat Top
Specs
Mount

:

Roof

Ski Capacity

:

6

Snowboard Capacity

:

4
Features
Lock And Key Included
Universal Mounting System
Sturdy Carry For Snowboards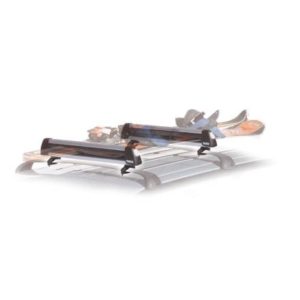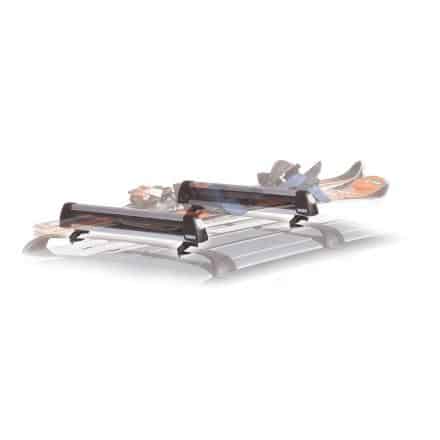 BEST FOR: RIDERS
Unlike other racks, the Thule Universal FlatTop 6 Rack carries snowboards by each base. This means that instead of some racks that hold your snowboard by the middle, this rack supports your board on either end of its base for a strong and secure carrying design. With a capacity of up to four boards and 6 skis, the FlatTop 6 is one of the cheapest models on the market with such capacity. We recommend this to snowboarders specifically over skiers, and to those who'd like to save some of their money.
THINGS TO CONSIDER WHEN BUYING A SNOWBOARD RACK
If you've read through this list, you've seen how greatly these racks can vary. From boxes to rear-hitches and simple clamp-closing systems, the verbiage is quite abundant when it comes buying a snowboard rack. To help you out, we've picked out some of the key features to consider when buying your snowboard rack, but if you want any more information, read through what others have to say on how to pick the best rack for you.
YOUR INTENTIONS
Before anything, ask yourself how many times you're intending on riding this season and with how many people. The more you go, the more expensive a mount you should buy. And the more people, the bigger. You may also want to consider the length of your skis and board. Not all systems can accommodate all sizes of skis or boards. So make sure the rack you're considering fits your specific needs before you hit that add-to-cart button.
STYLE
There are three main styles: rear-hitches, boxes, and overhead clamps. And here is what to consider for each:
If you're an avid rider and biker looking for an all-in-one system, seek out a rear-hitch mount. It'll save you some money in the end.

If you like to camp and want a rack that can serve multiple purposes, the overhead box might be best for you as it can store a bunch of extra gear as well.

And finally, if you're a strict rider or board, overhead clamps will do just fine.
YOUR CAR
In rare cases, you may need to check your car's mounting system to ensure the rack you choose is compatible with your vehicle. Not all mounts are universal, so when buying yours, make sure the rack is compatible with your car's design.
ADD-ONS
Depending on which mount you buy, read through the description carefully to note the add-ons. Some rear-hitches require the purchase of an extra cord to secure the system to your car. And some overhead clamps require an adjustable kit for extra-tall bindings. So after you assess your personal intentions, make sure the board suits those, and if not, ask yourself if you're willing to shell out the extra cash for a different model.
FEATURES EXPLAINED
JAW
You may see the word Jaw a lot while reading though racks online. This merely refers to the hinge itself and how wide it opens or doesn't.
SKS
SKS, or Same Key System, means that you can use the same key on all of the product's locks.
REAR-HITCH
A mount that attaches to the back of your car, like a bike-rack, instead of on the top.
READ MORE
For more of our top snowboarding gear recommendations, check out these popular buyer's guides: