Updated on December 28, 2021
Tucking your hand into a ball on the ski lift and then into your jacket for warmth is never a good solution. But when your gloves are bad and your hands are cold, you probably don't have any other choice than to resort to drastic measures. So, instead of suffering through another bout of frigid temperatures and cold fingers, do yourself a favor and find the best snowboard gloves for you.
Fortunately, our experts at the Adventure Junkies have sorted through a multitude of options and chosen gloves that are made for the slopes so you never have to endure another cold ride. Take a moment to read through the list below to discover which glove best suits your interests.
For more of our top snowboarding gear recommendations, check out the Best Snowboard Mittens.
Quick Answer

-

The Best Snowboard Gloves
Black Diamond Mercury Mitts

The North Face Apex+ Etip

Outdoor Research Stormtracker
Comparison Table

-

Best Snowboard Gloves

For the best experience turn your device horizontally
Reviews

-

The Best Gloves for Snowboarding
Hestra Heli
Specs
Gender

:

Unisex

Palm Fabric

:

Impregnated goat leather

Removable Liner

:

Yes
Features
Backs of hands are made of windproof, waterproof, breathable fabric
Cuff cinches, elastic and straps with hook-and-loop closures keep heat in and snow out
Pre-curved finger design for a natural fit
Carabiners at cuffs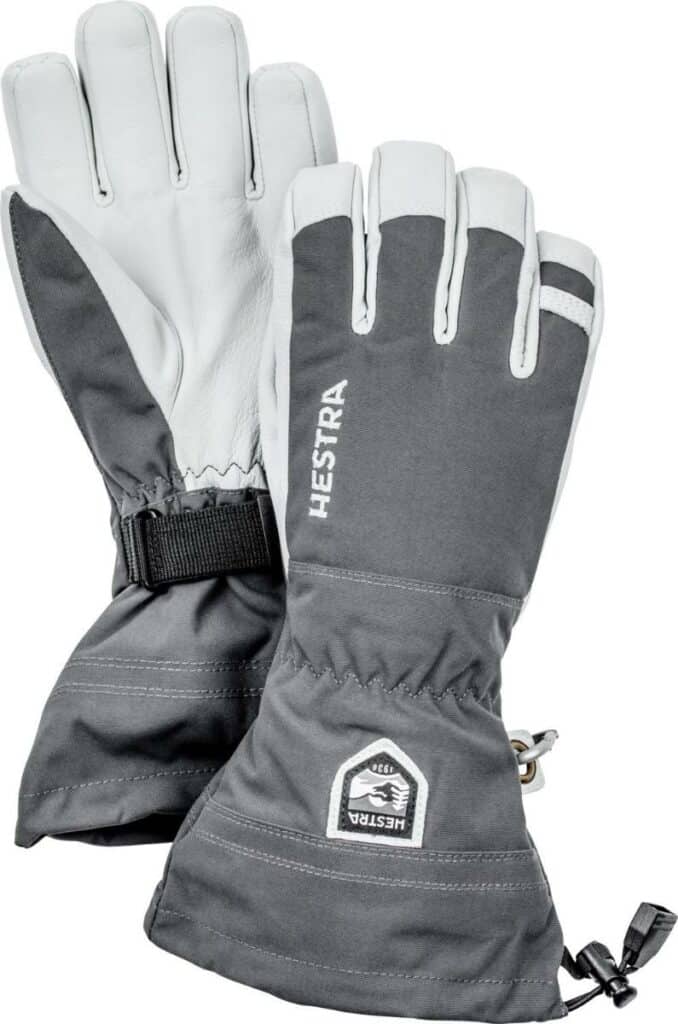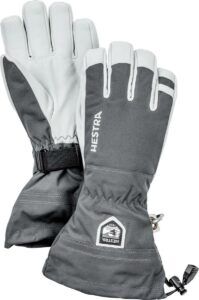 TOP OVERALL SNOWBOARD GLOVE
When you need a quality pair of performance gloves that will keep your hands warm in the coldest of conditions, look to the Helis.
Hestra designed the Helis to be a wider fitting style of snowboard glove with a removable Bemberg fleece liner that feels comfortable against your skin. The Triton fabric is windproof, waterproof, and extremely durable. The synthetic insulation integrated into the glove provides for reliable warmth — even when things get wet. Multiple adjustment points allow you to dial in the perfect fit.
What I like most about the Hestra Helis is how dexterous they are.
Burton Gore-Tex
Specs
Gender

:

Men's

Palm Fabric

:

Polyurethane

Removable Liner

:

Yes
Features
Synthetic Insulation For Warmth
Zippered Pockets On Backs Of Hands For Storing Valuables
Removable Fleece Liner In Case Temps Heat Up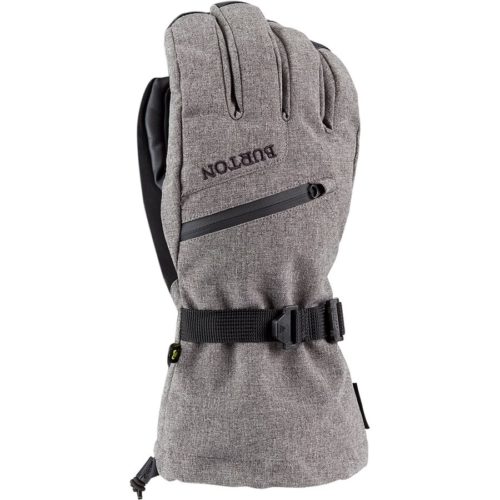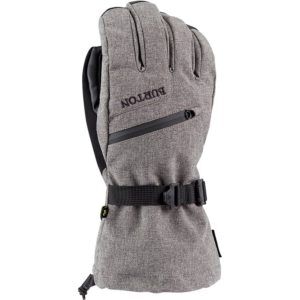 BEST FOR: BEGINNERS
Best for beginner riders in milder climates, the Burton Gore-Tex gloves are a standard option for anyone just starting out with boarding. Built with a polyurethane, water wicking fabric for its palm and a synthetic, removable liner, your hands will stay warm and dry all day long. A nice addition to these gloves are the zippered pockets on each glove that provides a nice space for a hand warmer or storing small valuables like a car key or ID.
These gloves are much cheaper than other gloves on the market and will work relatively well in most weather. Keep in mind that the synthetic material won't stand up to the elements quite as well as other gloves, so seek out another option if you're anticipating colder temps and higher winds.
Black Diamond Mercury Mitts
Specs
Gender

:

Unisex

Palm Fabric

:

Goat leather

Removable Liner

:

Yes
Features
Soft, recycled fleece linings
4-way stretch fabric shells
EMPEL™ water- and PFC-free durable water repellent finish
Fully waterproof BD.dry™ inserts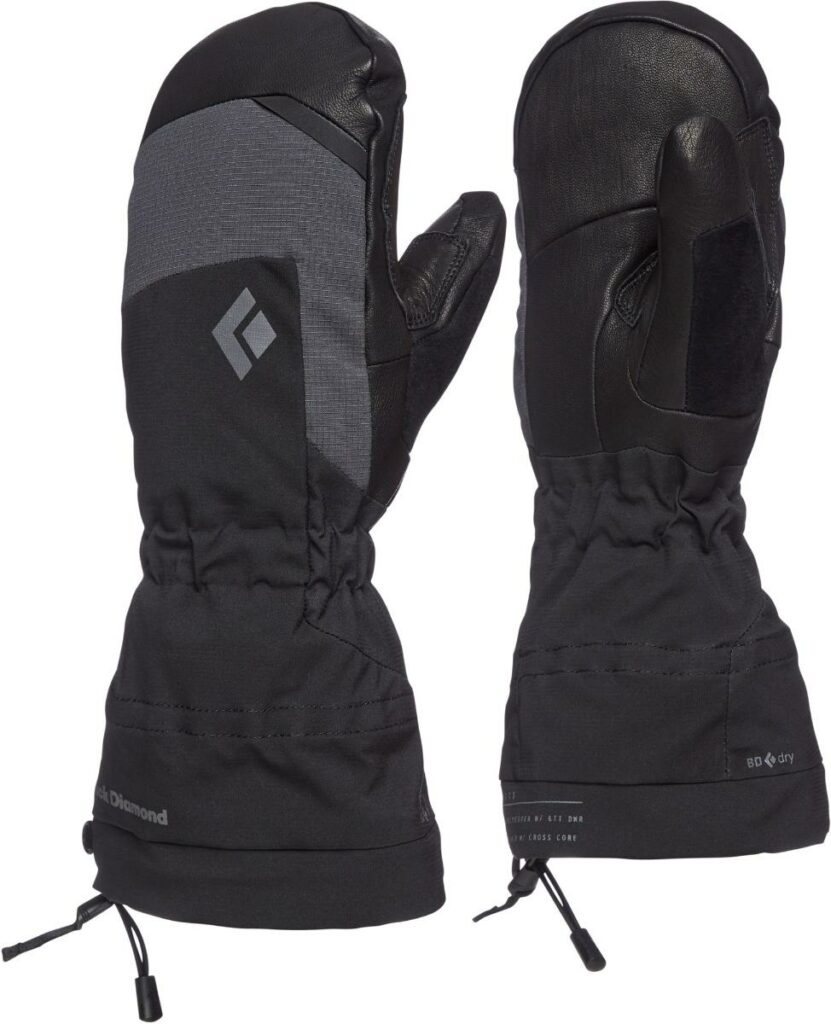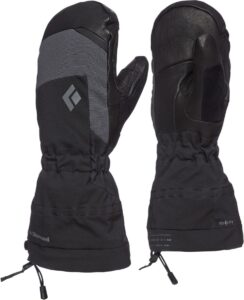 BEST SNOWBOARD MITTENS
When the warmest pair of gloves just aren't enough to keep your fingers toasty, a pair of mitts is the only way to go.
Black Diamond's Mercury mitts include a removable insulated liner filled with Primaloft Gold Cross Core which dries when wet — perfect for riding in cold, wet conditions. The Mercury is relatively water resistant and built to be pretty much bombproof, thanks to the impressive BD.dry waterproof breathable insert. Long gauntlet style cuffs round out this complete cold-weather-ready package.
What I like most about the Mercury mittens is the revolutionary water repellent finish.
Black Diamond Solano
Specs
Gender

:

Unisex

Palm Fabric

:

Goat leather

Removable Liner

:

No
Features
Waterproof and breathable Gore-Tex insert keeps hands dry
Battery-powered heater keeps hands toasty all day
LED button controls let you dial in the right amount of warmth
Fixed fleece lining and PrimaLoft insulation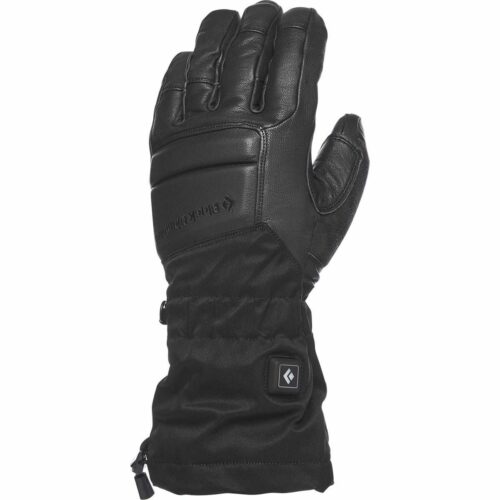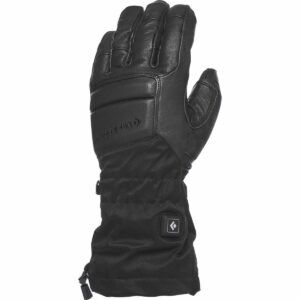 BEST HEATED OPTION
When you're out adventuring in the coldest of conditions, a battery powered heater often makes what could otherwise be a miserable day out on the slopes downright comfy and enjoyable.
These gloves feature an effective GORE-TEX waterproof breathable insert to keep the warmth in and the moisture out. This is complimented by a fixed fleece lining, PrimaLoft insulation, and a battery-powered heater that's completely rechargeable. The Solano includes its own carrying case and charger with adapters.
What I like most about these gloves is how easy the heater is to operate, thanks to the LED button controls that let you adjust the heat as needed.
Showa Best 282 Atlas
Specs
Gender

:

Unisex

Palm Fabric

:

Polyurethane

Removable Liner

:

No
Features
TEMRES Technology for 100% waterproof and breathable hand protection
Breathability reduces perspiration and increases comfort
Rough textured, oil resistant coating provides excellent wet or dry grip
Yellow acrylic insulation provides excellent warmth
BEST FOR: THE BACKCOUNTRY
Backcountry performance demands more performance than in-resort riding — so don't let the affordable price tag on these fool you. The Showa Best are up to any challenge you could throw at them.
The 282 Atlas gloves feature a polyurethane waterproof breathable shell an an insulating acrylic liner. The shell is moderately textured, providing for a decent grip. The seamless knit liner is touted to serve two purposes — insulate the hand and buffer it from moisture build-up on the inside.
What I like most about the Atlas gloves is how durable they are for such an inexpensive product.
Black Diamond Guide
Specs
Gender

:

Men's

Palm Fabric

:

Leather

Removable Liner

:

Yes
Features
Removable Liner Gloves In Case Temperatures Heat Up
Wool Liners Keep Your Hands Super Warm Even When Wet
Long Cuffs Prevent Snow From Entering Your Gloves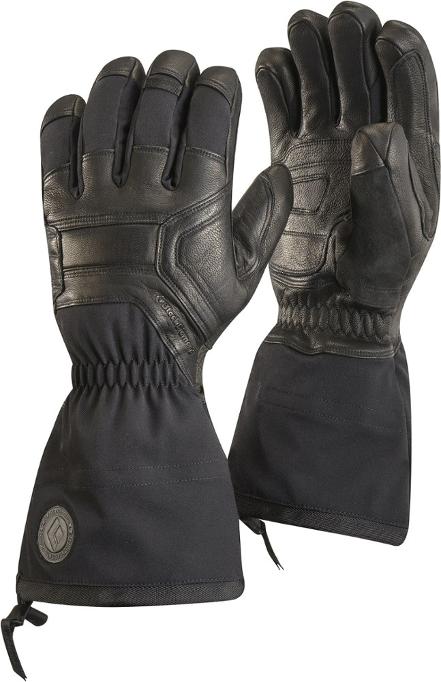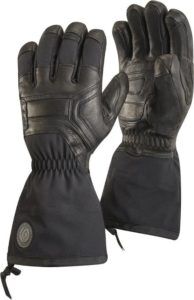 BEST FOR: TREES AND GLADES
These long cuffed gloves are built for thick powder, harsh weather, and gnarly environments. The removable wool liners will keep your hands insulated and warm in the most extreme weather and the molded padding on the knuckles will protect your hands if you're bashing through the trees. A nice little touch are the soft fabric thumbs, which give you a great place to wipe your nose if you ever get those cold riding boogies that we all know all too well. Overall, this is a great glove for an aggressive rider looking to tackle the trees in thick powder.
The North Face Apex+ Etip
Specs
Gender

:

Women's

Palm Fabric

:

Softshell

Removable Liner

:

No
Features
Women-Specific Design
Silicone Grip For Added Traction
Pull Tab For Easy On And Off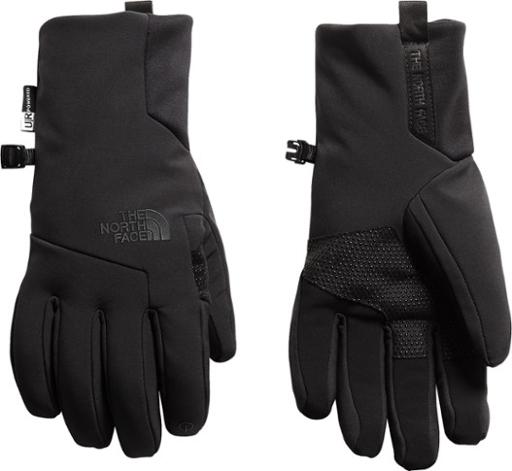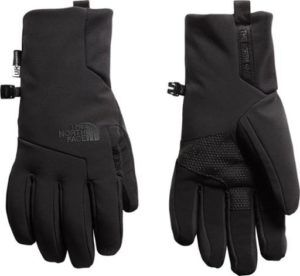 BEST FOR: WARM WEATHER SPORTS
The North Face Apex Etip Glove uses a silicone palm to give riders more grip than other gloves. With a 100% windproof material and a soft shell on the back of your hands, this glove is especially built to block sharp wind out on the slope. At the same time, the inner insulation and unique articulated mould keeps your hand in a natural position.
If comfort and protection from the wind are your priorities, then we suggest buying yourself a pair of these gloves. They may not be best for more severe weather, but in mild, windy climates, they'll hold up just fine.
DAKINE Titan
Specs
Gender

:

Men's

Palm Fabric

:

Synthetic Material

Removable Liner

:

Yes
Features
Synthetic Insulation For Extra Warmth
Removable Fleece Liner In Case Temps Warm Up
Pockets On Backs Of Hands For Storing Hand Warmers Or Small Valuables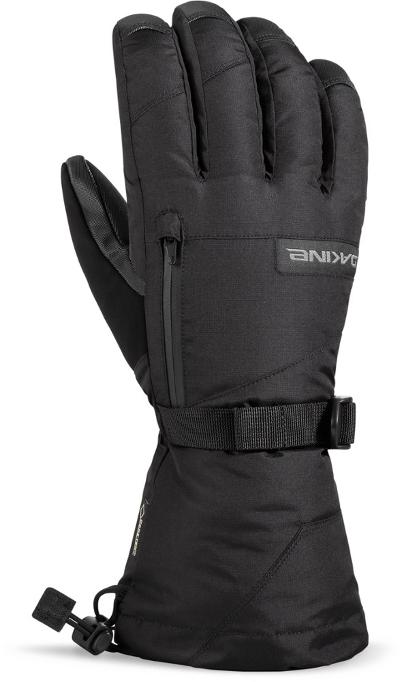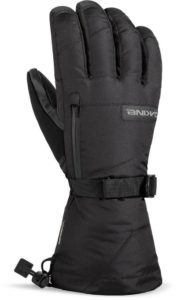 BEST FOR: INTERMEDIATE RIDERS
Dakine's Titan Leather Gloves are a popular option for most riders. The waterproof zip stash pockets on the back are a great place for hand warmers and the durable shells should stand up against all wind and weather. Much like most other gloves, the Titan's inner liner is removable. However, unlike other options, the liner is made out of Tricot, a fine-knitted fabric, to give riders even more comfort. These gloves will stand up to any weather conditions, but note that they may not last as long as other, more durable gloves.
Outdoor Research Stormtracker
Specs
Gender

:

Unisex

Palm Fabric

:

Leather

Removable Liner

:

No
Features
Self-Heated So Your Hands Stay Toasty All Day Long
Tough, Protective Shells For Harsh Weather Like Rain And Hail
Quick Dry Insulation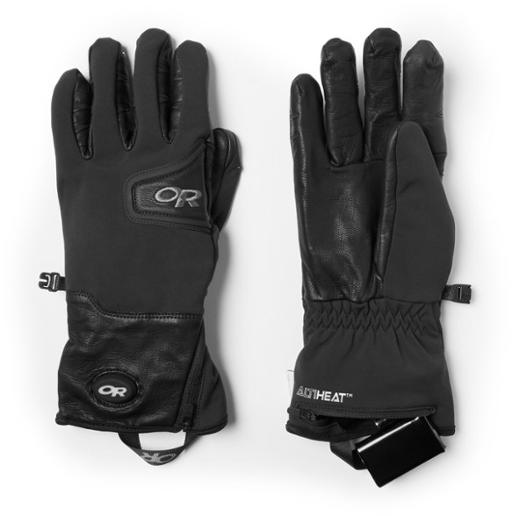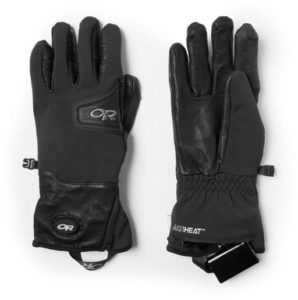 BEST FOR: LUXURY RIDERS
If your worst fear on Earth is cold hands and you'll do anything in your power to prevent it, you may want to look into Outdoor Research's Stormtracker Heated Sensor Gloves. They might have a mouthful for a name, but these self-heating gloves will ensure your hands stay plenty warm in even the most brutal of conditions. Using a rechargeable lithium ion battery and durable, moisture wicking material, these gloves will generate their own heat while retaining your body's heat as well.
With gloves like these, you might want to consider their weight and clunkiness. If heat is your priority, go for 'em, but if functionality and comfort are, you may want a different option.
DAKINE Wrist Guard
Specs
Gender

:

Men's And Unisex

Palm Fabric

:

Synthetic Material

Removable Liner

:

No
Features
Removable Wrist Guard Support To Prevent Your Wrist From Snapping If You Take A Fall
Durable Water Repellent Shell
Hook And Loop Wrist Strap So You Won't Lose A Glove If You Have To Remove It Mid-Descent
BEST FOR: FRAGILE WRISTS
If you've ever broken your wrists before, or you're scared of doing it for the first time, the best protection is buying a glove like the Dakine Wrist Guard gloves. These gloves come outfitted with a firm wrist guard that prevents your wrist from snapping back upon falling. Furthermore, with an adjustable hook-and-loop wrist strap, you can take these gloves off while sifting through your backpack and remain calm that they won't fall out to the trail below.
We highly recommend these Dakine gloves to all riders. They will not only keep your hands warm but will make for a safer, more well-relaxed ride knowing that your wrists are more protected than they would be with another pair.
THINGS TO CONSIDER WHEN BUYING SNOWBOARD GLOVES
Choosing ski gloves can be a difficult task. Below, we've listed out the main concerns you should have when buying the best snowboard gloves out there to help make your choice a little easier.
GLOVES OR MITTENS
We've provided you with the top ten gloves, but before you choose a glove from the list above, you might want to consider whether or not a mitten is better suited for your needs. Mittens give riders more warmth and a better feel for their hands, whereas gloves often make interaction with your environment a lot easier because you can use your fingers.
MATERIAL
Leather or synthetic? It may take a few pairs of gloves to figure out which glove suits your preferences, but determining whether or not you want leather or not is a principal concern. Leather will give you better grip, but may feel a bit more clunkier on the hand. Synthetic fabrics on the hand will feel more comfortable but may not hold up as well in extreme weather.
DURATION
The stronger the material, the longer the glove will last. You may have to spend more money for a long-lasting glove, but in the end, we think it's worth it.
GENDER
Double check the gender before you buy gloves. You definitely don't want to buy the wrong pair for you.
COST
Some gloves are wildly expensive, and not necessarily because of their supreme design. Often they offer one very unique feature that others don't and if that's for you, then by all means, buy that glove! But if not, then we recommend seeking out a more durable glove. And don't buy the cheapest one! The last thing you want on the slope is cold fingers.
FEATURES EXPLAINED
GORE-TEX
An industry standard water resistant material.
WRIST STRAP
A thin strap that wraps around your wrist to keep your gloves attached to your body while you take them off.
CUFF
The part of the glove that extends back from your wrist and over your forearm. This is what cinches closed to keep out snow and water.
RUBBERTEC SYNTHETIC
A highly waterproof and abrasion resistant material.
READ MORE
For more of our top snowboarding gear recommendations, check out these popular buyer's guides: