Updated on October 1, 2020
When you're heading out bouldering, all you need are climbing shoes, a chalk bag, and, of course, your crash pad. Crash pads are definitely the biggest gear investment for bouldering, but how do you choose the one for you? Here at The Adventure Junkies, we will help you sort through the options to choose the best bouldering crash pad to keep you safe when you're trying hard.
For more of our top climbing gear recommendations, check out the Best Bouldering Shoes.
Quick Answer

-

The Best Bouldering Crash Pads
Comparison Table

-

Best Bouldering Crash Pad

For the best experience turn your device horizontally
Reviews

-

The Best Crash Pads for Bouldering
Mad Rock Mad Pad
Specs
Material

:

1 in closed-cell foam top layer, 3 in open cell foam core, 1 in closed-cell foam bottom layer

Dimensions

:

48 in x 36 in x 5 in

Weight

:

14 lbs

Style

:

Hinge Fold
Features
Velcro Strap on Hinge
Padded Shoulder Straps
Converts Into a Chair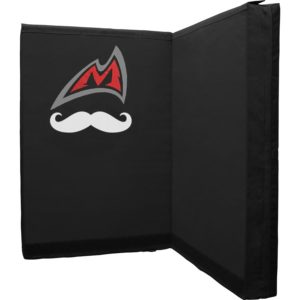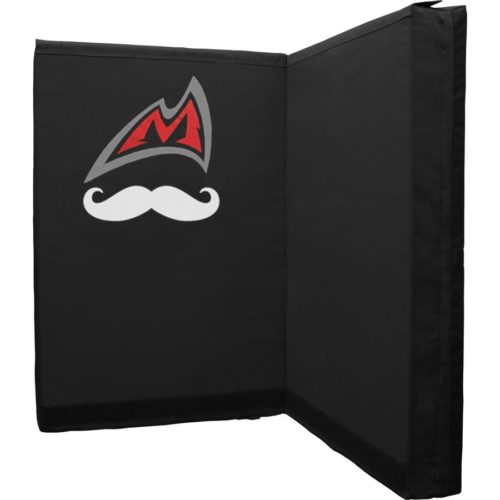 BEST FOR: HIGH BALLS
The Mad Rock Mad Pad offers an extra thick 5 inches of foam without breaking the bank. The foam of the Mad Pad is definitely on the stiffer side, which is great when you're falling from up high, but can be a little harsh for short falls. It does tend to soften up over time though. A velcro strap on the back of the hinge keeps the pad together in your landing zone.
A unique feature of the Mad Pad is that it can easily convert into a chair, thanks to a few straps, so you can chill out while watching your friends send.
Metolius Recon
Specs
Material

:

1 in closed-cell foam top layer, 2.5 in open-cell foam core layer, 0.5 in closed-cell foam bottom layer

Dimensions

:

60 in x 42 in x 4 in

Weight

:

14 lbs, 5 oz

Style

:

Tri Fold Hinge
Features
Pockets (for carrying gear)
Carpeted Logo (for wiping shoes)
Ballistic Nylon Bottom (for durability)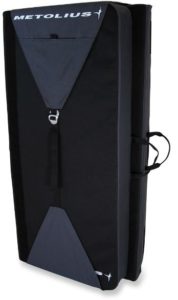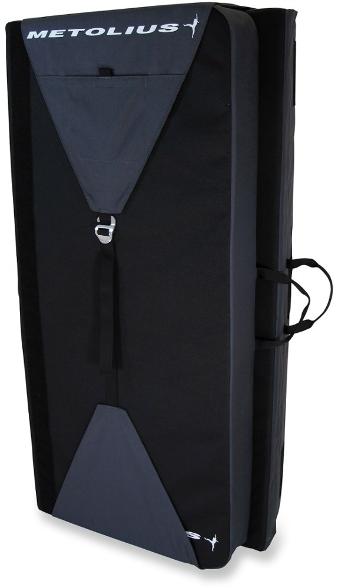 BEST FOR: TRAVERSES
The Metolius Recon is a massive pad for covering a wide area, yet it's easy to transport thanks to the tri fold hinge design. A small exterior pocket and a larger interior pocket give you space to stash your essentials, which is useful since the trifold design makes it more difficult to contain a pack.
The hinges velcro together when open to provide a flat surface, although this can be difficult to position on rock or uneven ground. Though the Recon covers a large surface area, its foam is not the thickest for cushioning highball landings.
Metolius Session II
Specs
Material

:

1 in closed-cell foam top layer, 3 in open-cell foam core layer, 0.5 in closed-cell foam bottom layer

Dimensions

:

36 in x 48 in x 4 in

Weight

:

9 lbs

Style

:

Angled Hinge Fold
Features
Two Drag Handles (for easy repositioning)
Flap Closure
Carpeted Logo (for wiping shoes)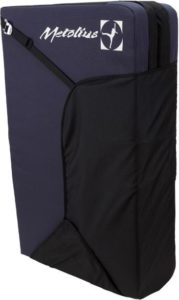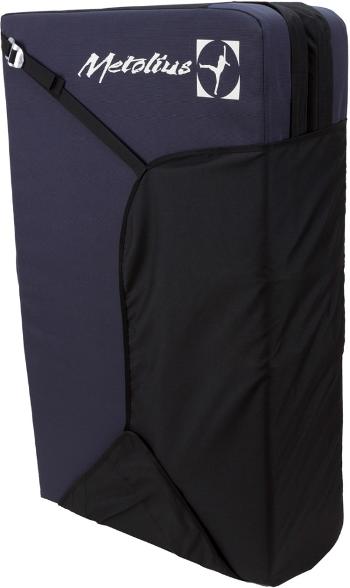 BEST FOR: VALUE
The Metolius Session II is one of the cheapest pads out there, but it doesn't skimp on features. A cool flap closure system keeps your gear in place when you stuff it in the pad for the trip to the boulder field, and then it flips around to cover the shoulder straps during your session. The two drag handles make it easy to reposition the pad quickly, and the carpeted logo is designed to be the perfect place to wipe off your shoes. The foam in the Session II is fairly soft, which is comfortable for shorter falls, but not necessarily the ideal choice for highballs.
Petzl Alto
Specs
Material

:

3 in open-cell foam, two 0.5 in closed-cell foam layers fused

Dimensions

:

46 in x 39 in x 4 in

Weight

:

12.5 lbs

Style

:

Taco Fold
Features
Zippered Closing Flap
Adjustable Bandolier Strap (for easy carrying)
Converts to a Chair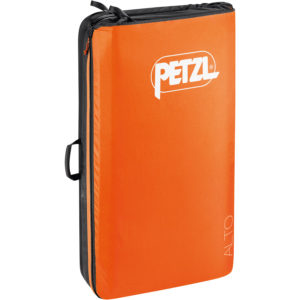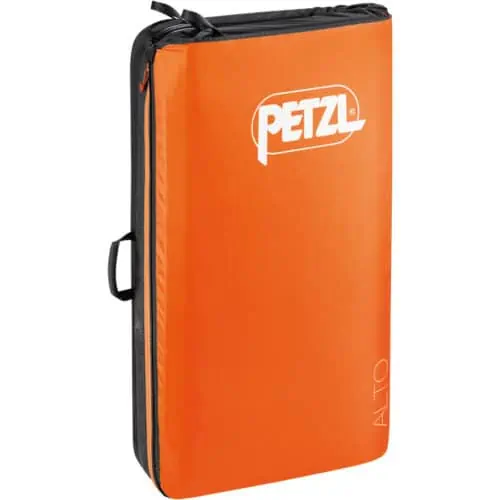 BEST FOR: ALL-AROUND
The Petzl Alto is a comfy pad with a lot of awesome features. The unique zipper flap closure completely covers the pad to keep everything you stuff inside from falling out (though it can make it tough to carry larger items). It also flips around to zip up and cover the shoulder straps once you're ready to use the pad. An adjustable bandolier strap makes it quick to relocate the pad from boulder to boulder.
The taco style pad works better to cover up jagged and uneven landings, so you can feel more confident working the crux of your problem. And when you're done for the day, the Alto has included straps that convert the pad to a cushy chair.
Black Diamond Mondo
Specs
Material

:

Closed-cell PE foam on top, high-compression PU foam on bottom

Dimensions

:

65 in x 44 in x 5 in

Weight

:

20 lbs, 6 oz

Style

:

Hinge Fold
Features
Giant Surface Area
Four Corner Grab Handles (for easy repositioning)
Rubber Coated Bottom (to stay in place)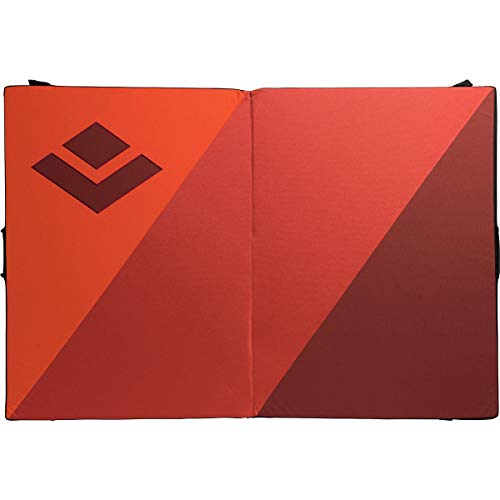 BEST FOR: LARGE LANDING AREA
The Black Diamond Mondo is a huge crash pad in every way. With over 12 square feet of surface area, you'll definitely be covered when you drop into the landing zone, and 5 inches of padding will protect you from whatever is underneath. Of course, the large size also means the Mondo is heavier than most pads, but we're sure you won't mind the added weight when you're falling off a highball.
A grab handle on each of the four corners make it simple for spotters to move the pad under a climber, and a rubber coated bottom keeps it in place once you have it where you need it.
THINGS TO CONSIDER WHEN BUYING BOULDERING CRASH PADS
The most important thing you want in a crash pad is confidence that it will prevent you from injury if you fall. Both the thickness and stiffness of the foam, as well as the size of the pad are huge factors in determining how the pad will protect you. Climbing explains more about how the crash pad foam absorbs impact when you hit the deck.
It's also key to have good spotters who know how to properly place pads and direct you on to them – if you miss the crash pad when you fall, it's not going to do you any good. Here are some tips for how to be the best spotter and keep you and your bouldering buddies as safe as possible.
FOAM STIFFNESS
Softer pads are more forgiving on short falls, while stiffer pads protect you when you fall a long way. If you're not the highball type, a softer pad will be more comfortable while still keeping you safe. However, if you do love to get way up off the deck, definitely go for a stiff pad (and you'll probably want a few).
SIZE
The bigger the pad, the more of the landing zone it covers. If you're combining forces with friends and bringing a bunch of pads for coverage, size isn't as much of a consideration, but if you're often bouldering solo, a larger pad might be more useful.
PORTABILITY
You'll be carrying the pad from your car to the crag, usually on your back using the shoulder straps, and then also from boulder to boulder. Depending on how close the boulders are, you won't want to completely pack the pad back up, so side suitcase handles are super useful.
FEATURES EXPLAINED
CLOSED CELL FOAM
Stiffer foam that doesn't deform under impact.
OPEN CELL FOAM
Softer foam that compresses to absorb impact.
FOLD STYLE
How the pad folds up. Can be hinge (with a mid seam to fold in half) or taco style (seamless so it simply bends).
READ MORE
For more of our top climbing gear recommendations, check out these popular buyer's guides: