Updated on January 8, 2022
The less you carry on your shoulders, the longer you'll be able to walk. When it comes to sleeping bags, there's no need to break the bank to find a light, highly packable model. The best budget backpacking sleeping bags are affordable while offering all the features essential for frugal adventurers.
A high price tag doesn't necessarily mean premium quality and with hundreds of different products and brands available, finding the right compromise between cost and functionality can be tricky. That's why we did the legwork for you by selecting the ten best budget backpacking sleeping bags for every season, hoping to help you find your way through shop shelves first and camping spots later.
For a complete analysis of all backpacking sleeping bags, check out the buyer's guide Best Backpacking Sleeping Bags.
QUICK RECOMMENDATIONS
Best Sleeping Bag Under $100 >> Marmot NanoWave 45
Best Budget Sleeping Bag For Women >> Kelty Cosmic 20
Most Affordable Winter Sleeping Bag >> Marmot Trestles 0
Best Lightweight & Budget-Friendly Sleeping Bag >> Therm-A-Rest Space Cowboy 45
Comparison Table

-

Best Budget Backpacking Sleeping Bags

For the best experience turn your device horizontally
Temp ratings refer to the EN or ISO Comfort rating.
Weight and price are shown for the regular size.
Reviews

-

The Best Budget Sleeping Bags for Backpacking
Marmot NanoWave 45
Specs
Fill Weight

:

13.9 oz

Insulation

:

Synthetic

Length

:

72"

Weight

:

1.8 lbs

Shape

:

Mummy

Volume

:

05.0 L

Temp Rating

:

56 F

Stuff Sack Size

:

6x11"

Fill Power

:

Spirafil
Features
Snagless Draft Tube Keeps Cold Air From Seeping Through Zipper
Zipper Wraps Around Foot Box For Easy Ventilation
"Feely" Drawcords For Easy Adjustment Even In The Dark
Synthetic Proprietary Insulation Traps Warmth Even When Wet


BEST BACKPACKING SLEEPING BAG UNDER $100
The Marmot Nanowave 45 is an affordable summer sleeping bag that won't take up too much room in your backpack. Not only is it cheap, it's practical and functional which is why it's our pick for the best backpacking sleeping bag under $100.
In awarding it the winner of the best under $100 category, we realize it's not quite fair because most other bags on this list have a temperature rating down to around 20 degrees. However, if you're on a super tight budget and plan to camp from mid-spring to mid-fall, the Nanowave 45 is hard to beat.
Which leads us to the biggest downside of this bag, it is only good in mild weather. But, not everyone needs or wants a super warm bag and if you combine the Nanowave with an extra warm sleeping pad and a thermal liner, you might be able to extend the temperature range of this bag down a few degrees, making it much more versatile. If you're looking for a warmer budget backpacking sleeping bag, check out the REI Trailbreak 20 which is also featured on this list.
The Marmot Nanowave is also available in a 55-degree and 35-degree version.
Kelty Cosmic 20
Specs
Fill Weight

:

16.0 oz

Insulation

:

Down

Weight

:

2.6 lbs

Shape

:

Mummy

Volume

:

09.2 L

Temp Rating

:

32 F

Fill Power

:

550

Shell Material

:

20-Denier Nylon Taffeta
Features
Affordable
Anti-snag zippers
Moisture Resistant Durable Water Repellent


BEST BUDGET SLEEPING BAG FOR WOMEN
If you're in the market for a down sleeping bag, but can't afford to throw down your whole paycheck, consider the Kelty Cosmic 20. This down sleeping bag has some attractive features given its low price.
A few highlights of this bag include the durable water repellent treatment, anti-snag zippers, and a cozy hood. This gives you some peace of mind knowing your bag won't lose insulation because of moisture or that you might accidentally tear a hole in it because of a snagged zipper. The reasonable weight is also much appreciated given the tradeoff in money typically means more pounds.
With a 550-fill-power, the Kelty Cosmic 20 won't be the most insulated bag on the list. However, if you're shopping on a budget, the Kelty Cosmic 20 is still an attractive option.
Marmot Trestles 0
Specs
Fill Weight

:

41.2 oz

Insulation

:

Synthetic

Weight

:

4.6 lbs

Shape

:

Mummy

Volume

:

30.9 L

Temp Rating

:

15 F

Fill Power

:

HL-ElixR
Features
Low Weight And Small Packed Size
Extra Warm
Full Length Two-Way Zipper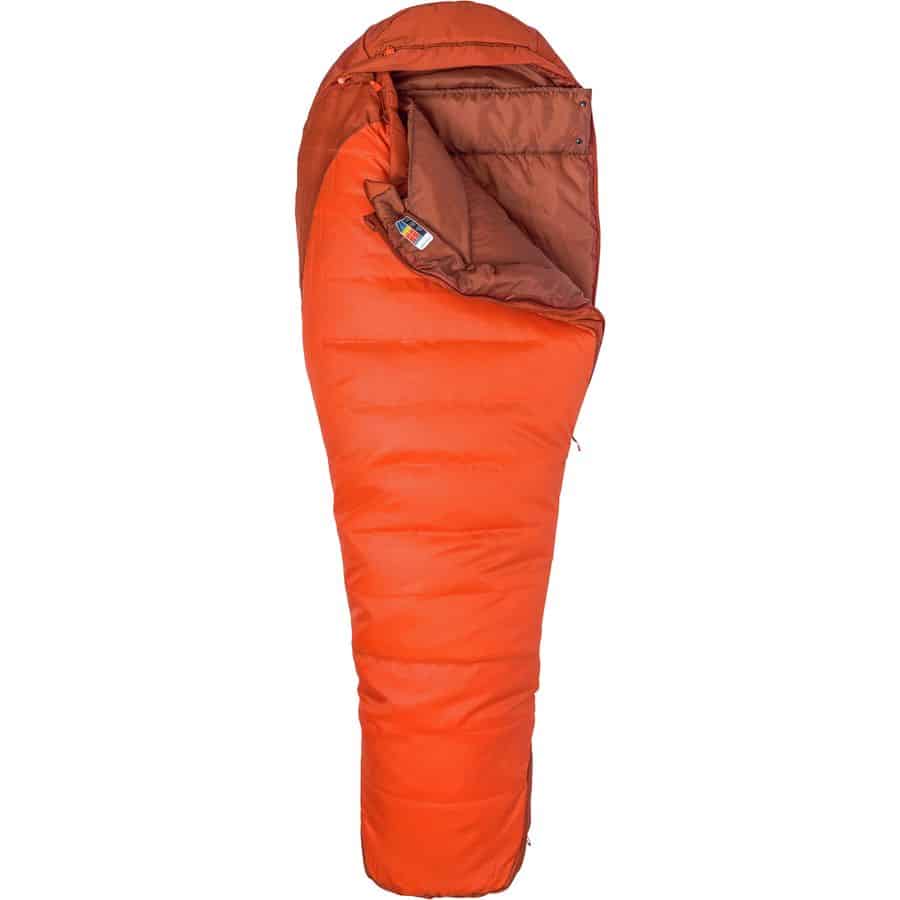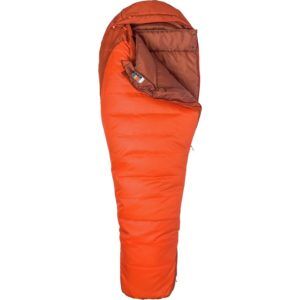 BEST BUDGET WINTER SLEEPING BAG
The Marmot Trestles 0 is a real find for hikers wishing to explore cold environments. With a durable SpiraFil synthetic insulation, the sleeping bag will keep you warm at temperatures as low as 1.9°F. A 3D hood will provide warmth and comfort for your head; you can also cinch it tightly around your face during freezing nights. Another great feature of the Marmot Trestles is the foot box, which ensures extra comfort and warmth where it's most needed.
The Trestles 0 has a full-length, two-way zipper built to prevent snagging. There is also a fold-down second zipper that provides fresh ventilation. In case you need anything during the night, there is an external stash pocket for your essentials. Additionally, the bag has two hang loops for storing or drying out the bag.
Therm-a-Rest Space Cowboy 45
Specs
Fill Weight

:

04.2 oz

Insulation

:

Synthetic

Weight

:

1.2 lbs

Shape

:

Mummy

Volume

:

02.0 L

Temp Rating

:

52 F

Fill Power

:

Polyester
Features
Water Resistant
Highly Compressible
Cinchable Hood And Snag Free Zipper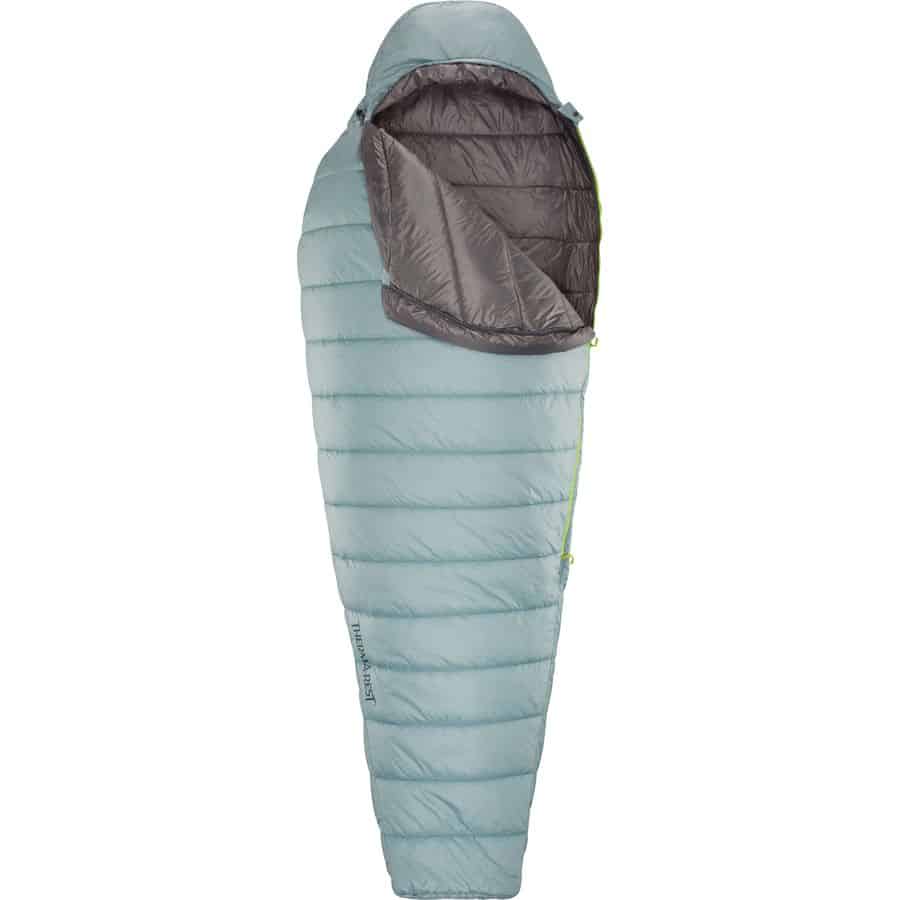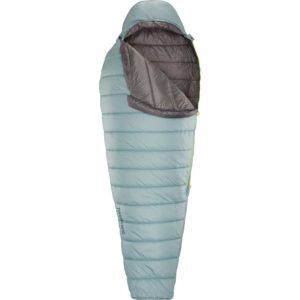 BEST LIGHTWEIGHT & BUDGET-FRIENDLY SLEEPING BAG
The Therm-A-Rest Space Cowboy 45 is an awesome ultralight mummy-shaped sleeping bag. Its compressed volume of 2 liters makes it highly packable and lightweight. Because this sleeping bag only withstands 45°F, it is better suited for warmer weather and summer camping. However, you can layer it with other quilts using blanket loops on the bag, expanding its versatility. Additional removable connectors even let you fasten a sleeping pad to the bag.
The Cowboy 45 uses water-resistant synthetic fill that retains its insulation abilities even when damp. It is strategically placed in certain areas to optimize warmth and weight. The ThermaCapture lining efficiently traps body heat. Additionally, a cinchable hood also guards against unwanted drafts. All these features make the Space Cowboy 45 a great companion for backcountry travels.
Mountain Hardwear Bishop Pass 15
View Women's Version
Specs
Fill Weight

:

21.0 oz

Insulation

:

Down

Weight

:

2.3 lbs

Shape

:

Mummy

Volume

:

08.1 L

Temp Rating

:

26 F

Fill Power

:

650
Features
Anatomically shaped foot box
Full-length down draft tube
Stuff sack and mesh storage bag included


The Mountain Hardwear Bishop Pass 15 is a middle of the road bag that is good value while including some features you won't find in budget sleeping bags.
What we love about this bag is its balance between price and features. While it's not the cheapest bag out there, it does include some clever features that make a huge difference. The draft collar lets you cinch the hood around your face which seals out the cold air. Also, the foot box has an opening that gives you some air flow if you get too toasty. Another thoughtful touch is that the pulls glow in the dark, a handy feature at three o'clock in the morning.
The biggest downside of the Bishop Pass 15 is on the heavier, bulky end of the line up. We wouldn't recommend lugging it on long distance trips but it is manageable for short backpacking adventures. Also, it has a pretty narrow fit. If you're a side sleeper or like to sprawl, you should probably steer clear from the Bishop Pass.
Looking for a higher or lower temperature rated bag? The Bishop Pass line is also available in a 0-degree and 30-degree version.
The Mountain Hardwear Bishop Pass 15 is also available in a women's version in a 0-degree, 15-degree and 30-degree option.
REI Co-op Trailbreak 20
View Women's Version
Specs
Fill Weight

:

N/A

Insulation

:

Synthetic

Weight

:

3.4 lbs

Shape

:

Mummy

Volume

:

12.0 L

Temp Rating

:

29 F

Fill Power

:

Polyester
Features
Water-resistant synthetic fill
3-panel hood
Stuff sack included


The REI Co-op Trailbreak 20 is a budget minded synthetic sleeping bag that was designed for people who are just starting out backpacking.
Just because this bag is a steal doesn't doesn't mean that it is cheap. While the Trailbreak 20 is nowhere near as light, comfortable or packable as the bags at the top of our list, we have to give it credit for being an exceptional value. Its size and weight is manageable for short backpacking trips.
The cash savings do come with some drawbacks.The lining fabric is a bit rough making it much less comfortable than the silky fabric found on many other bags. Also, it doesn't have a neck baffle, so some heat does escape through the top of the bag. One last nitpick, the Trailbreak doesn't come with a compression sack, so you'll need to calculate that into your decision. If you're on a tight budget and just can't spring for a better sleeping bag right now, this is a good option to get you out on the trail fast.
Looking for a summer sleeping bag? The REI Trailbreak is also available in a 30-degree version.
The REI Trailbreak comes in a women's specific which is available as a 20-degree or 30-degree bag.

Sea to Summit Trailhead ThII 30
Specs
Insulation

:

Synthetic

Weight

:

2.3 lbs

Shape

:

Semi-rectangular

Temp Rating

:

40 F
Features
Extra Spacious
Second Zipper In Footbox
Full Length Zipper To Convert Sleeping Bag Into A Quilt


The Sea to Summit Trailhead ThII 30 is another synthetic sleeping bag that retains its insulation abilities even when wet. It uses a unique WaveLoft technique that tangles filling fibers for maximum heat retention up to 30°F. This bag has a tapered rectangular shape, providing you with comfort and room to move. An oversized anti-snag zipper draft tube will guard your whole body against cold chills when you snuggle down in this bag.
An important characteristic of the THII 30 is its versatility. Its full-length zipper lets you turn this sleeping bag into a quilt. Furthermore, there is a second zipper in the foot box, allowing ventilation for your feet and broad temperature adjustability. Plus, to prevent your frustration, the bag's lining fabric is directly attached to the shell fabric, which prevents zipper tangles. This sleeping bag is excellent for backpacking since it weighs about 2.5 lbs – not much more than most ultralight sleeping bags!
Big Agnes Lost Dog 15
Specs
Insulation

:

Synthetic

Weight

:

3.1 lbs

Shape

:

Semi-rectangular

Temp Rating

:

15 F
Features
Spacious Footbox
Includes Mesh And Nylon Storage Sack
Two Way Zipper
Can Be Attached To Another Right-Zip Sleeping Bag


The Big Agnes Lost Dog is a cold-oriented sleeping bag that withstands temperatures up to 15°F. It uses FireLine ECO synthetic insulation made from recycled polyester, and the innovative design includes several features for comfort. It has a Free Range hood that allows you to lift your head while keeping a snug fit around your face. The Free Range foot box is similar, giving you some wiggle room. An additional no-draft collar will keep the cold wind out.
For convenience, a Flex Pad Sleeve can stretch over an insulated sleeping pad for extra warmth. The bag also has a 2-way anti-snag zipper and can be joined with another right-zip sleeping bag. If that doesn't sound comfy enough, the Lost Dog offers a Pillow Barn feature that makes sure your pillow stays put all night. Although it is on the pricier end of affordable, the extra features make it worth it.
Sea to Summit Traverse TvII 25
Specs
Insulation

:

Synthetic

Weight

:

2.4 lbs

Shape

:

Semi-rectangular

Temp Rating

:

27 F
Features
Very Comfortable And Spacious
Lightweight Compression Bag
Can Be Used As A Comforter


The Sea to Summit Traverse TvII 25 has a tapered rectangular shape and uses the WaveLoft construction for increased comfort. However, the Traverse TVII 25 has a more expanded range of features. It can withstand temperatures as low as 25°F, allowing you to explore slightly colder environments. And an oversized, anti-snag zipper and a neck draft tube provide exceptional resistance to chilly mountain breezes.
A Free Flow zipper system in this bag comes with three features that let you customize your temperature. A full-length main side zipper, a half-length opposite side zipper, and a foot zipper all provide you with unrestricted movement and ventilation. As a bonus, the TVII 25 can be zipped up with another bag. This versatility makes up for its higher price, delivering you your money's worth.
[thrive_leads id='59716′]
THINGS TO CONSIDER WHEN BUYING THE BEST BUDGET BACKPACKING SLEEPING BAGS
SLEEPING BAG WEIGHT
Since you'll likely be carrying the sleeping bag on your shoulders for hours on end, the first thing to check before buying is the weight. Long-distance hikers tend to prefer ultralight sleeping bags as they can weigh as little as 1 pound. However, ultralight bags tend to be far more expensive than standard sleeping bags.
Budget-conscious backpackers camping in warmer seasons can opt for a standard sleeping bag weighing around 2 lbs. If you're an explorer planning to camp in freezing temperatures, you'll probably have to carry at least a 3 lb sleeping bag on your shoulders to maximize warmth. To minimize weight while alpine camping, you'll need to invest in a more expensive ultralight bag.
SLEEPING BAG SHAPE
Sleeping bags can come in a rectangular, semi-rectangular, or mummy shape. The ideal choice for backpackers looking for minimal packing size and maximum warmth is a mummy-shaped sleeping bag. This bag shape tends to be on the lighter side because it's constructed with less material.
Mummy-shaped sleeping bags fit tightly around the body, allowing for little or no movement during sleep, but superior warmth. Rectangular and semi-rectangular sleeping bags are looser around the lower body, so they are more suitable for those who tend to change position while sleeping.
Because of their shape, rectangular sleeping bags are the bulkiest of the three types, while semi-rectangular bags offer the best compromise between roominess and packability.
TEMPERATURE RATING
Most sleeping bags follow a standardized temperature rating system, which indicates the lowest temperature at which the sleeping bag ceases to serve as adequate protection against the cold. Sleeping bags are tested by independent organizations that establish how cold it has to be for an "average sleeper" to feel uncomfortable.
The number found after the sleeping bag name is the temperature rating. If low weight is a priority, summer sleeping bags with a temperature rating of 32°F or more are lighter in weight than 3-season or winter sleeping bags, as they contain less insulating materials.
INSULATION
Two types of insulating material are used in sleeping bags, synthetic fiber, and goose or duck down. Sleeping bags filled with synthetic fibers have the advantage of being fast-drying, cheaper, and non-allergenic. However, they offer less insulation than down sleeping bags. Down sleeping bags provide maximum protection against the cold and are usually lighter in weight than synthetic sleeping bags, but they tend to be more expensive.
PACKED VOLUME
Especially on multi-day adventures, you don't want to waste any space in your fully loaded backpack. When selecting a budget backpacking sleeping bag, you'll want to check its packed volume to make sure it won't occupy too much precious space in your luggage. The volume of a sleeping bag is measured in liters, and a highly compressible bag shouldn't take up more than three liters of space.
FEATURES EXPLAINED
Fill
The insulating material found inside the sleeping bag.
Duck or goose down
The insulating material made out of the smaller plumage found under the feathers of ducks and geese.
Synthetic insulation
The polyester fibers that can replace down in summer and 3-season sleeping bags. Synthetic-fill is cheaper and dries faster than goose or duck down, but it is also less insulating.
Sleeping bag shell
The outer material of the sleeping bag, normally made out of a nylon or synthetic material and a layer of water-repellent coating.
Snag-free zippers
Zippers designed so that they don't get caught in the fabric of the sleeping bag when in use.