Updated on November 25, 2020
There's nothing better than snuggling up with a partner (or your dog) when you're camping – unless, of course, there's an uncomfortable crease in the middle of your sleeping set up thanks to your separate sleeping pads. Enter: the best double sleeping pads we could find, offering a comfortable night's sleep for you and your sleeping buddy. These double sleeping pads will change your camping game for good. Give one of the options below a try, and you'll never look back.
For more of our top backpacking gear recommendations, check out the Best Backpacking Sleeping Pads. 
Quick Answer

-

The Best Double Sleeping Pads
Therm-a-Rest NeoAir Camper Duo
Comparison Table

-

Best Double Sleeping Pad
Reviews

-

The Best Backpacking Double Sleeping Pads
Exped MegaMat Duo 10
Specs
Insulation

:

Yes

Weight

:

9 lbs. 14.7 oz.

R Value

:

9.5

Thickness

:

3.9 in
Features
Included Mini Inflation Pump
Dual Valves (for easy inflation/deflation)
Intake Valve Flap (to prevent air from escaping on inflation)
BEST FOR: COMFORTABLE CAR CAMPING
This sleeping pad is named appropriately, as it's designed to completely fill a wide two-person tent – a truly mega mat. This sleeping pad is engineered to provide a level sleeping surface from one side to the other, maximizing room and comfort for a great night's sleep. The entire construction is very intentional for that exact purpose: the surface fabric is durable, airtight, and resists humidity, while the non-slip finish will keep you on the pad even if you move around while you sleep. Internally, polyurethane foam offers effective insulation to keep you warmer, creating an R-value of 9.5 – the highest level of insulation you'll find in a double sleeping pad. Air channels flowing through the foam reduce the overall weight of the pad.
Exped constructed this sleeping pad for convenient inflation and deflation, including two wide and low-profile valves that won't get in your way while sleeping. The pad itself is self-inflating, but it comes with a 1.6 oz. mini pump to top it off. The inflation valve also has a built-in flap to keep air from escaping during inflation; if you like your sleeping pad slightly less than full, release the flap to allow a little air to escape until it reaches your perfect comfort level. Welded seams mean the MegaMat Duo is airtight, so you can sleep soundly knowing leaks are unlikely. Finally, when it's time to pack up camp, the large deflation valve will let out air quickly.
Therm-a-Rest NeoAir Camper Duo
Specs
Insulation

:

Yes

Weight

:

4 lbs. 2 oz.

R Value

:

2.2

Thickness

:

3 in
Features
Separate Chambers (for individual comfort)
Low-Bulk Construction (to minimize packed size)
Repair Kit Included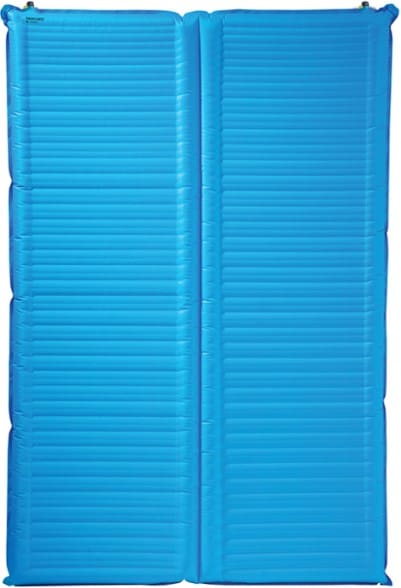 BEST FOR: PERSONALIZED COMFORT
If your partner has entirely different sleeping preferences from you, but you still want to cuddle up while camping, then Therm-A-Rest's Neo Air Camper Duo Sleeping Pad may be the solution. This sleeping pad offers two separate air chambers and valves, so each individual can inflate their side of the pad to their comfort liking. During the night, you won't have to worry about bouncing each other off the pad, yet the sleeping surface is still gap-free to keep you both comfortable from the time you shut your eyes to the time you wake up.
Despite its plush, supportive 3-inch thickness, the Camper Duo has a low-bulk construction that enables you to compress it down to a small packed size. With light insulation, this sleeping pad will keep you and your favorite camping partner cozy from late spring to early fall.
Exped SynMat HL Duo
Specs
Insulation

:

Yes

Weight

:

Regular 2 lb. 0.1 oz, Long 2 lbs. 9.1 oz.

R Value

:

3.3

Thickness

:

2.8 in
Features
Inflation Pump Bag Included
Welded Seams (for airtight construction)
Separate Combination Valves (for individual adjustments)
BEST FOR: EASY INFLATION
As with the Therm-A-Rest NeoAir, this sleeping pad is designed with two individual chambers, which inflate and deflate separately for optimal comfort for you and your sleeping companion. The internal cells known as baffles connect to make up a supportive structure that will keep you feeling level without adding a ton of weight and bulkiness. Lofted microfiber insulation inside the pad provides an R-value rating of 3.3 (they range from light insulation at 1.0 to very high insulation at 11.0 or more), which will keep you warm enough to camp throughout all four seasons.
Externally, the polyester fabric of this pad resists UV rays and abrasions, while the anti-slip coating will keep you and your sleeping bag from sliding over the edge. Note that the fabric is not as tear-resistant as other sleeping pads on this list, so keep it inside your tent; if you're a sleep-under-the-stars type, look to the sleeping pad options above. If the pad does get a hole, patch it up on the fly with the included repair kit. The inflation and deflation valves are engineered to last a long time, with a flat design that allows a high volume of airflow while reducing wear points and prolonging the life of the pad. Welded seams make this sleeping pad airtight, and it comes with a 2.1 oz.  pump bag for easy inflation.
THINGS TO CONSIDER WHEN BUYING A DOUBLE SLEEPING PAD
WEIGHT
It's no surprise that a sleeping pad made for two people will typically weigh more than one made for one person. However, technology has improved to the point where brands can make double sleeping pads light enough to bring into the backcountry. If you're interested in backpacking with a double sleeping pad, spring for a lighter option. If you're more of a car camper, something heavier (and potentially cheaper) will suffice.
THICKNESS
The thicker the pad, the more it keeps you elevated off the cold, hard ground, raising your comfort level for sleeping. Look for sleeping pads that are 2 inches thick or more for the best support. Thicker pads also tend to have more insulation, but cutting down on bulk and weight will be better for backpackers.
INSULATION
If you're hoping to camp year-round, look for a sleeping pad with an R-value rating of 3.3 or above for adequate insulation. The higher the R-value, the more insulation your sleeping pad offers. If you're a 3-season camper or only plan on camping in hot, dry climates, lighter insulation will be just fine.
LENGTH
Many sleeping pad brands offer long options for the tallest among us. Make sure you look at the measurements so that you and your sleeping companion will have a few inches of extra space above your heads and below your feet.
FEATURES EXPLAINED
R-VALUE
R-value is a rating that measures the level of insulation a sleeping pad provides. Pads with higher R-values offer more insulation from the ground, A.K.A. more warmth for you. For 4-season camping, look for a sleeping pad with an R-value of 3.3 or higher. Manufacturers typically make sleeping pads with R-values that range from 1.0 (minimal insulation) to 11.0 (very high insulation).
BAFFLES
Baffles are in the internal cells that make up the structure of air sleeping pads. The layout of baffles inside the pad results in the seams visible on the outside.
DELAMINATION
Most quality sleeping pads are laminated, meaning they have a durable layer inside to help with the longevity of the pad. Occasionally, when pads are exposed to heat or pressure for too long, a bubble forms inside. Delaminated foam sleeping pads can sometimes continue to be usable if you flip them over, but a delaminated air sleeping pad will need a replacement for comfortable sleeping.
TPU
Thermoplastic polyurethane (TPU) is a strong material that is often a component of the sleeping pad's lamination. Its durability can help prevent delamination of the internal layer.
CLOSED AND OPEN-CELL FOAM
In sleeping pads that incorporate a foam core, that core is generally either closed-cell or open-cell. Closed-cell foam has separate air pockets and tends to be denser and more rigid, waterproof, and insulated than open-cell foam. Open-cell foam's air pockets are interconnected, which compresses more and can therefore be more comfortable. Polyurethane is one common foam material, which is dense and provides effective insulation; the Exped MegaMat Duo 10, for example, has an open-cell foam core of polyurethane.
READ MORE
For more of our top hiking & backpacking gear recommendations, check out these popular articles: