Updated on December 19, 2021
Backpacking on a budget can be an unforgettable experience, but if you don't do your research, it could involve unnecessary stress. So before setting out the door, ask yourself: Do I need a tent? If so, what kind of tent do I need, and where can I find the best budget backpacking tents for me?
There are some places in the world, such as parts of the Appalachian trail, where you can stay in rustic wooden shelters instead of packing along a tent. But most backpacking destinations require that you provide your own shelter.
So unless you're Bear Grylls making a lean-to every night, the best option for beginners heading out on their first backpacking trip is a durable, lightweight tent that you can easily afford. Fortunately, our experts here at The Adventure Junkies have picked out the six best budget backpacking tents for you.
For a complete analysis of all backpacking tents, check out the buyer's guide Best Backpacking Tents.
Quick Answer

-

The Best Budget Backpacking Tents
Alps Mountaineering Lynx 2

The North Face Stormbreak 2
Comparison Table

-

The Best Budget Backpacking Tents

For the best experience turn your device horizontally
* Weight, floor area and price are shown for the 2-person models.
Reviews

-

Best Budget Backpacking Tents
REI Co-op Passage 2
Specs
Capacity

:

1P / 2P

Doors

:

2

Floor Area

:

31.0 sq ft

Weight

:

5 lbs 05 oz

Season

:

3-Season
Features
Pole-less Design
A-frame Shape
Reflective Guylines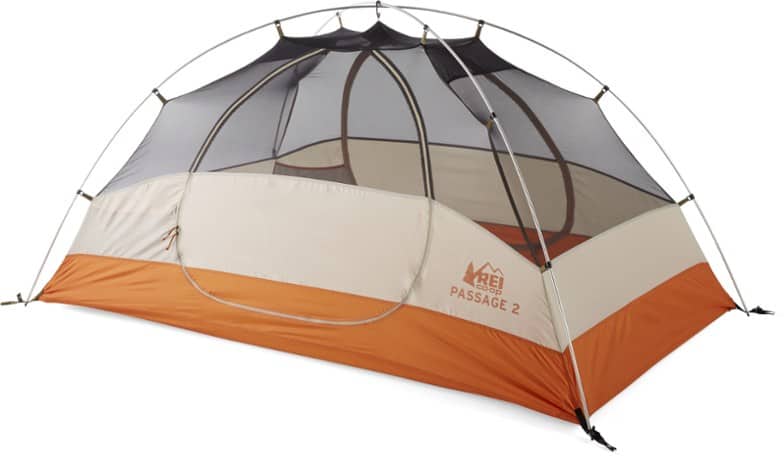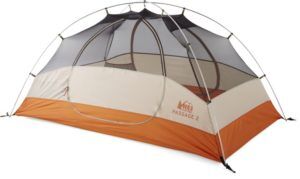 The REI Co-Op Passage 2 is a simple and sturdy backpacking tent. It's an excellent choice for first time tent buyers or backpackers on a tight budget.
Without a doubt, our favorite thing about this tent is its price. At $159, it's hard to beat. Even though it is basic, it comes with some nice features like gear loops, internal pockets, and adjustable ceiling vents
It's a heavy tent for backpacking standards but if you share the load with a partner, it's not so bad. A little annoyance is the zipper sometimes snags. Also, the stakes are pretty crap. If you're going to camp on hard ground, consider replacing them.
If you're willing to pay a little more for a better quality, lighter and roomier tent, check out the REI Half Dome SL 2+.
The REI Co-op Passage also comes in a 1-person version
Alps Mountaineering Lynx 2
Specs
Capacity

:

1P / 2P / 3P / 4P

Doors

:

2

Floor Area

:

37.0 sq ft

Footprint Included

:

No

Height

:

46'

Weight

:

5 lbs 15 oz

Season

:

3-Season
Features
Two-Pole Design
Two Doors
Half Mesh Walls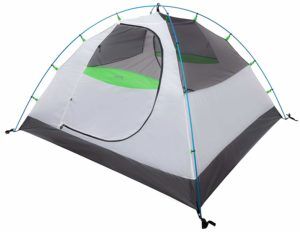 The Alps Mountaineering Lynx 2 is one of the most affordable backpacking tents out there. It's over 5 pounds, which is common at this price point but if you're willing to haul a bit more weight, then it is a good buy for summer backpacking trips.
What we love the most about this tent is the price tag. At $149, it's one of the best options for this price. It's roomy and pretty well ventilated. The zippers are large so they are sturdy and easy to use even with gloves on.
The weight prevents this tent from being used on long distance trips. For shorter trips it should be fine, especially if you can share the load with your partner. Its two-pole system limits it to warm and calm weather.
The Alps Mountaineering Lynx also comes in a 1-person, 3-person and 4-person model.
The North Face Stormbreak 2
Specs
Capacity

:

2P / 3P

Doors

:

2

Floor Area

:

30.6 sq ft

Weight

:

5 lbs 14 oz

Season

:

3-Season
Features
Easy-pitch design
Twin-zips
Very affordable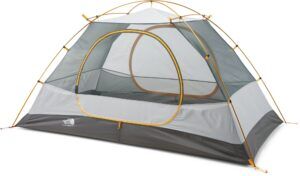 The North Face Stormbreak 2 is a super spacious tent with plenty of headroom that is a great choice for hikers who don't mind sacrificing a bit of weight to save some cash.
What we love the most about this tent is how liveable it is. There is plenty of headroom and space for two people. The spaciousness is much appreciated if you have to wait out a storm. We also appreciated how it is to set up. It would be a great option for someone who is new to backpacking who wants an affordable, easy to use tent that doesn't feel claustrophobic.
The biggest downside we see with the Stormbreak 2 is it is bulky and heavy. We'd only recommend it as a backpacking tent if your hiking partner is willing to split the load.
Another complaint is the cheapie stakes. They are thin and tiny. They're probably okay for camping on very soft ground but not much more. If you're set on this tent but the stakes also concern you, check out the MSR Ground Hog Stakes, they are super sturdy and almost indestructible.
If you're looking for a bigger tent, check out The North Face Stormbreak 3.
MSR Elixir 2
Specs
Capacity

:

1P / 2P / 3P

Doors

:

2

Floor Area

:

29.0 sq ft

Footprint Included

:

Yes

Height

:

40'

Weight

:

6 lbs 00 oz
Features
Mesh Panels
Footprint
Color-Coded Poles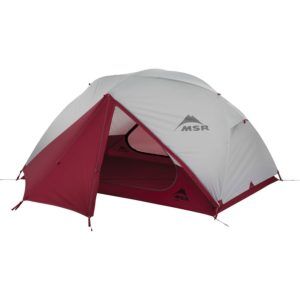 The MSR Elixir 2 Tent is a bit more expensive than the other tents on this list, but it is well worth the extra cash. Versatile beyond belief, the MSR Elixir can serve as both a casual camping tent and an all-mountain one as well. The unique pole design allows two sleeping pads to fit inside. And the glow-in-the-dark zippers mean you can take this bad boy into the backcountry without a worry.
With mesh and solid fabric panels to keep you cool or warm, based on your needs, the MSR Elixir can work in any weather. And the quick assembly and reduced floor space means that you can fit it into any camping site, no matter how small. Furthermore, with the added protection of a footprint included, this tent should last for a long time.
Marmot Tungsten 2P
Specs
Capacity

:

1P / 2P / 3P / 4P

Doors

:

2

Floor Area

:

32.0 sq ft

Length

:

88 in. (Floor)

Weight

:

5 lbs 04 oz

Season

:

3-Season
Features
Color Coded Easy Pitch Clips
Lampshade Pocket to Hold Headlamps
2 Vestibules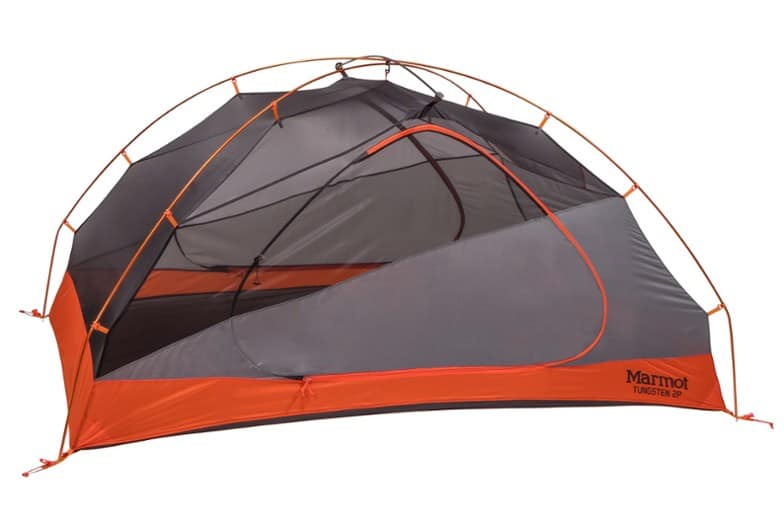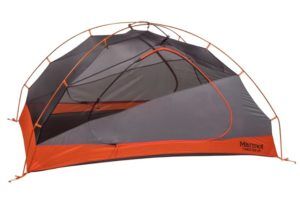 The Marmot Tungsten 2P is a simple, straight forward tent. It's pretty bulky and heavy, so we wouldn't call it a true backpacking tent but if comfort and saving money are a priority, the extra weight might be worth it.
What we loved the most about this tent is the poles and clips are color coded, which makes it easy to set up. It's also super roomy even for two tall people. At $214, we don't mind the price either.
As we mentioned, this tent is a beast, it weighs over 5 pounds and packs down to the size of a toddler. We added the Tungsten 2P to this list because even for its weight, it's still a good option for people who are new to backpacking or those who are attempting to introduce their spouse without scaring them off.
The Marmot Tungsten also comes in a 1-person, 3-person, and 4-person version.
THINGS TO CONSIDER WHEN BUYING A HIKING TENT ON A BUDGET
Every tent is different, but only a few will suit your needs. Below we've highlighted the top aspects to consider when looking for the best budget backpacking tents, but if you want more information check out this article about how to choose a tent for some great tips.
ENVIRONMENT
Most importantly, make sure you know where you're going before you buy a tent. How cold does it get? Is the ground rocky? Does it rain, snow, hail? And how extreme is the weather? Each tent varies on the level of resistance it can handle. And the last thing you want out there on the mountain is a broken tent and a sleeping bag full of snow.
Most experienced campers will agree that the easiest of these options is the hub system, which allows for a foolproof and quick setup every time.
SIZE
The numbers don't always speak for themselves when it comes to tents. Floor size and height may be deceiving, so make sure you do your research on the tent of your choosing. If you're a big person, you may want vertical walls and a bigger floorspace – that means more height above. In any case, always look at photos and read customer reviews to get the best idea of tent size before purchase.
COST
Unlike shoes or trekking poles, for tents you may want to shell out a bit more cash. A tent will usually last you a few years, if not a lifetime, so you want to make sure you're buying the perfect model for you. Lower-end tents work well, but if you're planning on backpacking for years, then you may want to spend some extra cash for the added durability.
DESIGN
Design often influences durability, and when you're searching for a backpacking tent, you want to make sure it will survive your environment. So, if you're trekking into the mountains with high winds and heavy snow, then a two-pole system might not be for you. However, if you're sticking to camp sites and beaches, then quick assembly tents and two-pole systems will serve you better.
DOES IT HAVE A FOOTPRINT?
Most tents note the usefulness of a footprint in their description, but only a few tents come equipped with one. If your planning extended camping trips, make sure your tent comes with one. However, if it's not included, you can always buy one separately. It will prevent unwanted damage down the line.
FEATURES EXPLAINED ABOUT THE
BEST BUDGET BACKPACKING TENTS
Lampshade pocket
A small tent pocket often on the roof of a tent meant to hold a headlamp or small portable light.
Fly
The removable outer layer of a tent meant to prevent the elements from getting inside.
Footprint
A layer of cloth that goes beneath a tent to prevent tearing and scratching of the tent floor. It helps minimizing leaks from excess water underneath your tent.
Freestanding
A tent that stands upright without the need for tent stakes.
Vertical walls
These are upright tent walls as opposed to inwards-sloping walls.
Poles
The long rods used to erect your tent at a campsite.
Loop & clip system
The features (loops and clips) on the tent body that are used to assemble your tent.