Updated on November 2, 2020
Backpacking on a budget can be an unforgettable experience, but if you don't do your research, it could involve unnecessary stress. So before setting out the door, ask yourself: Do I need a tent? If so, what kind of tent do I need, and where can I find the best budget backpacking tent for me?
There are some places in the world, such as parts of the Appalachian trail, where you can stay in rustic wooden shelters instead of packing along a tent. But most backpacking destinations require that you provide your own shelter.
So unless you're Bear Grylls making a lean-to every night, the best option for beginners heading out on their first backpacking trip is a durable, lightweight tent that you can easily afford. Fortunately, our experts here at The Adventure Junkies have picked out the six best budget backpacking tents for you.
For more of our top backpacking gear recommendations, check out the Best Backpacking Tents.
Quick Answer

-

The Best Budget Backpacking Tents
Alps Mountaineering Lynx 2
Comparison Table

-

The Best Budget Backpacking Tents
Reviews

-

Best Budget Backpacking Tents
Marmot Catalyst 2P
Specs
Capacity

:

2

Floor Area

:

37 sq ft

Footprint Included

:

Yes

Height

:

46'

Weight

:

5 lb 3 oz
Features
Footprint
Two Doors
Color Coded Assembly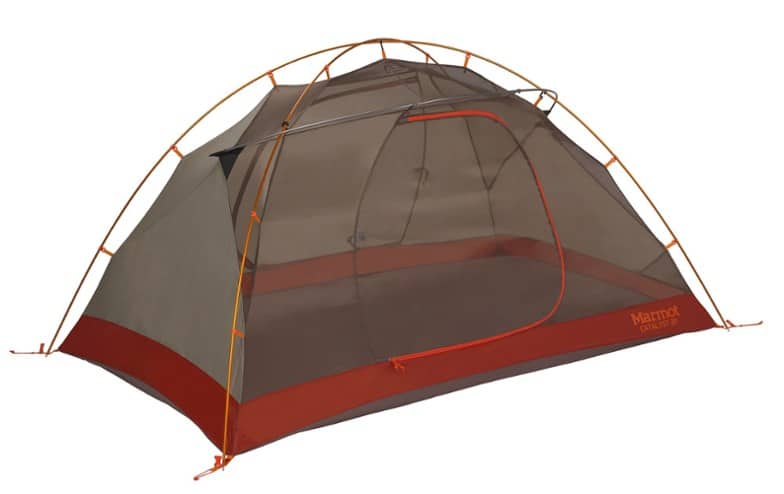 BEST FOR: CASUAL BACKPACKING
Built to withstand the wear and tear of extended camping, the Marmot Catalyst 2-Person Tent is a great fit for any camping excursion. This tent is one of the most affordable tents on the market, perfect for the budget-conscious backpacker. Plus, equipped with a footprint for the tent floor, nylon zippers, and aluminum poles, the Marmot Catalyst is much more durable than your average tent.
Though a bit smaller than other tents, the pointed design of the Catalyst provides you enough room to sit up in comfort. And the surplus of interior pockets means you can store away essentials and hide them from the elements outside. Perhaps the most attractive feature of the Catalyst 2-Person Tent is its lampshade pocket, which is a small storage space on the roof of your tent meant to hold a headlamp or small portable light.
Whether you're planning on heading out into the backyard for your first-ever backpacking trip or to a vacation destination across the globe, this tent will suit all your casual backpacking needs.
MSR Elixir 2
Specs
Capacity

:

2

Floor Area

:

29 sq ft

Footprint Included

:

Yes

Height

:

40'

Weight

:

6 lbs
Features
Mesh Panels
Footprint
Color-Coded Poles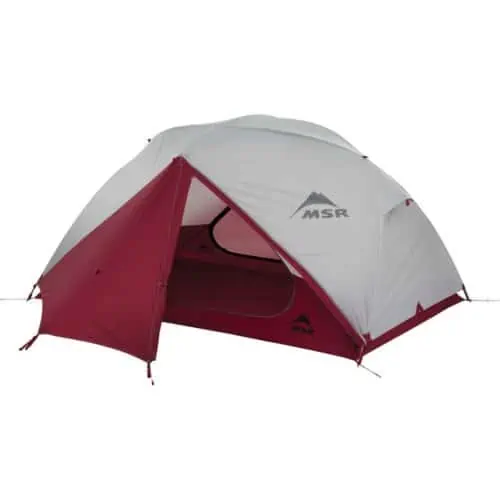 BEST FOR: TREKKING AND CAMPING
The MSR Elixir 2 Tent is a bit more expensive than the other tents on this list, but it is well worth the extra cash. Versatile beyond belief, the MSR Elixir can serve as both a casual camping tent and an all-mountain one as well. The unique pole design allows two sleeping pads to fit inside. And the glow-in-the-dark zippers mean you can take this bad boy into the backcountry without a worry.
With mesh and solid fabric panels to keep you cool or warm, based on your needs, the MSR Elixir can work in any weather. And the quick assembly and reduced floor space means that you can fit it into any camping site, no matter how small. Furthermore, with the added protection of a footprint included, this tent should last for a long time.
Marmot Tungsten 1P
Specs
Capacity

:

1

Footprint Included

:

Yes

Height

:

38'

Weight

:

3 lbs 25 oz
Features
Vertical Walls
Footprint
Color Coded Assembly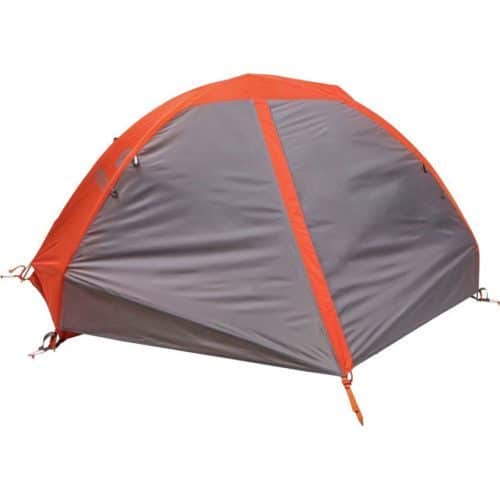 BEST FOR: SINGLE BACKPACKERS
If you're thinking about heading into the backcountry alone, the Marmot Tungsten 1P Tent is a great friend to have along the way. This tent boasts enough room for a comfortable sleep and even comes with a lampshade pocket which will hold your headlamp or portable light above for reading or eating at night. The footprint below prevents any unwanted damage to the bottom of the tent, and the vertical walls mean you'll have enough room to remain comfortable.
There are plenty of 1 person tents on the market, but a sleek, compact, lightweight and, most importantly, spacious tent like the Marmot Tungsten 1 is a perfect option for any solo backpacker on a budget. It's inexpensive and will last through any trip and help you survive in any climate.
Alps Mountaineering Lynx 2
Specs
Capacity

:

2

Floor Area

:

37 sq ft

Footprint Included

:

No

Height

:

46'

Weight

:

5 lbs 15 oz
Features
Two-Pole Design
Two Doors
Half Mesh Walls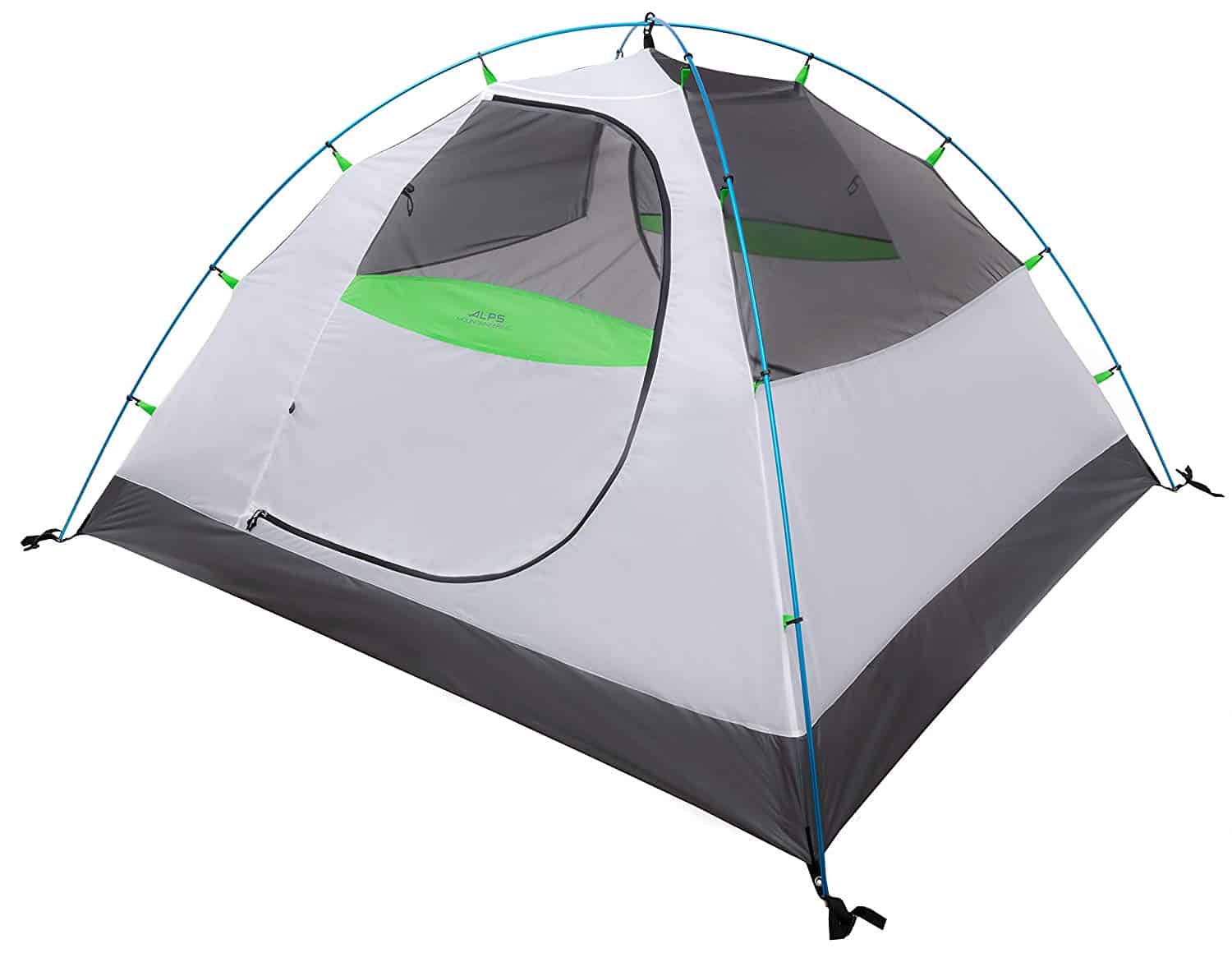 BEST FOR: WARM CLIMATES
After a long day of hiking in the hot sun, you're probably feeling tired, thirsty and most of all, a bit lazy. So you're going to want a tent with easy assembly and proper ventilation when you arrive at camp.
The Alps Mountaineering Lynx 2-Person Tent is a phenomenal and affordable solution for warm climate hiking. With a freestanding two-pole design that snaps into place, it won't take more than a few minutes to assemble this tent.
And once you're inside, not only is there enough space to keep you comfortable, but half mesh walls ensure the perfect breeze. Plus, if it rains, a tight polyester fly, or tent cover, will keep you dry while remaining ventilated within.
You can use this tent in harsher conditions, but the two-pole system won't hold up as well in severe environments. It's best for warm weather hiking.
Kelty Discovery 4
Specs
Capacity

:

4

Floor Area

:

57 sq ft

Footprint Included

:

No

Height

:

57'

Weight

:

10 lbs 7 oz
Features
Large Door
Color Coded Assembly
2 Vents
"No-See-Um" Mesh Walls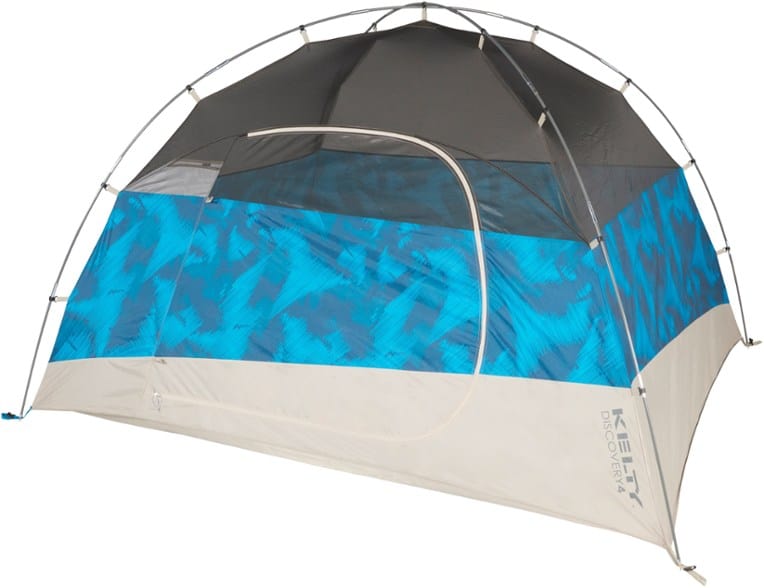 BEST FOR: FAMILY BACKPACKING
With a large front door, fiberglass assembly poles, and enough room for a small family, the Kelty Discovery 4 is a great option for any family backpacking or camping on a budget. The color coded loop and clip system allow for easy assembly, and the fiberglass poles ensure a strong and sturdy structure. As an added benefit, the specialized "no-see-um" mesh walls mean that no neighbors can see in, so you'll feel comfortable and private no matter your environment.
The Kelty Discovery 4 is one of the most affordable 4-person tents on the market. It is great for casual camping on the weekends and perhaps a short trip into the mountains. You should note, however, that this tent is not built for extreme weather or luxury camping.
THINGS TO CONSIDER WHEN BUYING A TENT
Every tent is different, but only a few will suit your needs. Below we've highlighted the top aspects to consider when buying a tent, but if you want more information check out this article about how to choose a tent for some great tips.
ENVIRONMENT
Most importantly, make sure you know where you're going before you buy a tent. How cold does it get? Is the ground rocky? Does it rain, snow, hail? And how extreme is the weather? Each tent varies on the level of resistance it can handle. And the last thing you want out there on the mountain is a broken tent and a sleeping bag full of snow.
Most experienced campers will agree that the easiest of these options is the hub system, which allows for a foolproof and quick setup every time.
SIZE
The numbers don't always speak for themselves when it comes to tents. Floor size and height may be deceiving, so make sure you do your research on the tent of your choosing. If you're a big person, you may want vertical walls and a bigger floorspace – that means more height above. In any case, always look at photos and read customer reviews to get the best idea of tent size before purchase.
COST
Unlike shoes or trekking poles, for tents you may want to shell out a bit more cash. A tent will usually last you a few years, if not a lifetime, so you want to make sure you're buying the perfect model for you. Lower-end tents work well, but if you're planning on backpacking for years, then you may want to spend some extra cash for the added durability.
DESIGN
Design often influences durability, and when you're searching for a backpacking tent, you want to make sure it will survive your environment. So, if you're trekking into the mountains with high winds and heavy snow, then a two-pole system might not be for you. However, if you're sticking to camp sites and beaches, then quick assembly tents and two-pole systems will serve you better.
DOES IT HAVE A FOOTPRINT?
Most tents note the usefulness of a footprint in their description, but only a few tents come equipped with it at the start. If casual or extended camping is in your repertoire, make sure you read the description thoroughly so you know whether a footprint is included. Because if your chosen tent doesn't come with a footprint, you'll probably want to buy one separately anyway as it will prevent unwanted damage down the line.
FEATURES EXPLAINED
LAMPSHADE POCKET
A small tent pocket often on the roof of a tent meant to hold a headlamp or small portable light.
FLY
The removable outer layer of a tent meant to prevent the elements from getting inside.
FOOTPRINT
A layer of cloth that goes beneath a tent to prevent tearing and scratching of the tent floor and minimize leaking from excess water underneath your tent.
FREESTANDING
A tent that stands upright without the need for tent stakes.
VERTICAL WALLS
These are upright tent walls as opposed to inwards-sloping walls.
POLES
The long rods used to erect your tent at a campsite.
LOOP & CLIP SYSTEM
The features (loops and clips) on the tent body that are used to assemble your tent.
READ MORE
For more of our top hiking & backpacking gear recommendations, check out these popular articles: