Updated on May 11, 2020
You're ready to hit the dirt and experience the open landscape from the ground, and you want to try the best budget hiking boots your money can get you. You need a pair of sturdy boots with stability, weather proofing, and ankle coverage to keep your feet protected.
If you're not ready to sink money into top-of-the-line hiking boots just yet, but you want to hit the trail with comfortable and sturdy shoes, you can find some quality footwear on a budget. These wallet-friendly boots allow you to familiarize yourself with the terrain while staying dry and supported. After trying these, you may even find it's not necessary to upgrade to more expensive pairs.
For more of our top hiking footwear recommendations, check out the Best Hiking Boots.
Quick Answer

-

The Best Budget Hiking Boots
Merrel Moab 2 Mid Ventilator

Columbia Newton Ridge Plus

Salomon X Ultra 3 Mid GTX

Timberland White Ledge Mid
Comparison Table

-

Best Budget Hiking Boots

For the best experience turn your device horizontally
Reviews

-

The Best Budget Hiking Boots
Merrel Moab 2 Mid Ventilator
Specs
Cut

:

Mid

Gender

:

Men's

Weight

:

2 lbs 2 oz

Liner

:

Mesh

Upper

:

Suede Leather and Mesh

Waterproof?

:

No

Waterproof Type

:

No
Features
Breathable
Cushioned Heel
Vibram Outsole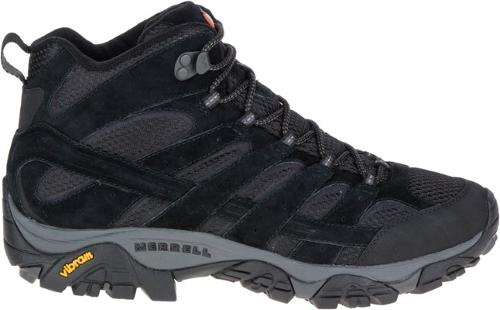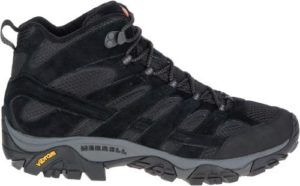 BEST FOR: HOT WEATHER HIKING
Achy feet should be the last thing to slow you down on the open trail. The Merrell MOAB (aka, mother-of-all-boots) collection is known for its long-term dependability on unpredictable terrain. The grippy Vibram outsole, air-cushioned heel, and wraparound stability band let you move with a confident step. The boots give you wiggle room where you need it in the toe box and snug support in the heel and instep.
The closed-cell foam tongue and breathable mesh lining give slog and sog the boot (pun intended!). Move sideways down hills and pass right by protruding tree roots and boulders with the protective rugged outsole and rubber toe cap. This pair is perfect for those who want a lightweight hiking boot to match their endurance level.
Columbia Newton Ridge Plus
Specs
Gender

:

Women's

Weight

:

13.4 oz

Upper

:

Leather and Mesh

Waterproof?

:

Yes

Waterproof Type

:

Yes
Features
Waterproof
Breathable
Rubber Outsole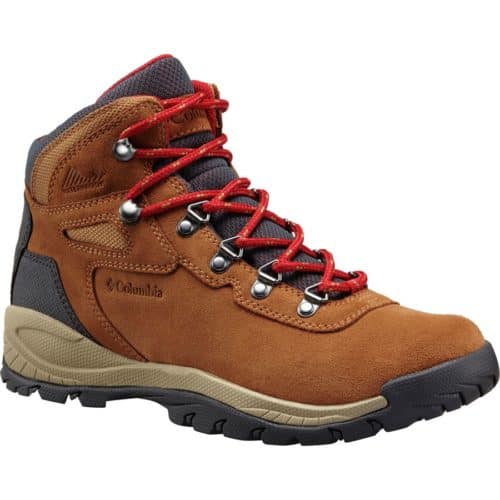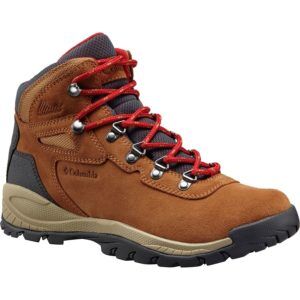 BEST FOR: ALL-TERRAIN HIKING
The most prominent features of this budget hiking boot are its waterproof, seam-sealed construction and Techlite cushioning. The cushioning absorbs impact from intense footfalls and offers responsive energy transfer over varying terrain.
Omni-Grip rubber gives you grippy control on hills, gravel, and wet rocks while the breathable mesh upper keeps sweat from getting trapped inside. These lightweight hikers show you just how far classic mountaineering boots have come to give you the most comfort and control en route.
Salomon X Ultra 3 Mid GTX
Specs
Gender

:

Women's

Weight

:

1 lb 13.4 oz

Upper

:

Suede/Leather

Waterproof?

:

Yes

Waterproof Type

:

Yes
Features
Descent Control
Waterproof
Advanced Chassis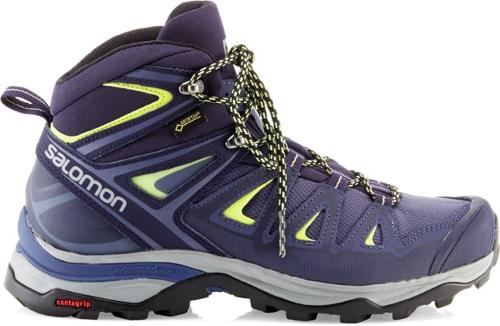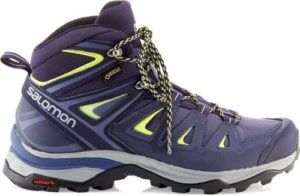 BEST FOR: DOWNHILL HIKING
These 3rd generation hiking boots offer the stability and protection of a classic boot with the athletic performance of a trail runner. The gender-specific construction works with your natural foot shape and flexibility in a way that unisex hiking boots can't.
If you anticipate plenty of hills on your next adventure hike, these hiking boots are specifically designed to manage tough descents. You get ankle support with the mid-rise design and dependable traction with the Contragrip outsole. When you turn the boot over, you'll notice that deep off-roading tread right away, which gives you a stable foothold.
Salomon's Sensifit construction zig-zags across the top of your foot to lock it in place. The quick laces follow that same pattern to give you a customizable fit. Waterproof materials, PU coated leather, and breathable features keep your feet dry from both sides.
KEEN Targhee III WP Mid
View Women's Version
Specs
Gender

:

Men's

Weight

:

2.1 lbs

Upper

:

Leather

Waterproof?

:

Yes

Waterproof Type

:

Yes

Outsole

:

Rubber

Midsole

:

EVA
Features
Waterproof/breathable protection
Toe and mud guards add durability
4 mm multidirectional lugged soles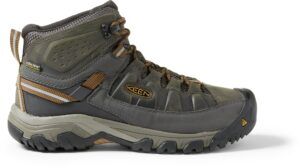 The KEEN Targhee III WP Mid is KEEN's third generation of their extremely popular Targhee line that is known for being a comfortable boot that is terrific value for money. It has taken the best of its predecessors and added a new look and upgraded materials.
What we love the most about this boot is how comfortable and durable it is for its price point. The Targhee is made out of oiled nubuck leather, making it much more durable and flexible than its competitor the Merrell Moab 2 GTX, which opts for synthetic leather instead. The difference in materials also translates to added comfort, nubuck leather is less rigid, allowing the boot to flex. This explains why the Targhee feels more like a shoe than a boot.
While the Targhee Mid III does provide decent stability and ankle support when carrying a lightweight pack on well maintained trails, we wouldn't recommend it for long trips that require carrying heavy loads over rugged terrain. If you're looking for a boot that can give you the support you need for challenging routes, check out the Lowa Renegade or the Salomon Quest 4.
As we mentioned, the Merrell Moab 2 GTX is another option if you are looking for an affordable boot. While the Targhee is the more durable choice, the Moab is also very comfortable and costs 30 bucks less. If you're having trouble deciding between the two, keep in mind that the Targhee has a wider fit.
The Targhee Mid III also comes in a non waterproof, vented version which is better for summer hiking.
This boot is also available in a women's version in both a waterproof and non waterproof model.
Timberland White Ledge Mid
Specs
Gender

:

Men's

Weight

:

15.4 oz

Upper

:

Leather

Waterproof?

:

Yes

Waterproof Type

:

Yes
Features
Waterproof
Cushioned Footbed
Seam-Sealed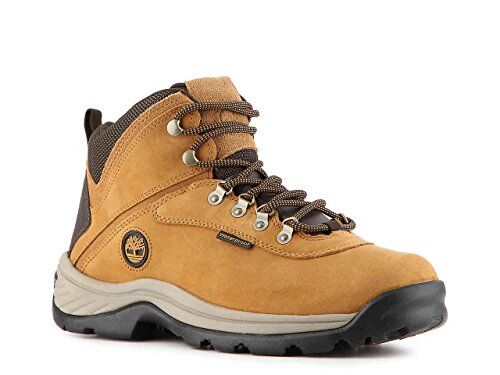 BEST FOR: WET CONDITIONS
The mood of your entire hike changes when you feel that slow seep of water into your socks. This mid-rise boot has a fully seam-sealed leather construction to keep your mood and step even in any condition.
Motion efficiency technology supports your feet during the braking, bending, pushing or balancing process by centering the pressure. Rubber lugs along the pressure pathway give you sure-footed traction while cushioning absorbs the impact so you can stay out longer. The padded collar and gusseted tongue provide thoughtful finishing touches.
THINGS TO CONSIDER WHEN BUYING HIKING BOOTS
COST
When you're just starting out, you might not want to throw all your money at your new sport until you're better acquainted with brands, terrain, and other factors that might impact your buying decision. It's great to have reliable budget options that you can test the trails in before you go all-in. The principle "you get what you pay for" applies here. All of the options mentioned here are much better options for beginning hikers than an under-$50 pair at your local big-box store.
TERRAIN
If you know you're mostly going to be hiking on local trails, your choice in hiking boot will be radically different than if you were hiking in remote mountains. Budget hiking boots are a much more sensible option for the first scenario, especially for shorter trips, and they're probably not a great choice for rugged mountaineering. Either way, some boots are better for well-kept trails than rugged runs through the woods or hilly paths than flat, even terrain, so it's important to consider where you'll be using the boots the most before making your final purchase.
FIT
Each manufacturer uses a slightly different sizing method, which means a size 8 in one brand might fit more like a 9 in another, so it's important to know how to pick the right size. Too tight and they might rub against your tender feet until blisters form; too wide and you might lose your stability due to slippage. Do a little snooping to find out if your desired brand runs a little small or wide, so you can find the best fit.
WEATHER
Temperatures and precipitation impact your feet as much as any other part of your body. You need to take outdoor conditions into consideration before choosing a pair of hiking boots. If you like to hike in the winter, you might want boots rated for freezing temperatures. If you're headed into the wet jungle, you need a different kind of footwear, likely with ventilation and lightweight material.
HEIGHT
Hiking boots are usually designated as low, mid, or high cut, depending on how much of the ankle they cover. If you're prone to sprains, at a lower fitness level, hiking on rough terrain, or just starting out, you might appreciate the extra support of a higher rise. Lower cuts might be more appropriate for established hikers and flatter routes where the extra ankle support isn't necessary.
FEATURES EXPLAINED
TOE BOX
The area of the shoe that covers the toes; should be roomy enough to wiggle your toes.
OUTSOLE
The outer layer on the bottom of the shoe, which makes contact with the ground.
INSOLE
The inside part of the shoe that supports the bottom of your foot, aka the footbed.
INSTEP
The inside part of the shoe that goes over the top of the foot.
SEAM-SEALED
A treatment that seals the stitch holes on sewn material to make them waterproof.
LUG SOLE
A thick rubber boot sole with indentations, similar to tire tread, which improves traction.
EVA
Stands for ethylene-vinyl acetate material, which offers padding and shock absorption.
HEEL BRAKE
Raised heel area that reduces slippage and makes it easier to come to a stop.
If you want to learn more about these features, check out the Anatomy of a Hiking Boot. This resource offers useful information on the features mentioned above and more detail on the different parts of a hiking boot.