Updated on October 8, 2020
Photography enthusiasts know that without a good travel tripod, their gear kit would not be complete. Those who own a quality DSLR camera and travel often with a variety of lenses to shoot landscapes or wildlife know how difficult it can be to get a blur-free shot when light is lacking or the subject is distant.
While cameras have improved greatly in recent years, it is still not possible to eliminate the micro-vibrations of the hand completely. The best budget travel tripod, therefore, is essential to capturing sharp photos. The tripod eliminates any motion blur and is especially helpful when mounting heavy telephoto lenses.
Below we've compiled a list of the ten best budget travel tripods than can fit in your backpack and help you get those perfect star trail shots.
For more of our top travel photography gear recommendations, check out the Best Travel Tripods. 
Quick Answer

-

The Best Budget Travel Tripods
Manfrotto Element Traveller

Dolica GX600B200 Proline GX
Comparison Table

-

Best Budget Travel Tripod

For the best experience turn your device horizontally
Reviews

-

The Best Budget Tripods for Travel Photography
Vanguard VEO 235AB
Specs
Material

:

Aluminum Alloy

Weight

:

3.3 lbs

Maximum Height

:

57.1 in

Folded Height

:

14.8 in

Bubble Level

:

Yes
Features
Quite Light
Rapid Column Rotation
Extra Low Angle Photography Option
BEST FOR: ANY TERRAIN
With its patented column rotation, the VEO 235AB presents a fast set-up. To secure your camera no matter the terrain, the tripod features convertible feet. They can be either regular for urban ground or spikes for an uneven one. Furthermore, if you're traveling, you'll need a sturdy tripod. To account for that, the 235AB has aluminum alloy legs. These allow for 3 angle settings, one of them being an extra-low angle for creative composition. 
As for ergonomics, this tripod has a large rubber handle that retains its grip in any weather. Plus, there is a ball head with another large locking knob that is easily accessible and adjustable. And another seemingly small, but useful feature is a bubble level that will help you position the tripod and the camera perfectly. As good as that sounds, this tripod may not be able to keep heavier cameras in place.
Manfrotto Befree
Specs
Material

:

Aluminum

Weight

:

5.3 lbs

Maximum Height

:

56.7 in

Folded Height

:

15.8 in

Bubble Level

:

No
Features
Very Light And Compact
Quick To Setup And Take Down
Slim Enough To Be A Monopod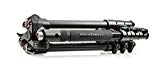 BEST FOR: THE URBAN TRAVELLER
The Manfrotto BeFree is a compact tripod with a unique folding technique. Its legs fold up and around the center ball head, achieving a small size. Namely, it can extend from 15 inches to 56. The legs, also, can be unfolded and set up independently from others. And with two angle stops, there are a lot of set-up possibilities, letting you experiment with a variety of different angles.
This tripod can support up to 8.8 pounds – enough to support even the heaviest of cameras. Although, be careful with DSLRs in portrait orientation since the angle won't be held up. One disadvantage, though, is that this tripod has fixed feet, so you can't switch them out for spikes. This limits the terrain you can take the tripod to, but if you're more of an urban traveller with lightweight gear, this tripod should be just right.
Manfrotto Compact Action
Specs
Material

:

Aluminum, Technopolymer

Weight

:

2.65 lbs

Maximum Height

:

61 in

Folded Height

:

17.83 in

Bubble Level

:

No
Features
Well Built
Lightweight, Very compact, And Highly Adjustable
Quick-release Plate Supports A Wide Range Of Devices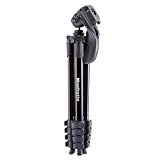 BEST FOR: THE MULTIMEDIA ARTIST
The Manfrotto Compact Action tripod may look average, but it features one interesting function. On the grip head of the tripod, there is a knob that lets you switch between a photo and a video mode. The photo mode gives you free control over the angle of the camera. Meanwhile, the video mode maintains the same horizontal level for flawless panning. If you work with both photography and videography or take panning photos, this feature is a big plus.
As for other specs, this tripod weighs about 2.6 pounds and can support gear of 3.3 pounds. While this doesn't seem too impressive, it does mean that it will be well balanced. The joystick head, as well as the quick-release plate makes working with the tripod fairly simple. Plus, a regulating dial helps adjust and fine-tune your camera in place. Overall, this tripod is great for multimedia projects with photos and videos, as well as for supporting mid-sized DSLRs.
Manfrotto Element Traveller
Specs
Material

:

Aluminum

Weight

:

3.52 lbs

Maximum Height

:

64.5 in

Folded Height

:

16.5 in

Bubble Level

:

Yes
Features
Easy Assembly And Folding
Very Lightweight
Spring Loaded Leg Angle Locks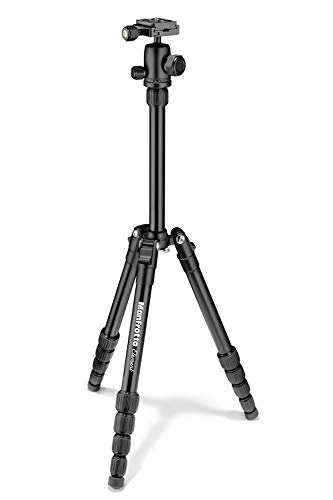 BEST FOR: THE BACKPACKER
True to its name, the Manfrotto Element Traveller Small is collapsible to 12.6 inches. This is slightly bigger than a page that you put into your printer. Thus, it is easy to carry the tripod around in your backpack. The Element Small expands to a regular size of 52 inches. 
Besides the size, this tripod offers flexibility with angles and positioning. Its center column has 2 sections that let you adjust the height at which your camera is placed. Plus, the legs have 3 sections each that you can set up independently from the other legs. This way, you can work on any terrain and uneven ground. 
You can control the ball head along with your camera via two knobs. The primary one deals with the ball, while the second one engages 360-degree panning. This panning base also has degree markings. An additional notch lets you flip your camera 90 degrees into the portrait orientation. All in all, these features make the tripod versatile in any setting.
Manfrotto PIXI Evo
Specs
Material

:

Adapto, Aluminum

Weight

:

0.57 lbs

Maximum Height

:

7.87 in

Folded Height

:

7.87 in

Bubble Level

:

No
Features
Ergonomic Grip
Leg Angle Selector For A Variety Of Shooting Angles
Compact For Its Load Capacity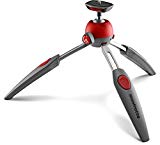 BEST FOR: THE VLOGGER
One of the only mini tripods on this list, the Manfrotto PIXI Evo is a tabletop tripod great for filming YouTube videos, taking low-angle shots, or using it in an unextended form as a selfie/vlogging stick. The tripod weighs only 9.4 ounces. It is able to support about 5.5 pounds, which is impressive considering its lightweight. However, it can become unbalanced, just like the other tripods. The legs have two preset angle positions that you can change with a slider selector. 
For more filming and shooting options, the PIXI Evo features a 90-degree notch in the ball head that you can use to flip your phone or camera into a portrait orientation. That said, this tripod performs better on flat surfaces, so if you are an urban vlogger, it will be fine. Despite its portability, its feet don't have enough rubber to stay put on rocky ground.
Joby GorillaPod 3K Kit
Specs
Material

:

ABS Plastic, Aluminum, and Stainless Steel

Weight

:

0.86 lbs

Maximum Height

:

15.5 in

Folded Height

:

12 in

Bubble Level

:

Yes
Features
Can Be Used As A Tripod And As A Selfie Stick
Flexible Legs Mean You Can Easily Clamp This Tripod To A Pole, Branch, Or Handle
Very Sturdy And Versatile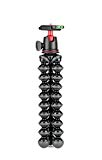 BEST FOR: ANGLE EXPERIMENTS
If you are looking for some flexible alternatives, then a gorillapod may be the answer. The Joby GorillaPod 3K has several joints that you can hook around something so you can experiment with all sorts of angles and orientations, as well as prop it up on rocky ground. The feet, as well as certain parts of the joints, have a rubber finish to help it stand. At just 9.4'' in length, and weighing in at only 8.7 oz, this tripod is very portable. Especially so since you can fold it up at the joints. 
The tripod is well suited for mid-sized DSLRs, as it will confidently support 6.6 pounds of weight. Once your camera is mounted, you have limitless angle options, as the ball head is capable of 360-degree panning and 90-degree portrait tilting. As a bonus, it has a small bubble level to help you set up the perfect angle.
Neewer Carbon Fiber 66
Specs
Material

:

Carbon Fiber

Weight

:

3.4 lbs

Maximum Height

:

66.5 in

Folded Height

:

19.3 in

Bubble Level

:

Yes
Features
Great Quality Of Material Means This Tripod Is Made To Last
Movement Is Smooth And Easy To Operate
360 Degree Dial Of Swivel Ball Head With Bubble Level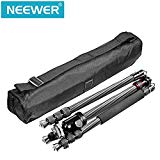 BEST FOR: THE HEAVY LIFTER
Another 2-1 tripod, one of Neewer tripod's legs doubles as a monopod. Monopods are useful when you are working with heavy gear, such as telephoto lenses. You can mount your camera and take the weight off your shoulders, while still being able to maneuver. However, monopods are not as stable as tripods, which is why this product has both. Plus, the monopod can serve as a walking stick. Another innovation is the use of carbon fiber, which is a lightweight and sturdy material perfect for a travel tripod.
Neewer's ball head allows for 360-degree panning, which comes in especially handy when it is used as a monopod. If you want to take photos at low angles, the legs can be flattened or the central column can be inverted. Some smaller features include a column hook for weighing down the tripod and a bubble level for accurate positioning.
Dolica GX600B200 Proline GX
Specs
Material

:

Aluminum

Weight

:

5.09 lbs

Maximum Height

:

60 in

Folded Height

:

10.2 in

Bubble Level

:

Yes
Features
Non-slip Rubber Feet
Reversible Locking Center Column For Low Level Shooting
Solid Construction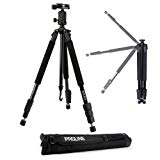 BEST FOR: THE LENS PRO
The Dolica Proline GX is a 2.5-pound tripod that is able to support heavy gear like a telephoto lens and a flash weighing up to 12.5 pounds. It extends from 1 meter to 1.5 meters, which doesn't make it exceptionally packable, but it is good for a heavy-duty tripod. Plus, you can take it outside, as it is made from anodized aluminum alloy and plastic. This means that it is weather-proof and sturdy. 
The Proline GX even considers accidents. Its ball head has a safety lock that prevents the camera or the lens from falling. The legs have 4-level positioning and retractable spikes for stability on uneven ground. Among other features, the ball head also has degree markings, so you can set up the perfect angle and capture panoramas. If that's not enough, there's also a bubble level as well!
SIRUI T-0S Series
Specs
Material

:

Carbon Fiber

Weight

:

2.2 lbs

Maximum Height

:

37.8 in

Folded Height

:

12.2 in

Bubble Level

:

Yes
Features
Three Independent Leg Angles
Well-constructed And Lightweight
Customized Bag For Easy Storage And Transport
BEST FOR: BALANCE
Able to be collapsed to a mere 30 centimeters, the SIRUI T-0S presents many transforming options, as well as stability. The tripod's legs can be folded by 180 degrees, which accounts for its compact packed size. To cut down on this size, you can also take off the head and the center column. This lets you take low-angle shots as well. Speaking of angles, independent 3-section legs offer you the flexibility of any positioning. 
Stability is accounted for by the head that you can mount on the tripod's shoulders. Plus, a keyring and a carabiner are on the bottom of the center column so you can hang weights for added stability. As for other features, you can experiment with 360-degree panning if you want to shoot panoramas. Finally, if you happen to travel to chilly places, the tripod has cold-weather grips that stay sturdy and don't freeze in your hand.
THINGS TO CONSIDER WHEN BUYING A BUDGET TRAVEL TRIPOD
WEIGHT
A tripod's weight is directly connected to its stability. Of course, this means that you have to find the balance that works for your camera.
The average weight of a tripod is around 1.5 kilograms, or 3.3 pounds. If it weighs more, it will be more stable, but present travel challenges because it may become too heavy to lug around.
If it weighs less, then some stability is sacrificed. Thus, you should also look at the weight that the tripod will have to support.
WEIGHT
Not all tripods can carry DSLR cameras, telephoto lenses, flash units, etc. Some small tripods, like gorillapods and table tripods, may be suited for only lightweight cameras.
We suggest that you weigh all of your heaviest equipment and find a tripod that supports slightly more weight than the total of all your gear. This way, you can be sure of the tripod's stability.
Again, the more a tripod has to support, the more it will weigh itself. Otherwise, it will just topple over.
PACKABILITY
If you travel a lot by air, your tripod should be compact enough to be put into your carry-on. This means that it should be no longer than 20 inches when folded.
Try not to put your tripod into your luggage since it is more likely to be broken in some way.
SIZE WHEN EXTENDED
The size of an extended tripod has to suit you as well. If it is too short or too tall, it would be awkward for you to work with it, compromising your shots.
What some experienced photographers do is take their height and subtract 40-45 centimeters (15-16 inches) to figure out the appropriate height for their tripod.
At the very least, the tripod should be at your eye level. Plus, keep in mind that the ball head, quick release plate, and your camera add to the tripod's height.
STURDINESS & STABILITY
The stability that a tripod provides isn't just used to eliminate hand shake, but also to absorb subway or traffic vibrations, wind, and waves. Tripods offer different stability depending on their build.
As we mentioned earlier, smaller tripods are less stable, but they are more lightweight, whereas heavier tripods are sturdier. Even the number of sections in a tripod's legs and a lack of the center column influences stability.
Tripods with more sections can fold more, becoming smaller. However, that also makes them less stable. Center columns make tripods more versatile, but sacrifice stability for it.
Thus, consider what you need from your tripod and decide on a compromise.
Stability can be improved by the tripod's feet as well. Rubber feet with spikes are the best because they grip onto any surface, including uneven ground.
EASE OF SET UP
Finally, consider how fast you need a tripod to be set up. Some have more intuitive controls or shortcuts that make them faster to set up. The trade-off for these may be that there is less flexibility with angles, so you may be limited to presets.
Meanwhile, some tripods take a little longer to set up, so you can miss the perfect moment. However, the tripods that take longer usually offer more flexibility. You can customize the angle just the way you like it, as opposed to a preset angle. Customizable tripods are great if you like to take your time as a photographer, rather than catch a shot.
Other factors that influence ease of use are the type of head and various twist locks or levers.
Different head types have their control perks. For example, ball heads allow more flexibility with angles but require more attention to whether you tightened it correctly. Pan-tilt heads let you control two axes separately, which may be easy or difficult depending on the type of photography or videography you are doing.
As for locks, levers and clips are faster and easier to use, but they are more difficult to grip onto with gloves. The opposite is true for twist locks.
FEATURES EXPLAINED
FOLDED HEIGHT
The height of the tripod when it's compressed to be transported.
BUBBLE LEVEL
An instrument to measure whether the surface on which the tripod is placed is straight or not.
MONOPOD
A camera support tool with a single leg.