Updated on June 22, 2022
While it is important to keep packability in mind when shopping for sleeping bags, comfort should always come first. The best rectangular sleeping bags are lightweight and compact. They provide enough moving space for you to avoid feeling trapped inside a cocoon.
Whether you are hiking long distances or setting off for a weekend of lakeside camping, a good night's sleep is essential to keep you active and moving during the day. Rectangular sleeping bags tend to be slightly bulkier than their mummy-shaped counterparts. However they are ideal for those who enjoy some extra space during their sleep.
In this article, we'll guide you through the best rectangular sleeping bags available out on the market today. We will account for seasonality, price, materials and more.
For a complete analysis of all backpacking sleeping bags, check out the buyer's guide Best Backpacking Sleeping Bags.
Quick Answer

-

The Best Rectangular Sleeping Bags
Sea to Summit Trailhead ThII 30

Sea to Summit Traverse TvII 25

Big Agnes King Solomon 15
Comparison Table

-

Best Rectangular Sleeping Bags

For the best experience turn your device horizontally
Temp ratings refer to the EN or ISO Comfort rating.
Weight and price are shown for the regular size.
Reviews

-

The Best Backpacking Rectangular Sleeping Bag
Big Agnes Lost Dog 15
Specs
Insulation

:

Synthetic

Weight

:

3.1 lbs

Shape

:

Semi-rectangular

Temp Rating

:

15 F
Features
Spacious Footbox
Includes Mesh And Nylon Storage Sack
Two Way Zipper
Can Be Attached To Another Right-Zip Sleeping Bag

The Big Agnes Lost Dog is a cold-oriented sleeping bag that withstands temperatures up to 15°F. It uses FireLine ECO synthetic insulation made from recycled polyester, and the innovative design includes several features for comfort. It has a Free Range hood that allows you to lift your head while keeping a snug fit around your face. The Free Range foot box is similar, giving you some wiggle room. An additional no-draft collar will keep the cold wind out. 
For convenience, a Flex Pad Sleeve can stretch over an insulated sleeping pad for extra warmth. The bag also has a 2-way anti-snag zipper and can be joined with another right-zip sleeping bag. If that doesn't sound comfy enough, the Lost Dog offers a Pillow Barn feature that makes sure your pillow stays put all night. Although it is on the pricier end of affordable, the extra features make it worth it.
REI Co-op Siesta 30
Specs
Fill Weight

:

Polyester Fibers

Insulation

:

Synthetic

Weight

:

4.6 lbs

Temp Rating

:

25 F

Shell

:

Polyester Taffeta

Insulation Type

:

Synthetic

Zipper Location

:

Right
Features
Quilt Construction Prevents Cold Spots And Stabilizes The Insulation
Left Side Zipper Lets You Fold Down The Top For A Bedlike Feel
Durable Water Repellent (DWR) Finish Repels Moisture And Stains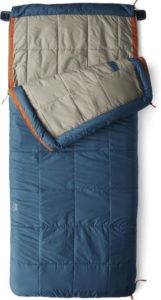 Even though a sleeping bag is expected to be a bit cramped and tight, to ensure maximum warmth potential is maintained, surely we can wish for a bag with a little bit of wiggle room too? Look no further than the REI Co-op Siesta 25 sleeping bag. This sleeping bag has enough components to meet any needs you may have, including a two-way main zipper, which allows you to unzip the bottom to let your feet have some air if it's getting a bit too stuffy for your liking.
A shorter zipper on the other side of the bag allows you to fold down the top of the sleeping bag, giving you a bed-like feel. The polyester outside of the bag has been treated with a water resistant agent, so you don't have to worry if your bag gets a bit damp on your camping trip.
Sea to Summit Trailhead ThII 30
Specs
Insulation

:

Synthetic

Weight

:

2.3 lbs

Shape

:

Semi-rectangular

Temp Rating

:

40 F
Features
Extra Spacious
Second Zipper In Footbox
Full Length Zipper To Convert Sleeping Bag Into A Quilt


The Sea to Summit Trailhead ThII 30 is another synthetic sleeping bag that retains its insulation abilities even when wet. It uses a unique WaveLoft technique that tangles filling fibers for maximum heat retention up to 30°F. This bag has a tapered rectangular shape, providing you with comfort and room to move. An oversized anti-snag zipper draft tube will guard your whole body against cold chills when you snuggle down in this bag. 
An important characteristic of the THII 30 is its versatility. Its full-length zipper lets you turn this sleeping bag into a quilt. Furthermore, there is a second zipper in the foot box, allowing ventilation for your feet and broad temperature adjustability. Plus, to prevent your frustration, the bag's lining fabric is directly attached to the shell fabric, which prevents zipper tangles.  This sleeping bag is excellent for backpacking since it weighs about 2.5 lbs – not much more than most ultralight sleeping bags!
The North Face One Bag
Specs
Insulation

:

Down / Synthetic

Weight

:

3.7 lbs

Shape

:

Semi-Rectangular

Temp Rating

:

29 F

Shell

:

Nylon

Stuff Sack Size

:

N/A

Zipper Location

:

Left
Features
Three Bags In One Means You'll Always Be Prepared, No Matter The Weather
Non-snag Zippers Make It Easy To Transition Between Configurations
Bottom Layer Rolls Up Into A Pillow If You Don't Need The Added Warmth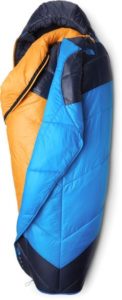 A great bag for any season, The North Face One Bag Sleeping Bag will keep you warm in just about any temperature you can imagine sleeping in down to 5° F. Although there is technically a down layer included in this 3-in-1 bag, we still think the synthetic outer layer makes this one of the best synthetic bag choices on the market today. 
This bag has easy-to-use zippers, so configuring the bags just the way you want them will be a breeze. For mild summer nights, you can opt to use only the super lightweight 40° F outer layer on its own. If there's a chill in the air, you can pair the blue outer layer with the removable yellow mid-layer and stay warm down to 20°F. And if you're an extreme camper who loves sleeping outside during the wintertime, then use all three bags for warmth in temperatures down to 5°F!
This is certainly the most versatile bag on the list and it's very popular among both car campers and backpackers because it just about meets all your wilderness sleeping needs!
Exped MegaSleep 25
Specs
Insulation

:

Synthetic

Weight

:

2.3 lbs

Shape

:

Rectangular

Temp Rating

:

25 F

Shell

:

Ripstop Nylon

Stuff Sack Size

:

22 x 12 Inches

Zipper Location

:

Left/Right
Features
Zippers On Both Sides Of Bag Makes It Easy To Get In And Out And Control Temperature
Draft Tube Along Zipper Prevents Heat Loss
Quick-Drying Insulation Means You Won't Need To Worry If This Bag Gets Wet

The Exped MegaSleep 25 Sleeping Bag is a versatile option for anyone who likes to camp or backpack.
Weighing in at about 2 ½ pounds, this bag isn't too heavy for a pack, and won't take up too much space either. The bag has zippers down both sides, so you can get in and out of it easily, and adjust the temperature easily according to your preference. 
This bag is a rectangle shape, so you will have plenty of room to spread out, no matter what your favorite sleeping position is. There is a draft tube along both zippers in this bag that will help prevent heat loss and keep you cocooned into your bag at night. 
Tested to keep you warm down to 25° F, this bag is a great option for spring, summer, or fall camping or backpacking.
Sea to Summit Traverse TvII 25
Specs
Insulation

:

Synthetic

Weight

:

2.4 lbs

Shape

:

Semi-rectangular

Temp Rating

:

27 F
Features
Very Comfortable And Spacious
Lightweight Compression Bag
Can Be Used As A Comforter


The Sea to Summit Traverse TvII 25 has a tapered rectangular shape and uses the WaveLoft construction for increased comfort. However, the Traverse TVII 25 has a more expanded range of features. It can withstand temperatures as low as 25°F, allowing you to explore slightly colder environments. And an oversized, anti-snag zipper and a neck draft tube provide exceptional resistance to chilly mountain breezes. 
A Free Flow zipper system in this bag comes with three features that let you customize your temperature. A full-length main side zipper, a half-length opposite side zipper, and a foot zipper all provide you with unrestricted movement and ventilation. As a bonus, the TVII 25 can be zipped up with another bag. This versatility makes up for its higher price, delivering you your money's worth.
Nemo Forte 35
View Women's Version
Specs
Insulation

:

Synthetic

Weight

:

2.1 lbs

Shape

:

Semi-rectangular

Temp Rating

:

40 F
Features
80% postconsumer recycled content.
Unique Spoon™ shaped bags offer more room at the elbows and knees, allowing side sleepers to shift positions comfortably throughout the night.
Waterproof/breathable foot-box withstands tent condensation, keeping feet warm and dry.


The Nemo Forte 35 is an affordable synthetic sleeping bag that has plenty of room for those who love to sprawl out. This bag is a great option for mild weather adventures where you don't have to travel too far to get to your campsite. 
What we love the most about this bag is its spacious dimensions. If you've ever felt trapped in a narrow mummy bag, you'll love the Forte's hourglass shape that is wider at the shoulders and feet and slightly tapered at the hips. This design is perfect for side sleepers or people who tend to move around a lot at night. We also loved what NEMO calls thermo gills, they are zips that let the insulation spread apart which is great for warm summer nights.
The biggest drawback of this bag is its weight and pack size. At 2lbs 2 oz, it's not the best choice for long distance backpacking but is manageable for overnight trips. The Forte uses Primaloft synthetic insulation which has its pros and cons. It doesn't pack down as small as down but it is far more affordable.
If you love the idea of this bag but wish it had down insulation, check out the Nemo Disco line. 
This sleeping bag also comes in a 20 degree version.
The Nemo Forte also comes in a women's specific version in both 20 degree and 35 degree versions.  
Big Agnes King Solomon 15
Specs
Insulation

:

Down

Weight

:

4.3 lbs

Temp Rating

:

15 F
Features
Flex Pad Sleeve attaches to your pad like a fitted bed sheet.
Pillow Barn keeps your pillow tucked in tight all night.
Mesh storage sack and nylon stuff sack included.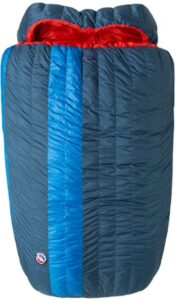 The Big Agnes King Solomon 15 is a roomy doublewide sleeping bag that is perfect for couples who are tired of zipping two bags together. 
What we love the most about this bag is how warm and cozy it is. Big Agnes claims it's like your own bed in the backcountry and we have to agree. We also appreciated the well thought out design of the King Solomon 15. It has vertical baffles that help keep the insulation in place instead of bulking up on one side. It also has a pad sleeve on the bottom to prevent your sleeping pads from slipping out from underneath you and your partner in the middle of the night. 
One of the downsides to an extra spacious bag like this one is it tends to trap a lot of dead air making it not as warm as a snug bag. If you tend to get cold at night, consider adding a thermal liner. Another nitpick with this bag doesn't work well with narrow sleeping pads, so if you decide to go for the King Solomon, you might want to consider getting a double pad as well. 
If you're looking for a summer double sleeping bag, check out the Big Agnes Sentinel 30. It has a lot of the same features as the King Solomon but isn't as toasty. 
Klymit KSB Double
Specs
Insulation

:

Down / Synthetic

Weight

:

5.0 lbs

Temp Rating

:

30 F
Features
Durable DWR treated outer.
4-way zipper lets you shed the top layer on extremely warm nights.
Includes two individual pad holders.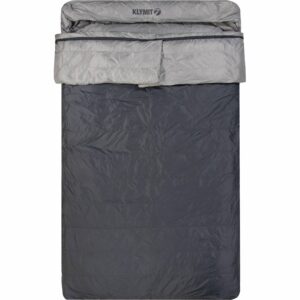 The Klymit KSB Double is a two person three season sleeping bag that is a great choice for couples who like to cuddle. 
What we liked the most about the KSB double is it's two-part system that lets you fully unzip the bag to create a comforter. We found this really handy for warmer nights and car camping. The top layer uses a 650 fill duck down and bottom uses synthetic insulation. This helps cut the overall cost of the bag, but does make it slightly more heavy and bulkier. We appreciated the individual draft covers and hoods, which let us control how much ventilation we wanted. There are two zippers, one on each side so you don't have to bother your partner when you want to get in or out of the bag.
The KSB Double is rated to 30 degrees, but it might not live up to that rating for all sleepers, especially women. This is a common issue with double sleeping bags because they aren't nearly as warm as a single mummy style bag. Unless your partner is as warm as an electric blanket, you might want to bring a thermal liner for camping on chilly nights. When it comes to price, the KSB Double is a bit more expensive than similar double bags out there. It's also quite heavy, weighing in at 4 pounds, 11 ounces, which makes this bag best suited for shorter adventures, car camping or mule assisted trekking.
THINGS TO CONSIDER WHEN BUYING THE BEST RECTANGULAR SLEEPING BAGS
TEMPERATURE RATING
The first thing to consider when buying a sleeping bag is in what conditions you will be using it in. The temperature rating of a sleeping bag will determine how comfortable you'll be able to sleep in different temperatures, so it's an important thing to consider before making your purchase.
Summer sleeping bags with a rating of 37°F and up provide the minimum amount of insulation for warmer climates. They are normally lightweight and easily packable, but not ideal in wet or cold environments.
Three-season sleeping bags with a rating between 20°F and 32°F are versatile and suited for traveling in spring and autumn as well as summer. This category of sleeping bags usually offers more features than simple summer bags. These can be hoods and draft tubes to fight the cooler temperatures of the high mountains.
Winter sleeping bags have a rating of less than 20°F and are designed to protect you from the cold in the most frigid environments, including snow. Because of the added layer of insulation, they tend to be heavier and occupy more space in your backpack. However, if you plan to camp in alpine environments, they are an essential piece of equipment you can't avoid taking with you.
INSULATION TYPE
Sleeping bags can be made with synthetic insulation or down insulation. The first category are usually cheaper and continue to offer protection against the cold even when wet, since synthetic fibers do not absorb water from either rain or moisture.
Down insulation is made from duck or goose feathers. On top of being lightweight and highly compressible, it offers more effective protection against the cold. The downside of down sleeping bags is that they do not absorb water and tend to cost more than those with synthetic fill.
WEIGHT
If you are planning to hike for long distances with all your gear on your shoulders, the weight of the sleeping bag is something that should definitely be checked before buying. Ultra-lightweight sleeping bags are designed for thru-hiking and backpacking, however, the convenience of carrying a small amount of weight usually comes at a high price.
The weight of a sleeping bag often depends on the amount and type of insulating material. Down sleeping bags are lighter than synthetic bags, and summer sleeping bags are lighter than three-season and winter bags.
PACKED VOLUME
The amount of space a bag will occupy in your backpack is important. A lightweight sleeping bag isn't necessarily also compressible, so make sure you know the volume of the bag when it is packed down. Volume is measured in liters. If you want to reduce bulk to a minimum, you should look for a sleeping bag that doesn't occupy more than three liters of space.
FEATURES EXPLAINED
Draft tube
A component of the sleeping bag that runs along with the zippers and is filled with insulating material, designed to prevent cold air from entering the bag while you are sleeping.
Hydrophobic
A water-repellent material.
Duck or goose down
The soft plumage of ducks or geese, used as the insulating material in sleeping bags to protect you against the cold.
Synthetic insulation
Polyester fibers used in sleeping bags to insulate the interior against cold air. Synthetic materials do not absorb water and are usually cheaper than down.
Sleeping bag shell
The outer layer of a sleeping bag, normally built of water-repellent nylon.