Updated on November 12, 2021
Chalk bags are the unsung heroes of climbing. They keep your chalk close at hand when you need it most, so you can calm down, stop sweating, and not slip off your project. The best climbing chalk bags also let you express your personal style, from cute to funky to minimalist. Here at The Adventure Junkies, we want to help you find the chalk bag that's the perfect match for you.
For more of our top climbing gear recommendations, check out the Best Climbing Chalk.
Quick Answer

-

The Best Climbing Chalk Bags
Comparison Table

-

Best Climbing Chalk Bags

For the best experience turn your device horizontally
Reviews

-

The Best Chalk Bags for Climbing
Black Diamond Mojo Zip
Specs
Material

:

Nylon

Weight

:

2.9 oz

Waist Belt

:

Yes
Features
Zippered Pocket
Abrasion-Resistant Bottom
Wire Rim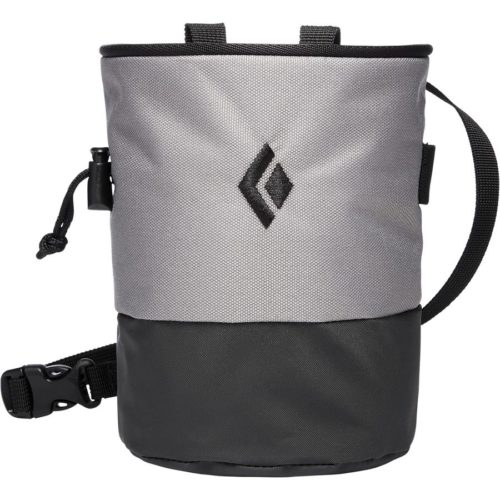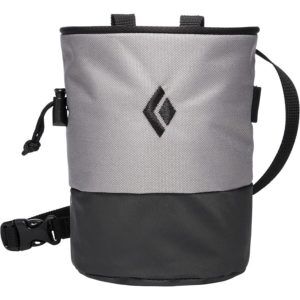 BEST FOR: KEEPING YOUR PHONE HANDY
If you can't stand to be too far away from your phone, the Black Diamond Mojo Zip Chalk Bag is made for you. With a zippered pocket that fits a smartphone (and/or a wallet, keys, a map, or a snack), you can keep your phone close by even when you're scaling a wall – meaning you can also take pics of the great views at the anchors.
The bottom half of the Mojo Zip is made of reinforced thermoplastic, so it is extra durable and abrasion resistant, no matter what surface you set it on (or drag it across while you're climbing).
Organic Climbing
Specs
Material

:

Recycled Cordura Nylon

Weight

:

4 oz

Waist Belt

:

Yes
Features
Durable Exterior Fabric
One-of-a-Kind Design
Elastic Loop for Climbing Brush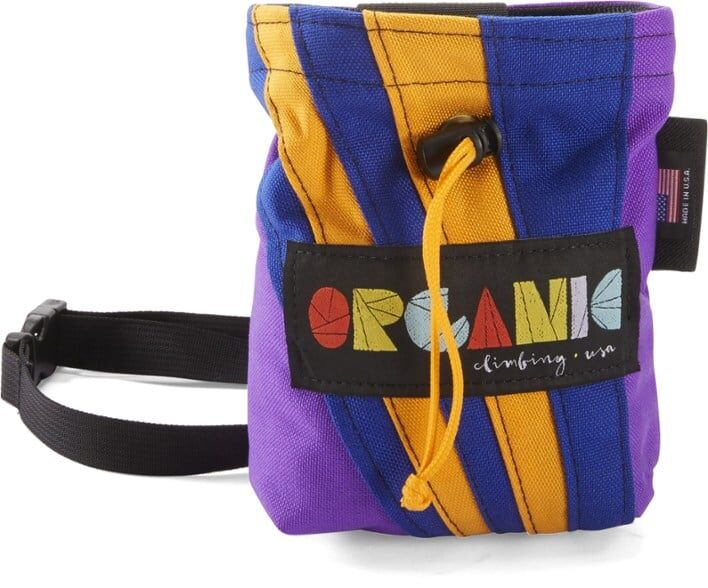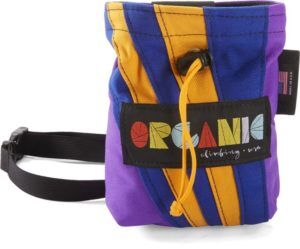 BEST FOR: DURABLE STYLE
Made from recycled scraps from the production of crashpads, each Organic Climbing Chalk Bag is one-of-a-kind. You can find one to fit your style, and the bright colors stand out and look great at the crag. The fabric is 1000 denier Cordura nylon, which is extremely durable and designed to last. The interior is lined in fleece to absorb the chalk.
The Organic Climbing Chalk Bag comes with a removable waist belt, and has an elastic loop for attaching a climbing brush if you need one. The top rim is not reinforced, but the stiff nylon fabric does help the bag remain open when you're reaching in for chalk.
STATIC Waxed Canvas
Specs
Material

:

Canvas/Fleece

Weight

:

3.5 oz

Waist Belt

:

No
Features
Larger Size
Paracord Closure
Infused with Lavender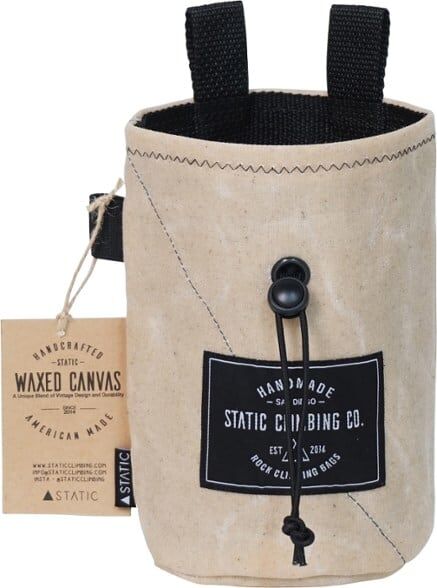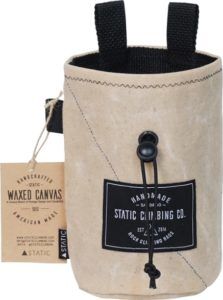 BEST FOR: CRAFTSMANSHIP
Static Climbing is a small business based in San Diego, and each chalk bag is completely handmade. The Static Waxed Canvas Chalk Bag is extra sturdy and durable, yet shows wear in a gorgeous vintage style. The bag is also infused with local lavender.
The Static Waxed Canvas Chalk Bag is larger than a standard chalk bag size, making it easy to slip your hand inside. The stiffness of the waxed canvas helps the bag stand up on its own without collapsing or tipping over. A waist belt is not included with the bag, but the bag includes loops to attach one if you purchase it separately.
Arc'teryx Aperture
Specs
Material

:

Polyester

Weight

:

2.7 oz

Waist Belt

:

Yes
Features
Twist Closure
Sturdy Belt Attachment (for clipping to harness)
Reinforced Rim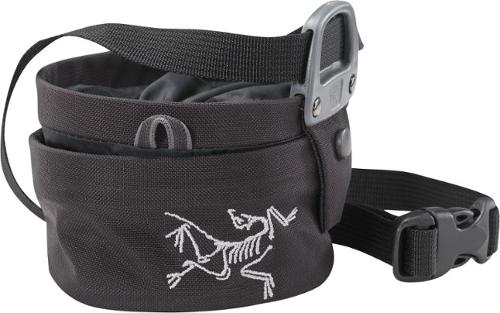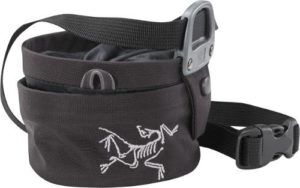 BEST FOR: NO-LEAK CLOSURE
The Arc'teryx Aperture Chalk Bag has a unique trademarked closure system which is quite different from other chalk bags. While most chalk bags cinch with a drawstring, the Aperture closes with a twist lock, which is designed to completely prevent chalk leaks, as well as compress the chalk bag down to a smaller size to easily stow away in a pack (although because of this feature, the chalk bag might be a little small for bigger hands).
The Aperture also has a sturdy, injection molded loop (instead of typical fabric) for clipping to your harness, and the loop does double duty as a bottle opener when you're ready to celebrate your send or summit.
Metolius Chalk Bag
Specs
Material

:

Cotton/Polyester

Weight

:

3.2 oz

Waist Belt

:

Yes
Features
Ergonomic Cut (to fit entire hand)
Stiff Rim (to keep bag open)
Brush Holder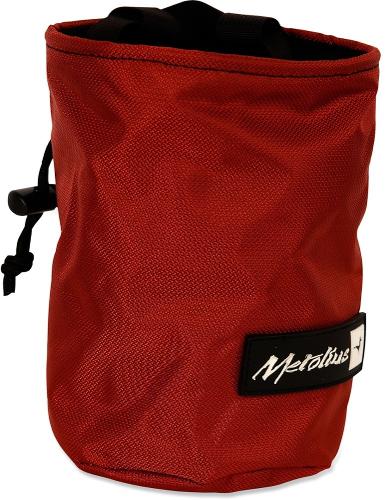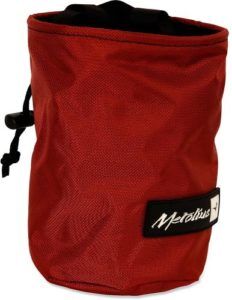 BEST FOR: VALUE
The Metolius Chalk Bag is well constructed and a great value for a minimalist chalk bag that gets the job done. WIth a simple solid color (you can't choose which one you receive), this chalk bag doesn't stand out, but it has everything you need in a chalk bag.
It has a rounded cut opening which is ergonomically designed to fit your whole hand when you need lots of chalk. The rim is stiffened to keep it open when you want it to be, and the drawstring closes it tightly when you don't. It has a brush holder and comes with a detachable waist belt as well.
STATIC Artist Series
Specs
Material

:

Canvas/Fleece

Weight

:

3.5 oz

Waist Belt

:

No
Features
Artist Designed Print
Larger Size
Lavender Scented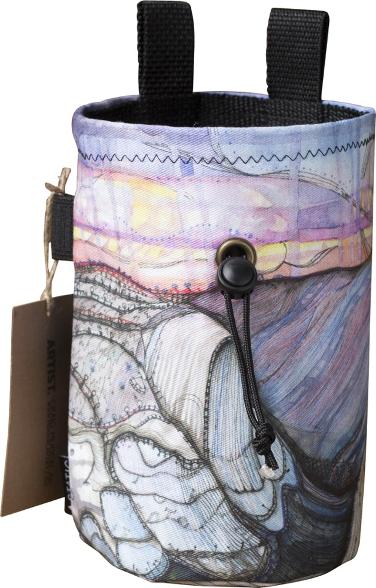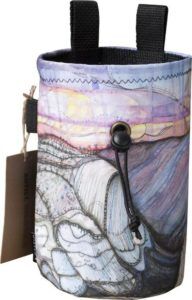 BEST FOR: DESIGN
With the Static Artist Series Chalk Bag, you can bring a beautiful, functional piece of art to the crag. Static partners with a number of different artists to create custom chalk bags that are handmade in San Diego (and infused with local lavender).
Static chalk bags are larger than most, giving you ample room for all the chalk you need when you're trying hard. The canvas exterior transitions into a super soft fleece lining that holds onto chalk, even when you're running low. This chalk bag does not include a waist belt, though it has attachment points if you purchase one separately.
Mammut Multipitch
Specs
Material

:

Nylon

Weight

:

5.1 oz

Waist Belt

:

Yes
Features
Large Zippered Pocket
Clip Inside Pocket (for securing keys)
Bungee Cord on Bottom (for holding jacket)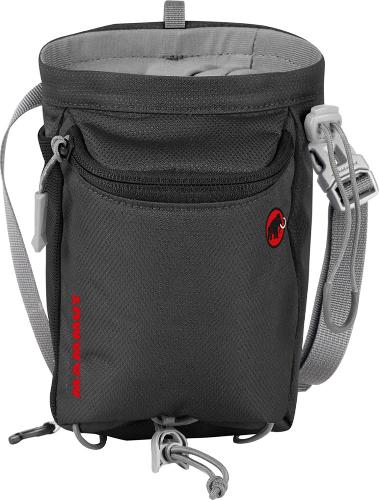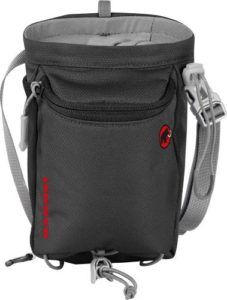 BEST FOR: MULTIPITCH
When you're climbing a multipitch route and don't want to bring a pack, the Mammut Mulitpitch Chalk Bag is the ideal solution. This is a mid-size chalk bag (so you won't run out of chalk on long climbs), with a large zippered pocket for a phone, and additional smaller pockets for snacks, a wallet, a knife, etc. There is a clip for keys inside one of the pockets as well.
Another handy additional feature is the bungee cord on the bottom where you can stuff a jacket or other layer that you might need on the wall if the weather changes or you get stuck for awhile at a belay station.
Evolv Roundtangular
Specs
Material

:

Nylon/Polyester

Weight

:

3.0 oz

Waist Belt

:

Yes
Features
Super Light Ballistic Nylon Construction
Elastic Brush Loop
Unique Structured Shape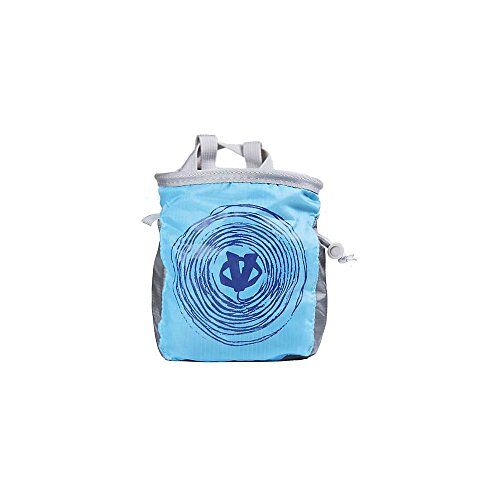 BEST FOR: SIMPLICITY
The evolv Roundtangular Chalk Bag is simple, but well designed. The ballistic nylon fabric is extremely durable, while also being lightweight so you'll practically forget you have it on. The "roundtangular" aspect means that it is somewhat more structured than a round bag so it doesn't collapse and easily fits your hand.
The Roundtangular chalk bag has an elastic loop to hold a climbing brush when you need it. It also comes with an adjustable waist belt, if you're bouldering or simply prefer that rather than clipping the bag to your harness. The internal drawstring closure keeps your chalk from spilling out when you don't want it to.
THINGS TO CONSIDER WHEN BUYING CLIMBING CHALK BAGS
Most climbing chalk bags have similar features, so unless you have a specific need (like pockets for multi-pitch), one of the biggest considerations when choosing a chalk bag is finding one you like the style of, whether that's a cute print, a fuzzy monster, bright colors, or a vintage look. REI has some more tips about how to choose a chalk bag, and EMS explains why you would want to use chalk.
CLOSURE
When you're carrying your chalk bag around to the gym or the crag, you definitely don't want chalk to spill all over everything in your pack. Therefore, you want to make sure that the chalk bag you choose closes tightly. Most chalk bags use some sort of drawstring for this purpose, though the Arc'teryx Aperture stands out for its special twist lock closure.
SIZE
Chalk bags vary in size, and if you have large hands, a small chalk bag might become annoying as you struggle to fit your hand inside when you're pumped. On the other hand, a small, lightweight bag will probably feel less noticeable while you're on the wall.
POCKETS
Some chalk bags have pockets, which are handy for carrying your phone, keys, wallet, and, of course, the all important crag snacks. If you want to keep your stuff close by, look for a chalk bag with pockets, but they aren't usually necessary unless you're climbing multipitch.
FEATURES EXPLAINED
BRUSH LOOP
An elasticized loop to hold a climbing brush, so you can brush off holds that are dirty or caked in chalk.
REINFORCED RIM
Some chalk bags have plastic, wire, or other reinforcement in the rim to keep it from collapsing, which would make it difficult to get your hand in the bag.
WAISTBELT
Usually detachable, a waistbelt allows you to carry the chalk bag with you without needing to clip it to a harness. Most useful for bouldering.
READ MORE
For more of our top climbing gear recommendations, check out these popular buyer's guides: