Updated on October 18, 2021
Have you dreamt of a trip to Aspen where there's undoubtedly an 80's themed weekend and everyone wears ridiculously awesome neon ski apparel? I think we all have. While we can't deliver the fashion, we can definitely help outfit you with the best skis for beginners!
Whether you're an absolute novice with zero experience or an advanced beginner who's nailed the fundamentals of skiing, we've determined the best skis for a wide range of beginners and ski conditions. This list offer a little bit of everything, from general use skis that are good for everything to specific-use skis aimed at providing the best experience possible.
Check out our detailed and highly curated selection of skis below!
For more of our top ski gear recommendations, check out the Best Downhill Skis.
Quick Answer

-

The Best Skis for Beginners
Comparison Table

-

Best Skis for Beginners

For the best experience turn your device horizontally
Reviews

-

The Best Beginner Skis
Rossignol Experience 78
View Women's Version
Specs
Weight

:

7.3 lbs

Style

:

All-Mountain

Terrain

:

Groomed and Powder

Ski Camber

:

Rockered tip & tail

Sidecut Radius

:

18 meters

Waist Width

:

78 millimeters
Features
Assist Flex profile is adapted for entry-level skiers seeking forgiving ski-ability
All Trail Sidecut delivers a responsive feel with quick edge engagement and powerful, consistent carving
Drive Tip Solution blends directional fibers in the tip with soft dampening material through the forebody to absorb vibration for confidence-boosting control
Carbon fiber enhances stability, strength and ski-snow contact while reducing weight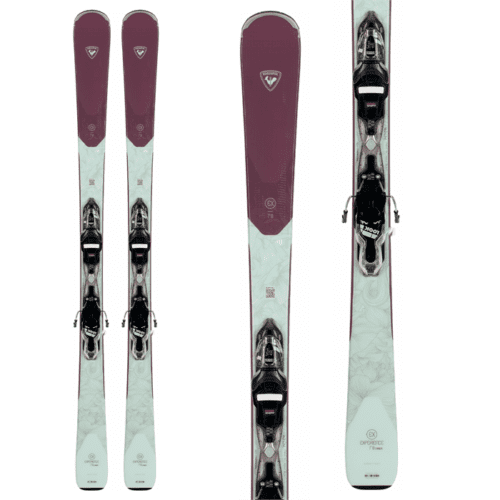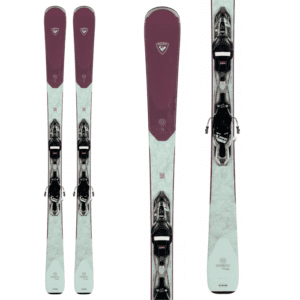 BEST OVERALL BEGINNER SKIS
The best beginner ski is not going to be one you grow out of in a season — instead, look for a ski that will still serve you well when you move into the intermediate skiing ranks. The Experience 78 provides for just that.
Rossignol borrowed much of the build design from its higher-end models when putting together this entry-level ski. It features a mixed rocker/camber profile and a popular wood core with a carbon fiber insert. The wood core gives this ski its power, but doesn't compromise on control or turnability. This is a solid all-around option that will suit beginners well — and allow you to grow your skills.
What I like most about the Experience 78 is that these skis come with quality bindings for only $500.
Atomic Vantage 75 C
View Women's Version
Specs
Weight

:

10 lbs

Style

:

All-Mountain

Terrain

:

Groomed

Ski Camber

:

Tip Rocker

Sidecut Radius

:

15.1 meters

Waist Width

:

75 millimeters
Features
Light Woodcore
Densolite Core
Prolite
Energy Backbone
Carbon Tank Mesh
BEST FOR: SKIERS ON A BUDGET
Let's face it: of all the outdoor sports, snow sports require one of the biggest upfront investments. When you're just starting out, you don't want to spend too much until you know you like the sport. So, if you're dabbling in skiing, consider the Atomic Vantage 75 C — it's a beginner-friendly ski package that will only run you $400.
The Atomic Vantage 75 C skis is a true first-timer's ski. It features a super soft, rockered front end that allows you to glide easily through turns and a narrow 75 mm waist. The foam core construction keeps the ski flexible and relatively lightweight, too. Bindings are included.
What I like most about this ski is how easy it is to control, making for a great choice for beginners who've never skied before.
Blizzard Rustler 9
Specs
Weight

:

8 lbs. 10.2 oz.

Style

:

Downhill

Terrain

:

Groomed and powder

Ski Camber

:

Tip and Tail Rocker

Sidecut Radius

:

17 meters

Waist Width

:

94 millimeters
Features
Smooth rocker-camber-rocker profile
Carbon Flipcore D.R.T. (Dynamic Release Technology) incorporates Titanal® and reduces torsional rigidity in the tip and tail
Unidirectional carbon fiber in the tip and tail
Titanal layer adds rigidity underfoot

BEST FOR: QUICK LEARNERS
For those of you that have some experience on the slopes or you're just getting back into skiing after a hiatus, keep the Blizzard Rustler 9 in mind.
Although this is going to be a bit too much ski for most beginners, the Blizzard Rustler 9 fills the gap between true beginners and advancing intermediate skiers. It's a great all-mountain option with a wide, 92 mm waist, enabling it to perform equally well on- and off-trail. A titanal insert and carbon fiber in the tip and tail give this ski a bit more power than others on this list.
What I like most about the Rustler 9 is that the wide platform and moderately stiff construction does require a bit of confidence to push through a turn but still manages to be quite forgiving.
K2 Mindbender 85
View Women's Version
Specs
Weight

:

7 lbs. 9.3 oz.

Style

:

All-Mountain

Terrain

:

Groomed

Ski Camber

:

Tip and Tail Rocker

Sidecut Radius

:

13.3 meters

Waist Width

:

85 millimeters
Features
Hybritech Sidewalls blend cap construction at the tips and tails for reduced swing weight and increased durability
Slantwall adds a 30° angle to the sidewall of K2 Hybritech construction
All-Terrain rocker profile
Aspen veneer cores are lightweight and resilient
BEST FOR: ALL MOUNTAIN TERRAIN
For those of you who live in areas with pretty consistently good snow, you're likely going to want a ski capable of tackling all-mountain terrain, but still designed for beginners. In that case, the K2 Mindbender 85 is a pretty good choice.
The Mindbender 85 is offered in waist widths ranging from 85 to over 100 mm, but we recommend the narrow 85 for beginners, as it will help introduce you to the nuances of skiing soft snow. Compared to other beginner skis on this list, the Mindbender sports a wider shape and increased rocker through the tip, which allows for the tip "lift" that helps carry you through deep powder.
What I like most about the Mindbender 85 is that it performs equally well on easier, groomed terrain as it does on mountain back bowls.
K2 Disruption 78 C
View Women's Version
Specs
Weight

:

7 lbs. 15.7 oz.

Style

:

Downhill

Terrain

:

Groomed

Ski Camber

:

Tip Rocker

Sidecut Radius

:

17.0 meters

Waist Width

:

78 millimeters
Features
Dark Matter Damping process
Full length unidirectional carbon running from tip to tail
PowerWall oversize, laminated ABS sidewalls
Speed rocker profile
BEST FOR: CARVING
If you're looking for a ski that delivers fine on-piste skiing but won't cost you a fortune, consider the $600 K2 Disruptions.
This ski is designed for beginner to intermediate skiers and features impressive carving abilities that rival the other picks on this list. Compared to the step down 76X model, this ski features more camber underfoot, extra width, and improved dampening — which is appreciated as you start to pick up higher speeds. This added camber underfoot is what attributes to this ski's superior carving performance.
What I like most about this ski is that the 78C provides for a nice bit of added pop and energy compared to the cheaper version of the model.
Dynastar Legend X96
View Women's Version
Specs
Weight

:

7 lbs. 11.5 oz.

Style

:

All-Mountain Wide

Terrain

:

Groomed and Powder

Ski Camber

:

Tip and Tail Rocker

Sidecut Radius

:

17 meters

Waist Width

:

96 millimeters
Features
Edges Grip The Snow To Deliver More Control
Able To Carve With Stability Even At High Speeds
Lightweight Wood Is Layered To Deliver High Performance In Most Conditions

BEST FOR: ANY AND ALL CONDITIONS
If you're a beginner of any kind, chances are you want to ski everything! From hitting the main slopes with friends to exploring fresh powder on your own, the Dynastar Legend X96 is the right pair of skis for just about any terrain.
Sporting Tip and Tail Rocker, meaning the fronts and backs curve slightly upwards, these skis are buoyant enough to float in powder while also having enough spring to fly down groomed runs and power through turns.
A shorter sidecut radius lends itself to tighter turns, making them easier to turn on a dime. With many high remarks for this set of skis, it has been difficult to find any drawback at all. The closest we could find was one skier mentioning that they still use their powder specific skis when the snow gets really deep.
Other than that, these are the gold standard of skis and are an excellent pair for a skier of any skill level. Actually, on second thought, there is another downside – the potential to spoil new skiers and set high expectations as their standard.
Line Sakana Skis
Specs
Weight

:

7 lbs. 13 oz.

Style

:

All-Mountain Wide

Terrain

:

Groomed and Powder

Ski Camber

:

Tip Rocker

Sidecut Radius

:

15 meters

Waist Width

:

105 millimeters
Features
Overall Design Balances Power, Stability, And Speed
Named Top 13 Best Skis Of 2019 By Powder Magazine
Smart Design Can Be Ridden At Shorter Length Without Sacrificing Performance

BEST FOR: CARVING
Are you looking for a set of skis that will get you into the groove of skiing and help you shred a mountain like string cheese? If so, then the Line Sakana are just the right pair for you.
These All-Mountain Wide skis are made for carving, delivering exceptional control through each and every turn and helping you provide power through switchbacks. The Sakana have the shortest sidecut radius of all the skis on our list at just 15 meters. This extremely aggressive shaping means you can take turns tighter and faster without sacrificing control.
Some skiers may not like the aggressive shaping, as it focuses it less on all-mountain ski-ability and more on handling carving and powder. For that reason, we recommend these skis for those who know they want to spend their snow days carving.
The focus on carving with the Sakana is shown with its Tip Rocker, turning up the front slightly to enhance maneuverability. The "Swallowtail" shaping of the rear helps push the tails of the skis down in soft snow thereby creating more traction. More traction = more control.
Beginners will love how easy these skis carve, providing a little bit of "cheat" that makes each run smoother, more efficient, and less tiresome. That translates to more time on the mountain!
Salomon QST 85
View Women's Version
Specs
Weight

:

10 lbs. 3.2 oz.

Style

:

All-Mountain

Terrain

:

Groomed

Ski Camber

:

Tip and Tail Rocker

Sidecut Radius

:

16 meters

Waist Width

:

85 millimeters
Features
Reinforced With Titanium For Strength And Grip
Heavier Weight Can Help Beginners Feel More Stable
Excels On Groomed Runs And Hard Snowpack, Offering Speed And Stability
BEST FOR: TRUE BEGINNERS
True beginners that have no experience on skis will likely spend a majority of their time on groomed runs practicing their skills and nailing down the fundamentals. There's no better set of skis for this application than the Salomon QST 85.
With a waist width of 85 millimeters (the narrowest part of the ski), these All-Mountain skis will perform decently in most conditions but really excel on groomed runs. The narrower width makes them perfect for gaining speed while the Tip and Tail Rocker help you navigate through powder.
A potential downside to these skis are their heavier weight, topping the scales at just over 10 lbs. Although this aspect is subjective, depending on the rider. Some more advanced beginners and experienced riders prefer a lighter ski for increased control and maneuverability, but true beginners may actually end up liking the heavier weight as it can create a feeling of being "grounded" or having more stability.
Overall, Salomon skis have a cult following and are always considered to be some of the best skis money can buy. True beginners can feel assured that the QST 85's are a great investment that will last you for years to come.
Atomic Vantage 90 Ti
View Women's Version
Specs
Weight

:

7 lbs. 11.5 oz. Men's / 7 lbs. 8 oz. Women's

Style

:

All-Mountain

Terrain

:

Groomed and Powder

Ski Camber

:

Tip Rocker

Sidecut Radius

:

18 meters Men's / 16.5 meters Women's

Waist Width

:

90 millimeters
Features
Stiff But Light Design Creates Fast Skis On Groomed Runs
Can Carve Even The Hardest Snowpack Without Losing Control
Edges Provide Extra Grip When Making Turns, Providing Extra Stability For Beginners

BEST FOR: THE ENVIRONMENTALLY CONSCIOUS SKIER
Many of us in the outdoor adventure community have a crossover passion between our outdoor pursuits and caring for the environment. If you're like us and enjoy the peace of mind that comes with gear that's responsibly and sustainably made, then the Atomic Vantage 90 Ti are going to be your best friends as they're made with recycled materials!
Environmental considerations aside, these skis shred all across the mountain on pretty much any snow condition you throw at it. Groomed runs? Check. Powder? Yup. Off-piste? You bet. These All-Mountain skis really can do it all.
The Tip Rocker helps you float in fresh powder by upturning the front tips of the skis, which also translates well on groomed runs to help you initiate turns more easily. A potential concern for advanced beginners and more experienced skiers is that, as a true All-Mountain ski, the Vantage 90 Ti's are very good at handling a variety of conditions but don't tackle any one type of condition exceptionally well.
For those who prefer a more specific set of skis, these may not be the ideal candidate. However, most beginners will love these skis and their ability to take them all across the mountain with their friends.
Faction Candide 2.0
Specs
Weight

:

8 lbs. 4.6 oz.

Style

:

Park & Pipe

Terrain

:

Park & Pipe

Ski Camber

:

Tip and Tail Rocker

Sidecut Radius

:

16 meters

Waist Width

:

102 millimeters
Features
Lightweight Performance Feel
Great For Beginners Looking To Trick Out
Symmetrical Front And Back Allows You To Switch (Ride Backwards and Forwards At The Same Time)

BEST FOR: LEARNING TRICKS AT THE TERRAIN PARK
So you want to bust a move, eh? For a truly exceptional pair of skis that excel at acrobatic stunts while also being beginner friendly, the Faction Candide 2.0 are your best choice.
A true "Park & Pipe" ski designed by professional skier Candide Thovex, these skis are symmetrical (identical fronts and backs) meaning you can easily ski "switch" (riding backwards the same as forwards). This helps when executing tricks such as a 180° where you'd land backwards.
The 102 mm wide waist (narrowest part of the ski) helps maintain stability and control, especially when grinding rails. These also crossover when riding in powder as well.
As for other awesome attributes, the Candide 2.0 feature "stomp pads" which reduce the amount of impact to your feet. This helps you land more comfortably and keeps your feet feeling fresh even after a long day on the slopes.
Being such a specific ski aimed at use mostly in the terrain park, the Candide 2.0 aren't the best when it comes to everyday skiing on groomed runs and in fresh powder. Rather, these are meant for those who obsess over the terrain park and will spend the majority of their day tearing up boxes, hitting jumps, and grinding rails.
THINGS TO CONSIDER WHEN BUYING SKIS
HOW WE QUALIFY SKILL LEVEL

True Beginner
Someone with zero experience who has never been on a pair of skis.
Intermediate Beginner
A novice who has gone on the occasional ski trip and can manage making it down Green runs without falling down.
Advanced Beginner
Those who have mastered basic riding skills including carving, stopping safely, managing speed, and may have potentially begun experimenting with simple tricks. Some Blue runs are successful while more difficult Blues are still being learned.
Experienced Skier
Someone with a great command of their skis and who regularly shreds Blue trails.
Expert Skier
A skier with years of experience who regularly skis Black Diamond runs with confidence and who may be pushing to Double Black Diamonds.
STYLE OF SKIS
Skiing comes with a variety of styles and has specific skis to tackle different conditions. The 5 different types of snow skis are: All-Mountain, All-Mountain Wide, Powder, Backcountry, and Park & Pipe.
Most beginners should consider All-Mountain skis, the "do-it-all" style that will perform best across a variety of conditions whether you're sticking to groomed runs or venturing off the beaten path. For those who want to tackle fresh powder and still be able to get all-around use, All-Mountain Wide skis will give you the extra surface area needed to glide across the snow.
Intermediate beginners that want to test the waters (snows?) of the terrain park should consider Park & Pipe skis. They'll still perform well enough for downhill skiing on groomed runs, albeit a little slower than All-Mountain Skis.
Powder skis are for intermediate to advanced beginners who have a stable command of skiing and are looking for a specific set for big powder days. Backcountry skis are best left for advanced skiers who have ample amount of experience under their belt.
FRAME MATERIALS
ALUMINUM:
The most common frame material. It's light, strong, and easy to work with, and is used for everything from entry-level to high-end bikes.
CARBON FIBER:
Very light and very strong and primarily used in high-end bikes.
STEEL:
Steel is very strong and allows the use of narrow tubes, and is popular for hardtail and rigid bikes.
LENGTH
Proper ski length is determined most easily by a combination of your height and skill level. The traditional way of measuring skis involved standing them up next to you with the proper length falling below the tip of your head but above your chin.
While this method still works today, the chart below will help you find the right size skis without running out to the nearest ski shop.
Skier

Height

Beginner Length (cm)

Intermediate Length (cm)

Expert Length

(cm)

4' 6"

125

135

140

4' 8"

130

140

145

4' 10"

135

145

150

5'

140

150

155

5' 2"

145

155

165

5' 4"

150

160

170

5' 6"

155

165

175

5' 8"

160

170

180

5' 10"

165

175

185

6'

170

180

190

6' 2"

175

185

195

6' 4"

180

190

200
While this chart is a quick and easy way to roughly determine ski length, there are other sizing considerations that are worth examining.
WEIGHT
Weight is also an important factor for ski length. If you're a larger framed skier, you may need some extra length. Smaller framed skiers for their height may want to opt for shorter skis.
STYLE
Your riding style will also affect the appropriate length skis for you. If you're an intermediate to advanced beginner that has several days or trips worth of skiing under your belt, you probably have a decent idea of what style you prefer.

If you like to go fast, choose a longer ski length. If you prefer to make quick or tight turns, choose a shorter ski length.
TERRAIN
Similar to skier style, if you're an intermediate or advanced skier and know what type of terrain you prefer to ski, this will also help in determining overall length. If you prefer to stick to the main slopes or ski on fresh powder, go with longer skis. If you prefer to take on small hills and windy paths, then you'll want shorter skis.
WIDTH/DIMENSIONS
The width of a set of skis are determined by 3 different measurements: tip, waist, and tail, and are measured in millimeters. The important measurement to keep in mind as a beginner is the waist (the middle of the ski).
The wider the waist, the more surface you have to float above the snow, making wider skis ideal for fresh powder and soft, fluffy snow. The narrower the waist, the faster and more agile the skis will perform.
The width/waist of your skis will primarily depend on what style of skis you intend to use. Consider the chart below:
| | |
| --- | --- |
| Ski Style | Average Width (mm) |
| All-Mountain | Up to 90 mm |
| All-Mountain Wide | 91 – 109 mm |
| Powder | 110+ mm |
SIDECUT RADIUS
Sidecut radius is also a measure of the waist width of skis, but in relation to the width of the tip and tail. Since the tip and tail are always wider than the waist, this creates a subtle arc from point to point. If you were to trace that arc on a giant piece of paper and then complete it by making a circle, the radius of that circle is the measurement of ski's sidecut.
Measured in meters, the sidecut radius also informs the type of ski that it is and how well it will handle turns. The smaller the number, the tighter the turns you'll be able to make. The larger the number, the wider the turns you'll likely make.
small radius = small / tight turns
large radius = large / wide turns
Practically speaking, you'll be able to make both tight and wide turns on any given set of skis but sidecut radius helps to explain how a certain type of ski is designed to perform, and thus what type of turning it will be better at.
The chart below helps to give you a general idea of the expected turning radius' you'll find on specific types of skis.
| | |
| --- | --- |
| Turning Radius | Type of Skis |
| Less than 17 meters | All-Mountain |
| 17 – 22 meters | All-Mountain / All-Mountain Wide / Backcountry |
| Greater than 22 meters | All-Mountain Wide / Backcountry / Powder |
CAMBER AND ROCKER
Camber and Rocker are two terms that refer to the arch (or lack thereof) of a set of skis when laid flat on the ground.
Camber is when the tails and the tips (front and back parts) of the ski touch the ground, but there is a prominent arch between the two that is flattened when stood on by the skier. This gives a spring to the skis that results in better overall performance when making turns.
Rocker is the exact opposite of camber, where the middle of the ski touches the ground but the tails and tips are upturned. Skis with rocker are best suited for powder and also have an advantage when maneuvering.
There are 4 different kinds of camber and rocker that can be found on a set of skis.
Standard Alpine
Best for Intermediate to Advanced Beginners and Up
Standard Alpine is the original camber discussed above, where the tips and tails make contact with the ground and the waist rises off the ground. These are best for intermediate and advanced beginners who desire a more specific set of skis to take on groomed runs. Because of their shape, these skis are designed with speed and agility in mind and won't perform well on soft powder.
Tip Rocker
Best for All Skiers – Beginner to Expert
Closely resembling a Standard Alpine ski with traditional camber, skis with tip rocker feature tips that touch the ground further back (closer to the waist). This gives room for the tips to be upturned (not touching the ground). This hybrid of sorts gives all the performance of a Standard Alpine ski on groomed runs but helps you also tackle powder.
Tip and Tail Rocker
Best for All Skiers – Beginner to Expert
A progression of the Tip Rocker, this evolution upturns the tails of skis in the same way the tips are upturned (while still including Camber). This gives an even better performance in deep, soft snow and freshly laid powder while also being able to manage groomed runs as well as any other ski. Most of the All-Mountain and All-Mountain Wide skis we recommend feature Tip and Tail Rocker.
Full Rocker
Best for Experienced Skiers
Just as discussed above, skis with Full Rocker touch the ground at the waist with tips and tails upturned. These are best for experienced skiers who desire a very specific set of skis that will float in deep powder. Usually found on really wide sets of skis, Full Rocker skis will be very difficult to manage on traditional groomed runs.
FEATURES EXPLAINED
BINDINGS
Bindings are attached to your skis and are the device that connects your boots to the skis.
GROOMERS
Slang for a "Groomed" run. Found at ski resorts, groomed runs are usually wide trails that are maintained with plows and tractors to create smooth, moderately packed snow. These are the best place to practice your skills as a new skier.
MOGULS
Moguls are a series of small bumps on a ski run that can be formed purposefully by the resort or can occur naturally from repeating carving by a large numbers of skiers. Skiing moguls involves rapidly carving around the field of bumps to maintain a high speed.
OFF-PISTE
Off-Piste is skiing on runs that aren't groomed. Not to be confused with backcountry skiing, ungroomed runs are still found at resorts. Their trails are usually much narrower, off the beaten path, and not maintained. You'll find many obstacles including chunky snow, logs, trees, rocks, and more. Off-piste runs are a great way for advanced beginners to test the waters of backcountry skiing while still having ski patrol close by.
POW / POWDER
Powder is fresh, soft snow several inches deep that offers an unparalleled ski experience that feels as if you're gliding atop clouds.
SKI PATROL
An EMT (Emergency Medical Technician) unit that patrols the mountain to enforce safety and respond quickly in the event that a skier or snowboarder has sustained an injury. Unlike the way they are portrayed in Hollywood movies, ski patrol is your best friend.
TIPS / TAILS
The tips and tails are the fronts and backs of your skis, respectively.
TERRAIN PARK
Not just for snowboarders, the terrain park is a fun and challenging portion of a resort trail where skiers can bust a move. You can usually find a host of obstacles to be mastered such as boxes, rails, ramps for jumping, and even a halfpipe. Just remember to wear a helmet!
READ MORE
For more of our top skiing gear recommendations, check out these popular buyer's guides: