Updated on October 5, 2020
Would you like to take your kayak on rapids? Or are you planning a long-distance kayaking trip in northerly places? Perhaps you simply want to keep heading out on the water in winter? Whatever the reason, it's important that you protect your hands against the elements. So, what are the best kayaking gloves?
Here at The Adventure Junkies, we strive to offer our readers in-depth information and detailed overviews about the best outdoor gear. So, if you want to avoid getting blisters, prevent your fingers from freezing or keep your hands warm, you'll want a good pair of gloves.
Below, we provide an overview of the ten best kayaking gloves on the market. We also talk about a number of things you should keep in mind when buying a new pair.
For more of our top kayaking gear recommendations, check out the Best Wetsuits for Kayaking.
Quick Answer

-

The Best Kayaking Gloves
Comparison Table

-

Best Kayaking Glove

For the best experience turn your device horizontally
Reviews

-

The Best Gloves for Kayaking
NRS Boater's
View Women's Version
BEST FOR:

VALUE FOR MONEY
PROS: Affordable, light, UPF 50 sun protection, fleece on thumb helps remove sweat, non-slip grip, Velcro wrist closure, quick-drying fabric, durable material
NRS HydroSkin
View Women's Version
BEST FOR:

IN-BETWEEN WEATHER
PROS: Great protection with thin fabric, good palm grips, fits well, four-way stretch outer layer, water repellent coating, thermal plush inner lining, stretching slip-on wrist
CONS: Pricier than other models
NRS Maverick
BEST FOR:

EXTREMELY COLD CONDITIONS
PROS: 2mm neoprene, waterproof, neoprene HydroCuff, superb grip, durable, offers warmth even in icy conditions and the coldest weather, good fit
CONS: Expensive, limited finger movement
Sea to Summit Eclipse
BEST FOR:

AVOIDING BLISTERS
PROS: Thin fabric for nuanced feel grip, UPF 50 sun protection, 2mm neoprene cuffs, durable
CONS: Not good for cold weather
Kokatat Lightweight
BEST FOR:

BOTH MALE AND FEMALE KAYAKERS
PROS: Synthetic suede provides solid grip, reinforced fabric between thumb and index finger, mesh back, hook-and-loop wrist closure, unisex design
CONS: No UV protection
NeoSport 3/4
BEST FOR:

MULTI-SPORT USE
PROS: Anatomical fit, wrist fasteners, light, water resistant, affordable, useable for biking, kayaking, sailing, wakeboarding and other water sports
CONS: Not 100% waterproof, lower quality materials
BEST FOR:

WINTER KAYAKING
PROS: Waterproof, fleece on the inside provides warmth, pre-curved knuckles
CONS: Thickness makes for limited finger movement
MRX Gloves
BEST FOR:

BUDGET-CONSCIOUS MEN AND WOMEN
PROS: Unisex design, four-way spandex cloth, neoprene cuffs, reinforced fabric between thumb and index finger, multiple colors
CONS: Can be bulky in the palms
Warmers Barnacle
Specs
Material

:

Synthetic leather/spandex/neoprene/terry cloth shell and synthetic leather palm

Fingerless

:

Yes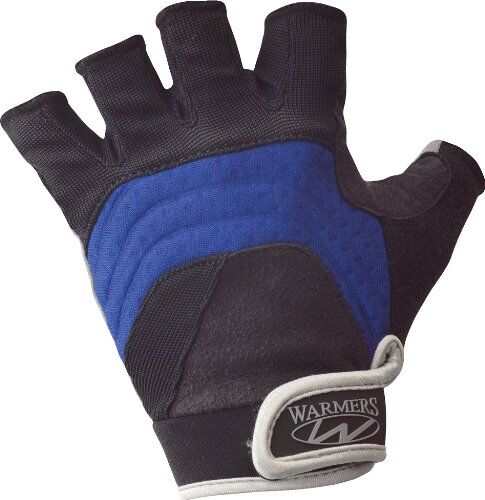 BEST FOR:

WET CONDITIONS AND WARM WEATHER
PROS: Quick-drying materials, "barnacle" grip for superior grip, extra padding between index finger and thumb
CONS: Loose fit, especially for women and people with small hands
HOW TO CHOOSE THE BEST KAYAKING GLOVES
While kayaking, your hands are one of the first body parts that get cold, sore, wet and/or uncomfortable. It's important to offer adequate protection if you're going to do some serious paddling.
You might need kayaking gloves for various reasons. They will protect your hands against blisters on long-distance excursions,. They also offer better grip on your kayak paddle. Having better grip means less fatigue in your hands and arms. If you're going kayaking in winter or kayaking in Antarctic or other cold regions, you'll want to keep your hands warm and dry.
MATERIAL
The material your gloves should be made of depends entirely on where and how long you will be kayaking. For summer and warm weather kayaking, you'll be alright with nylon/spandex gloves. Thick gloves are designed for kayaking in cold conditions. Waterproof neoprene is the way to go in that case. Some cold-weather gloves even contain a fleece lining on the inside.
It's good to know that synthetic materials often dry much quicker. The downside of synthetic is that the seams give out faster, as noted by Paddling.com.
One of the big perks of kayaking gloves is that they offer extra grip. This is achieved by using synthetic leather, patterned or raw neoprene on the palms. All the best kayaking gloves have gripping palms. Don't buy any that don't provide that extra grip.
THICKNESS
When it comes to glove thickness, there is a difficult battle between protection and dexterity. The thicker your gloves are, the better they'll protect your hands and keep them warm. On the other hand, this means that you'll give up some maneuverability.
This is a delicate decision you have to make. Of course, in cold climates, keeping warm and dry should be your priority. In other climates, however, you can consider how much you'll need your fingers. It is, after all, convenient if you have enough finger movement to adjust your helmet, check your watch, grab your bag, etcetera.
FIT
It's also essential to make sure that your kayaking gloves fit your hands properly. A fit that's too loose will be uncomfortable and maybe even cause blisters to form. It will also decrease the warmth offered by the gloves.
Gloves that are too tight, on the other hand, can cut off circulation in your fingers. This can be a serious problem in cold weather.
FINGERS
Fingers or fingerless? The pros and cons are pretty obvious here. Gloves with fingers are much warmer and often significantly more waterproof. They do allow for less dexterity, though.
Fingerless gloves are great for kayaking in warmer weather when you don't need to worry about your hands getting wet or cold. Those gloves offer extra grip while keeping your fingers free. You'll be able to use them as you would without wearing gloves.
READ MORE
For more of our top kayaking gear recommendations, check out these popular buyer's guides: