Updated on May 19, 2022
If you've never been backpacking before, you might worry about how on earth you're going to carry your tent, stove, sleeping bag, sleeping pad, food, etcetera for a week in the backcountry. That's why we at The Adventure Junkies researched the best hiking backpacks for women, the results of which we'll lay out for you below. Here, you can find all the information you need to choose a women's-specific pack that will keep you comfortable and get all your gear where it needs to go.
For a complete analysis of all hiking backpacks, check out the buyer's guide Best Hiking Backpacks.
QUICK RECOMMENDATIONS
Best Women's Backpack Overall >> Osprey Aura AG 65
Best Ultralight Backpack For Women >> Osprey Lumina 60
Best Backpack For Carrying Heavy Loads >> Gregory Deva 60
Best Budget Women's Backpack >> REI Flash 55
Best Comfortable Women's Backpack >> Osprey Ariel AG 65
Best Backpack For Petite Female >> Deuter Futura Vario 45 + 10 SL
Comparison Table

-

Best Hiking Backpacks for Women

For the best experience turn your device horizontally
* Weight and price shown for the M size and models closer to 60L.
Reviews

-

Best Women's Hiking Backpacks
Osprey Aura AG 65
Specs
Weight

:

4 lbs 7 oz

Pockets

:

11

Volume

:

50L / 65L

Raincover

:

No

Trekking Pole Attachment

:

Yes

Removable Top Lid

:

Yes
Features
Sternum Strap Whistle
Ventilated Mesh Back Panel
Zippered Sleeping Bag Compartment
Hydration Sleeve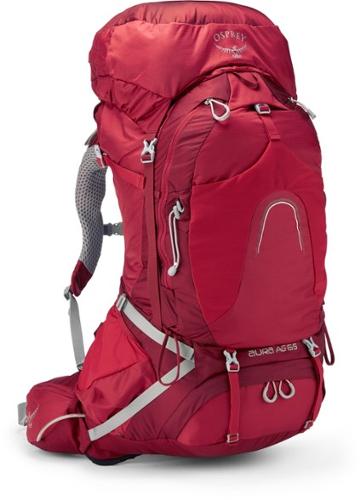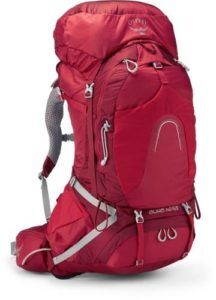 BEST WOMEN'S BACKPACK OVERALL
For a fine-tuned, personalized fit, the Aura AG is a great bet. Everything on this pack is designed to conform to your body, from the adjustable harness and hip belt to the padded, ventilated back panel. Easily access your sleeping bag with the dedicated lower compartment, or remove the divider if you're planning on living the hammock life.
Once everything is inside this pack, pull down the side compression straps to reduce bulk and stabilize the load distribution to maximize comfort. The outer frame connects the upper load lifters and the pack's core to the hip belt to further spread out the load. Feel free to remove the top lid for a lighter hiking day in the backcountry, and the flap underneath the lid will continue to protect the main compartment from nasty weather.
Osprey Lumina 60
Specs
Weight

:

1 lbs 15 oz

Pockets

:

4

Volume

:

54L / 60L

Raincover

:

No

Trekking Pole Attachment

:

Yes

Removable Top Lid

:

No
Features
Ultralight
Big exterior pockets
Integrated full-frame and suspension system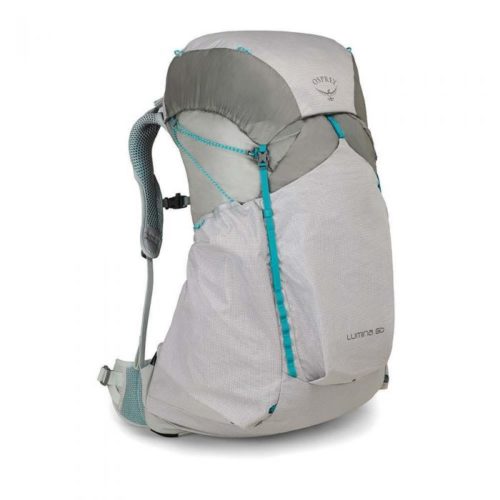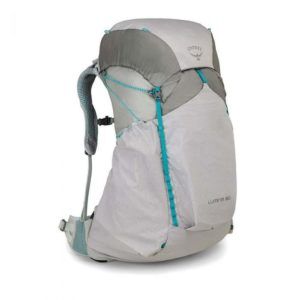 BEST ULTRALIGHT BACKPACK FOR WOMEN
A high-end ultralight pack, the Lumina outshines its competitors in terms of weight and also in its ability to maintain comfort for long distances — even when fully loaded. The Lumina's big exterior pockets are a nice compliment to an ultralight pack, as well.
Osprey designed the Lumina 60 specifically to function as the best ultralight pack for women you can buy. It's 1.81lb weight is impressive, even by serious ultralight standards, and while you would think it would lack support, Osprey's integrated full-frame and suspension system prove otherwise. This pack can be comfortable to wear even when loaded down heavier than recommended.
Gregory Deva 60
Specs
Weight

:

5 lbs 14 oz

Pockets

:

9

Volume

:

60L / 70L / 80L

Raincover

:

Yes

Trekking Pole Attachment

:

No

Removable Top Lid

:

No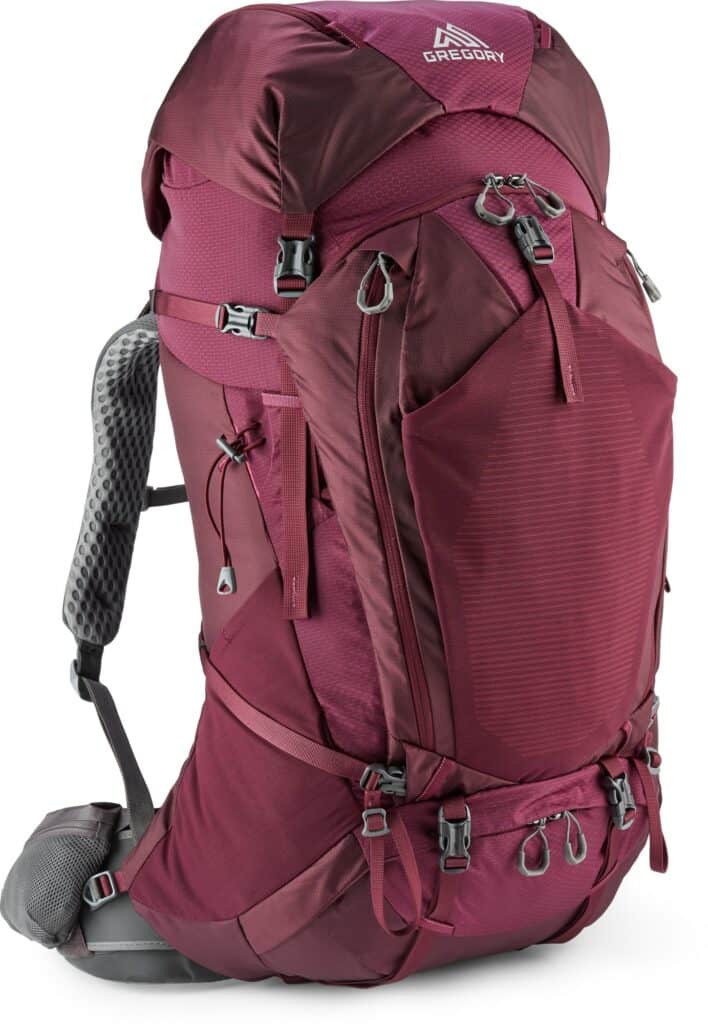 BEST BACKPACK FOR CARRYING HEAVY LOADS
The entire Deva lineup is worth checking out – it also comes in 70L and 80L sizes. If you're planning an extended backpacking trip, capacity is key for fitting all of your gear in your pack, and the Deva 80 provides volume without compromising on comfort. This kind of capacity is hard to find in a women-specific backpacking pack. Not interested in lugging around an 80L pack when you're day hiking in the backcountry? Worry not – the hydration sleeve converts into a lightweight day pack, complete with a shoulder harness and external pocket.
The responsive hip belt and shoulder harness rotate with your body for a customized fit, while the foam construction cuts down on hot spots and relieves pressure for added comfort.
REI Co-op Flash 55
Specs
Weight

:

2 lbs 11 oz

Pockets

:

9

Volume

:

55L

Raincover

:

No

Trekking Pole Attachment

:

No

Removable Top Lid

:

Yes
Features
Removable Pockets
Strong Integrated Suspension System
Lightweight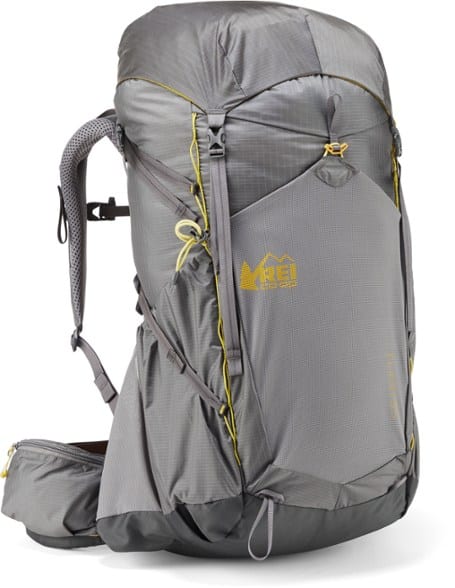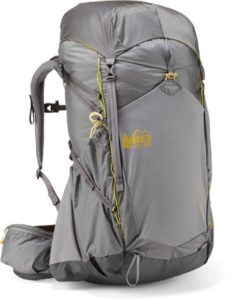 BEST BUDGET WOMEN'S BACKPACK
This pack is an ideal choice for hikers seeking a solid pack for quick trips that costs under $200. REI crafted the women's version of the Flash 55 with versatility and convenience in mind. It's a lightweight pack — weighing in under 3 pounds — but still includes an ample number of organizational pockets and straps for securing your gear. Some of the pockets are even removable, which is a neat bonus feature.
This pack has a strong, stable integrated suspension system. Even when the pack is fully loaded, the weight stays distributed on your hips and won't weigh down your shoulders.
Osprey Ariel AG 65
Specs
Weight

:

4 lbs 15 oz

Pockets

:

7

Volume

:

55L / 65L / 75L

Raincover

:

Yes

Trekking Pole Attachment

:

Yes

Removable Top Lid

:

Yes, converts to day pack
Features
Heat-Moldable Hip Belt (to customize to your hips)
J-Shaped Front Zipper (for access to the main compartment)
Adjustable Torso
MOST COMFORTABLE WOMEN'S BACKPACK
The Osprey Ariel AG has everything you could ask for in a backpacking pack, offering comfort and plenty of features for every trip you throw at it. The padded hip belt and shoulder straps are interchangeable, allowing you to tailor this pack to your own body; not to mention that you can bring the hip belt to a store like REI for heat molding, making it conform exactly to your own hips.
The Ariel has sleek organization systems, as well: strap your sleeping pad to the outside of the pack using the lower external straps, or remove the straps when they're not in use. The bottom sleeping bag compartment provides easy access to your sleeping bag at bedtime, but the divider also comes out when you need to free up space in the main compartment. Strap your trekking poles into the attachment loops, and you'll be ready to go.
Deuter Futura Vario 45+10 SL
Specs
Weight

:

4 lbs 7 oz

Pockets

:

7

Volume

:

55L

Raincover

:

Yes

Trekking Pole Attachment

:

Yes

Removable Top Lid

:

No
Features
Front Zippered Pocket (for easy main compartment access)
Flexible Hip Fins (to fit your hips)
Ventilated Back Mesh Panel (to keep you cool)
Adjustable Lid Height (to expand or contract pack volume)
BEST BACKPACK FOR PETITE FEMALES
The Futura Vario SL shows that Deuter is serious about making backpacking packs designed to suit women specifically. The back length is shorter than a standard pack and adjustable to fit your torso, while a narrower shoulder harness conforms better to female bodies. The large, padded hip belt adds further comfort.
Another highlight of this pack is its flexible spring steel frame, which is durable and provides stabilizing tension for optimal load bearing. The back mesh panel is ventilated, creating space between your back and the pack to keep you cool no matter how hot the day. With a dedicated sleeping bag compartment, zipped front opening, and large mesh outer pockets, packing your gear will be a breeze.
Granite Gear Blaze 60
Specs
Weight

:

3 lbs

Pockets

:

3

Volume

:

60L

Raincover

:

No
Features
Sternum Strap Whistle
Hidden Vertical Zipper (for secure access to main compartment)
Large Hip Belt Pockets
Durable Water Repellent (DWR) Treated Zippers (for extra rain resistance)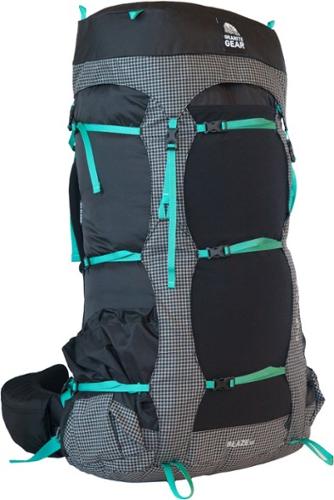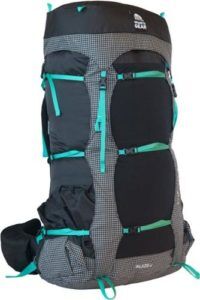 Winner of a 2019 Editors' Choice Gold Award from Backpacker magazine, the Granite Gear Blaze 60 has an adjustable frame and internal suspension that make this pack a comfortable and cool piece of gear. The hip belt is fully adjustable, and the molded foam back panel conforms to your body for even more comfort. Even though the pack is so lightweight, its tough nylon material makes it durable enough for years of wear and tear, including extra reinforcement in high-impact and high-abrasion areas.
The Blaze 60's top lid is removable for lighter trips or to convert into a chest pack or lumbar pack – not as versatile as a full-on day pack, but convenient for a quick hike to that waterfall a mile from your camp. Get to the items in the bottom of your bag quickly thanks to the long vertical zipper on the front. Three tiers of side and front compression straps offer plenty of cinching to help balance your load, and the top opening and side pockets cinch, as well. Cinch everything down, and you're set for a steady and secure hike.
Gregory Octal 55
Specs
Weight

:

2 lbs 6 oz

Pockets

:

3

Volume

:

45L / 55L

Raincover

:

Yes

Trekking Pole Attachment

:

Yes

Removable Top Lid

:

Yes
Features
Ventilated, Moisture-Wicking Back Panel
Sunglasses Shoulder Attachment
Horizontal Water Bottle Storage (for easy access)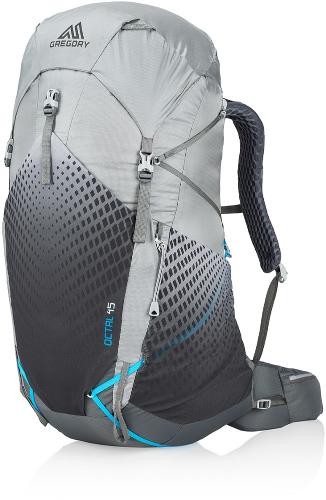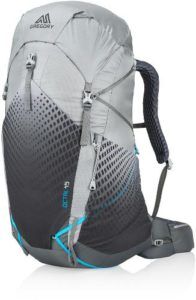 Looking to move fast on your backpacking trip? This lightweight pack will keep you speeding along on the trail. Don't worry about a rain shower popping up, either, as the included rain cover stows within reach in the removable top pocket. Stash snacks and other small items in the hip belt pockets for easy access on the go.
Comfort is key when putting in long miles, which this pack provides via a springy lumbar pad to support your lower back and transfer the pack load, saving you energy. With plenty of outer mesh pockets and attachment points, you'll have no problem finding a spot for everything from your sandals to your rain jacket. Go for ultralight speed without compromising on durability with this pack for the fast backpacker.
REI Co-op Traverse 65
Specs
Weight

:

4 lbs 13 oz

Pockets

:

11

Volume

:

35L / 65L

Raincover

:

Yes

Trekking Pole Attachment

:

Yes

Removable Top Lid

:

Yes, converts to day pack
Features
Adjustable Torso
J-Shaped Front Zipper (for main compartment access)
Shoulder Strap Tube Holder (for hydration reservoir tube)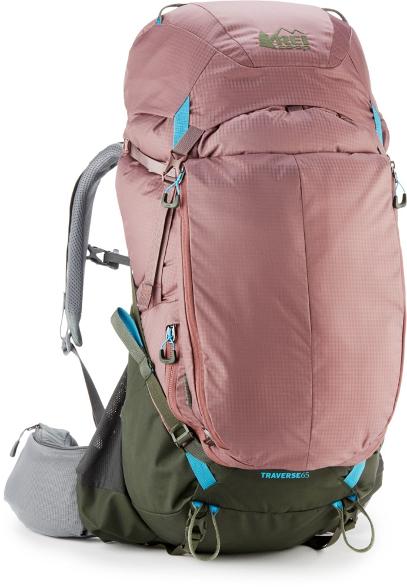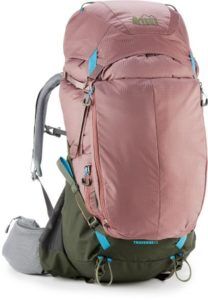 Whether you're out for an overnight backpacking trip or all weekend, the Traverse 65 keeps you centered on the trail. Compression technology pulls the load of your pack inwards, closer to your center of gravity, which improves your balance while hiking. The ventilated mesh back panel keeps you cool while conforming to your body, ensuring a comfortable fit without the back sweat.
Further comfort comes in the form of the padded hip belt that contours to your body and pivots independently from the pack, keeping your load centered and giving you more stability. In terms of organization, stuff wet gear in the outer stuff pouch, and keep gear you need to access easily in the two long zippered pockets on the front. The side water bottle pockets have been updated to make your bottles easier to grab while hiking.
THINGS TO CONSIDER WHEN BUYING A HIKING BACKPACK
FRAME: INTERNAL VS EXTERNAL
While doing your research, you might notice that there are two main types of backpacking packs: internal frame and external frame. While an external frame pack can be old-school cool, we've stuck to internal frame packs, since they're the most common and are slimmer and more stable for rugged terrain.
GEAR CAPACITY
How much volume your pack should have depends on how long your backpacking trips tend to be. Overnight trips in the backcountry involve bringing plenty of food, layers, extra water, a water purification system, cookware, and more, and the longer you stay out, the more items you'll need. Add in camera gear, maps, a guide book, and anything else you want to have with you, and you're looking at a pack in the 65L and up range.
VERSATILITY
If you need a pack that can become lighter for shorter trips, but is still large enough for longer ones, look for versatile features like a removable top lid and/or integrated day pack.
TORSO SIZE
Some women's backpacking packs come in different sizes, while others simply have an adjustable torso. It's important that your backpack rests on your hips in the right spot and doesn't ride up your shoulders to be comfortable and avoid injury while hiking, so check with the brand's size specifications to see which one will fit your torso best.
VENTILATION
A pack's ventilation capabilities are key for optimal comfort in the backcountry, especially in hotter climates. Look for materials like mesh paneling in the back panel, as well as a suspended frame to keep the pack from smothering your back.
FEATURES EXPLAINED
EXTERNAL SLEEPING PAD STRAPS
Some packs come with vertical external straps at the bottom of the pack, usually on the outside of the sleeping bag compartment. These can be used to attach lightweight items to your pack, like your sleeping pad, or to dry out a wet tent.
SLEEPING BAG COMPARTMENT
Many backpacking packs come with a dedicated sleeping bag compartment, usually located on the bottom of the pack with its own zippered access. Stuffing your sleeping bag here helps with organization and optimally balancing the pack.
BRAIN/TOP LID
The top lid of your pack is informally known as the "brain." This is where you can store everything from your socks to your headlamp – smaller items that you want to keep accessible, but don't need so often that you're constantly taking off your pack to get them.
LOAD LIFTERS
Load lifter straps connect the top of the shoulder harness to the top of the back panel. They can be adjusted to optimize load transfer, and they should angle toward the pack's body at about 45 degrees when properly tensioned. Avoid over-tightening them so as not to pinch your shoulders.
DURABLE WATER REPELLENT (DWR)
Durable water repellent material repels water and dries quickly.
HIP BELT
Padded wings at the bottom of your pack designed to help the pack rest on your hips to optimize load transfer. Look for an adjustable hip belt so you can fit the pack to your waist, and make sure it has pockets for easy access to small items on the trail.
STERNUM STRAP
This strap connects the two shoulder straps across the top of your chest. For the best fit, look for a pack with an adjustable sternum strap, as it helps ease the pressure of the pack's load on your shoulders.
COMPRESSION STRAPS
These straps are typically found on the sides and sometimes the front of the pack. They're used to tighten down your backpack's volume, streamlining the load to keep it secure and balanced as you hike.
DAISY CHAINS
While it's ideal to carry everything inside your pack or in a dedicated external pocket, sometimes it's easier to attach gear to the outside of your pack. Daisy chains are a series of loops sewn horizontally or vertically in a row on a pack that are used to attach small items to the outside.
Once you select the best pack for you, the next step is to learn the best way to pack your backpack so that it fits comfortably and distributes the load properly. Finally, you'll be ready to hit the trail – no back or shoulder pain necessary!
VIDEO: BEST HIKING BACKPACKS FOR WOMEN